Features
Fashion Insider: Machino footwear designers Esther and Amy Tai on reviving the local shoe-making industry
Dynamic duo
Featured image: @itsmachino/Instagram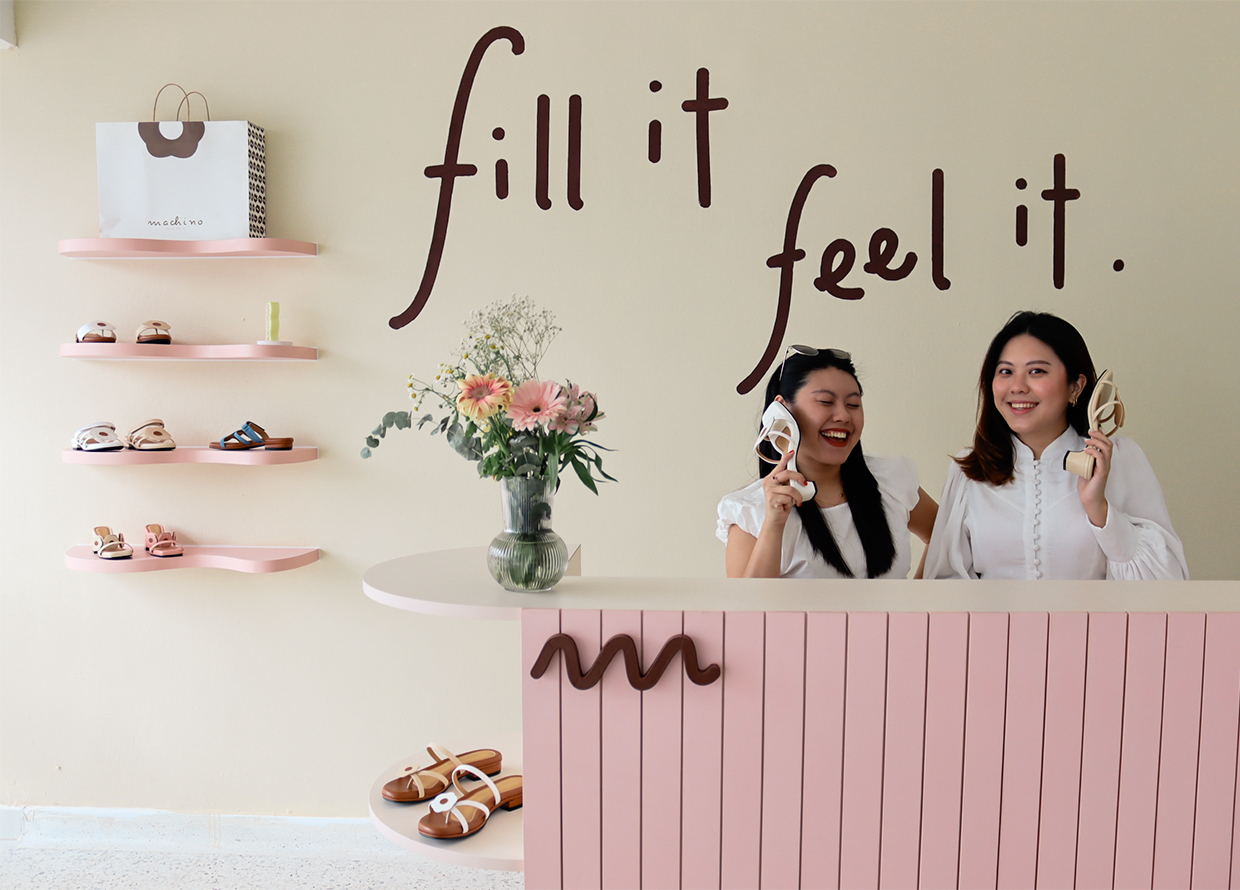 Perhaps not many of us know this, but the footwear industry is one of the country's oldest manufacturing sectors. The century-old business once put Malaysia on the map as one of the leading players until other countries emerged and took control. The contribution of the sectors may be minor in comparison to others, especially when the global health outbreak struck a few years ago, but that wasn't enough to stop the Tai siblings, Esther and Amy, from setting up Machino in the thick of the pandemic.
Machino—a moniker made up of the terms Malay, Chinese, Indian, and Others—started in their humble home in Puchong in 2020. Slowly but surely, the two sisters built a name for themselves in the local scene, and it proved to be worthwhile when they sold out their Raya collections and relocated to a showroom in Petaling Jaya this year. Ahead, we speak to the style insiders on their foray into the shoe market and their favourite pair of Machinos. 
View this post on Instagram
What was your first memory of fashion?
Esther: "We used to spend a lot of time at our mum's boutique. She never stopped asking us to help her, even if it was as simple as arranging the beads by colour, cutting the laces, or just watching her in action with a client. She also used to go from house to house and make evening gowns for the expats. We would follow her around then, and that is essentially how we are introduced to fashion."
Who have been some of your role models or inspirations, and why?
Amy: "Our role models are definitely our parents. They gave us lots of advice and always pushed us to start our own businesses. We've gotten this far because of their support." 
How did you get started as a shoemaker, and what inspired you to launch Machino?
E: "We've always bought many pairs of shoes since we were kids, so the interest has always been there. However, it was only during the pandemic in 2020 that we decided to start our shoe business. We had thoughts about starting a side hustle at the time, and that's when we ran into our uncle, a shoe manufacturer, at a family gathering. We paid a visit to the factory in Kuala Lumpur, and the rest is history. Beyond that, we think that the local shoemaking business seems to be in decline, so we decided to jump into the market and bring it back to life." 
View this post on Instagram
What's your favourite piece you designed, and how will you style them?
E: "My favourite piece has to be the Hana White sandals, and I will pair them with a maxi dress." 
A: "I enjoy wearing heels, so I always wear Lady Hana heels. The height is just right; I can still move around easily with it, and it certainly boosts my confidence when worn with jeans."
What is the biggest lesson that you have learned since you started Machino?
E: "I keep telling people that they should get an accountant for their business, but it's true—hire one to keep track of the figures! I'm not particularly skilled with numbers, so having one helps a lot with keeping the business running." 
A: "Bring in the right people to your team. To be honest, I'm used to doing everything myself, but as the business expands, I need more help, and I prefer to recruit people who share the same passion so that we can all thrive."
Do you think the ever-increasing amount of overseas brands coming to our shores is a threat to local designers?
E: "I don't think so because people are going to keep supporting local businesses despite the increasing number of foreign brands. There's also a different feel when you support the locals. Anyhow, we should take the chance and see how the international labels create current trends so that we can then cater for the local community."
What advice would you give to someone who wants to start their own label?
A: "Just do it! You don't need a perfect plan. We started during the pandemic, and we didn't know what was ahead, but we just kept going. Start small and work your way up; you'll find your way to your goal. You don't have to wait for the right timing—you create it! 
View this post on Instagram
What hopes do you have for the brand in the years to come?
E: "We would like to create a brand that people can resonate with and grow the business by offering a wider selection of shoes to our clients. Other than that, we hope to open a flagship store in the city centre before expanding to neighbouring countries." 
What is your dream collaboration?
A: "Working with Nike or Jacquemus would be a dream come true for us!"
If you could only wear one pair of Machino shoes for the rest of your life, what would it be?
E: "Definitely the Hana White flats because they go with anything and work for every occasion. It's also the very pair that led us to where we are today. It was designed when we were out of ideas during the pandemic, but guess what? It blew out this year during Raya, and we're so grateful for it!" 
What would you be if you were not a shoemaker?
E: "I think I will be climbing up the corporate ladder, and once I'm done with that, I'll start a business." 
A: "I will follow suit, but probably on the marketing side of the fashion or beauty industries." 
For more fashion reads, click here. 
| | |
| --- | --- |
| SHARE THE STORY | |
| Explore More | |