Features
BURO Does Basics: Han Pin Ma on comfort in fashion, self-love and Gote Club
"Let the Gote times roll"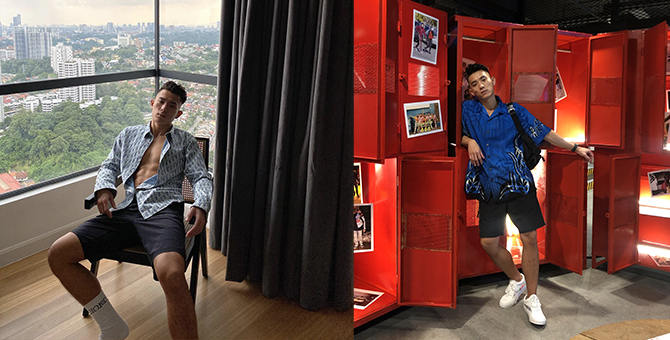 Does style improve self-confidence? When you dress for yourself, looking good isn't just part of the package, the best part is you also feel good. Whether it is a lucky accessory for a job interview or wearing your favourite pair of jeans to a first date, never underestimate the power of clothing if you're in need of a little confidence boost. That's something local entrepreneur, fitness trainer and influencer Han Pin Ma (also known as Jane Chuck's other half) has a firm footing in.
At 30, the multi-hyphenate has built a life for himself out of his different passions; he got into spinning in 2019 and co-founded PWRHOUSE the year after, alongside countless other projects and brand partnerships that he's constantly involved in. His latest endeavour includes the recently-launched Gote Club, "a brand and community where we thrive to educate all the men out there that self-care is equally important for men, which is often neglected. We believe that being confident is vital, hence our brand is to help men discover their confidence (in and outside of the bedroom) and the potentials that they may not know of."
Ahead, we caught up with Han Pin on his relationship with fashion (read: it's all about comfort and confidence), self-love and more about his exciting new venture:
BURO: What was your first encounter with fashion?
Hanpin: "I started to dress a little better during my college days. You know, young boys trying to impress girls."
BURO: Why are shorts an essential wardrobe staple for you, and how does this reflect your personal style?
Hanpin: "Shorts are great, especially in a country like Malaysia where it's summer all-year long. I'm all about feeling comfortable and that includes what I wear. My personal style would be things that are more casual and can be easily mixed and matched. This saves me a lot of time in deciding what to wear, and of course, the bottom line would be that I have to feel good and comfortable no matter what."
View this post on Instagram
BURO: From your collection, what do you think are three essential items every man needs in their wardrobe?
Hanpin: "T-shirt for everyday wear––this can be both plain or graphic tees; button down shirts for dinner occasions; and shorts (mostly active shorts that allow me to feel comfortable as I do a lot of workouts)."
View this post on Instagram
BURO: How would you describe your relationship with fashion in 2022?
Hanpin: "It would be a love-hate relationship. In 2022, cases are surging, yet borders are opening up. I think if I were to choose, my take on fashion this year would be to dress to impress, and seize every opportunity to flaunt my outfit for every event and friend gathering that I'll be attending."
View this post on Instagram
BURO: How did Gote Club come about and what inspired you to launch the brand?
Han Pin: "As I've grown older, I've begun to realise that men are a very shy species. They have their needs but it's not often heard, because in general, men are less expressive compared to women. Gote Club is built on the idea of bringing back the confidence that one should have. It's also about emphasising the message that it's ok that to have needs, it's ok to want to look and feel good about yourself, and it's ok to even be vain at times, because you are not wrong in wanting to take care of yourself."
View this post on Instagram
BURO: Could you talk a little bit about the products of Gote Club and what we can expect from it?
Han Pin: "The first product that Gote will be launching is "Please", which are endurance wipes for everyone out there who enjoy sex. Good sex makes you feel good about yourself, and longer sex boosts your confidence. This is what "Please" is all about. As a married man, I know: happy wife, happy life. We will also be launching more self-care products for all men out there!"
BURO: What are your own everyday self-love routines?
Han Pin: "My everyday schedule can be pretty tight, so my self-love routines would involve having at least an hour of me-time in the morning. I usually take my own sweet time enjoying a cup of coffee, chilling and reading my Kindle before I start my day. This one hour is important for me to clear my mind and set my agenda for the day ahead and of course, without forgetting a good (workout) sweat everyday!"
View this post on Instagram
BURO: In your opinion, what does it mean to be the best version of yourself?
Han Pin: "The best version of myself involves the desire to constantly seek for improvements and adapt to the ever-challenging and surprising tomorrow. I believe in always finding a better version of myself; there's never 100 per cent, it's always 99 per cent where there's always room for improvement."
Read more 'BURO Does Basics' here.
| | |
| --- | --- |
| SHARE THE STORY | |
| Explore More | |