Cai Mei: Congratulations on your new role as Creative Director for Women's Collections at Salvatore Ferragamo. That must be really exciting for you.
Paul Andrew: Thank you! Yes, it is. I feel very fortunate that Ferragamo thought this would be the right move for the brand. I'm so happy that what we've been doing with the shoes for the past year has worked so far, and that it's really resonated with our clientele. Hopefully I will have just as much impact on all our other women's categories as well.
You started your career working at brands like Alexander McQueen, Calvin Klein, Donna Karan, then you launched your own shoe brand, and now you're with Salvatore Ferragamo heading up the women's collections. Has your career panned out the way you envisioned?
I've been very lucky, that's for sure. When I graduated, I won an award at [London's] Graduate Fashion Week, which really catapulted my career from the age of 21. That allowed me to have my first job with Alexander McQueen—imagine being part of that incredible world with McQueen during the late '90s! I feel my career is something that's still evolving, even now. I really thought I would be focusing on shoes and accessories for the rest of my career, and then to be elevated to this title and overseeing ready-to-wear—it's something that I've always dreamed about doing but at a certain point thought that that wasn't going to happen, even though I had studied ready-to-wear at school; I thought that time had passed for me. I can't even tell you how excited I am to be segueing back to that role and to have this sort of responsibility—to be charged with moving such an important, luxury heritage brand forward, and into a new generation. It's a huge honour, but also a bit of a responsibility.
Salvatore Ferragamo, the founder, was known for using materials that were considered innovative at that time, like cork and fishing line. How is Ferragamo continuing this spirit of innovation, and is that more difficult today?
It's not difficult; it's just different. Salvatore was using those innovations because of the need. If you consider the period of time he was using those materials, it was between the First and Second World War when it was difficult to find leather, and the standard of materials we use now. That's how cork came about; because you couldn't find leather then. And also why he used woven raffia, and macramé. I'm trying to put the same mindset on what I'm doing—I'm taking that as my cue, as part of how we're moving the brand forward. Like the shoes currently on display in Ferragamo stores; we're using materials that are state of the art—we're weaving shoe uppers in sneaker factories, we're dyeing suede three times so it has this incredible vibrancy and depth in colour, and that also makes it really durable.
The flower heel is an amazing icon from the house. When I started at Ferragamo, I went through the archives that houses an amazing 15,000 pairs of shoes. One of the most beautiful things that jumped at me was this flower heel, which Mr Ferragamo created in 1939, and you now see that throughout our current collection; it became an overarching influence and stylistic motif that's everywhere.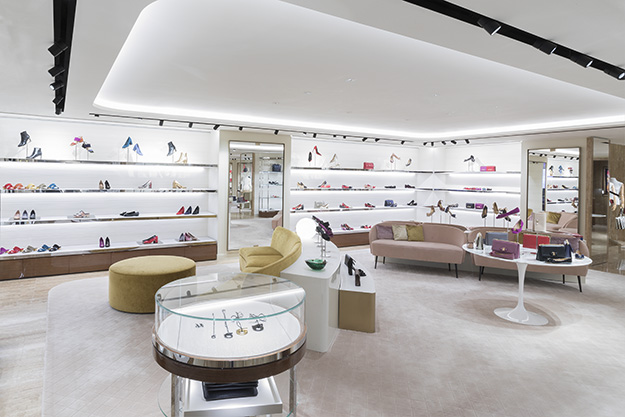 There have been so many icons for the house like the Vara pumps, Varina flats, and the rainbow cork wedge. What do you think makes a shoe memorable?
I think here at Ferragamo, it's a few things. It's innovation with construction, innovation with materials, and also colour. We're a brand that's really born on colour—you can see the vibrancy of the colour palette we're using and it's something that's really important for me to bring back. More than just the aesthetics of the shoe, I think it's also the comfort of the product—that's really, really key. When I started my own brand 5 years ago, I did a global survey with 500 women to understand the perfect fit of this decade. I did the same thing at Ferragamo when I started with them a year ago. Fit and comfort is as important for me as the design of the shoe. This is the same philosophy that Salvatore had. In 1914, he travelled to the United States, settled in California and studied anatomy so that he could return to Italy and open the House of Salvatore Ferragamo, and create not only the most beautiful and outrageously fabulous shoes the world has ever seen, but also the most comfortable.
Can five-inch heels ever be comfortable?
*laughs* It depends on the woman—some people are at their most comfortable in super high heels. Everything I'm doing is, even with that proportion of heel, I'm really trying to make as comfortable to wear as possible. What I've done is to add this padding with memory to every single pair of shoe in the collection, which gives you this added support and cushioning.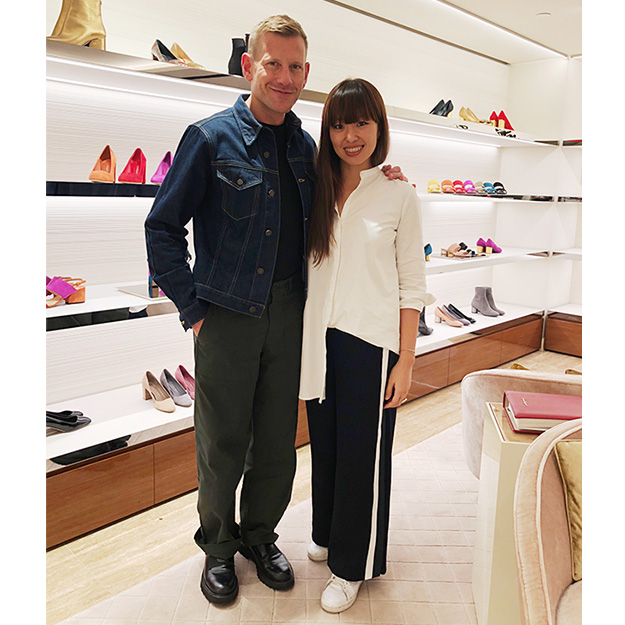 What are three pairs of shoes that every girl should have in her shoe wardrobe?
Definitely a ballerina flat, preferably one with a bow on it. *laughs* A great pair of boots, whether on a lug sole or with a block heel or stiletto, depending on your look, and a pair of sneakers. Going forward, we're putting a lot more emphasis on the sport category—I mean, look at the shoes you're wearing. I just walked along Canton Road and looked at what most people are wearing; I have to really engage with what people are wearing, and what they want from a luxury brand, and do it in our own way.
Are shoe trends something you look at, and is there a trend you're particularly excited about?
I don't really look at trends; we try to be setting the trends in our category of fashion. I definitely see the slingback shoe as a real success; that's a core silhouette for the Paul Andrew brand, and I'm looking at doing that in new, innovative ways at Ferragamo too. The slingback on a kitten heel—that feels very forward at the moment.
Absolutely. Not too long ago, no one wanted to wear a kitten heel.
I think it's reflective of the modern woman. Women are as important as men in the workplace, and they rely on their shoes to be comfortable and look poised. There's nothing less attractive than seeing a woman in a pair of shoes that are clearly uncomfortable. It cripples her in a way, and she doesn't look refined, or elegant or sexy, even. And that's why comfort is so important to me, as that really empowers the woman. And I love that idea.
How is the Paul Andrew woman and the Salvatore Ferragamo woman different?
I'm sure they overlap in many ways. I certainly see women who have been buying my shoes for many years wearing Ferragamo now. The aesthetic codes of both brands are very different. What I do at Ferragamo is based on silhouettes I've discovered in the archives, reimagined for now, whereas the Paul Andrew collection is very personal to me. I'm British, and have lived in the United States for the past 17 years. I'm travelling the world all the time, and my shoes really reflect that journey.
How do you split your time between both brands?
There's a lot of back and forth. I'm basically on a plane every few days at this point. I'm in Italy every week at the moment, now that I'm overseeing all women's categories, and that requires more attention; especially right now, it's the beginning and we're redefining the aesthetic for the brand moving forward.
What inspires you?
It depends on the season. It could be somewhere I'm travelling to, or an artist, or a woman I see walking down the street. But at Ferragamo, it tends to be the history of the Ferragamo brand, and the archival pieces.
"There's nothing less attractive than seeing a woman in a pair of shoes that are clearly uncomfortable. That's why comfort is so important to me, as that really empowers the woman. And I love that idea." – Paul Andrew
What do you do when you're not thinking about fashion?
I'm an avid reader; I devour books. You should see my hand carry and all the hard copy books I'm schlepping around with me. I just finished 'Call Me By Your Name', by André Aciman. He's such an incredible writer. You feel so connected to everything he's talking about, and you feel like you've been through that experience. The phrasing and wording is just so poignant.
What are some of the most important lessons you've learnt in your career?
I've been lucky to have worked with some of the most iconic designers of our generation. With McQueen, it was all about pushing boundaries and thinking totally outside the box, with absolutely no limits. With Calvin Klein, I learnt the importance of staying true to your original idea, and never getting distracted by trends. It's important as a designer to know what you stand for and never get too swayed by what's happening in the outside world. With Donna Karan, where I worked for over a decade, that's where I really learnt the importance of great fit and comfort, and the empowerment of women. She had a huge influence on me for that. So now what I do, especially for my own brand, is an amalgamation of all those experiences.
If you had to host a dinner party, who would you invite, dead or alive?
Ooh that's a good one. There are so many people I would love to meet, like the famous actresses that Salvatore used to dress. Everyone from the Duchess of Windsor, Marlene Dietrich, Marilyn Monroe, Katharine Hepburn, Audrey Hepburn; it was such an incredible list of women, who all had an amazing sense of personal style, and opinions of life. To sit with them would be amazing. In terms of designers, the idea to sit with James Galanos or Christian Dior or Elsa Schiaparelli, or thinking about designers today like Miuccia Prada or Azzedine Alaia or Martin Margiela; those are people who have had a lot of influence on me and my career and that would be a dream come true.
| | |
| --- | --- |
| SHARE THE STORY | |
| Explore More | |