Your muse for this season was Lina Bo Bardi. How did that come about?
With Cuba opening up, I was starting to think about South America. I also thought about Brazil, because of the Olympics. And I recently re-discovered Brazilian modernism in the 1950s and -60s. I always like to look at what women have done, so I re-discovered an Italian-born architect who worked in Brazil called Lina Bo Bardi. What I loved about her work was that she reflected a sort of Latin American modernism. Her work was modern, but it had curves.
So it was modern but sensual?
Not exactly, but modern design by women has a kind of femininity to it, and I wanted to inject that into our collection, to give it a bit of Latin American oomph.
I love how it was youthful, and had a really great energy to it. Maybe it was because of the sportswear influences, like the bomber jackets.
Yes that was all part of the inspiration. The Olympics took place this year, so we are all thinking about sport, but I was also thinking about Lina Bo Bardi. She's no longer with us, but she loved new technology, and if had she been alive today, she would love all these new high-tech materials.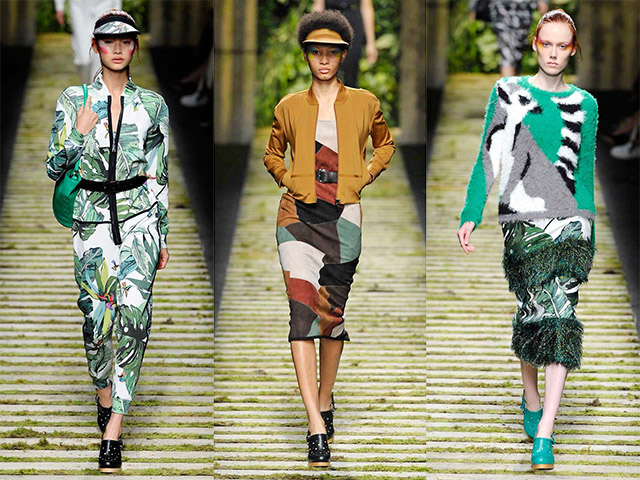 Can you tell us about the materials used in the collection?
We went to the sports field and running track, and we took all these materials that you would usually associate with sportswear, as well as techniques like thermal-bonding instead of the traditional sewing method. So these are very high performance materials, but we worked them into new shapes—it is not what you would wear to the gym, but it's a curvy, sexy dress that you wear on the street, or even the office. It is like sportswear coming into your wardrobe in a way, and it gives you a sense of energy, as you mentioned, the energy and confidence that women need to get on in a man's world.
What are some of your favourite pieces from the collection?
They are all my favourites, because they are like my babies—I like them all. But I really loved the look that Gigi had on because of the technology and the contrast binding on it. I also loved all the sweaters with the animal motif at the end, because they are playful but chic at the same time.
What material were the sweaters made of?
It is a new yarn that was developed for us. It looks like it's furry but when you touch it, it feels quite fresh—something you can wear in the summer. Most of the materials in the collection were developed exclusively for us, and they are all very high-performance fabrics.
My favourite was the bright blue jumpsuit. The orange and yellow ones caught my eye too, loved those.
Those colours come from Lina Bo Bardi. And strangely enough, the furniture manufacturer Arpel just re-released her famous bowl chair in all those colours. I didn't know it when I was designing the collection, so those colours are very Bo Bardi colours.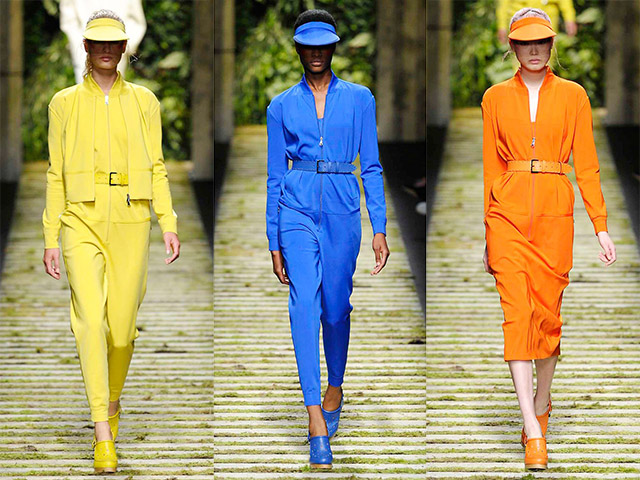 Any key accessories for the collection?
Definitely. We have to talk about the Bowl Bag, which is inspired by her. If you look at Bo Bardi's chairs, they are often made with leather, and they feature very beautifully articulated saddle stitching—that was the motif we used all around the edges of the bag. So we used very traditional saddle craft techniques, just as Lina Bo Bardi would have done. And it has this slightly curvy shape that reflects her brand of modernism.
Read our previous interview with Ian Griffiths here:
Buro 24/7 Exclusive: An interview with Ian Griffiths of Max Mara
| | |
| --- | --- |
| SHARE THE STORY | |
| Explore More | |