Features
Buro 24/7 Exclusive: Bruno Frisoni of Roger Vivier and his muse Inès de La Fressange
French flair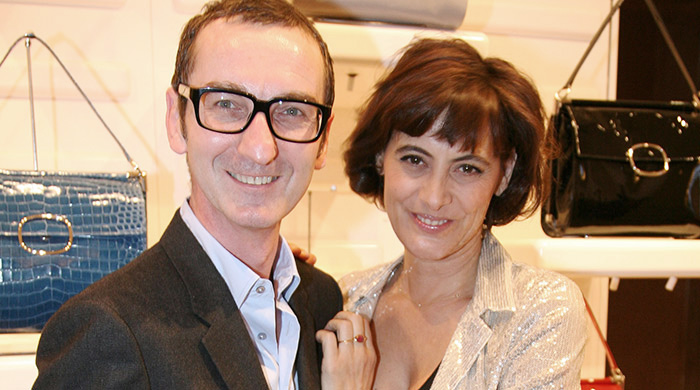 French designer Bruno Frisoni is one who has seen trends in footwear come and go, having been at the creative helm of stiletto-pioneer house Roger Vivier for 13 years this 2016. First honing his talent with fashion designers in the 1980s such as Jean-Louis Scherrer, Maryll Lanvin and Christian Lacroix, Frisoni has revived Roger Vivier with an astute sense of modernity while retaining the house's rich heritage. With Roger Vivier's first store recently opening its doors here in Kuala Lumpur, Buro 24/7 Malaysia chats with the award-winning shoe designer and his muse Inès de La Fressange.
You've been with Roger Vivier for 13 years now, how do you constantly stay inspired in what you do?
After working 13 years for this brand, there always is a way to evolve. In fashion you have to constantly change as the story changes everyday. There are many daily inspirations in one's life, whether it's something you experiment for yourself, or something you can translate in time such as women's fashion through the decades. In Roger Vivier, we focus on what made this brand successful from the start. We don't ever forget the heritage and origins of this brand.
We saw a nod to street style with sneakers and flats in the SS'16 collection, what do you think about this trend and its popularity with women of now?
I think the definition of street style is what is unconventional for people nowadays. It's related to the fact that the way people dress has changed a lot from the past. They like to be comfortable yet look stylish at the same time. They are also conscious of their body and like to be healthy. More people are aware of this technical, sporty style and they like to mix it with other elements. So naturally, the way people wear jeans with everything, it's similar now to how people pair sneakers with everything. It gives people and fashion a sense of cool. I'm older than the younger generation these days, and I've been wearing sneakers since I was in school.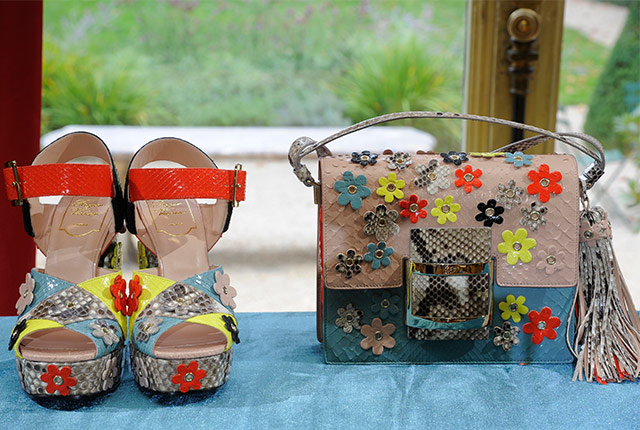 Your SS'16 collection also had plenty of 70s-inspired colourful flower motifs; can you please tell us more about your inspiration behind this collection?
When I think of a cool and relaxed attitude, a flexible approach of fashion, and a lot of freedom in fashion, naturally the 1970s came to mind. The 70s women were iconic beauties – they were glamorous and would wear men's inspired clothing, perfect makeup; and then there was the glamorous, vintage look. I think it's been a long time coming. The collection also had a little Hollywood glamour. Back in the 60s and 70s, there was a lot of freedom, sex and pleasure; and Roger Vivier was very successful then too, so it's all related I'd say. Everybody loves hearts and flowers. I think there are so many flowers in nature that can inspire you, even your hairdo or your makeup look. To me, flowers are something that's always relevant, playful, feminine and sexy.
Who is currently your biggest muse, and why?
Naturally, Ines de la Fressange, she's my everyday inspiration! She takes a playful way of dressing, there's something you notice about the way she dresses. She adapts the old with new and makes it fantastically great looking. But also, it's women like Angelica Houston or Cate Blanchett; I have a few. Ines is my Parisian muse.
How do you constantly find inspiration to reinvent or incorporate the brand's iconic square buckle into your designs while staying current?
When you have something this iconic, like Gucci or Chanel reinventing their logos, you have a chance to play it the way you want. Whether minimal or maximal, it's a beautiful sign that everybody recognizes, being the brand's logo. It's about the proportion, the way you put it, where you put it, and the way you play it. I don't see any complexity in this because for me, it's like a beautiful painting without a frame.
What do you think defines a woman's style?
Personality, for sure. That's very important. You don't want to change the woman – you want to reveal how beautiful she is inside, naturally. Most of the time you can tell how people are the way they present themselves. Whether you're wearing an iconic shoe or sneakers, it's all about choosing the right one for you. But I think it has to do with taste too, and mostly being real with yourself and with who you are. When you wear something, you should look like you don't even think the way you put it on, but it's the end result that matters.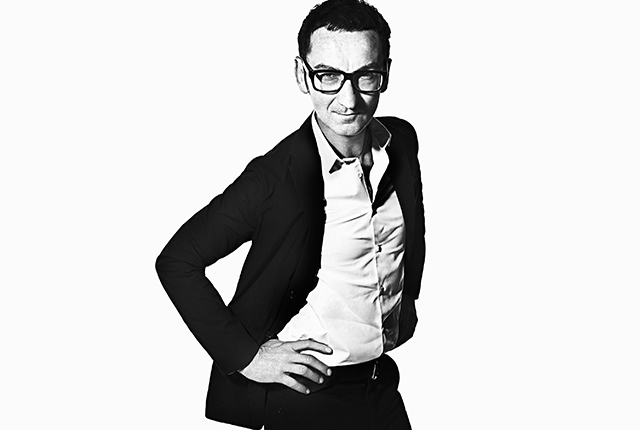 What is something you haven't tried but you would like to, if you weren't designing?
I feel like a warrior when it comes to design. I don't question myself now, I only question myself when I have it on my desk. One thing that's important in my work life is to feel pleasure and play everyday almost, with paper and colour pencils and imagining ideas. If a new project can make me have fun like this everyday, I would take it up.
With the fast-moving fashion scene these days where everyone is connected via social media, do you think it's integral that luxury brands keep up to that same pace or otherwise? Why so?
For me designing is about designing. I don't really think that a million followers on social media will help me with what I do. If it's a T-shirt or something easy to buy, I will need followers. But I don't know all these million people out there, it wouldn't be so much as to what I need. I strongly believe in what I do, and I need social media but I think it's only advertising at the end of the day. You will need to get more attention to a certain degree, but in reality I don't think it's of immediate help. I think it's a ridiculous way to approach fashion. It's like selling on the Internet – you reduce creativity into a tiny hole as means to connect to people. Unless you know the brand and the product, how can you buy it through social media or the Internet? I find social media quite empty – it's not about age it's about interest.
Someone you'd love to style on the red carpet, and why?
Every woman! No exception, they are all beautiful!
How would you describe a Roger Vivier woman?
She's quite intentional, she's sexy, she may like classic recognisable pieces like a Chanel bag or a pair of Roger Vivier stilettos, and something that's not on every hand or arm. She likes something not quite eccentric but she's an individualist.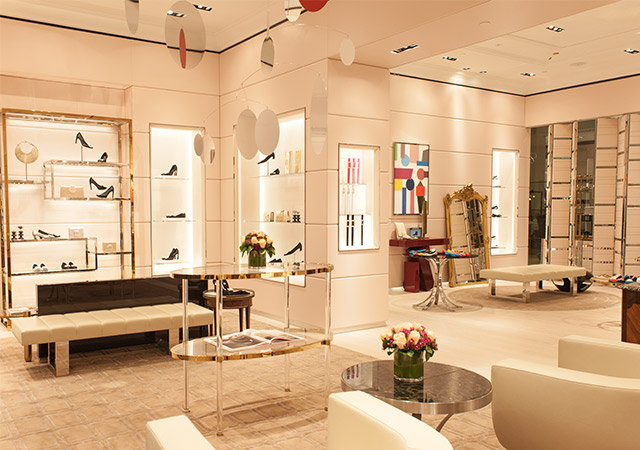 We're excited to have Roger Vivier here at Malaysia for the first time, what are you looking forward to offer to your clientele here?
A smile and plenty of love and happiness! Mostly the pleasure of wearing Roger Vivier, that's all I want to bring them. For me, fashion is about bringing pleasure, there's no obligation to wear anything, so I think it should be this.
Apart from shoes, what else are you passionate about?
Everything. I love to eat, drink, and I love skiing. I'm always looking at the temperature outside, waiting to see how cold the weather gets, because I need the snow when I ski in the mountains. I love to read, listen to music, I don't do much exercise as it's not my passion. I do it because I need to keep my body in shape and also because if I look too fat, you won't pay attention to me. I love to draw and doodle. Mostly, I'm good at drawing fashion. Sometimes I love not doing anything, just relaxing.
What can we expect from Roger Vivier in the future?
I hope you can expect a lot because Roger Vivier, to me, is a very young brand. We launched it a little more than 10 years ago, and in design, it's the way you do it that you're sure it's going to be a success. But if we're not sure it's going to be a hit, we don't show it to anybody. We may have been taking time to make new collections but because we're waiting to make it the right one.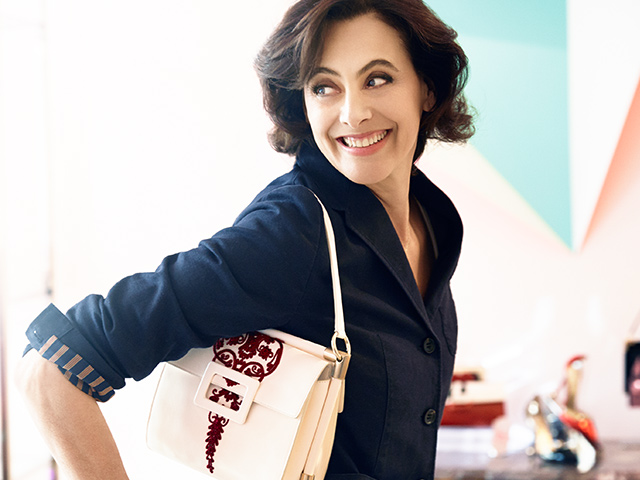 Think of a Parisian lady who's classically chic in every sense without being over-the-top or predictable, and Inès de La Fressange comes to mind. The fashion designer, muse of Bruno Frisoni, and supermodel who was the first to sign an exclusive contract with Chanel (back in the 80s) is also the brand ambassador of Roger Vivier. In this exclusive interview, Inès shares her style tips and favourite Roger Vivier accessories.
How did your collaboration with Roger Vivier come about?
Diego Della Valle (President and CEO of Tod's) wanted someone very Parisian and very much in the fashion world to relaunch this brand (that was a little forgotten) so he asked me. I knew the work of Roger Vivier and him personally, so I was immediately thrilled by the idea of it.
Can you please tell us how you're involved in the creative process at Roger Vivier?
Apart from the collection (designed by Bruno Frisoni) there are a lot of things to decide on when you relaunch a brand, such as the design, communication, exhibitions, books, packaging, casting of people you are going to work with and more. So at the beginning I was in charge of all that. Now the company is huge and also globally expanding but we still have to take care to keep the spirit of the brand's origins.
Will there be a Roger Vivier collection that you will be lending your creative expertise to in the future?
Some iconic products of the brand I do customise—I did it for the Miss Viv handbag for instance, but the newer products are made by Bruno Frisoni and the studio. As a designer I also have my own brand and two collections a year for Uniqlo .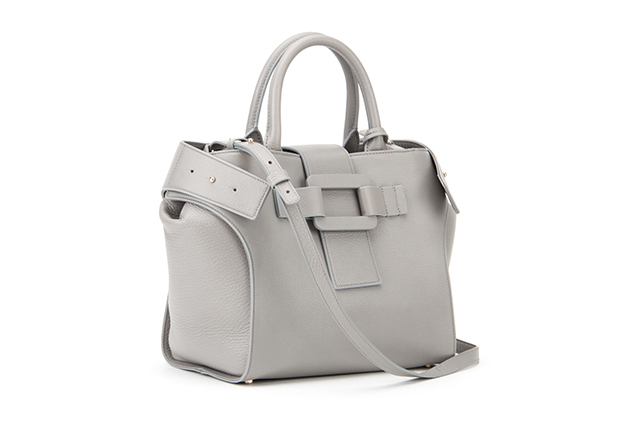 A favourite, go-to Roger Vivier piece of yours?
I am crazy for the Pilgrim bag that I carry everyday and all my friends want it, but I also love the sneakers like the pink ones with a zip on the side.
Which particular Roger Vivier pieces do you collect and how many of those do you have?
Roger Vivier ballerinas are perfection—they match with everything. I think I may have 12 identical pairs but in different fabrics, leather and colours. I like my shoes not to be too worn and quite often I throw some out, but ballerinas are always there all the time.
What do you think sets a pair of Roger Viviers apart from other shoes?
The difference between a pair and another is not only just a question of quality, it's a question of creativity and proportions. Ideas aren't enough because proportions are essential. But above all, Roger Vivier shoes are always elegant and never vulgar. It's quite obvious to our customers as they know they can't find something similar elsewhere.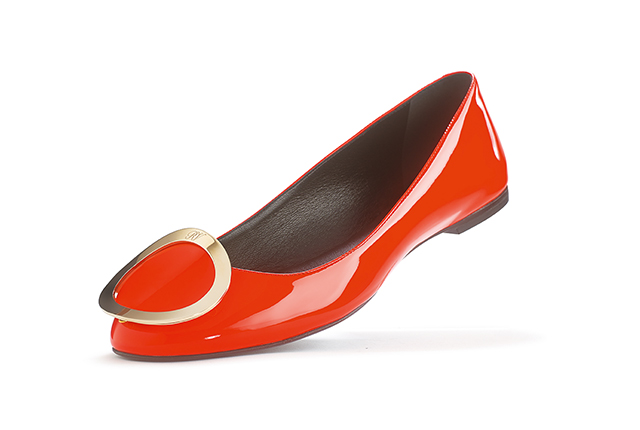 What is your biggest takeaway from your many years of being a model?
I don't regret not having been one! My mentors were Karl Lagerfeld, Yves Saint-Laurent, Jean-Paul Gaultier; to me a good school is for life!
How would you describe your style in a few words?
So French! A mixture of casual and sophisticated, such as T-shirts with pearls.
What is one style or trend that you love going back to?
The seventies were quite jolly—I love flare pants, tribal inspired things and even ponchos.
What do you think should be a wardrobe staple for every woman?
Anything navy blue is nice, whether a caban, sweater or jacket. Everybody looks better in navy blue.
A major fashion faux pas that you wouldn't be caught dead in?
Never say never in fashion, but I would never put on a bra with transparent (plastic) straps. And, it's too late for me to wear mini skirts now.
Your favourite spot to relax in Paris to have some down time?
Honestly, home. One has to learn to enjoy staying home. And instead of going to a trendy spa I would advise to walk down the streets, it's a great way to relieve stress. I have a newsletter every Thursday in which I give advice and detailed places of where to go.
Related stories:
Buro 24/7 Exclusive: Power designer Gabriela Hearst
Karl Lagerfeld on that Chanel cabin case and creating the 'perfect boring place'
| | |
| --- | --- |
| SHARE THE STORY | |
| Explore More | |