Features
How luxury British fashion houses are keeping up with sustainability
A fabulous revolution
Featured images: @viviennewestwood/Instagram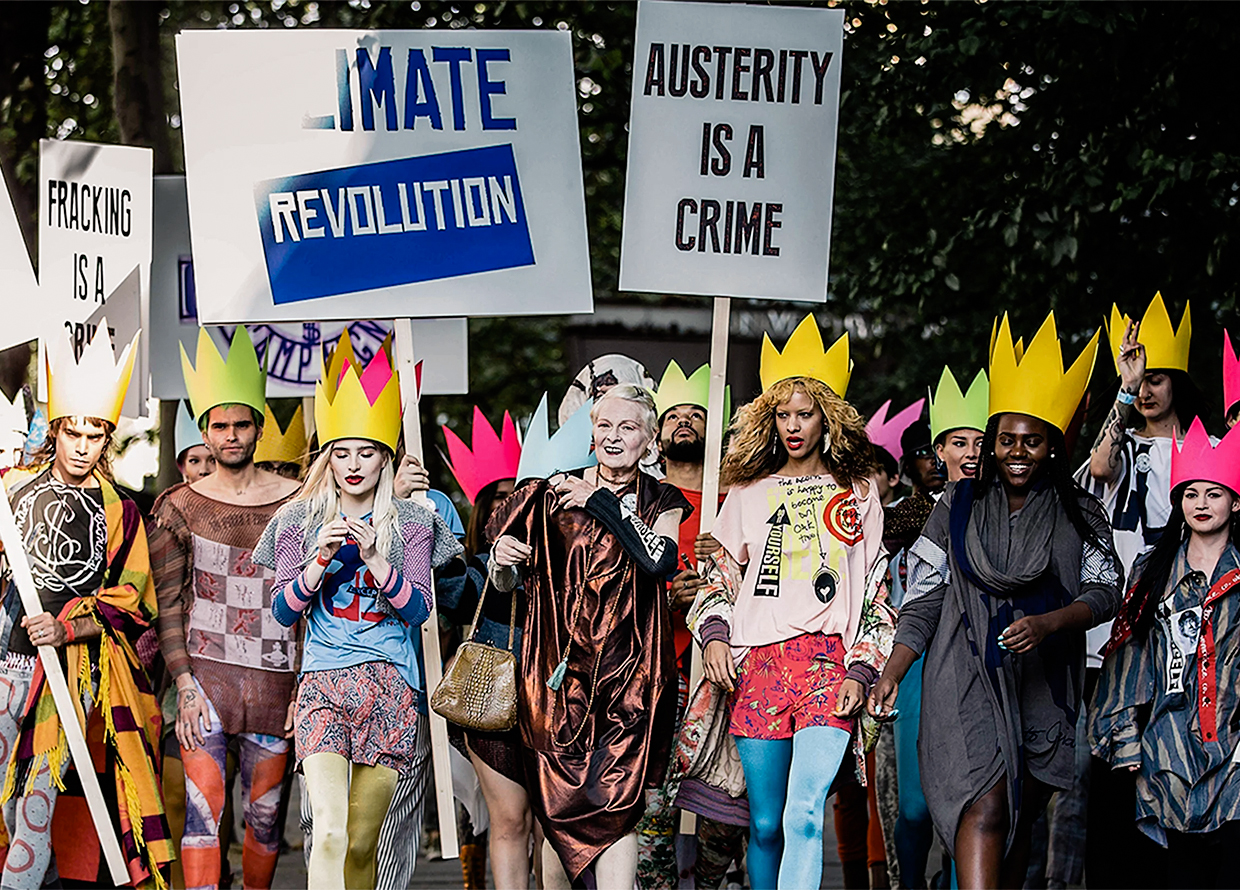 Many things come to mind when we think about sustainability in fashion. Natural fabrics, ethical labour practices, thrift shopping, practising slow fashion, you name it—all of these are initiatives done to minimise the negative impact on the environment and society, with the goal of achieving carbon neutrality. While this is a collective approach, the elephant in the room must be addressed: the presence of luxury brands. 
Designer labels are typically known for their exclusivity, exquisite craftsmanship, and premium materials to justify their hefty price tags. But still, this does not promise more environmentally friendly production, adequate pay for workers, or proactive work to create a more eco-friendly business. Having said that, it's also unfair to assume that all high-end brands work similarly because some are making great strides towards sustainability while maintaining their luxury aesthetic.
Take Stella Mccartney, for instance. Since 2001, this chic womenswear brand has paved the way for others by ditching unsustainable materials in favour of contemporary methods to produce the most sought-after garments. Vegan leather substitutes animal leather in the making of the Frayme handbags series, while alter-nappa leather—a solvent-free polyurethane that's much safer to work with—is used to craft shoes and bags. 
View this post on Instagram
In the production of luxury items, a lot of care is put into anything and everything—including the packaging. Stella McCartney pledges to only use paper that is at least 50 per cent recycled in its packaging. Furthermore, it vows to substantially limit the usage of plastic, with the goal of having all plastic be recyclable, compostable, or recycled by the year 2025.
Burberry, on the other hand, is striving to better the world by making conscious efforts in sourcing its materials. As part of its commitment to become fur-free, it has outlawed the use of any actual fur and exotic skins since 2018. This includes the fur of the rabbit, fox, mink, Asiatic raccoon, and Angora rabbit. Additionally, down and feathers are no longer used to decorate jackets, and by 2025, the label aims to only use wool that has been certified, ensuring that it originates from farms that practise progressive land management, and from sheep that have been handled humanely. 
View this post on Instagram
Continuous collaborations have also enabled the heritage brand to come up with inventive ways to repurpose the leftover leathers. For instance, Burberry joins forces with Alta Scuola di Pelletteria Italiana, an Italian leather school where students are taught how to disassemble leather goods and turn them into new products. Something else to be admired is how the brand has evolved into conscious workmanship by providing aftercare services globally to extend the life of your leather, trench and cashmere goods.
Also, how can we forget the legacy of the late Vivienne Westwood, a passionate advocate in addressing global warming and engaging consumers about its negative consequences on Mother Earth? As one of the last independent global fashion brands, the label tackles this issue by producing a small number of goods while making sure that the items are as exceptional as possible. Following this, the luxury brand uses renewable energy to run its operations, including the headquarters and stores in the UK and Italy. 
View this post on Instagram
Aside from that, the excess fabrics from fabric sourcing will be donated or used in other collections, such as the World's End collection. Since Vivienne Westwood values legacy and artistry, it also collaborates with UK-based businesses and artisans as well as those in Europe, India, and Africa. Working with small heritage businesses and craftspeople helps use production methods that are more ecologically friendly while preserving traditionally skilled occupations and the communities that they serve.
For more fashion reads, click here.
| | |
| --- | --- |
| SHARE THE STORY | |
| Explore More | |