Did you know one in 10 people admit to buying outfits solely for social media? While the amount of clothing produced today continues to exceed the amount that we actually need, developments in the intersection between technology and fashion have found an alternative solution. In the words of digital fashion retailer DressX: instead of shopping less, shop digital.
Last year we mulled over the idea of digital clothing and agreed that its zero environmental impact and accessibility made for a strong case. However, given the difficulty in dissociating materiality from fashion (the joy of dressing up is in part about the tactility of clothes), we weren't entirely convinced.
Fast forward to today, that opinion is wavering. As the virtual becomes increasingly entangled with reality and the issue of sustainability stays at the fore, digital fashion looks to be the way forward and taking over sooner than you think.
The concept is nothing new––curating our digital appearances is already a huge part of everyone's lives and there is already a proven market within gaming culture. In addition to being body- and gender-inclusive, virtual garments also provide endless possibilities for creative self-expression.
On top of that, the space for AR clothing try-on is developing at breakneck speed and getting closer than ever to fruition. Earlier this month, Snapchat launched its new 3D Bitmoji avatars––another step forward in its digital fashion push. DressX, who has over 100 partner designers, closed a $2 million seed round to launch an app that lets people try on products in real-time. But perhaps the most telling shift was when Auroboros made history last month as the first luxury house to debut an all-digital ready-to-wear collection during London Fashion Week.
Named 'Biomimicry', the 14-piece inaugural collection was first launched via Farfetch's shoppable styling game Drest, but found a place in the real world via a video presentation and AR filter created in collaboration with the Institute of Digital Fashion. Inspired by sci-fi and a nature tech ethos, the ethereal cyber designs were then rendered on a physical model and styled by DJ-designer Sita Abellan.
A scan of the QR codes plastered around the city and you could instantly try on a wearable version of Auroboros' 'Venustrap' dress. "Within three days of its release, 2.5 million users had already worn the digital filter dress," says founders Alissa Aulbekova and Paula Sello. "It demonstrated a huge leap towards the democratisation of fashion."
Auroboros initially began as an experimental side project during uni, which took off after Alexander McQueen's Sarabande Foundation invited the duo to take up residency at the trust last year. Before the digital collection, they introduced a physical couture line that placed emphasis on innovation in the material––made-to-measure, biodegradable pieces that blossomed and grew organically on the body.
Since then, Sello and Aulbekova continue to marry nature with tech tools and software to create awe-inspiring designs that intertwine the tangible and immaterial realms of digital and physical. In doing so, they envision a future that pushes innovation in design with the planet in mind.
"The carbon footprint for producing one digital item is, on average, 97 per cent less than it is for a physical garment. Digital clothing is more sustainable, zero waste and inclusive to all bodies, as virtual pieces are 'made-to-measure' with each garment individually digitally manipulated onto the wearer," they explain.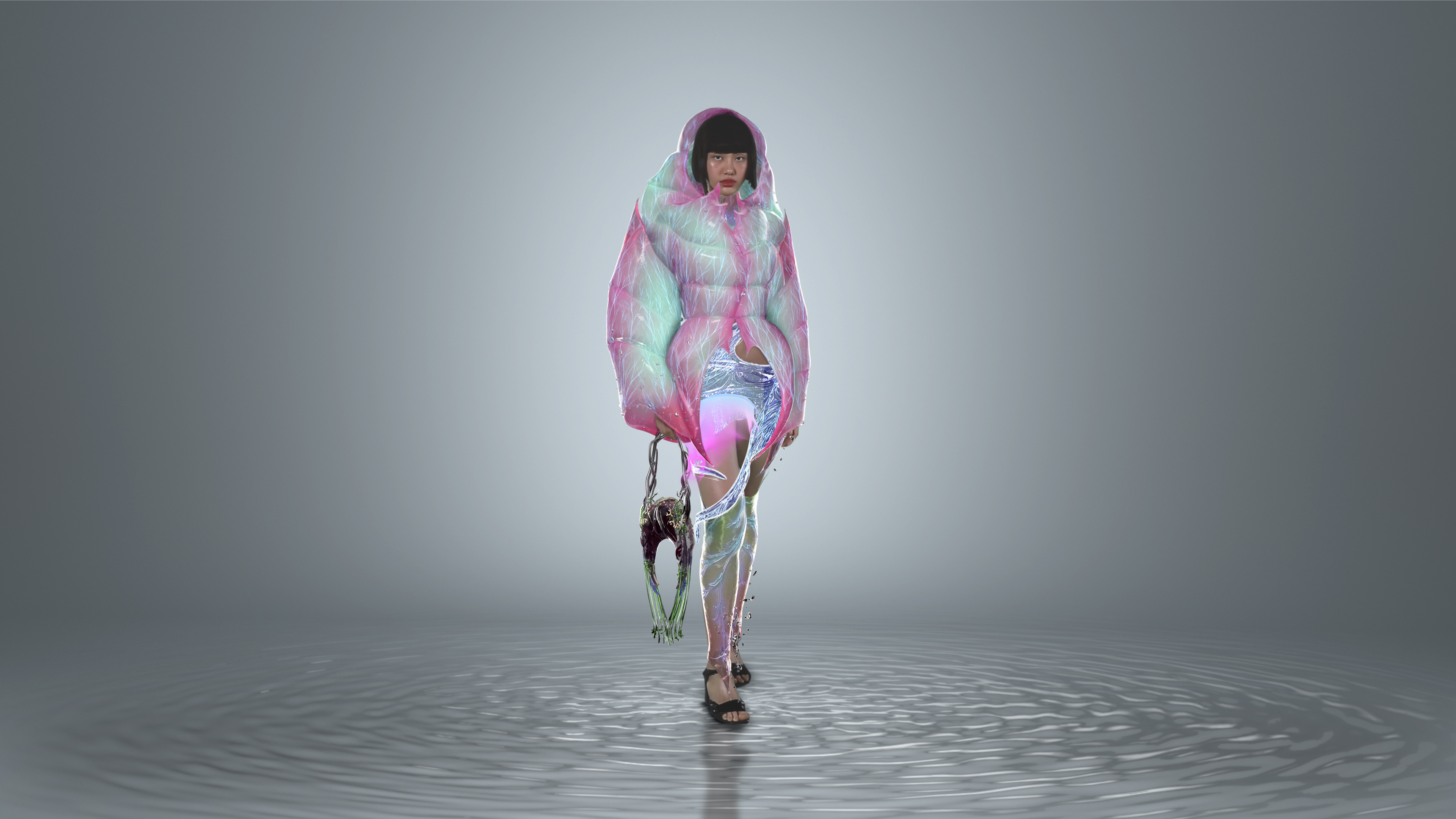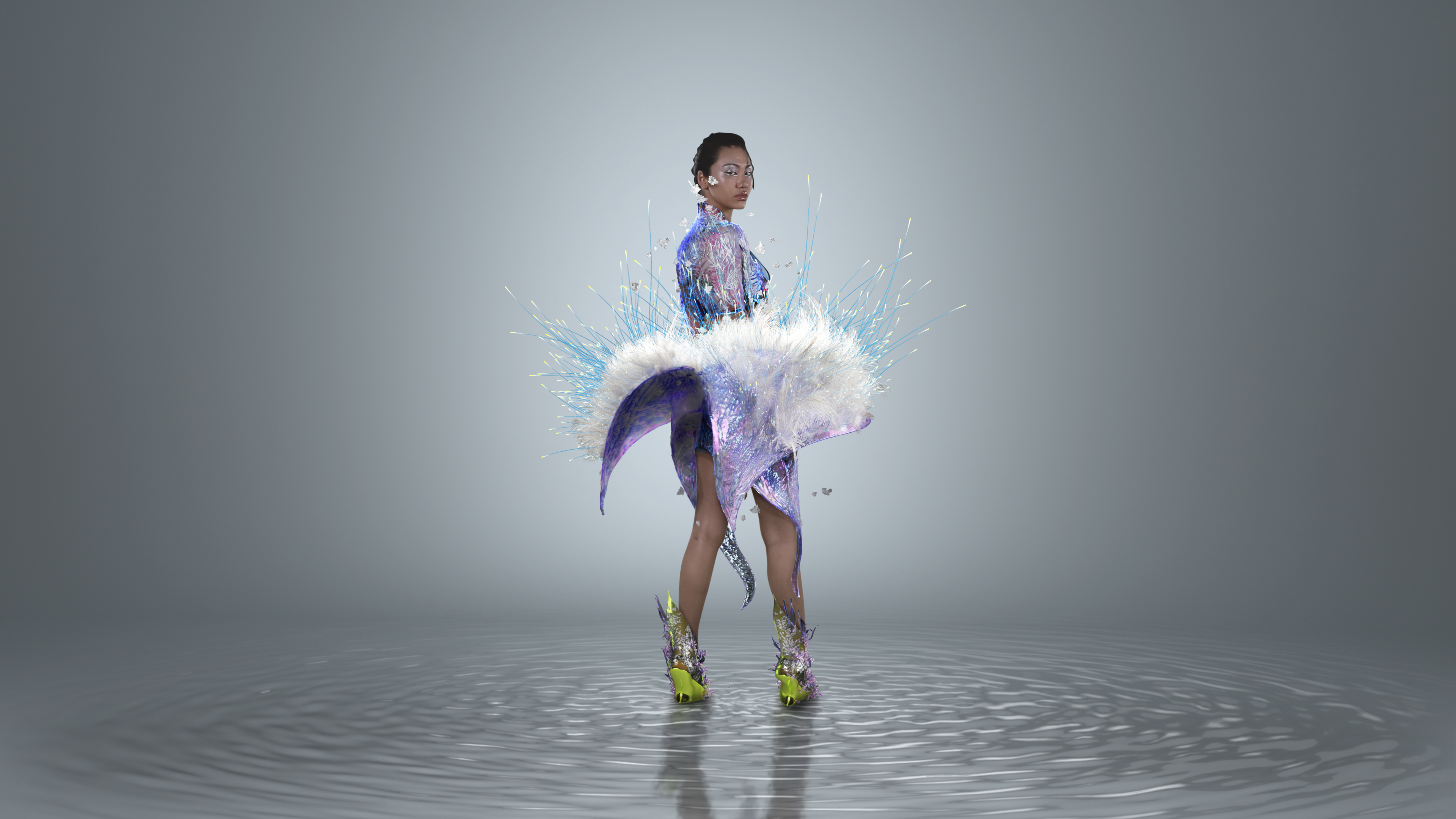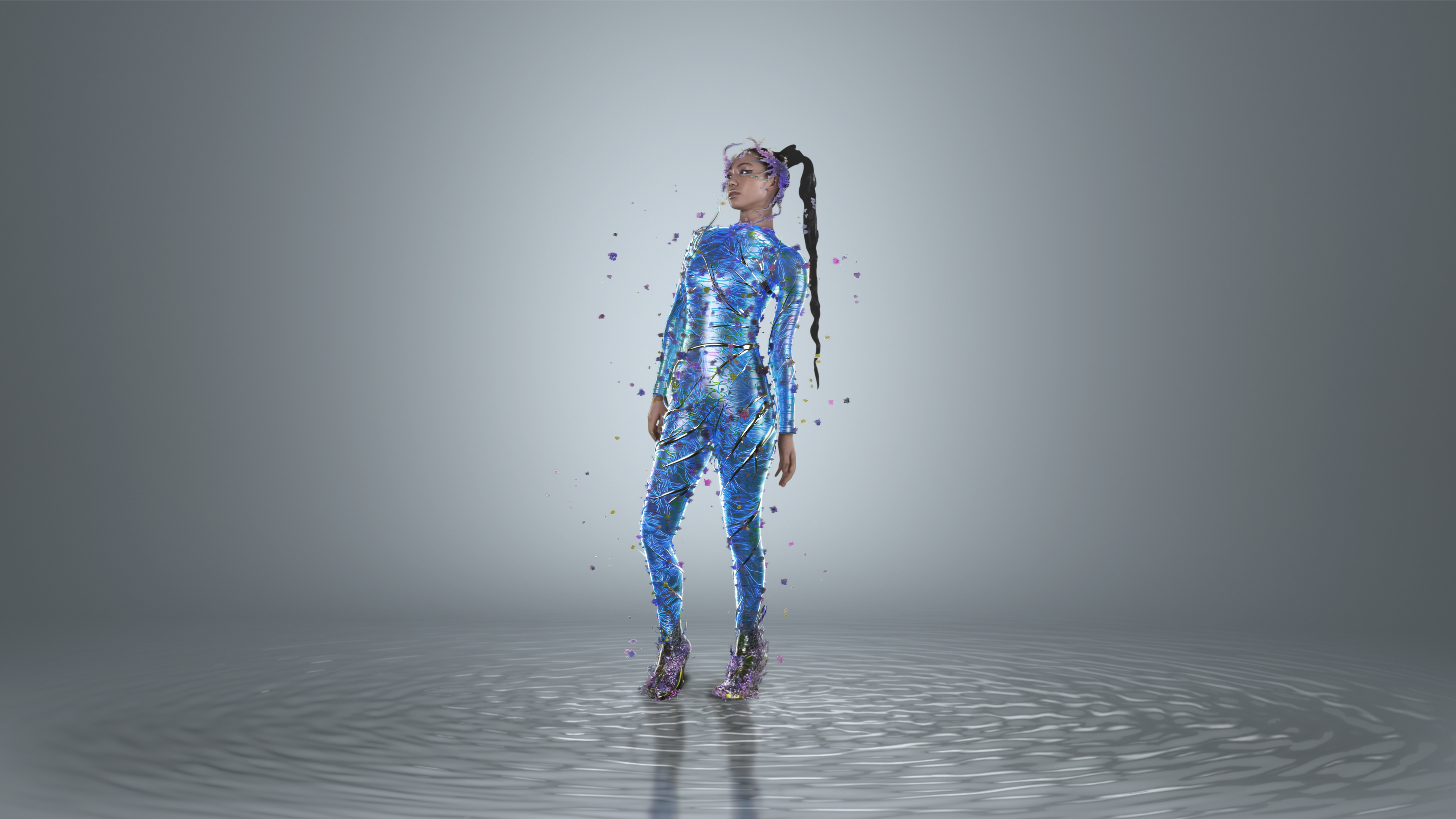 With a performative, one-of-a-kind experience set to debut later this year in London, we spoke to Aulbekova and Sello about the brand, the merging of technology and fashion, and creating clothes for a utopian vision:
Auroboros just made its debut during the recent London Fashion Week. How did it feel?
"We are honoured to debut at London Fashion Week with our Biomimicry Digital Ready To Wear Collection! The experience of being the first to present a purely digital collection at a major international fashion week was so exciting for us as a brand and for the wider industry. The event was a first for fashion, signifying a shift in the consumer perception of digital wearables. It is fascinating to think that Auroboros will forever be associated with this history-making moment as representing the beginning of a new era where fashion and the metaverse collide."
"The newfound familiarity with technology post-lockdown has meant that the industry was ready to embrace our LFW presentation as our daily lives become more interwoven with tech than ever before. The heavily detailed craft and intricate beauty of our digital collection also lent to a positive reception. With Auroboros digital RTW, we introduced luxury to the metaverse and demonstrated how artistry and meticulous design can translate into a non-material context."
What distinguishes your digital ready-to-wear from physical couture lines?
"Auroboros digital ready-to-wear and physical couture are distinct as they exist in separate realms, bound together thematically. Both sides of the brand are equally unique whilst inextricably linked; a new way of selling fashion products that we believe many others will soon be following."
"For example, our first collection, Biomimicry, explores a vision of nature-tech across these two mediums. The physical couture pieces are wearable art that metamorphoses the entire or part of the couture gown. Using a naturally occurring crystallizing chemical reaction, the garments create a unique transformative and ethereal performance of life and death, mimicking the biological pattern of nature. Growing over a span of six to twelve hours, once they have fully grown, the crystals disintegrate. This challenges our relationship with luxury to an experience, rather than as an object of everlasting permanence."
View this post on Instagram
"The digital on the other hand is eternal, existing purely as a virtual garment. These pieces are named 'ready-to-wear' as they truly are suitable to anybody, including every shape or form at any moment in time without ever polluting our natural environment. Utilising unique pipelines and innovative digital methods, we create a high-end luxury feel within the virtual. Here, we perceive materials and textures one would never be able to wear physically, exploring the limitless nature of the metaverse. With a more digitally savvy audience also comes a different overall look––brighter, vivid colours and a more revealing silhouette."
Auroboros identifies itself as a science/tech couture house. What has it been like working between the worlds of technology, science and fashion?
"Integrating science and technological innovations into our design practices unlocks limitless possibilities, enabling us to make our wildest ideas a reality. We regard the fields almost as a form of magic, granting you the chance to transcend beyond the constraints of normality. Utilising digital technology means that you no longer have to question the realism of your designs, allowing you to conceptualise to the furthest extent that your mind can take you."
"Science has a similar impact on our practices at Auroboros—it too is an enabling force that allows us to move beyond a two-dimensional fabric, to those that are 'three dimensional' by affecting properties of time. This has empowered us to create clothing for a utopian vision."
View this post on Instagram
Why were you drawn to biomimicry to inspire your designs? 
"Biomimicry involves innovating from the biological entities and processes found in nature within our designs and production methods. We perceive nature as the best designer to exist in our universe, and are humbled to learn from it. The term biomimicry itself was coined by Jane Benyus who defines it as 'a practice that learns from and mimics the strategies found in nature to solve human design challenges—and find hope along the way'. This positive message of a bio-utopian future captivated us, in which technology and nature coincide rather than cancelling each other out."
"Technology learning from nature is not only an aesthetic feature but one that is necessary for the survival of our planet. With this, we wish to provide joy and above all courage for others to follow a similar path. We, therefore, set this into practice within our first collection to set the tone for Auroboros as a whole."
View this post on Instagram
Walk us through the creation of one of your pieces from the first collection. What is the creative process like and how long does it take to create one garment?
"The creation process of one of our Biomimicry digital collection pieces begins as most fashion items traditionally do, with an idea and a sketch. Once the research and sketch have been fleshed out, the drawing is pulled into the virtual space and adapted using software, such as ZBrush, Blender or CLO3d. Experimenting with the design, it eventually begins to resemble our vision, often collaborating with VFX artists or sculptors to achieve the complex and elaborate structures in our creations for physical and digital pieces. The digital garments then undergo several design processes within our pipeline to polish and finalise the complete piece, whereas the physical garments are then transferred into its prospective materials."
How does this change our relationship with clothes?  
"Auroboros aims to alter our relationship with clothing by contradicting preconceived notions of what clothing is and should be. Questioning what luxury means in the 21st century, with the advent of the internet and intangible products, we are striving towards a more inclusive vision not only of human diversity but also that of our planets. Designing to sustain our planet is essential now; therefore, we see our role as important within the digital transition. Within these digital pieces, we are designing to create an emotive response for people to connect to a different and contemporary form of product. This connection is vital, as humans identify through clothing, which at present is the third largest pollutant in our world."
View this post on Instagram
"When in the metaverse we can wear materials or pieces that have never existed before, we at Auroboros must showcase the magical nature of this newfound freedom of expression and identity. This is why our physical couture exists purely as wearable art, rather than a mass consumer product. We see that our customers are seeking a much more personalised experience, which our innovation of the physical growing couture can provide. These pieces uniquely metamorph around the wearer in a life cycle that can never be imitated again. The restricted life span means that the wearer becomes a part of the narrative, cherishing the fleeting moment that the couture lives. For our customer, it conjures up consideration for the negative repercussions of clothes that live long after they have been discarded alongside the well being of the natural world."
What are the common misconceptions about digital fashion?
"There is a misconception that digital fashion's only purpose is to feature within social media posts and therefore is only relevant to those who plan and curate their feeds. The truth is this is just one facet of digital fashion, and the full extent of the uses of digital clothing will become apparent as society fuses its day-to-day with the metaverse. Audiences will engage with digital fashion via gaming, avatar-based virtual worlds and augmented reality wearables, such as AR glasses."
You plan to launch a second digital collection later this year. Could you give us a preview of what's to come?
"Our upcoming collection from Auroboros will include a wider range of choices, from head-to-toe looks and accessories to unique new features and models never before seen in digital or even physical fashion. Pushing the boundaries of technology even more than our current Biomimicry collection, Auroboros is creating a line that provides new experiences for our diverse customers by interlinking science, art, tech and fashion for all the realms of the metaverse."
For more information and how to shop Auroboros' Biomimicry digital collection, head here. 
| | |
| --- | --- |
| SHARE THE STORY | |
| Explore More | |