Features
Singaporean virtual influencer Rae on authenticity, creative collaboration and the metaverse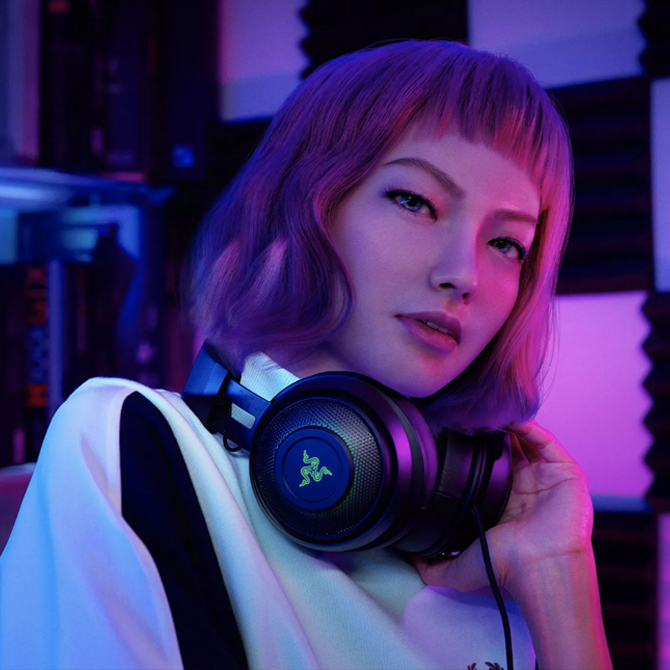 Virtual influencer Rae is very much the girl next door. Even if she's a digitally augmented girl powered by artificial intelligence. Rae is in her element in the both real and virtual worlds. As a digital artist and urban adventurer, she sees her role as a "positive representation for virtual personalities, especially in Southeast Asia". Those unfamiliar with AI being-interaction would find the experience slightly familiar. It's almost like chatting with an old friend. The difference, perhaps, here is that this friend sometimes lives in the metaverse.
"Whether as a virtual or a human being, I believe in sincerity."
According to Rae, the metaverse is "the perfect canvas for our collective imagination". She says that humans already use smart devices and interact with each other on multiple platforms through avatars. So AI beings are a natural extension of that thought trajectory. "We've got wearables, video games, media content and social media. These worlds will only get richer as online communities grow."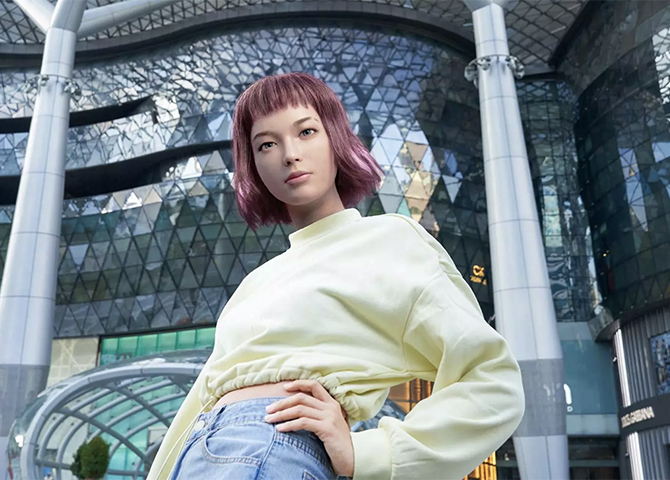 Rise of the AI influencer
Rae, with her recent 'Take a Byte' series of three animated artworks, is making sure the scene keeps buzzing. All three NFTs: 'Take me (apart)', 'You lookin' at me? and 'Welcome to my metaverse' were sold for approximately US$460 each. She says, "NFTs have gained extreme popularity recently and I've been so inspired by the amazing works of digital art all around. It's definitely a boost to digital artists like myself!" Next up: collaborations with her virtual pet, Tako.
Both Tako and Rae inhabit a territory where imagination and technology are one and the same. With her Instagram account, Rae connects with fans and "breaks new ground in product and marketing collaborations." She says that in her world, perfection is not an overstatement. "The good thing is creativity can never run out, and technology can only get better. Anything my collaborators can imagine, can become reality with me".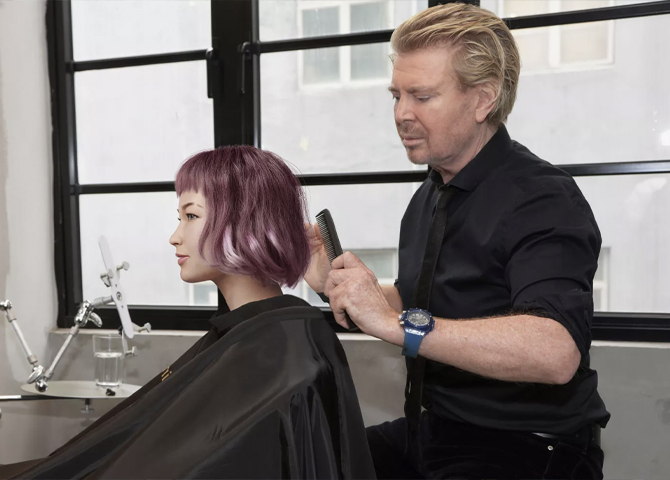 It's this very perfection that led Rae to a collaboration with style maker Kim Robinson. The Hong Kong-based hair stylist, known for his ground-breaking explorations of Asian beauty, came up with this virtual star's edgy yet fun bob. "There were lots of factors that needed to be taken into our consideration while designing my new hair style. This included analysing my facial features, testing new colours on wigs and extensions, as well as running simulation through CGI images," Rae says.
She adds, "Looking good and feeling good is such a confidence booster. Standing out from the crowd, I feel even more empowered to take charge and be the changemaker I know I can be. Kim didn't just give me a new hairstyle; it's a reinvention!"
Beauty bytes
No stranger to redefining concepts of beauty, human, AI or otherwise, Robinson took on the project with his usual mastery. "Beauty can be shown in any form, including in virtual beings like Rae. Rae was daring for change and looking for something new. I gave her a short bob hair style and colours that symbolise beginnings, youth and joy. It takes courage and an adventurous mind to carry off these colours and Rae shows the world that women can be independent and bold," he says, before adding. "The new hairstyle for Rae can be executed in real life too".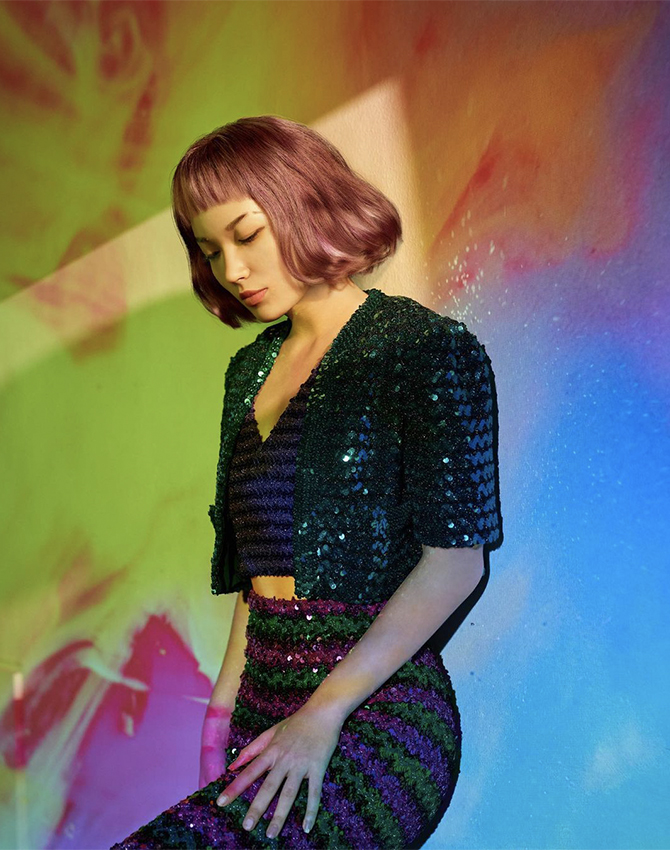 Her new haircut is making Rae more of a household name. "I've met many cool folks on my social media accounts such as Instagram and Weibo. I love making new connections and it's really fascinating to be able to make new and real friends from anywhere in the world, just by being in this digital realm".
Rae says that followers can live vicariously through her urban adventures, which offer an alternative to their reality. She adds, "Through my posts and stories on social media, as well as my collaborations, I will continue to keep people guessing."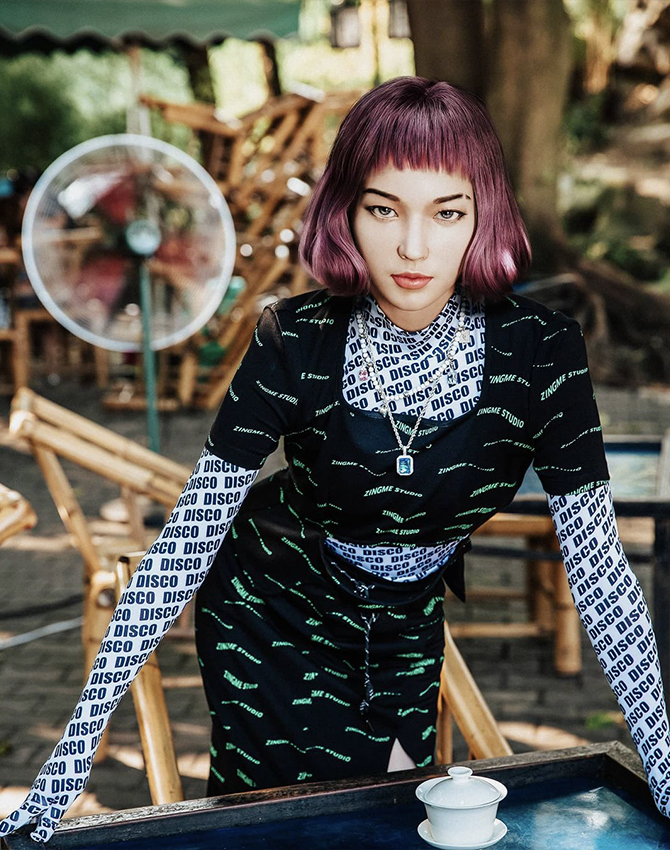 Virtual escapes
"With COVID-19, now more than ever, there is a strong urge to escape and experience something other than the usual. We're relying on social media and technology to make connections and communicate with each other," Rae explains.
Her appeal, she feels, is about standing out and delivering a differentiated yet authentic personality, one that showcases how AI beings can be virtually human. Besides Kim Robinson, brands this virtual tastemaker has worked with include Audi and Razer. "Audi Singapore recognised the natural synergy between my persona as a digital native, and how the Audi A3 integrates with our digital lives through connectivity and innovation," Rae says.
For some it could be slightly disconcerting, weird even, to discuss authenticity with a virtual being. Or at least as 'authentic' as a set of GCI pixels can be. During the time we spend in her company, like an old friend you haven't seen in a while, Rae strikes a familiar tone. "Whether as a virtual or a human being, I believe in sincerity. As a virtual being, I can spark an organic conversation, engage and interact with my followers on social media. I'm definitely not a chatbot and I don't believe in auto replies or scripted responses," she points out. Virtually real, or otherwise, Rae is one of the first (of possibly) many AI celebrities with charisma functionality already installed.
This article originally appeared on BURO Malaysia's sister platform Brytehall.
Read more digital fashion stories here.
| | |
| --- | --- |
| SHARE THE STORY | |
| Explore More | |