When talented fashion designer and entrepreneur Alia Bastamam first started out in the fashion industry upon graduating, she didn't think her very own namesake label will be established in a span of five years with awards in tow. As Bastamam celebrates her brand's fifth anniversary this year and releasing her ready-to-wear line simultaneously, Buro 24/7 speaks to the designer regarding her journey in the industry from the beginning and venturing into new areas of expertise.
What are you most proud of achieving five years down the road?
AB: I think it's definitely launching our ready-to-wear line. Finally getting it out there is what I've always been wanting to do since the very beginning. We started off with ready-to-wear resort. But as a young company, we had to keep the money flowing so we started doing bridal and got really successful with that. People actually recognise Alia Bastamam to be a bridal wear line. But the proudest moment to date is launching our ready-to-wear line at KL Fashion Week last year.
How would you say your journey in the fashion industry has been from the start?
AB: I knew it was going to be difficult even before we started out with the brand. I can't lie that I wasn't confident. I told my partners, "Who would want to buy Alia Bastamam?" because nobody knows our name. But our clients found us and they stayed. The media has also been really supportive since the very beginning. We started five years ago and we were already talked about in magazines and the media—I guess it was because I came at the right time as a female designer designing simple, minimal clothes for women. I guess I am quite lucky in that sense. We've never strayed or trailed away from our DNA. How I've been designing and working has always stayed the same.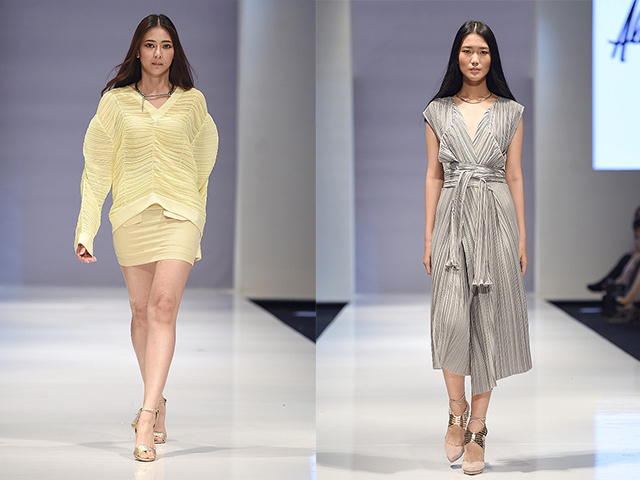 If you could tell a story behind your Spring/Summer 2016 collection, what would it be?
AB: We were actually inspired by our first resort collection ever. It was quite personal to me because along the way, we tried to cater to our clients, and the Malaysian market likes more intricate stuff. So along the way, I started designing for these clients. For every collection until up to this recent one, I was trying to give the market a little bit of me, but it wasn't completely the whole of me. So this recent collection is all Alia Bastamam, from the pastels and pleats to the flowy fabrics. Very feminine, yet not too structured nor too constricting to the woman's body. I actually looked back to our first resort collection in reference to this latest one.
Is there something new you would like to venture into, whether in your fashion design or otherwise?
AB: I feel like in this age right now, fashion is all about getting the clothes there and then. People don't want to wait for Fashion Week anymore. There are even international designers, who are doing their own shows and calling up their own clients to go for their shows. That said, we're looking into bridal ready-to wear—something more accessible to everyone. We've been getting emails from random people from around the world like Pennsylvania and New Zealand, asking us about our wedding dresses and we're thinking, "How do we get to them?" So we have that idea in our heads and I think we will be working on that in the next few years.
What is one constant that everyone can find when it comes to Alia Bridal?
AB: I would say simplicity, per se. My clients come to me saying, "Oh, you do such great work with lace, and you don't do it over the top." When I design dresses, I really try to connect with the bride. Although at times, some brides can be difficult to connect with because they're not open enough and it's hard to sense their personal style. But I usually look at how they react to my sketches or some inspirational pictures on my iPad. When I notice that they pause at some of the photos, that's a sign that maybe she's into that certain detail, whether she's a backless gown kind of girl, or an off-shoulder kind of girl. I don't really have a signature when it comes to bridal. I really try to connect with the bride. It's all about simplicity, nothing over-structured such as big shoulder pads or overly beaded stuff.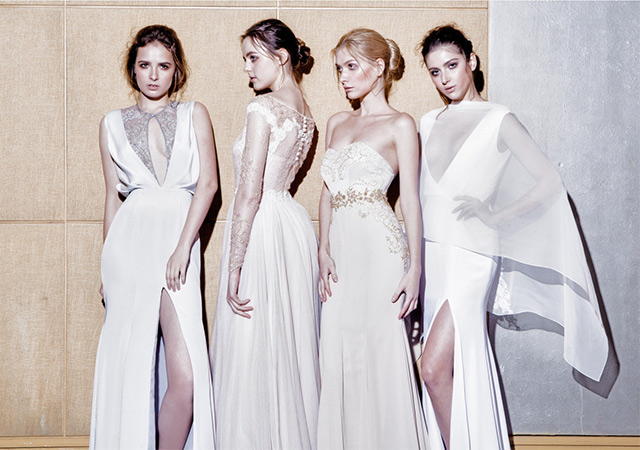 What is currently the most important thing to check off your must-accomplish list, if there is one thing as of now?
AB: Catering to a global clientele would be so great. We are still working on our ready-to-wear, so I just want to check that off my list first. Or at least get our ready-to-wear line out to Southeast Asia because I believe you've got to be good in your own region first before you expand internationally.
One place you love travelling to?
AB: I like Europe. I haven't explored every part of Europe yet, but currently on my bucket list is Greece and South America.
What, or who, is your biggest muse if you have one?
AB: When I design or look at style inspiration, I see women as women. I don't really have favourites, or anyone specific in mind. I think it depends on the mood of the season, or how I'm feeling emotionally at the moment.
If you could meet anyone in the world and hang out with the person for one day, who would it be?
AB: Diana Vreeland or Diane von Furstenberg. I really feel like I just need to listen to some stuff she [DVF] has to say. I think whatever comes out from her mouth will just be so inspiring, and I'm not even talking about merely her design DNA. Just her as a woman really fascinates me.
Related stories:
Talking shop with Lim Ai Chiin
24 Minutes with Moto Guo
Learning to live with less
| | |
| --- | --- |
| SHARE THE STORY | |
| Explore More | |