Creative director and co-founder of local RTW label LINE 32 Yvonne Lim's aesthetic that translates to her designs prove that one can deliver a statement-making look merely with the subtlest details. At only 25 years old and armed with experience abroad (having studied at Parsons School of Design and interned at Marc by Marc Jacobs and Suno), Yvonne's vision of providing contemporary everyday wear that are simplistic yet more than meets the eye is a fresh breath of air here.
Buro 24/7 talks to Yvonne regarding the one most important fashion lesson she's learnt, her experiences abroad in NYC and a daily motto she lives by.
1. What was it like to study in a renowned fashion program and what were the challenges you experienced at that time?
It was absolutely inspiring to be at Parsons. My fellow classmates and students were talented and dedicated, and everyone seems to have their own aesthetic and direction, which really motivates you to be the best you can be. Professors constantly challenge you to be more creative in design and techniques, and would tell stories about Studio 54-era New York or the amazing people they've met or worked with.
One major challenge at the time was trying to get enough sleep (it's no joke!) while juggling school, internships, social life all at once, and any extra time had to be dedicated to school work. Other than that, I think the biggest challenge for any fashion student is to do better in every project than their last, every single time, which is something that translates very much to what an actual fashion designer has to do constantly.
2. Takeaways you had as an intern for Marc by Marc Jacobs and Suno?
Anyone new to the working fashion industry has kind of a sense of romanticism towards fashion studios or ateliers, but when actually get some work experience there, you realise its 99% hard work and 1% glamour. From my experience being design interns at MBMJ and Suno, I learned a lot about juggling commerciality with design integrity—you may have the most amazing concepts but it would be useless if it isn't something that the customer relates to.
I also learned the importance about translating and communicating your concepts to everyone within the company—production, design, development, marketing, retail teams all have to be on the same page in terms of creative direction to be cohesive with the brand message and identity, which is an integral lesson for anyone trying to build their own label.
3. What is the biggest and most important lesson you've learnt so far in your career as a fashion designer?
I would say it's learning to be humble but confident at the same time. As a designer it's important to learn and accept criticism, but it's also crucial to be confident enough not to feel demotivated or the need to deflect from your design identity when criticisms occur. Everyone has different tastes and aversions, it's something every designer has to accept and learn to work around with.
I tend to favour simple designs, but people don't realise that it's more difficult to create something simple yet beautiful, compared to something complex and ornately beautiful.
4. What do you like most about New York City?
It's truly a melting pot of culture—it's almost rare to meet someone who's NYC born-and-bred when you're there! People come from all kind of walks of life, and everyone I've met there has such inspiring energy, goals, and interesting back stories. And of course, there's always something new to do or see there—gallery openings, new food spots, street performances, etc.
5. How do you constantly stay inspired?
I love contemporary art, so a lot of what I do is inspired by it. I like to look at design and architecture/interior magazines or websites, as I find that there's something very therapeutic about looking at immaculately-arranged interiors and settings.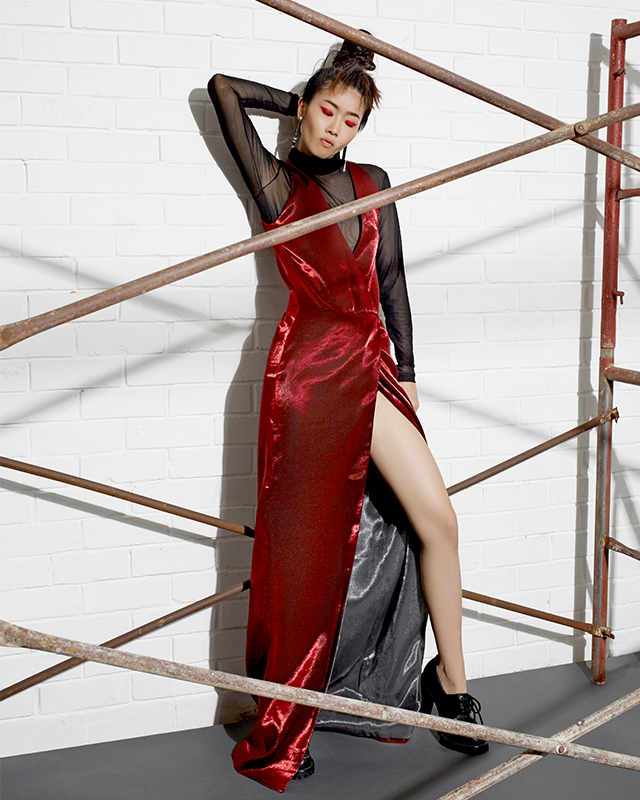 6. You created LINE 32 because you believe that style is for everyone; what do you think dictates style?
I always think someone is truly stylish when they are comfortable and confident with what they wear. It doesn't have to be the latest Gucci fur-lined loafers, if someone loves peasant dresses or white shirts and they wear it all the time in a way that feels very comfortable and personalised to them, to me that is more inspiring than someone who blindly follows trends.
7. What are some of the challenges of designing and heading your own label in Malaysia?
I would definitely say the biggest challenge is finding resources. The fashion industry is still not very accustomed to ready-to-wear production and it is difficult to find resources from materials to production for RTW. The next hurdle is convincing Malaysians to purchase local brands over international mass-marketed brands, but I'd say it's getting better as the younger generation seems to be more interested in individuality and supporting local brands.
8. What is one new territory that you'd love to explore when it comes to future collections?
I would like to dwell more into accessories. I worked with an old classmate from Parsons on designing earrings for Kuala Lumpur Fashion Week, but I'd love to be able to dabble more into jewellery or leather in the future.
9. A motto you always live by?
My (cheesy!) bio on Instagram says, "I think, therefore I don't remember". I'm not sure what others take away from it, but for me it means to always look ahead and move forward, and to focus more on the future than dwell in the past. I think that's an important motto for any contemporary designer.
10. What is a constant in your designs?
I tend to favour simple designs, but people don't realise that it's more difficult to create something simple yet beautiful, compared to something complex and ornately beautiful. I like to focus on simple, smart and versatile designs with well-thought-out details, and I think of the LINE 32 woman as someone who is very relatable to us—she is busy, charismatic and smart, and her wardrobe has to revolve around her lifestyle rather than the other way round.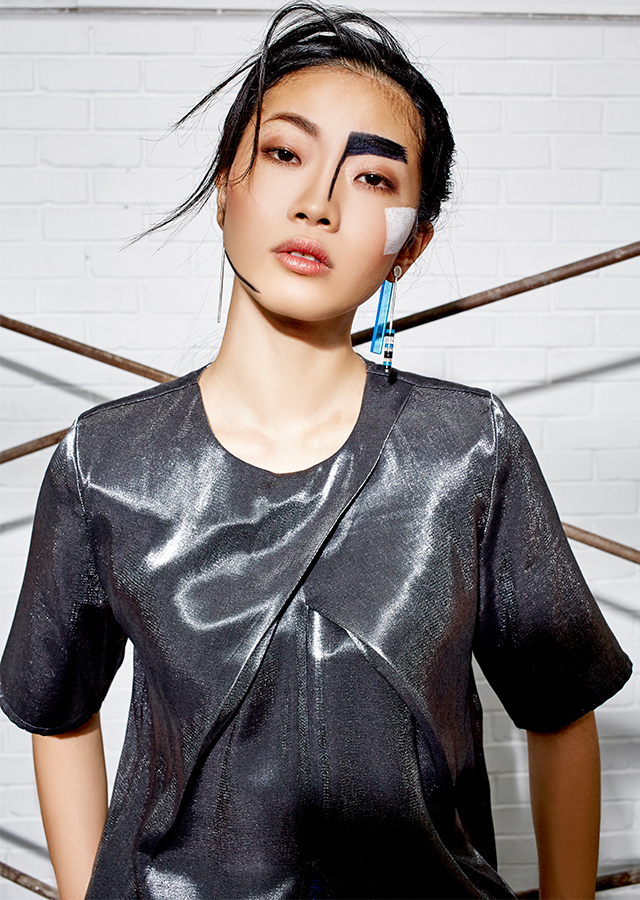 11. Describe a day in your life.
Morning: I like to check emails in bed right after I wake up before I get ready for work. Coffee is the first thing I reach for when I get to work, and a small breakfast while I reply my emails and messages. After that, I work on flats, fabric swatches or designs (we usually work six to nine months ahead of time) to pass on to the production team for sampling. We may also be doing fittings to test out the designs, fabrics and fit of our samples for the next collection.
Afternoon: I have lunch nearby then head out to our stores (in Bangsar or Subang Jaya) to check on everything. I like to ask which pieces are selling well for the week and what our customers think about our new arrivals.
Evening: I head back to our studio, have another cup of coffee and do more planning for future deliveries, promotions, events or photoshoots. We're a small team so I do a little bit of everything from HR, visual merchandising, graphic design, etc. But I enjoy doing many different things at once so I wouldn't have it any other way!
Night: I go for yoga classes to relax; otherwise I have dinner at home most of the week. For me it's a luxury to have homecooked meals after spending seven years away from home. I like to go through magazines or design sites to wind down. I also like to sketch or drape toiles at night as I find it the best time focus and feel inspired. I sleep late, maybe around 2 to 3am as I'm a night owl by nature!
12. What are the goals you have for LINE 32 five years down the road?
Five years down the road, I hope we would have built a steady community of LINE 32 customers, and expanded into other lines such as menswear, accessories or quality basic-wear. I would also love to look into the possibility of a lifestyle store, which I think is a great way to expand and elevate the brand's aesthetic and philosophy.
13. One thing you're always grateful for throughout your career?
Meeting people who inspire or motivate you selflessly. Fashion is an industry that has to run on passion and dedication, and I am always grateful to friends or mentors I have met either in school or at work that continue to motivate and inspire me to move forward and improve myself.
Related stories:
24 Questions with Man Chien
24 Questions with Pearly Wong
Buro 24/7 Exclusive: Red carpet fashion maestro Tadashi Shoji
| | |
| --- | --- |
| SHARE THE STORY | |
| Explore More | |