Designer Giuseppe Zanotti can be described in three words: Full of life. 25 years after the launch of his namesake label, he's still filled with the same passion that kick-started it all. With stockists in over 75 countries worldwide and a favourite among celebrities and fashion's It-list, the label is no doubt one of the most popular luxury footwear brands around. During Milan Fashion Week SS20, I paid a visit to the Italian designer in his Milan home, where he gave us an insight into all things shoes and more.
1. Describe the Giuseppe Zanotti woman in three words.
Ageless. Feminine. Dreamer.
2. What is the inspiration behind the Spring/Summer 2020 collection?
It's always about flowers—I don't know why I love them so much (laughs). Last two seasons we focused on peonies, but this season, the focus is on Calla lilies and Camelias. It's my tribute to nature. Some of the highlights this season include heels that give off a '70s feel, my idea of flats—especially for women who are used to walk in stilettos—with chunky heels, which are also on boots. Also, you can find a lot of metallic, silver, and crystals in the collection.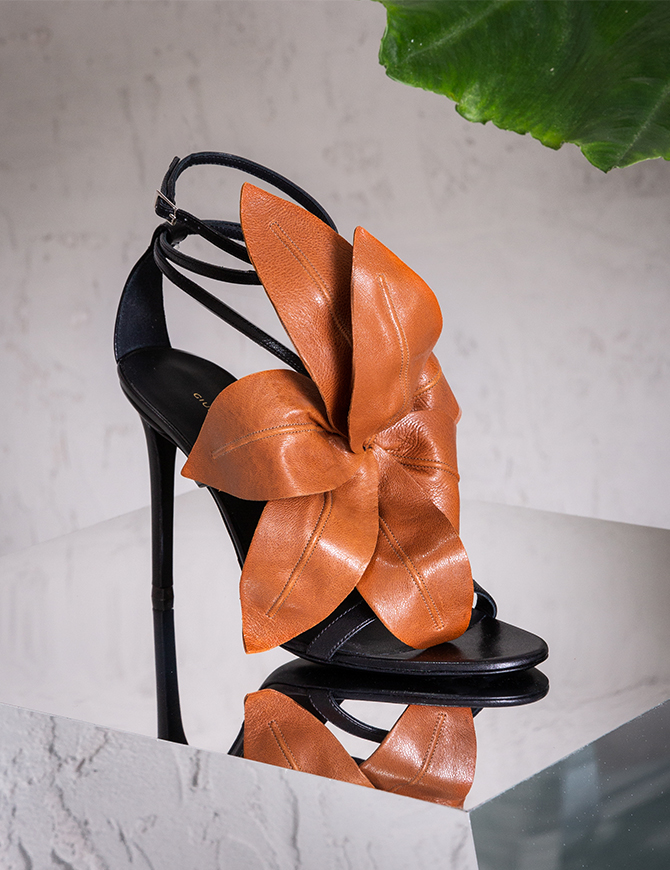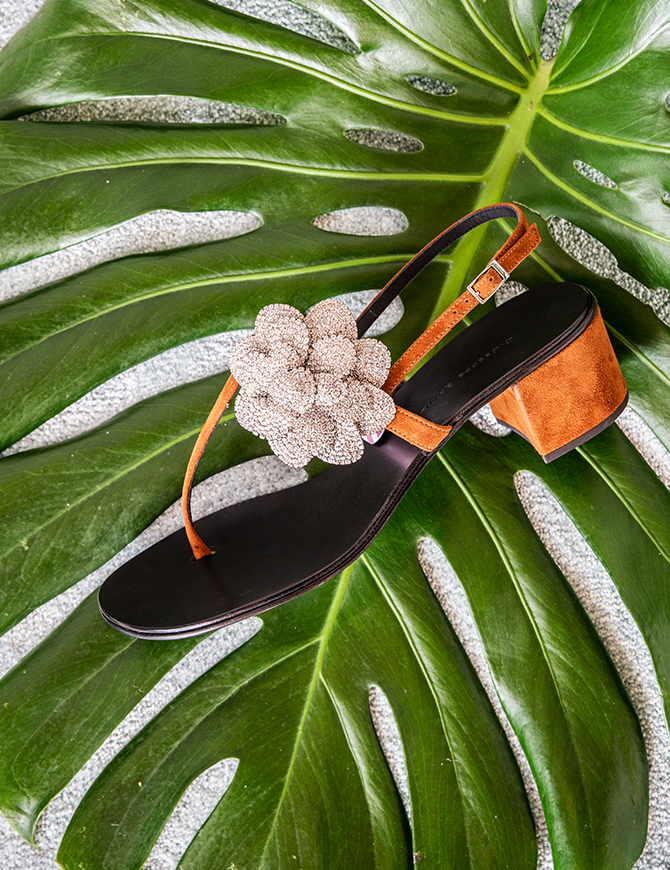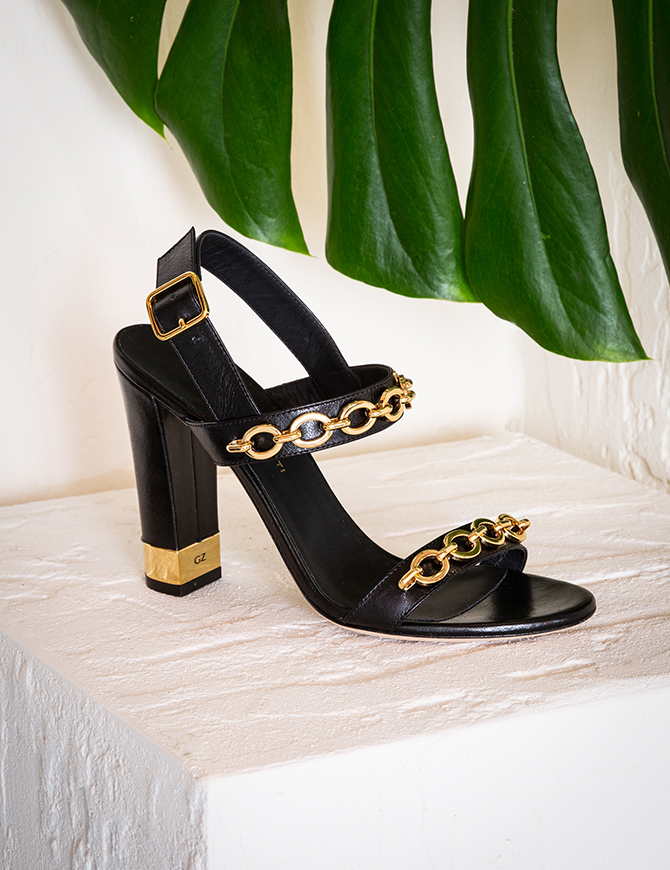 3. Do you have a specific woman in mind when designing the collection?
I don't. I think of the occasions. Whether you're running around after your kids, work nine-to-five every day, partying all night, or attending weddings, there are a lot of these key moments in my mind, and I like to write them down on my mood board. Aside from that, it's important to take note of traditions, religions, and cultures too. For example, in Japan, white colour is not as popular as it's the colour of funerals. In Saudi Arabia, we have to have closed-toe shoes. When it comes to the seasons, in Los Angeles, we still need sandals during winter, and in Russia, boots are a must-have during summer. A good designer needs to take all these into considerations and balance them out with trends.
View this post on Instagram
4. What do you think are the most important components of a perfect pair of shoes?
Everything is important. But first, it's a must to study the shape of the women's feet because the feet of an Asian woman, for example, are different from those in the US. Nowadays, as the world is so connected—people travel, Los Angeles has one of the largest Asian communities in the US—so this has to be taken into consideration. Secondly, we never use chemicals in our designs since the start. I compare a woman's feet to a sponge, so any chemicals are bad for the skin. And lastly, the story. Our designs never stray too far each season. If you see this pair of heels this season, in Spring/Summer 2021 we'll introduce this again—same fit, style, and DNA, but with new details and adjustments.
View this post on Instagram
5. What's your all-time favourite shoes from your own label?
For women, it's definitely the Swarovski sandals. I always compare the woman's feet to the neck. If you wear necklaces on your neck, why not something to adorn the ankles too? When I started my career 25 years ago, it was unheard of to incorporate jewels—especially crystals and gemstones—onto shoes, and people called me crazy for doing that. But I love it. Every season, I'll make sure to have flat sandals and stilettos with some jewel elements, such as our classic pair with baguette crystals.
View this post on Instagram
For men, it'll be the loafers. They're inspired by the traditional home slippers, so they're very soft. Like the women's collection, I like to add Swarovski crystals in men's shoes too. It was very unusual at the beginning, but I introduced the design 10 years ago and never looked back since.
View this post on Instagram
6. What are the three pairs of shoes every girl should have in their closet?
Ballet flats and strappy heels for summer, and sneakers for winter. But we need a fourth pair too—boots! A pair in soft suede will let you style it up however you want.
7. Can five-inch heels ever be comfortable?
Five inches? Absolutely not. It's never going to be comfortable, but at the same time, heels are not meant for comfort. Everybody who says the opposite is a liar (laughs). We know all women suffer in high heels, especially after wearing them for five to six hours, but if you want to touch the sky, you need to suffer a little. It's just like going for a scrub at the spa—sometimes it hurts, but you'll need to endure it to feel beautiful.
8. What shoes are you wearing at the moment, and how do you pair them?
Sneakers! As you can tell, my sneakers are quite dirty (laughs). I call this particular pair that I'm wearing hybrid sneakers. It has a sole of a sneaker, while the upper is made of high-quality leather—it's super soft. I've been wearing a pair from my Spring/Summer 2020 collection as I'm testing out the technicality of it, to see if there's any problem before it goes into production. When it comes to my everyday dressing, I change up my shoes but I'm usually in black or navy. Uniqlo recently opened a new store in Milan, and I went over to buy 60 black T-shirts yesterday. It's my uniform.
9. If you aren't a shoe designer, what would you be doing?
I'll be in music, for sure. Not as a performer, but a critic. Nowadays, artists are fantastic creators, and I think the same creativity they apply to their work can also be channeled into interior or architectural designs, craftsmanship and music. Music is a big part of my life.
10. What kind of legacy would you like to leave behind?
I would love for my customers to enjoy and appreciate the designs that I've created. I invented new ways to wear shoes—I was the first to introduce lightness, femininity, stilettos and jewellery into the designs. My work has always revolved around the women universe, and I spent my life discovering what women want. If somebody appreciates this sacrifice, I'll be happy. But if no one does, I'll be okay with it too because I love what I do.
View this post on Instagram
11. What's next for the brand?
No plans for now, but we come up with new ideas every day. I first started collaborating with artists over 20 years ago—I would love to continue that. I'd like to work with someone in the creative industry, whether it's a singer, actor, or a painter. I'll be meeting a few artists in December to finalise the details. I would love to collaborate with artists in Asia too. While our language may not be the same, music will always bring us together.
| | |
| --- | --- |
| SHARE THE STORY | |
| Explore More | |