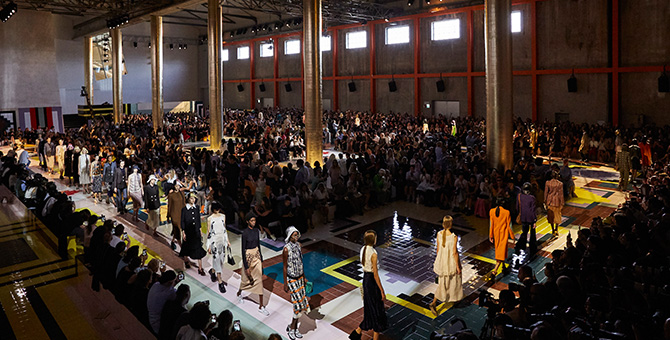 Peter Pilotto and Christopher De Vos' first show in Milan was presented with a burst of colour and energy.
Neon brights were a key feature in the striking colour palette.
As well as sweet pastels for Miami Barbie vibes.
Baby blue and powder pink make the cutest pair.
Trend alert: Casual suiting with above-the-knee skirts and shorts.
Bucket hats running strong even in the upcoming SS20 season.
The laidback collection for SS20 exhibited casual silhouettes and shapes.
The laidback collection for SS20 exhibited casual silhouettes and shapes.
New to the Peter Pilotto line-up: Handbags
Also seen as double belt bags.
The 'Premonition 2' show was held in a newly ceramic-tiled and gold-leafed Deposito in Milan.
According to the press release, "purity", "directness" and "instinct" were the key indicators of the collection.
SS20 is "about the power of women over clothing"
Double-breasted jackets and fitted pencil skirts illustrated the traditional working woman.
The star-studded event saw celebs like Winnie Harlow and...
Stranger Things' Sadie Sink
And from the upcoming Charlie's Angels reboot, Ella Balinska
Great to have you back, A$AP Rocky!
The collection saw a balance of disheveled coolness mixed in with sharp sophistication.
Fave look: This one-shouldered playsuit in denim
Bows were a recurring motif throughout the collection seen here embellished in sequins.
And here, sewed on in satin.
But this cut-out dress takes the cake.
Casual suiting strikes again with gartered shorts.
Petite florals printed on billowy summer dresses.
Micro florals on a suit with slashed away sleeves.
Backstage madeness: It takes a village to get these models ready for the runway.
In pictures: Milan Fashion Week SS20 Day 1 feat. Peter Pilotto, Prada, and N°21
Ciao Milano