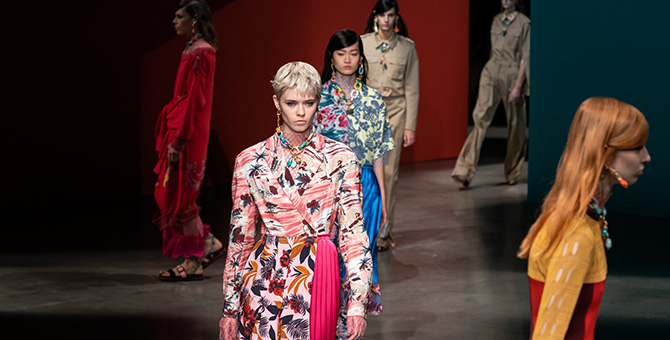 Founders Marta Marques and Paulo Almeida kicked off the show with one of their "dream projects"—a film that about young women and the power of femininity.
Tough cookie: A motorcycle jackets paired with a satin ruffled drop hem dress.
An accessory trend we've been noticing on the rise—chainlink necklaces. Marques'Almeida put their spin on it with a carabiner.
An oversized salmon pink shirt dress that allows you to swim in comfort.
Feminine silhouettes in gemstone hues, punk accessories and black lipstick is Marques'Almeida's definition of femme power.
Girlish florals get edged up in acid brights.
More proof that asymmetry is having a major moment.
Tone-on-tone meets texture clash. Satin and a heavy knit make a luxe pairing.
'50s cocoon dresses get an update for 2020 with punkish, graphic print.
Animal print trickles down into SS20 with neon zebra print.
The designer known for her sheer tulle dresses turned up the volume in giant ruffled skirts.
The first look of Molly Goddard's Spring/Summer 2020 show
A layered lime green skirt paired under a tiered neutral-hued gown.
Ruched milkmaid bodice and sleeves fastened with velvet ribbons.
A close-up at the raw and modern Renaissance-inspired makeup; sparse brows and tulip-shaped lips.
Molly Goddard experimented with denim this season and accented her silhouettes with floral denim appliqués.
A matching throw worn across one shoulder to offset the symmetrical sleeves.
Mannish shoulders are offset with floral hankerchief hems.
For the shy Molly Goddard dresser: wraparound belts.
The sheer tulle skirt is red hot.
The striking opening look was a mash up of pops of colour and bold prints.
A monotoned yet striking look with stripes of three different weights in opposing directions.
Why choose between checks and print when you can have both?
This half-pleated skirt makes a big statement while being subdued in colour.
Can you count how many different prints are on this floral coat?
A close-up of the chunky statement accessories.
Zebra print makes another appearance at SS20!
The marine life print on this spaghetti slip is perfectly complemented by a fisherman net top.
An all white ensemble makes an excellent cleansing refresher. We love the dropped sleeve detail on this oversized dress shirt.
Artistic director Karl Templer combined satin, snakeskin and polished leather for brilliant contrast.
In pictures: London Fashion Week SS20 Day 2 feat. Marques'Almeida, Molly Goddard and Ports 1961