From candy-coloured vintage convertibles to cigar-box clutches, here's what went down at Chanel's Cuban-inspired show in Havana
1. Karl Lagerfeld hosted the Chanel Cruise 2017 show in the one place that was on the tip of everyone's tongues as of late. Cuba's recent sweeping changes were one to note, and like every Chanel show, Lagerfeld pulled out all the stops in Havana that night. The glitzy show took place in Paseo del Prado, Havana's open-air tree-lined space that had eight bronze lion statues positioned at every crossroad. Guests were chauffeured in vintage rainbow-hued cars to the space that was already pulsating with Latin beats to set the mood of the night.
2. Naturally, the theme of the collection centred around everything Cuban, from the traditional guayabera reinterpreted to a billowy blouse for daytime to a black organza version that was perfect for the evening. Silhouettes tread the fine line between masculine and feminine, with tailored jackets worn with wide trousers and tiered petticoats juxtaposed with a mess jacket worn over a shirt and tie. One cannot help but to think of dancing when we talk about Latin American music, so Lagerfeld created jacket, dresses and skirts that were made for movement. 
3. In a palette of mostly yellow, pink, turquoise and orange (in vein with the snazzy convertibles mentioned earlier), the collection had embroidered motifs reminiscent of "tropical vegetation" native to the Panama, from the leaves of Monstera Deliciosa to birds of paradise. Fringe, feathers and sequins were in abundance, alongside eye-catching prints of the legendary Buick, Oldsmobile and Cadillac in candy shades. 
4. Accessories evoked a sentiment of soaking up the summer heat in Havana, with floral-trimmed Panama hats to complete every look, pearl-studded berets, woven flip-flops, caged sandals worn with ankle socks (this trend isn't dying off anytime soon, we think), crocheted backpacks, and the mandatory cigar box inspired clutches.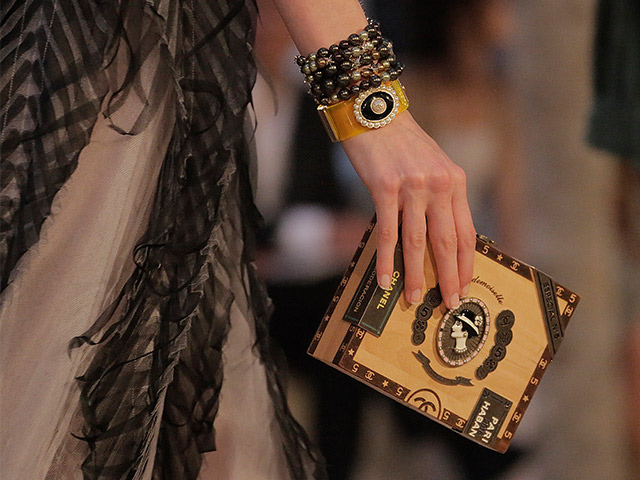 5. Recurring models who walked the show include Stella Tennant, Baptiste Giabiconi, Sébastien Jondeau, Mariacarla Boscono, Mica Arganaraz, Lindsey Wixson, and Soo Joo Park. One rather interesting detail we noted was Lagerfeld's choice to don a Saint Laurent jacket designed by its former creative director, Hedi Slimane as he took a bow with his miniature muse Hudson Kroenig. 
6. Instead of the typical finale in most runway shoes, models and musicians had their best foot forward in a conga line. VIPs and guests continued to bask in the afterparty at the Plaza de la Catedral in Havana Old Town, where its beautiful tropical decor comprised of Cuban crafted furniture and decorative objects. Chanel ambassadresses Vanessa Paradis, Gisele Bündchen and Alice Dellal were spotted alongside actress Tilda Swinton, Ana de Armas, and Caroline de Maigret as they swayed to the sounds of Septeto Habanero and Ibeyi.
Take a look at the full collection here:
01
02
03
04
05
06
07
08
09
10
11
12
13
14
15
16
17
18
19
20
21
22
23
24
25
26
27
28
29
30
31
32
33
34
35
36
37
38
39
40
41
42
43
44
45
46
47
48
49
50
51
52
53
54
55
56
57
58
59
60
61
62
63
64
65
66
67
68
69
70
71
72
73
74
75
76
77
78
79
80
81
82
83
84
85
86