Features
Exclusive: Sandro's Evelyne Chetrite and Louis Barthélemy on their latest collaboration and how it empowers Moroccan women
Moroccan flair
Featured images courtesy of Sandro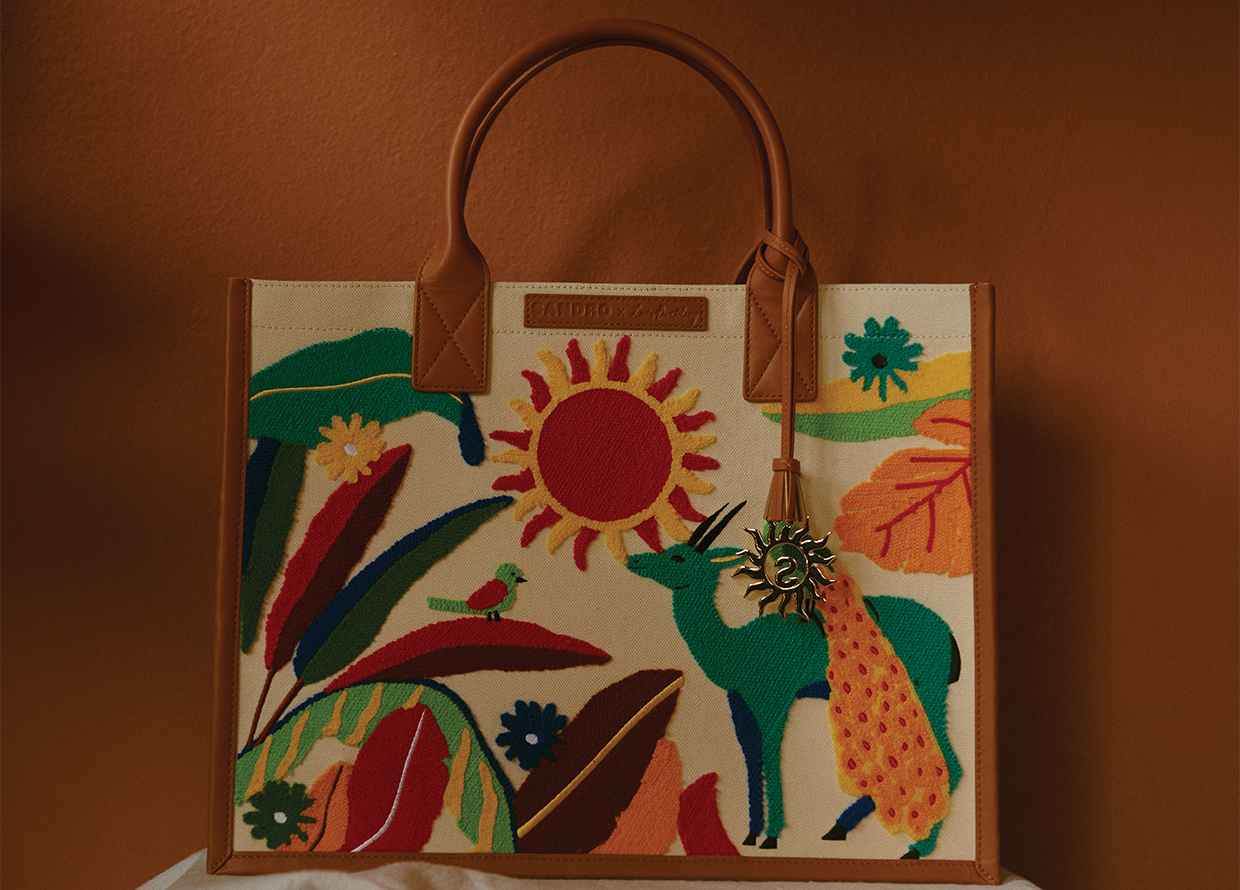 ICYMI, Sandro's Evelyne Chetrite, the brand's founder and artistic director, has joined forces with French artist and designer Louis Barthélemy, to create an exclusive capsule collection.
'Sandro x Louis Barthélemy' is a womenswear collection built on their mutual desire to celebrate Morocco. From embroidered Kasbah bags to silk scarves and printed shirts, the series whisks us into a universe where traditional craftsmanship is preserved in modern silhouettes. One of the highlights is the bucket bag, which is crafted together with the 'Doum for Women' cooperative, one that empowers women in rural communities of Morocco.
Ahead, we caught up with the fashion duo on the inspiration behind the line, their experience working with the women's collective, and a quick itinerary of what to do in Marrakech.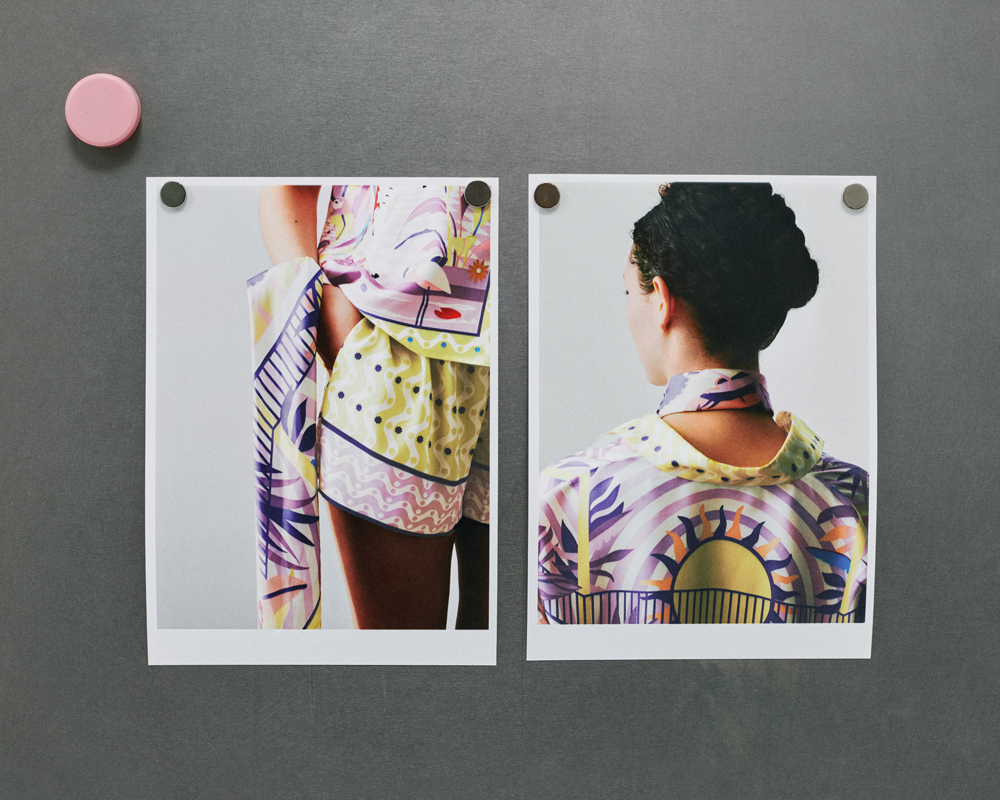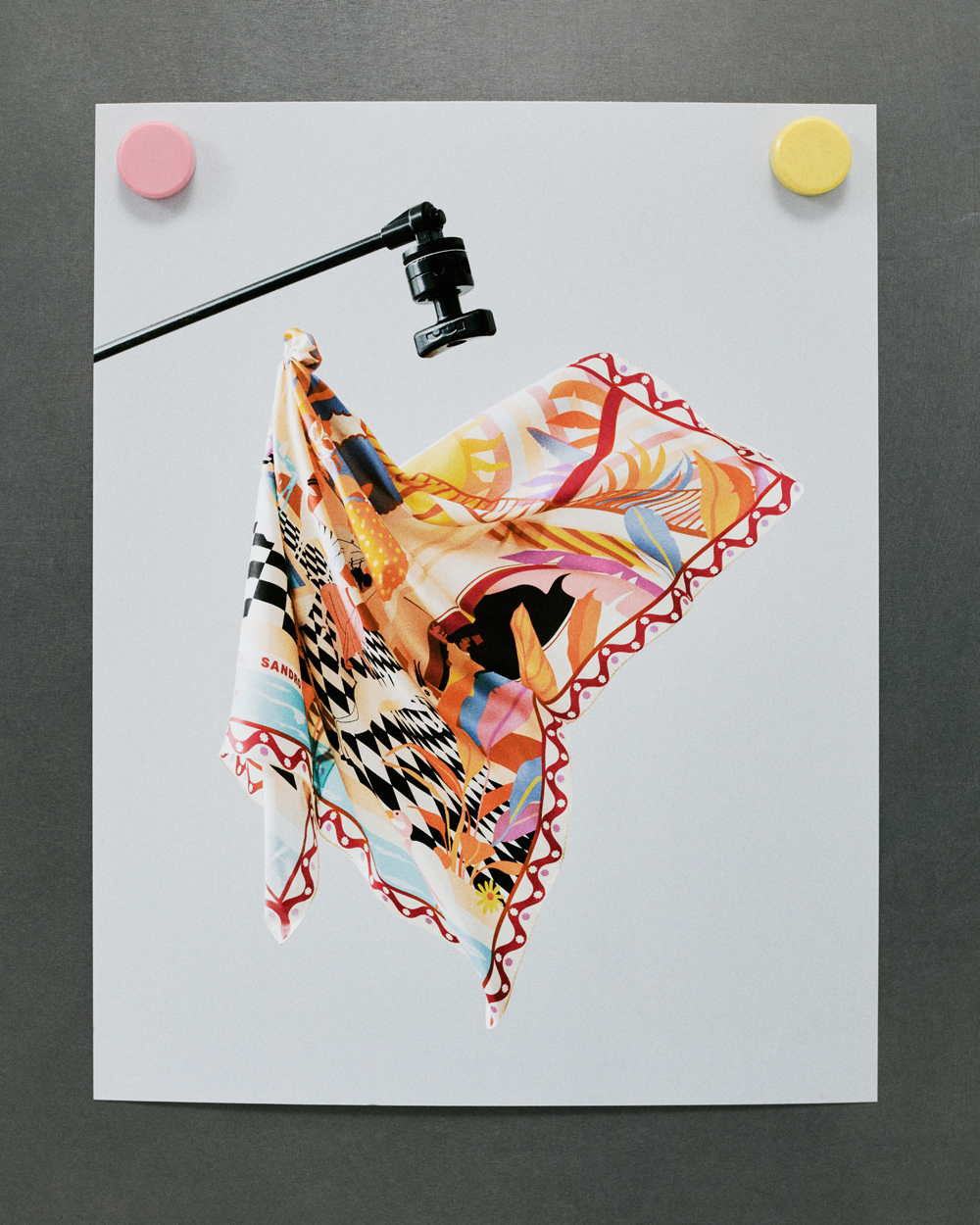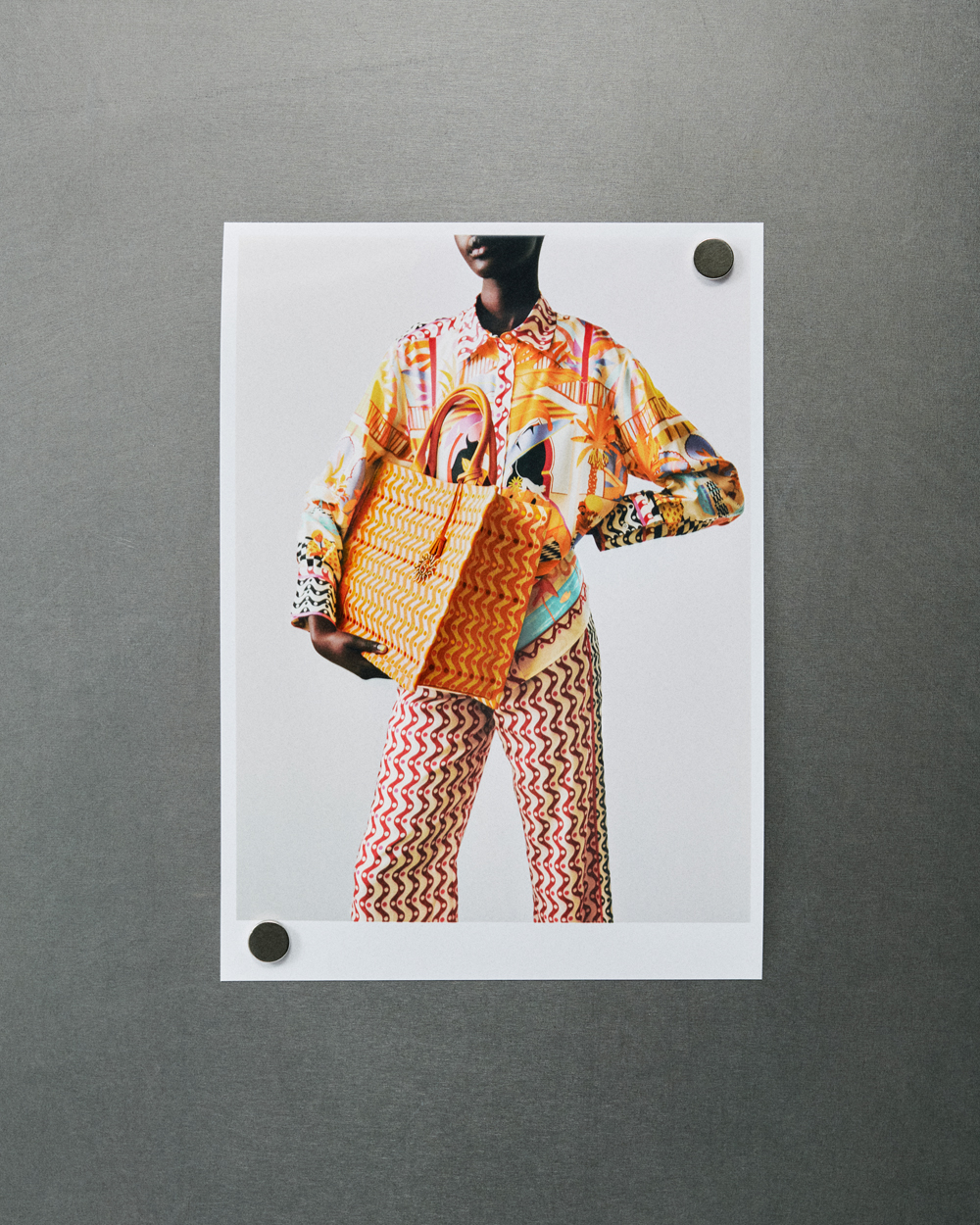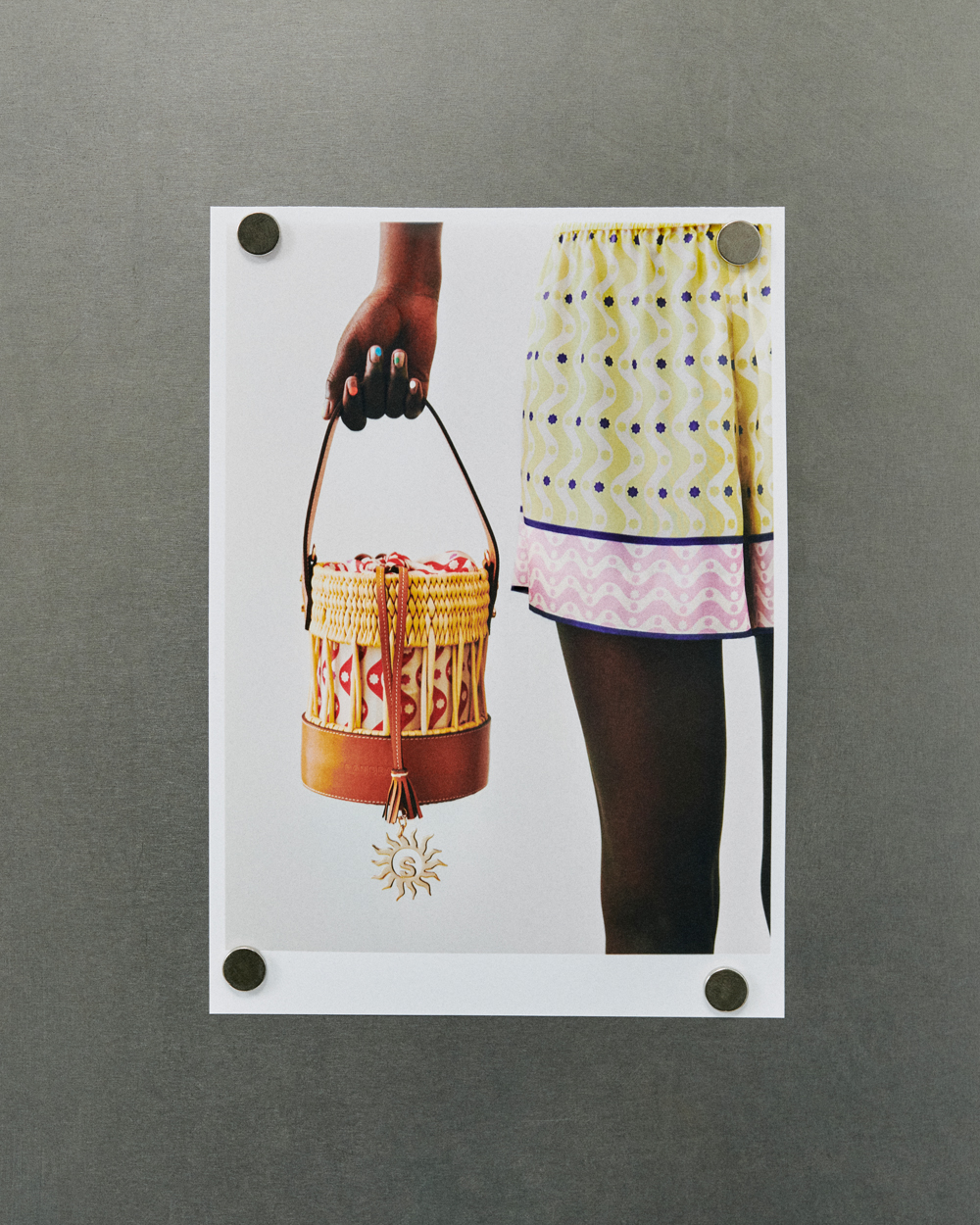 How did the collaboration come about, and how has it developed into the capsule collection we see today? 
Evelyne: I was born and raised in Morocco. This country is dear to my heart, and I always want to celebrate its craftsmanship, art of living, light, and vibrations. I have seen Louis' work many times before and found that his colourful and poetic way of portraying Morocco resonated with my vision. My instincts guide my creative choices, and I knew there was something we could do together. I didn't want a literal presentation of Morocco, but rather something more subtle, discreet, but still joyful.
Louis: When Evelyne and I first met in Paris, we had a fruitful and inspiring conversation. She told me about her childhood in Rabat, the Moroccan capital and her move to France. She kept the memories of her country of origin through a generous, enveloping and sophisticated art of living, which I am familiar with since I chose to settle there. This collection celebrates our respective attachment to Morocco and its magnificent craftsmanship, which has been woven into the country's dynamism and identity.
The collection is alive with beautiful prints and colours—what is the main inspiration behind it? 
E: It is all about celebrating Morocco. It brings me back to my childhood and many happy memories, such as the time when my grandfather worked as a shirt tailor. Handmade goods are valued in Morocco, whether they are baskets, ceramics, or textiles, and I am particularly fond of them. I also wanted to create a collection that explored Morocco's silhouette from an angle other than mine.
L: I was inspired by the pictorial universe of Moroccan figurative artist Mohamed Ben Ali L'Rbati when designing the silk scarf. He became well-known for his unique and distinctive painting style, characterised by vibrant colours, intricate details, and complex compositions that often incorporate traditional Moroccan architecture, geometric patterns, and graphic borders. It's a colourful nod to a Moroccan artist whose work I particularly love that can be found in the joyful designs decorating an optimistic wardrobe.
Could you sum up the collection in three words? 
E & L: Optimistic, festive and responsible.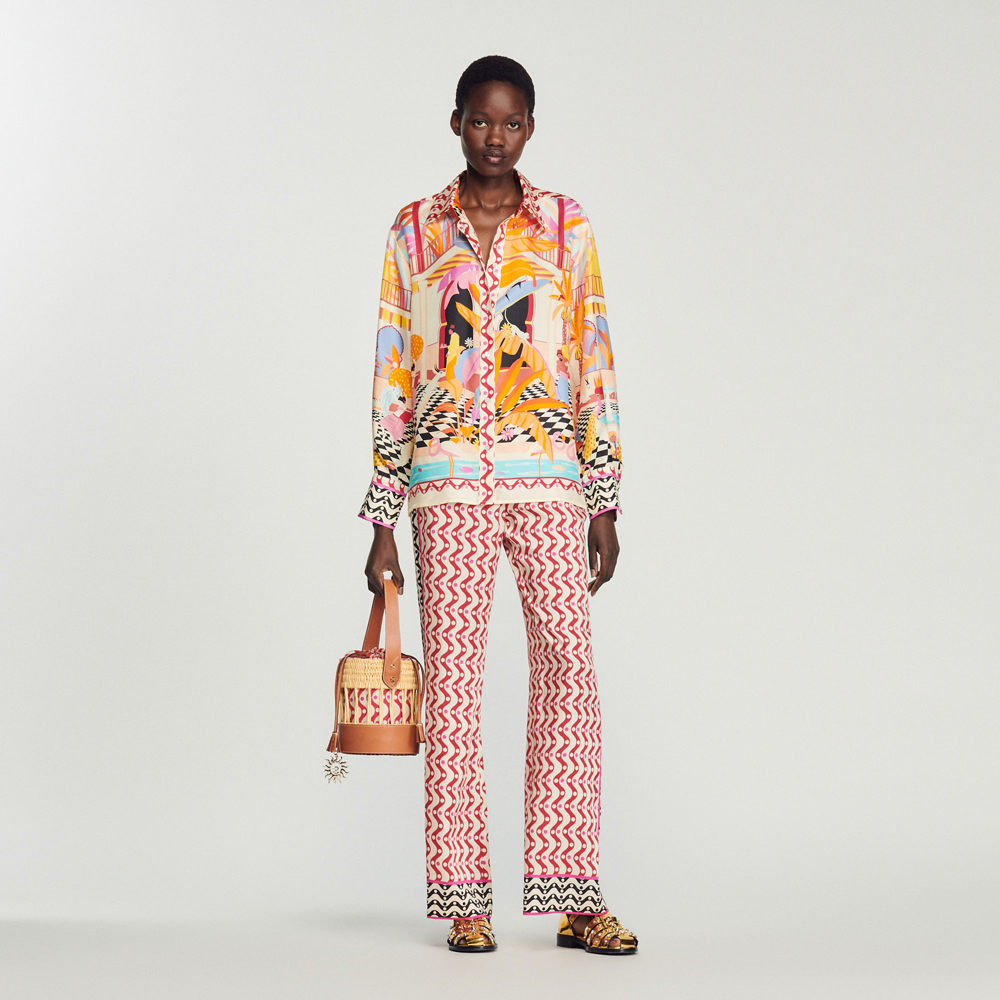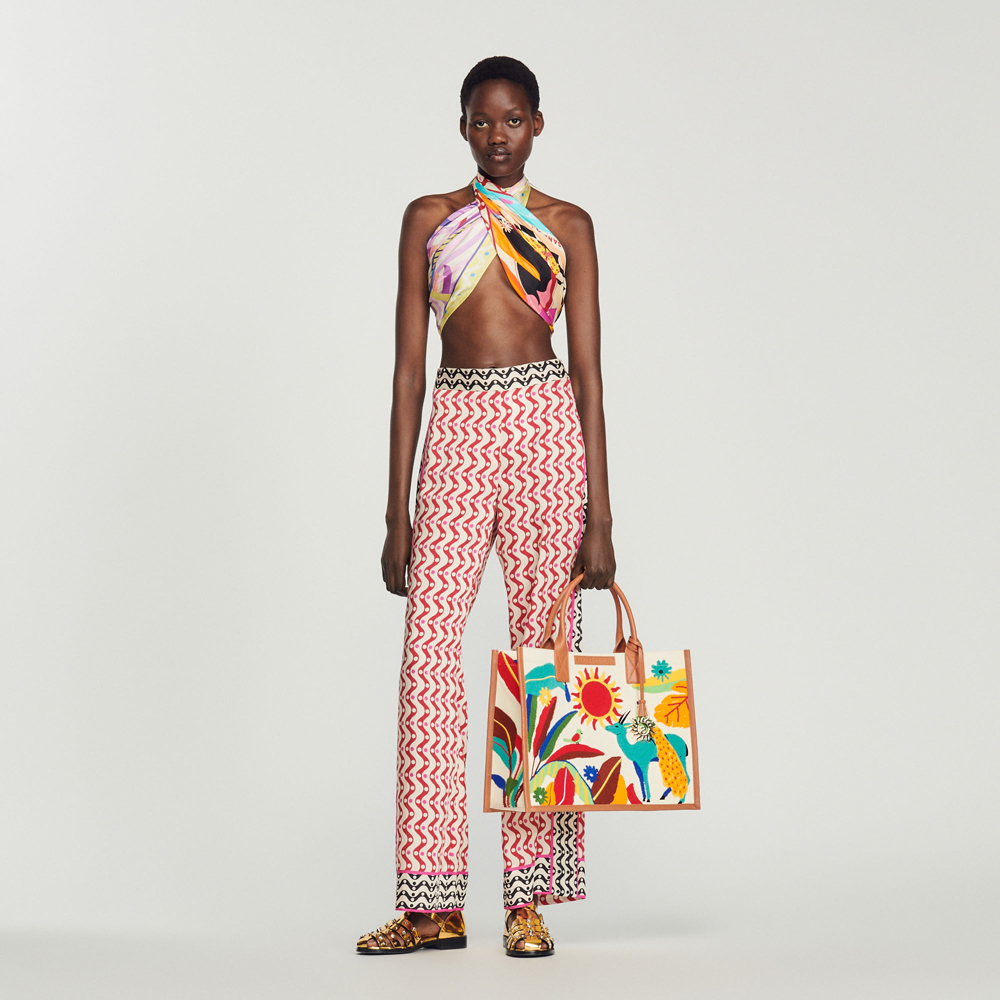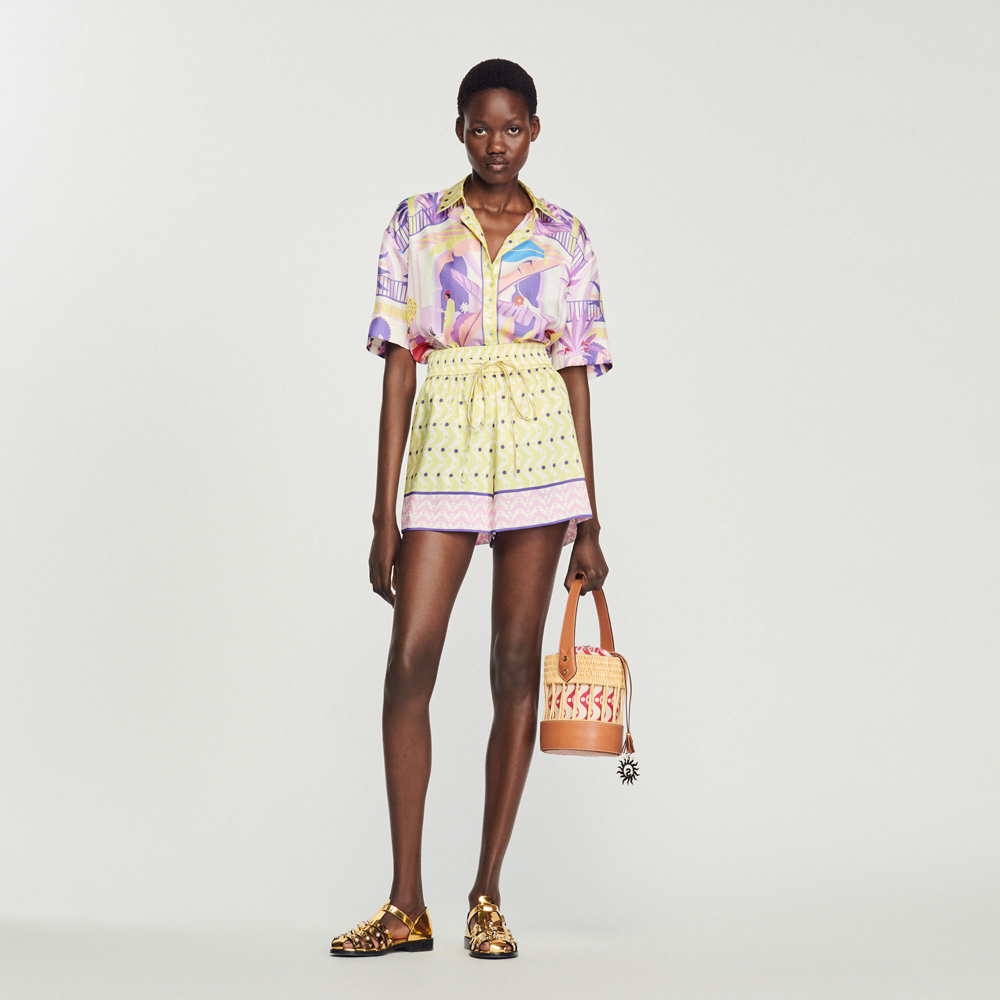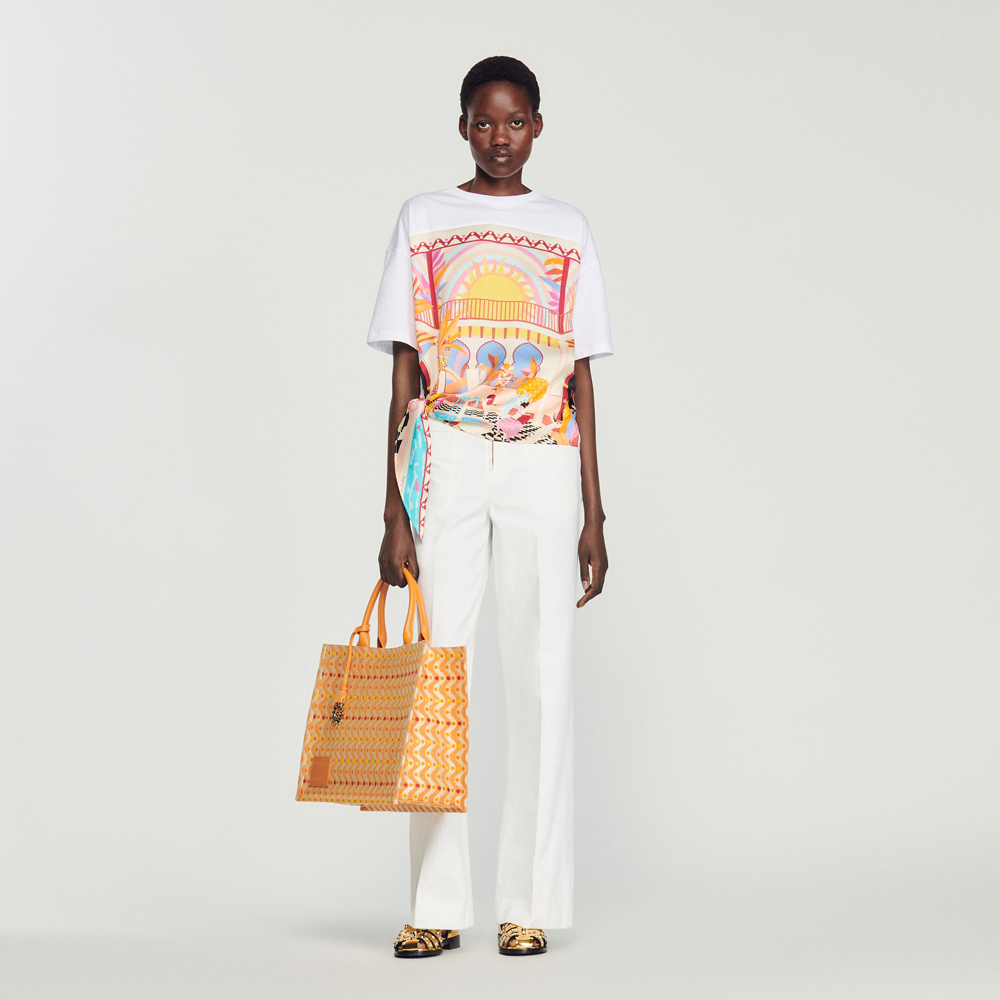 For the bucket bag, you partnered with 'Doum for Women'— a women's basketry cooperative based in Marrakech. Tell us about the experience. 
E: Working with these golden hands was an emotional experience for me because this cooperative allows rural Moroccan women to be independent and autonomous. To me, we must defend their freedom to work because this organisation protects ancestral craft heritage, especially basketry.
L: I have been experimenting with 'Doum for Women' for a year now, and I love spending days in the workshop with these craftswomen, observing how they work. When Sandro approached me, I tried to be the link between the women's cooperative and the ready-to-wear brand, and I feel the merger of the two entities was a real success.
Which piece from the collection is your favourite, and why? 
E: It is difficult to choose only one, but I think the shirt—the long-sleeved shirt. While the shapes are masculine, the colours and materials are ultra-feminine. At Sandro, we love mixing genres and contrasting silhouettes.
L: I would say the bucket bag in natural straw and leather with the printed pouch. I love this item because it engages with the Marrakech-based 'Doum for Women' cooperative, which aims to preserve traditions in modern ways and share Moroccan crafts with the rest of the world. This is also a means for these women to be empowered and financially independent.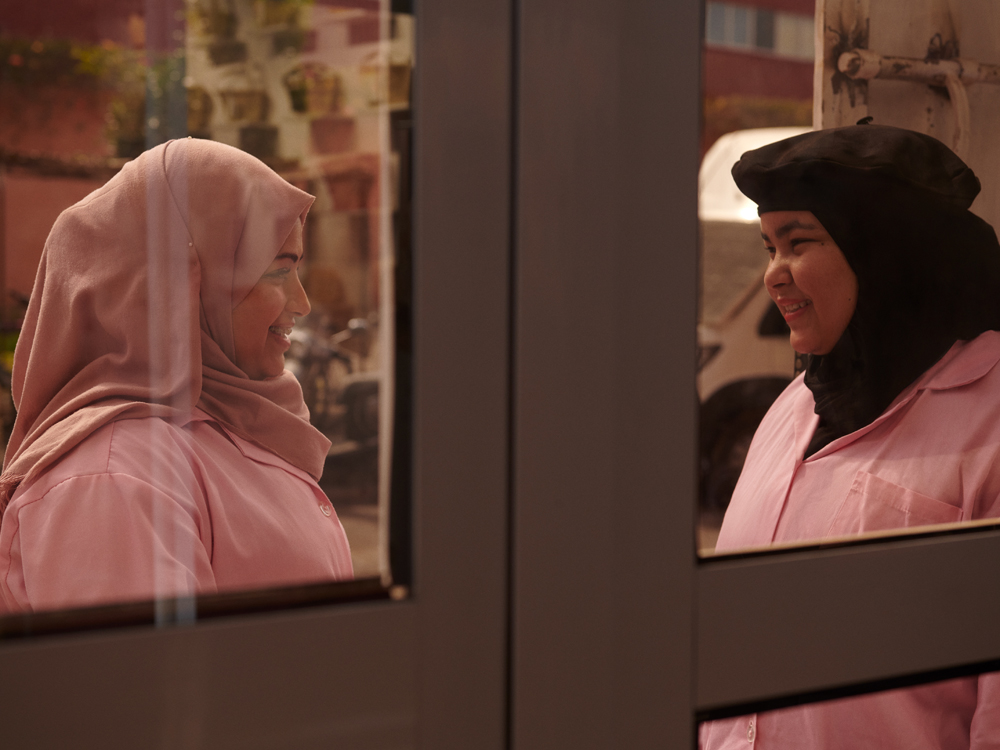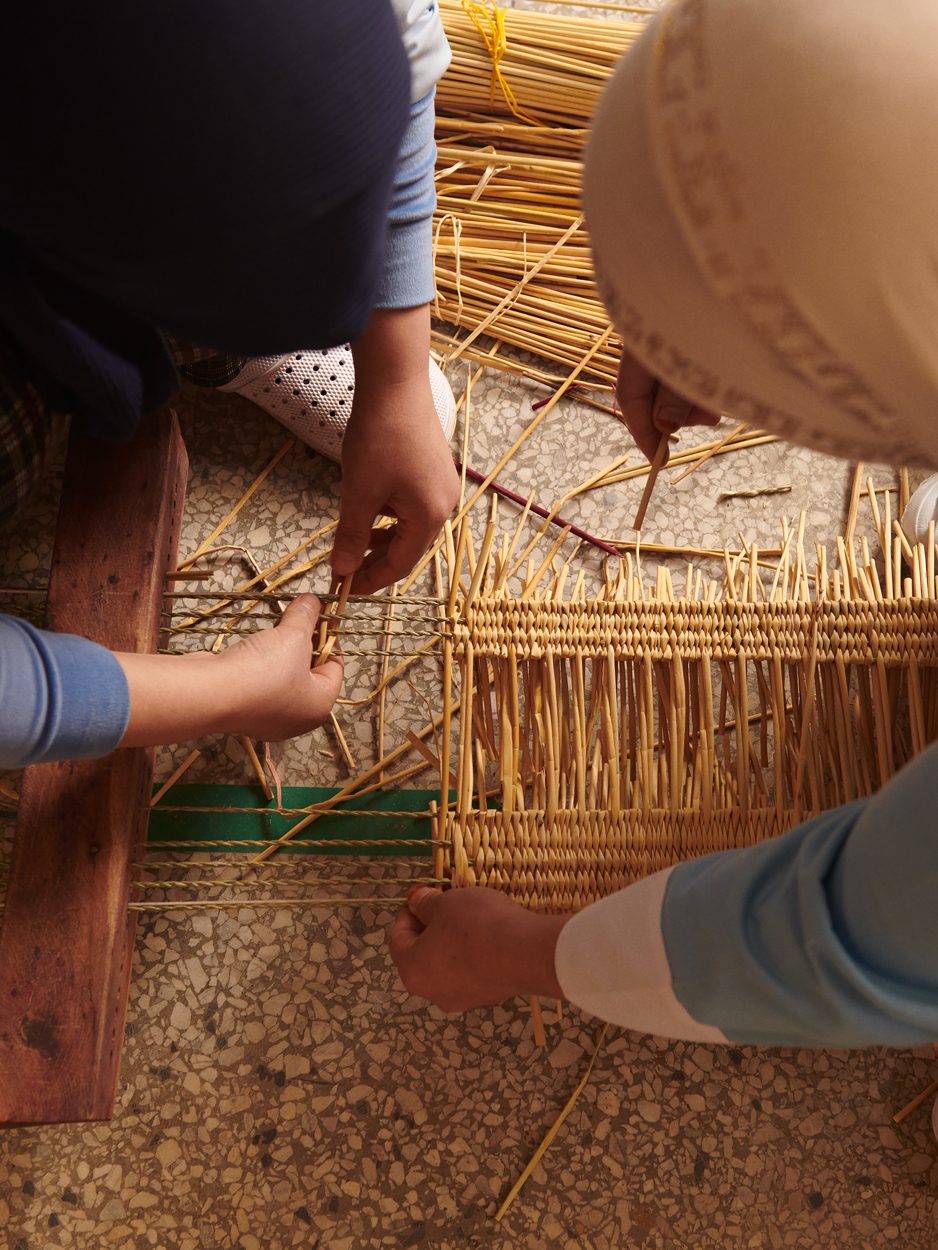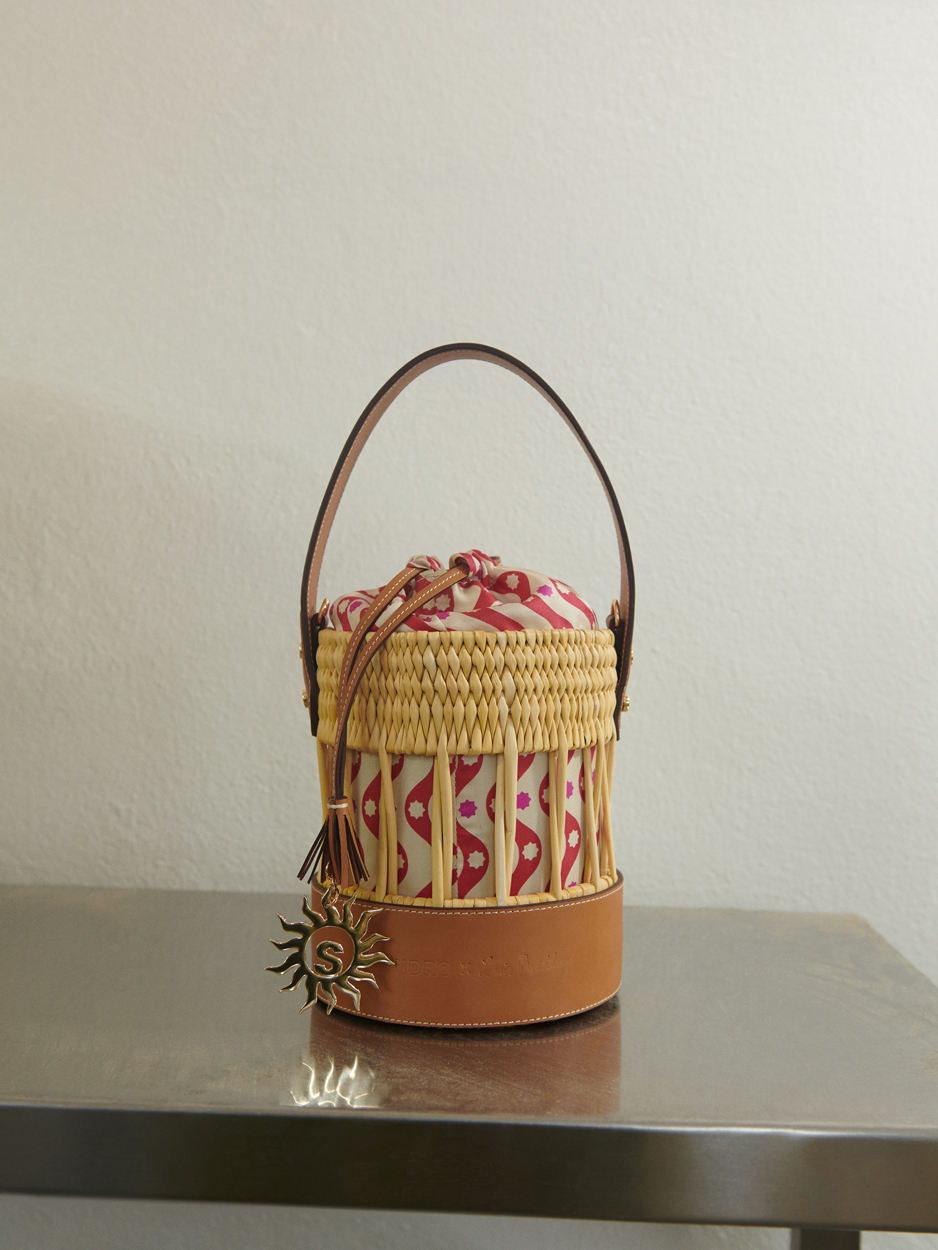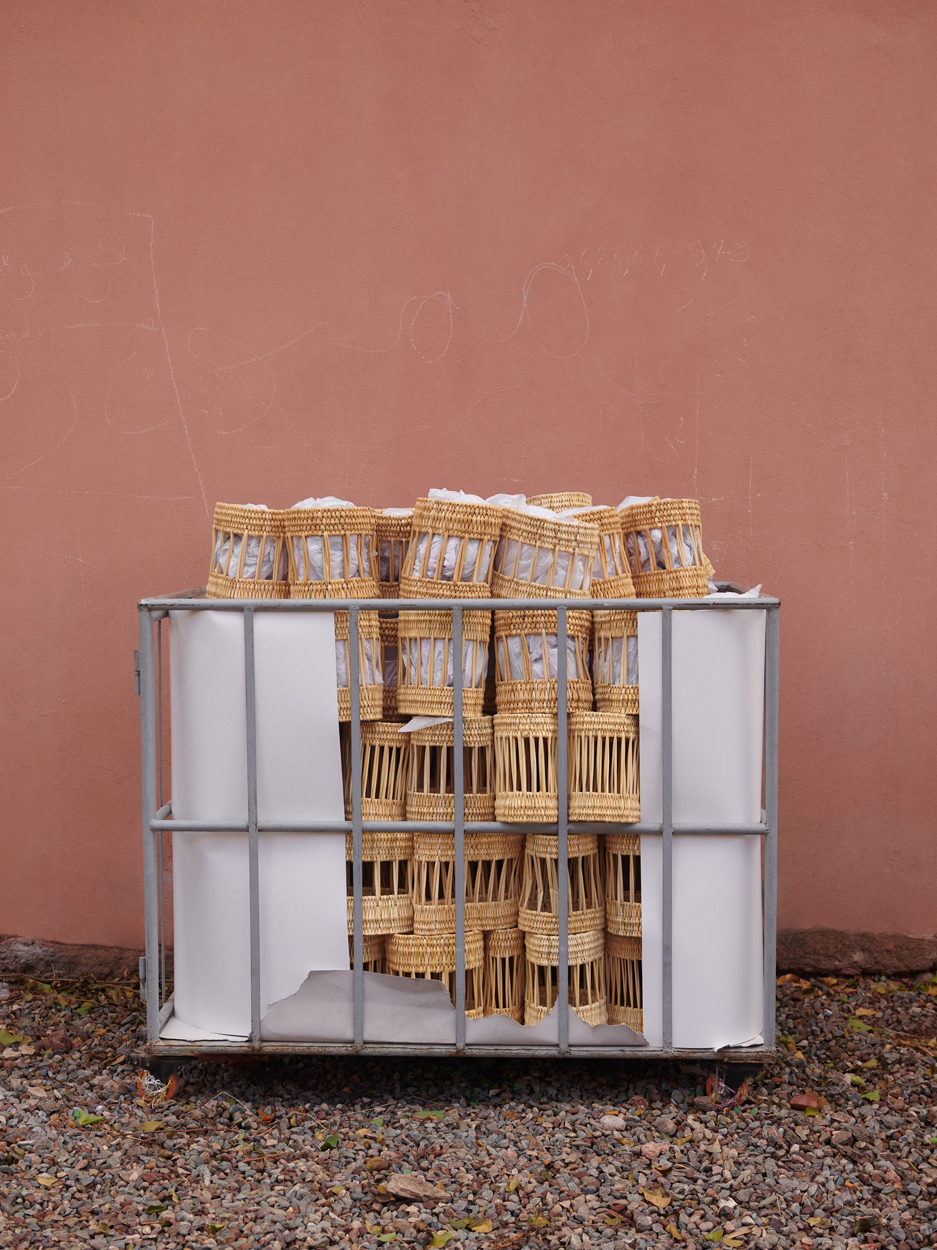 Since the collection is all about celebrating Moroccan culture, what is it about this nation that fascinates you the most? 
E: Everything in Morocco inspires me: the colours, the vibrations, the light, the warmth of the heart.
L: I am fascinated by the intricate and colourful geometric patterns used in Moroccan architecture, textiles, and ceramics, which are a captivating fusion of Islamic, African, and Mediterranean influences. I love its timelessness and modernity!
What should one do in Marrakech if given only a day to spend there? 
E: Enjoy the Jardin Majorelle, stroll around the souk, and discover local craftsmen. Then, have the best mint tea ever at a local coffee shop before sleeping in a unique Riad in the medina. 
L: Visit the Jardin Majorelle and the Yves Saint Laurent museum in the morning, then jump in a horse carriage and eat lunch at +61, followed by a stop at Galerie 127 to see a photography exhibition. Afterwards, head to Jemaa el-Fnaa for freshly squeezed orange juice and take a walk around the bustling souks for handicrafts. In the evening, enjoy an aperitif on the terrace of Dar Yacout, before enjoying a magical dinner on the patio. Lastly, sleep the night away at La Mamounia or Riad Mena & Beyond in the medina.
For more fashion reads, click here. 
| | |
| --- | --- |
| SHARE THE STORY | |
| Explore More | |