Fashion
Haute Couture Week AW23: The best moments from Valentino, Balenciaga and more
Extravagant simplicity
Featured images courtesy of Valentino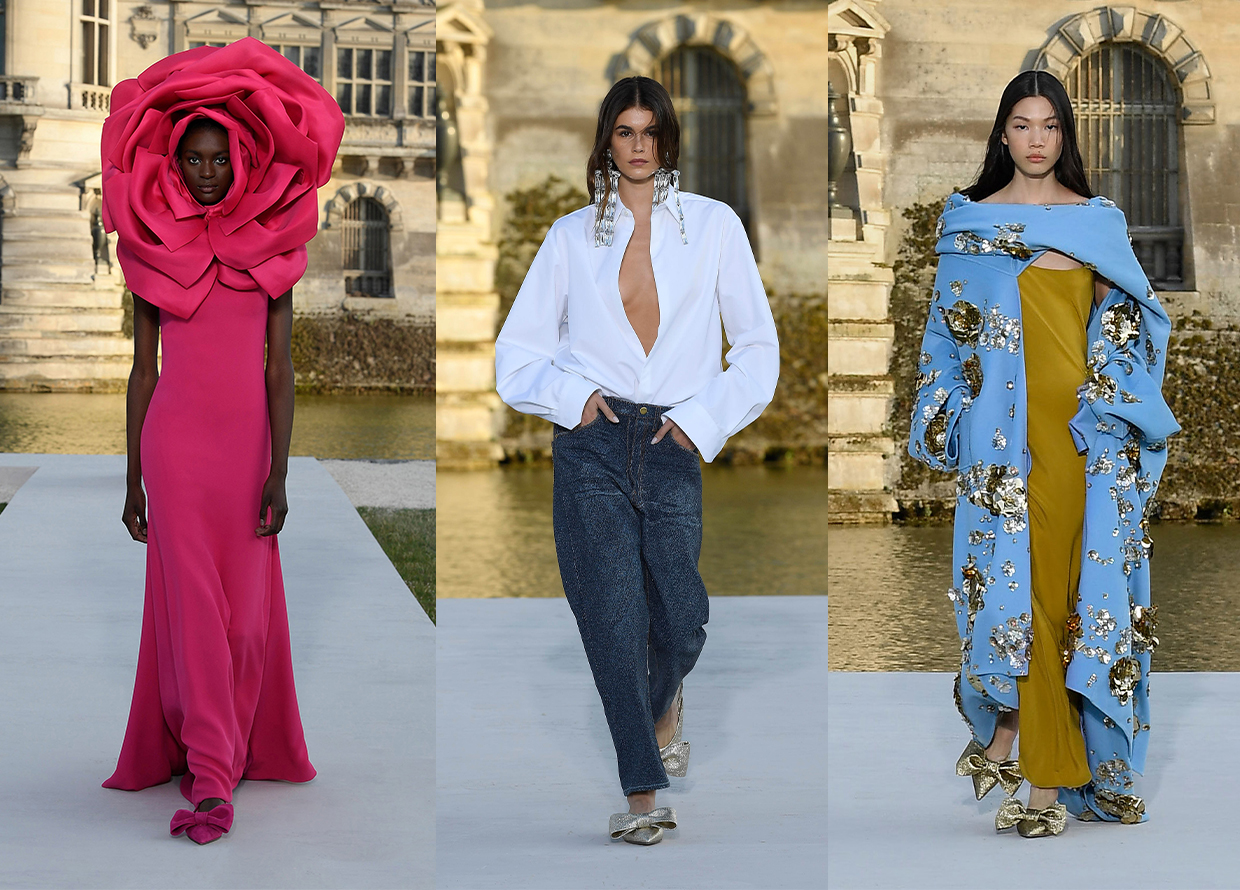 Following Men's Fashion Week in Milan and Paris, Haute Couture Week Autumn/Winter 2023 took place amid social unrest across the French Republic. From Schiaparelli's homage to artistic influences to Balenciaga's armour gown and intricate embroidery by Valentino, keep reading to find out which shows were our favourites from the four-day spectacle. 
Schiaparelli
View this post on Instagram
Creative director: Daniel Roseberry 
Venue: Petit Palais 
Highlights of the collection: This season, Roseberry delved into women's essentials to design an extraordinary wardrobe that would last a lifetime. Each look is accentuated by artistic influences, from Lucian Freud-inspired brushwork to Jack Whitten's mirrored mosaic pieces. The French-Italian fashion house's ultimate objective remains unambiguous—to always be in dialogue with art—and it was indeed realised with this collection.
Key pieces from the line: While the deep blue pebble-like shade that alluded to Yves Klein graced a two-piece look, Dali's brilliant colour gradients adorned a high-waisted skirt. Elsewhere, the accessories were a huge hit, with skinny droplets of stone in gold as well as massive brooches and cuffs spotted on the runway. Likewise, wooden bijoux made its debut, featuring burl wood hands, plaster white lobsters, and a dove dipped in gilded 24K gold leaf.
Dior
View this post on Instagram
Creative director: Maria Grazia Chiuri
Venue: Musée Rodin 
Highlights of the collection: Set against a backdrop decorated by artist Marta Roberti, Maria Grazia Chiuri presented a contemporary and modest line inspired by the Greek goddesses. Sartorial elements like the tunic, peplum, and cape stole the show, along with pearls interwoven with silver threads in appliqué. In addition, the adoption of a soothing colour palette emphasised the collection's strength and fragility of womanhood. 
Key pieces from the line: The white cape gown at the start of the show set the tone right away, followed by the waist-cinched blazer, tops with layered peplums, and pleated patterns on the men's jackets. On top of that, there are a few sheer numbers embellished with crystals that are worthy of a red carpet. The choice of gladiator sandals over high-heeled shoes were also spot-on, as they matched the outfits and aligned with the theme.
Balenciaga
View this post on Instagram
Creative director: Demna Gvasalia
Venue: 10 Avenue George V
Highlights of the collection: For his third Haute Couture series, Demna returned to his foundation and revealed an eclectic lineup ranging from architectural tailoring to glamorous evening wear. Cotton trench coats and cashmere scarves are hand-sculpted in two days, while taffeta is refined with a bespoke method to create a fluid, plasticised style. Adding to the ambience was Maria Callas' isolated operas, which serenaded the models as they walked into multiple spaces packed with celebrities such as Cardi B and Michelle Yeoh.
Key pieces from the line: The opening look—a long black gown decorated with velvet flowers, a seamless pearl necklace, and little gloves—bridges the past and present. In menswear, the application of oil-based paint on linen canvas panels produced padded coats that resembled fur and trousers that looked like leather pants. The pièce de résistance, of course, was the finale dress—a 3D-printed armour with a polished chrome finish—a great synthesis of classic techniques with avant-garde innovations. 
Valentino
View this post on Instagram
Creative director: Pierpaolo Piccioli 
Venue: Château de Chantilly
Highlights of the collection: Piccioli's Haute Couture collection 'Un Château' pushed the concept of a Château beyond its traditional connotation, transforming it into a platform that celebrates beauty, uniqueness, and freedom. With delicate textiles covered in exquisite trompe l'oeil beadwork and intensified hues reminiscent of the Baroque, the Italian fashion label seeks simplicity in complexity. 
Key pieces from the line: The vintage Levi's jeans crafted from silk gazar and embroidered with glass beads matched the très chic white button-up. Other runway standouts included oversized crystal earrings that imitated waterfalls and flat shoes adorned with huge ribbons. Not to be missed were the luxurious silk gowns in a rainbow of hues that were a visual delight. 
Fendi
View this post on Instagram
Creative director: Kim Jones
Venue: Palais Brongniart 
Highlights of the collection: Jones's Haute Couture collection, this time, centred on fluidity and volume mixed with a modern attitude. The premise evolved further to Delfina Delettrez Fendi's high jewellery collection, Fendi Triptych, which fused the precision of Roman architecture with feminine grace. This collaboration empowered the artistic duos to come up with a collection that mastered the art of chic simplicity.
Key pieces from the line: Draped silhouettes in flesh tones dominated the runway, with a couple of pieces in green and red thrown in for an extra punch. In addition to the opulent accessories, the neoprene-tailored furs and feathered chevron shearling offered crucial texture to the loosely fitted ensembles. Similarly, the minaudières clutched on the fingers across the model's chest enhanced the stunning crystal-encrusted gown.
For more fashion stories, click here.
| | |
| --- | --- |
| SHARE THE STORY | |
| Explore More | |