Michael Kors' Spring/Summer 2020 was a celebration of the American dream
Venue
Guests braved through Wednesday morning traffic to Michael Kors' SS20 show at the Duggal Greenhouse in Brooklyn—a showspace which was transformed into a green, sun-dappled park, where trees lined up the runway.
Inspiration
With so much happening in the world, Michael Kors has only one way to power through—optimism. In an All-American way. "I am a native New Yorker and I wanted this show to highlight the strength and optimism and can-do attitude of our city. The collection explores the balance of pragmatism and charm and power and romance that is at the core of American fashion. It is a celebration of the diversity of American style and beauty." This, for one, definitely reflected in the model line-up, which included plus-sized, gender-neutral, and transgender models alongside show regulars like Gigi and Bella Hadid, Kaia Gerber and more.
Collection-wise, the show notes detailed inspirations such as "the powerful romanticism of the 1940s" and "prep versus punk". The former, was seen in the form of the array of oh-so-feminine midi dress and gowns with structured shoulders and draping around the waist, while the preppy notes can be seen through skirt-suits, tailored blazers that were layered over sweaters and shirts, and argyle-print cardigans juxtaposed with painterly florals. Our favourite? The broken pinstripe pantsuit that we'd gladly borrow from the boys. The slight punk flair was derived from the patriotic stars and stripes, whether it's in the form of prints or, our favourite-metallic embellishment that shines so beautifully under any glimmer of light. Although the prints in the collection were mostly made up of the classic favourites, there were a few quirky ones in the mix-fruity lemon and cherry motif bound to be a conversational-starter. Ultimately, the looks were all pulled together with an all-American attitude.
Performance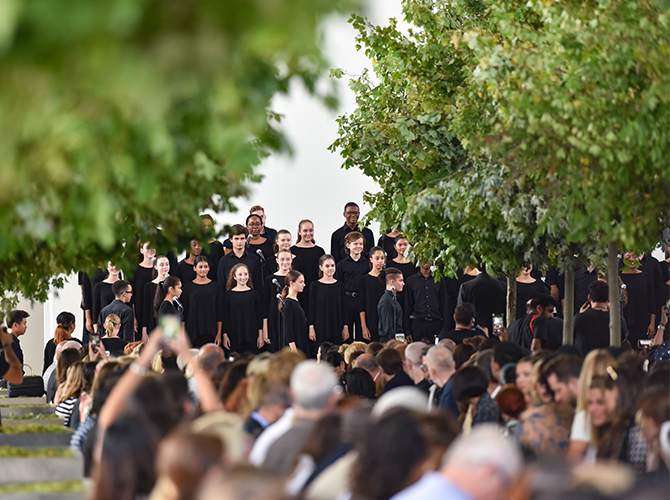 Remember Michael Kors' Autumn/Winter 2019 collection where he had a full blown Studio 54 party featuring a performance by the legendary Barry Manilow? This time, he got the Young People's Chorus of New York City to perform. The organisation is all about "providing children of all cultural and economic backgrounds with a music education." Instead of a soundtrack, models strutted down the runway to the choir, performing the classic songs such as "American Pie", "In the Mood", "This Land is Your Land", "On the Town (New York, New York)", "America", and "Love Train".
Star power
Michael Kors has, no doubt, one of the most star-studded front rows this season. Hollywood A-listers including Nicole Kidman, Kate Hudson, Lucy Hale, and Emily Ratajkowski were seated front and centre, but that's not it. Stars from the APAC countries also made their appearances, such as brand ambassadors Lareina Song (Song ZuEr) and Leo Wu (Wu Lei). Our very own Neelofa and Scha Alyahya were also present.
Michael Kors' favourite looks
Below, the designers' top picks this Spring/Summer 2020:
Womenswear
Menswear
15 Minutes with Michael Kors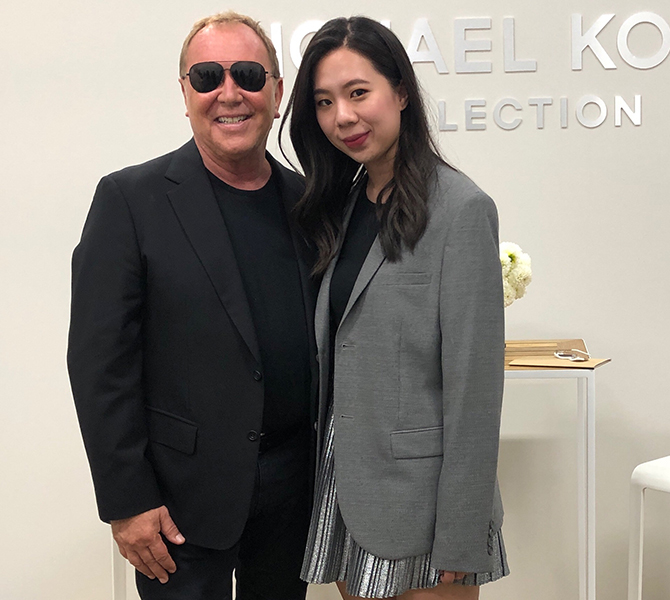 Tell us more about your inspiration for the Spring/Summer 2020 collection
It's about what's happening in the world. Everyone in the world whom I know now is fascinated with having their DNA tested. My husband and I did ours twice—Gigi Hadid sent the second one to us for Christmas last year. When we got it back, I realised that I didn't really know anything about my family even though I grew up in New York. I didn't know the history of my great-grandmother when she first arrived in America, so we started finding out. She came here when she was 14 years old by herself from Poland with 10 dollars in her pocket. She originally lived in downtown Manhattan, and her dream was to come to Brooklyn, which was her Shangri La. That's why we decided to have a show here this season. I thought about the idea of optimism, and how she thought anything was possible, from no education, background nor money, to starting a business, raising a family, and achieving her dreams of coming to Brooklyn.
I also thought about the 1940s. A lot of American women ran the factories, and they go home to raise their children and had a family during war, and you started seeing the whole idea of tailoring. Things that have a defined waist and a stronger shoulder, which were also feminine. And then you start seeing the rule-breakers. In the '40s you have Katherine Hepburn who wore trousers—women in that era have never worn trousers before—and in the '80s there's David Bowie who changed the other way. These are the people who mixed the Yin and Yang. And that's what makes a style.
How do you define luxury?
Some people think that luxury meant that it's precious. I actually hate being told that. If I have a big can of caviar, I like it with potato chips. I don't think people should be afraid of quality and I think sometimes it's more about quality. When you buy something that you think is special, use it. Wear it all the time. Don't save it. The women in the office, they'll wear an embroidered skirt with a pair of sneakers and a T-shirt, and they wear the same skirt with a silk shirt and a pair of heels to a party at night. So it's definitely not the old-fashioned luxury—the quality ones are things that make you feel good about yourself.
Capri Holdings recently signed the G7 Fashion Pact. What can we expect from the brands when it comes to sustainability in the near future?
The conversation is enormous. Right now we're putting together a very comprehensive plan-not just for Michael Kors but also for Jimmy Choo and Versace. We all have to rethink.
Was the inclusive line-up a deliberate decision?
I think that beauty is a mosaic today. To me, regardless of who you are, how old you are, what size you are, what height you are, my job is to make you feel your best. And for me to have transgender models, models from around the world, models who are of different ages and sizes, honestly, we're not paying attention. Someone asked me if curvy models are dressed differently, it's a no. Fashion is more democratic today, thanks to the internet we're all learning from each other, and that's what's exciting. I've been doing this for almost 40 years, and if fashion is not about change, I'll be very bored.
What keeps you going?
The world changing keeps me going, because it makes you curious. I love to travel a lot—too much (laughs). But when I travel I see different things—I see people change and evolve. I think that the internet is also a giant revolution for fashion. Before that, the only people who had excess were rich and lived in big cities. But now, it's totally different. We were in the South Pacific at a tiny pearl farm in an island of Polynesia, and when I arrived the young woman who has working there was wearing a Michael Kors dress—it was in the middle of nowhere. When I asked her where did she get that dress, she said Los Angeles. I think that's exciting.
Where do you see Michael Kors and fashion in general in 10 years?
As I said, thinking about how fashion affects the planet is an enormous conversation. I think there are new regions in the world that are going to develop. I've been to Africa four or five times, but except for the big cities, we never think of it as a place for fashion, and that's changing. I hope the world will continue to come together. I also think that we have to find a balance within the next 10 years without being overly addicted to our phones and to learn how to unplug, so we can breathe a little bit. I'm worried when I see teenagers now who are constantly agitated from too much of social media. They can't sit through a movie or a concert anymore. I want to see this generation do great things. JOMO instead of FOMO! (Laughs).