Here's everything you need to know about Longchamp's Spring/Summer 2020 show
Longchamp's Spring/Summer 2020 show marked our first runway event at New York Fashion Week this season, and for the first time ever, the brand held its show outdoors at the Hearst Plaza at Lincoln Centre. Instead of the typical long, straight runway, models walked around the Paul Milstein pool featuring English artist Henry Moore's Reclining Figure sculptures, in looks that are inspired by not one but two different decades.
Below, everything you should know about the Longchamp SS20 show:
Best looks
Inspired by the solar spirit from dawn to dusk, this season, creative director Sophie Delafontaine placed her focus on the '70s and '90s by amping up the best details from both eras with a sporty, contemporary twist. Kaia Gerber—who just celebrated her 18th birthday on Tuesday—opened the show in a nylon hooded dress and a boot-sneaker hybrid (the brand called them knitted boxing shoes), before the more distinct throwback details such as psychedelic prints and crop tops take centre stage.
Also not to be missed, are the floral applique that tunes up the femininity of the line, peppered over sheer skirts and dresses that show off peekaboo skin. Colour-wise, she looked to the colourful artwork of artist Judy Chicago and the hues of the sun rays, introducing a palette of apricot, jade, and turquoise, alongside the classic neutral tones that we can never get enough of. While the pleated silk dresses (that flow beautifully with every move) are a sure crowd-pleaser, our favourites from the collection are the mini dresses in the brand's signature supple leather, including one in panelled jade, white, and beige, and the other, in a fiery red colour.
Star power
As mentioned, the shows had no short of A-listers. Spotted on the FROW: Julianne Moore, Kate Moss and her daughter Lila, Kendall Jenner, Linda Cardellini, Liya Kebede, Chriselle Lim, and more.
Nano bags, alert!
We've said this before, and we'll say it again: Mini bags are no longer a trend—it has become a staple in every woman's closet, including ours. Just when we thought the mini version of the Le Pliage Cuir from Longchamp's Autumn/Winter 2019 collection couldn't get any cuter, the brand sent down an array of XXS version, which we reckon could still fit our cards, cash, and lipstick. We shall confirm it when the arm candies are out next year, but in the meantime, take a pick from the three colours spotted—black, white, and hot pink.
Quick chat with brand ambassador, Kendall Jenner
After the show, we met brand ambassador Kendall Jenner backstage where she lets us in on her relationship with Longchamp, her favourite bag, and what she stores in it.
Watch the quick interview here:
7 Questions with creative director, Sophie Delafontaine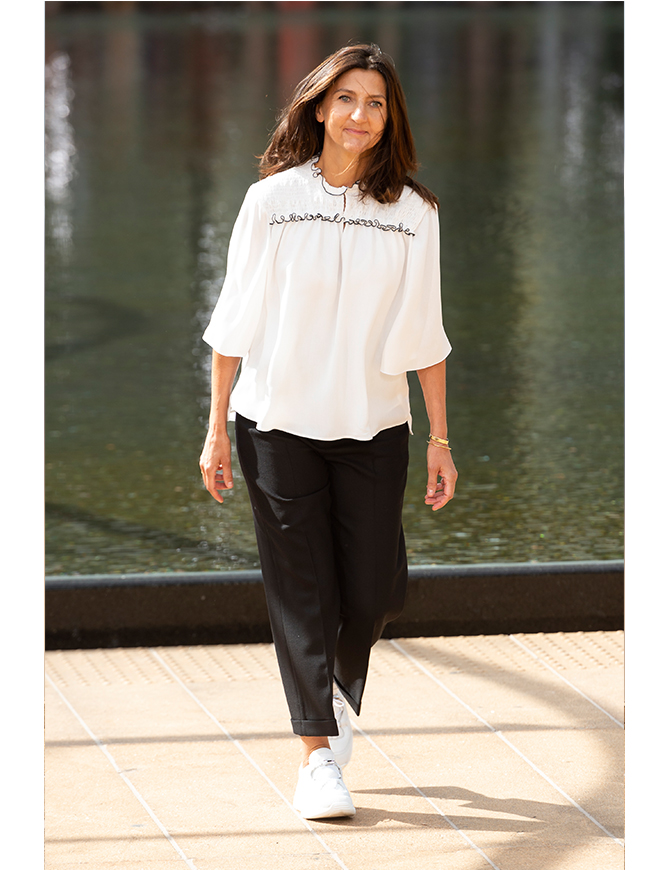 '70s and '90s are not necessarily the most complementing eras. How did you manage to bridge those decades together?
I don't want to bring back any sense of nostalgia, so I even though I'm inspired by these two eras, I don't want to do a '70s or '90s collection. The idea is to highlight elements from the '70s and '90s and make them contemporary. For example, we all love long dresses that are feminine, but I don't want to feel like I was specifically designing it for the beach or for summer, so by tying it with the graphic inspiration of the '70s, it makes it more contemporary and urban.
What's your favourite look from the collection.
I love all of them, of course (laughs). But I think Mica was wonderful in her look.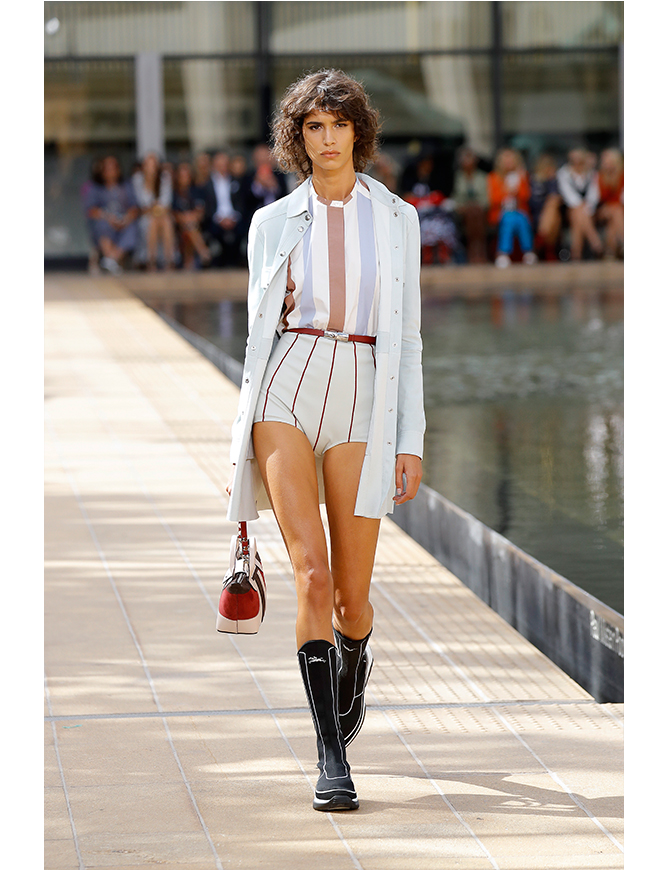 3. Tell us your favourite Longchamp bag of all time.
Le Pliage is of course an iconic bag. My dad designed it 25 years ago, and I'm super proud to continue to work around it. But this season I'm very happy to redesign the Roseau bag which is also a very strong identity for Longchamp and I wanted to play with it this season.
4. Longchamp's artist collaborations always seem to do so well. What do you think is the secret to success?
It's because I personally love the artists and to work with them. (Laughs)
5. Women empowerment is still the hot topic in fashion right now. How much of that resonates with you?
It resonates with me because I'm a woman. I'm working and I have a family. I know what it takes to balance everything. Every woman is not only amazing, but they're powerful, too. It's very important for them to know that.
6. As the third generation of the Longchamp family. What do you aim to achieve with the brand?
I hope to continue developing the brand, and to make it go as far as possible.
7. What's next for the brand?
We're already working on our Autumn/Winter 2020 collection!