In the ancient art of Chinese opera, the smallest details play a strong role in the performance's overall artistry. On stage, the costumes worn by the actors help to better portray a character's role in the story. On the other hand, culture and the arts often seep into modern fashion—becoming a huge source of inspiration for designers and fashion enthusiasts. This fluidity has birthed unique creations that are not only beautiful to look at, but also have strong ties to a certain community's traditions.
The significance of clothing in Chinese opera is something that internationally renowned fashion designer Carven Ong and Chinese opera artists, Chan Wan Heng and her son, Lim Choo Leong, understand well. Carven's latest collection draws inspiration from this form of performing arts, featuring meticulously embroidered designs and magnificent headwear. The collection, now on display at Intermark Mall at the Opera Opulence Gallery, highlights the splendour and heritage of Chinese opera.
Check out: 7 Shopping malls with the most unique and auspicious CNY decor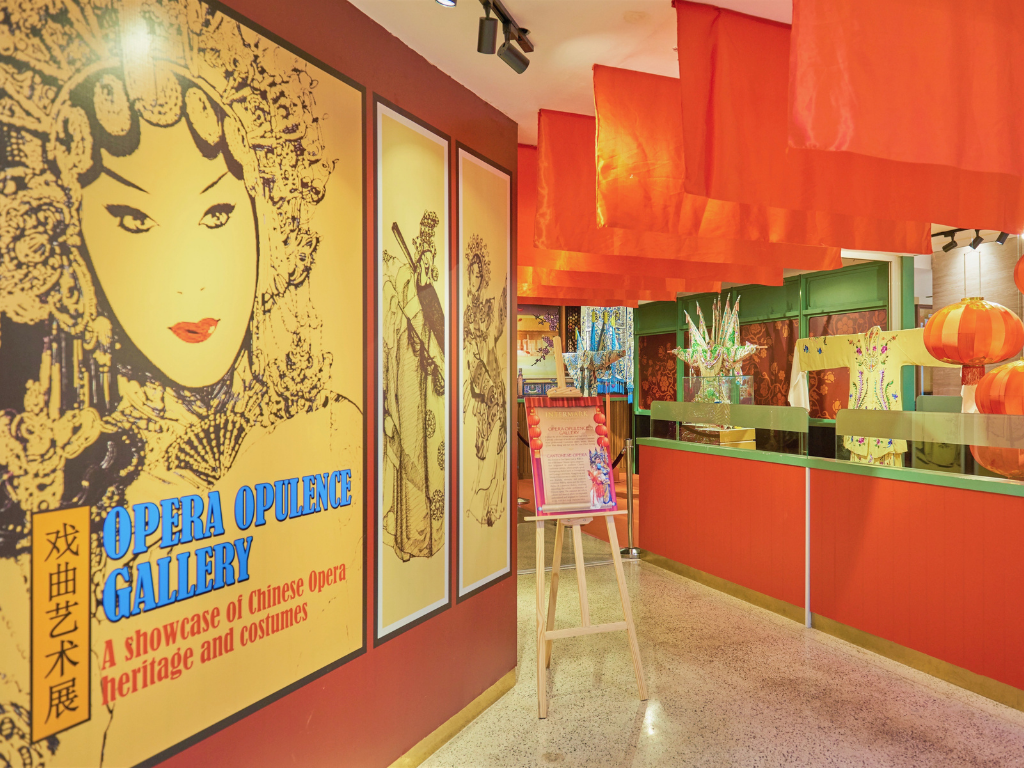 With the Year of the Tiger nearly upon us, we talked to Carven Ong, Chan  Lim Choo Leng on the role of fashion and costumes in a performance, as well as the cultural significance of Chinese opera in modern times.
Carven Ong, fashion designer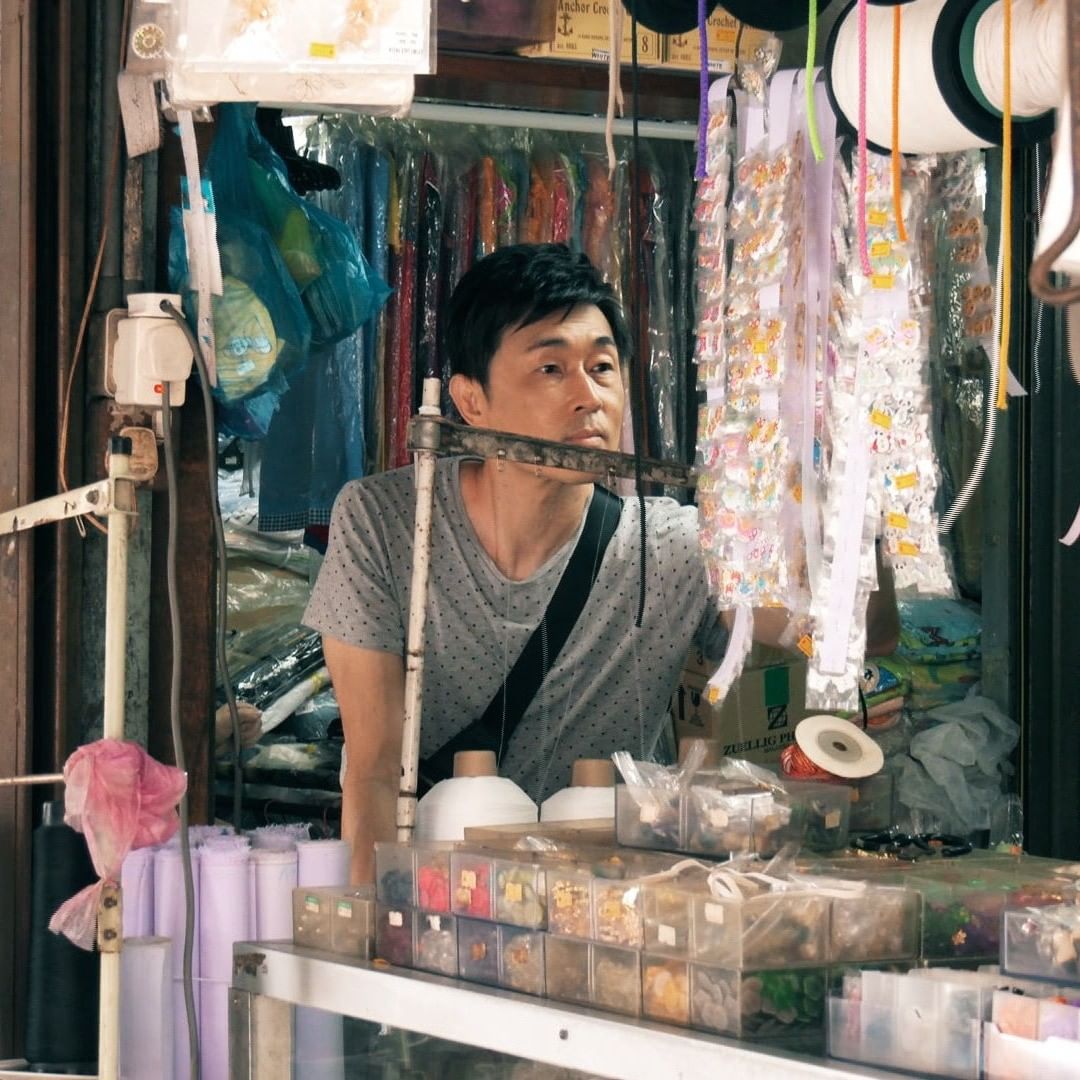 What aspect of Chinese opera inspired your collection displayed at Intermark Mall? What do you love about this rich art form?
"When one thinks of Carven Ong, they think of wedding gowns, or chic evening dresses. But I always challenge myself to try new things, and that includes exploring new styles! When Intermark Mall told me about their 'Opera Opulence' theme for this year's Chinese New Year celebration, I was very excited to design a modern take on this rich art form.
"In my 'Opera Meets Fashion' collection that is on display at Intermark Mall for Chinese New Year, I drew inspiration from the dramatic makeup and intricate designs used in Chinese opera. I looked at incorporating oriental motifs into modern cuts—experimenting with flared cuts, capes, two-piece options, and very bright and bold colours. The whole collection features a range of designs that brings out the femininity and uniqueness of a woman.
"You can see classic floral designs that are found in traditional opera costumes, and I also included dramatic Chinese opera masks in the designs. I wanted to create a sense of classic grandeur and elegance, which is further complemented by opera-inspired headgear. These one-of-a-kind couture pieces are custom made and limited edition. People who are interested in purchasing the outfits in my 'Opera Meets Fashion' collection can visit my store at Intermark Mall or get in touch with me via my Instagram page. Shoppers can also check out my ready-to-wear Chinese New Year collection on display on the mall's ground floor."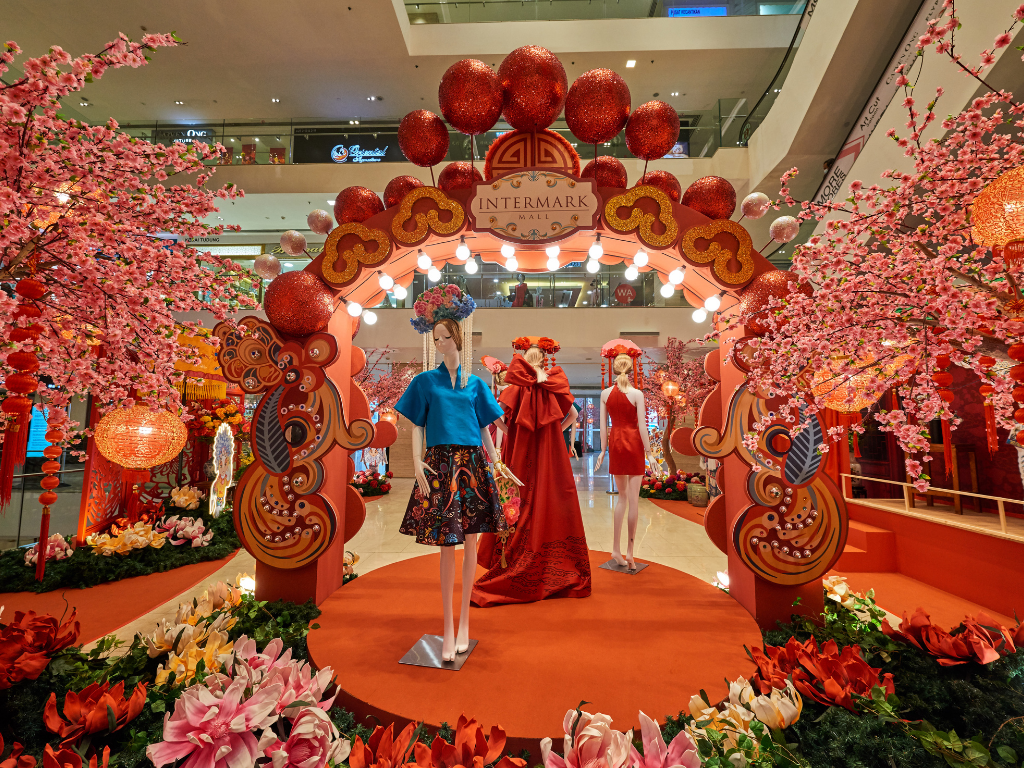 How does fashion represent a character in Chinese opera?
"The costumes of Chinese opera play a pivotal role in helping viewers understand and appreciate the opera as a whole. With exquisite embroidery, exaggerated patterns and bright colours, the costumes give the audience a sense of luxury and beauty.
"Costumes are classified into python ceremonial robes, armour, gowns with sloping collars, cloaks, official robes, gowns with vertical collars, coats, and so on. Each type of costume is matched with a particular headgear, footwear, and facial makeup.
"Each costume will represent the character—royalty and the main characters will have costumes that are more heavily embroidered, while different colours are used to showcase different characteristics, such as gold being used for kings, pink and other pastel colours used to represent the demure princess, and red being used to represent the brave warrior."
What is your favourite Chinese opera story?
"I don't have a favourite Chinese opera story! But I do have very fond memories of watching Chinese opera at the temple in my hometown of Taiping, Ipoh. I was young and too short to see the full outfits of the performers, so I would like to sneak backstage to see the performers get ready and to admire the beautiful costumes up close."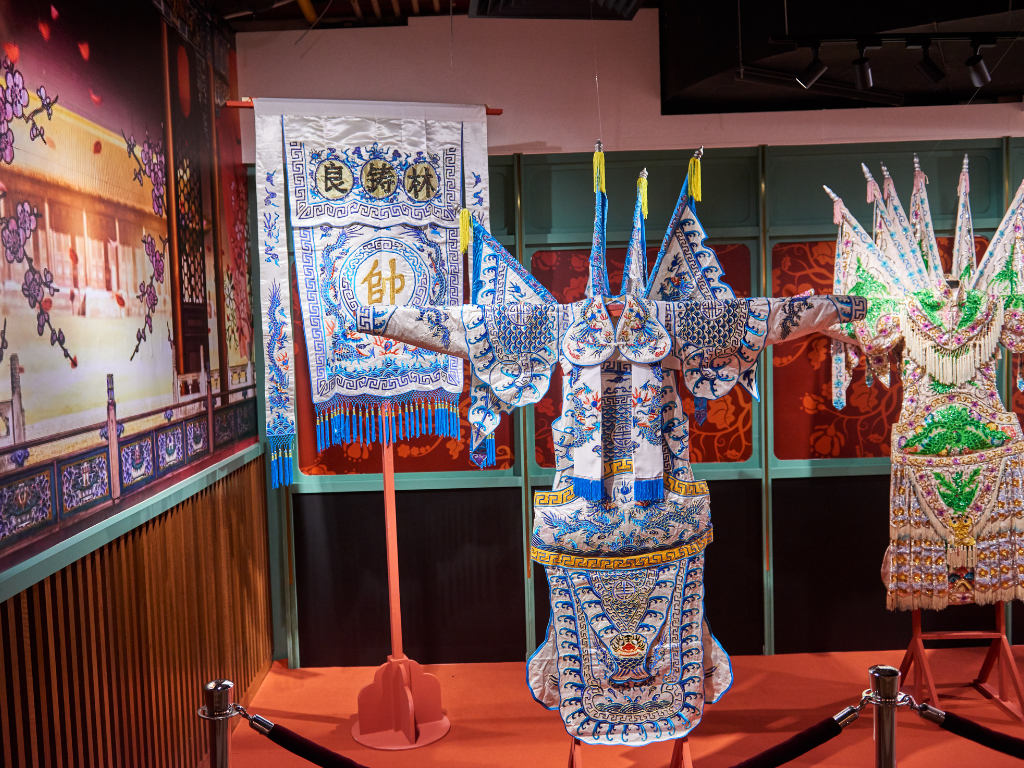 Chan Wan Heng and Lim Choo Leong, Chinese opera artists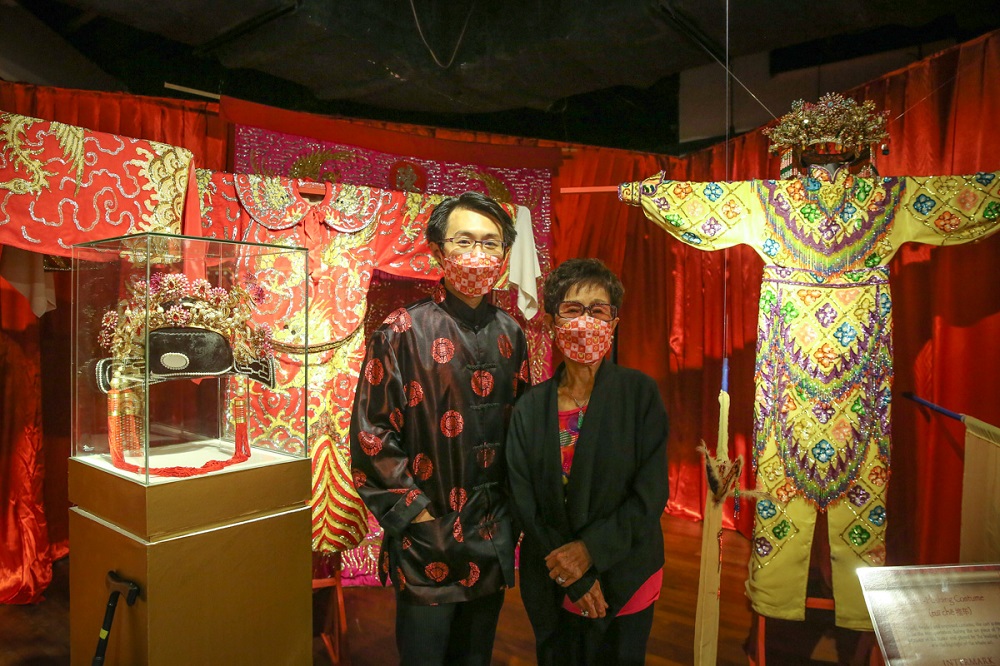 What sets Chinese opera apart from other forms of theatre performing arts?
"Chinese opera consists of four basic skills: Singing, acting, reciting and martial acrobatics. For Cantonese opera, it also combines literature, dancing, acrobatic and music. There are a lot of cultural elements in this ancient art form, making Chinese opera a performing art that is very rich in a cultural sense."
Like all theatrical arts, hours of hard work go into the production of a Chinese opera show. What is the process of preparing for a performance? Walk us through it.
"For a professional like my mother, Madam Chan, she has been performing since the age of 18 and has learnt from several opera veterans. On the day of the performance, she will usually be part of the briefing and rehearsal prior to the performance. Because she is a seasoned professional, she doesn't require as much time at rehearsals. However, for part-time performers, we would practise our songs every week and start rehearsing up to three months before the performance date.
"In terms of preparation, to set up a stage from scratch for a temple show, it will take one full day. However, if it's an indoor space like an auditorium, it will take around 3 to 4 hours to install the background and props. The performers will also be getting ready backstage. The makeup process is quite long and takes approximately 40 minutes to put on the full makeup, while getting dressed will take 10 to 15 minutes depending on the complexity of the costume.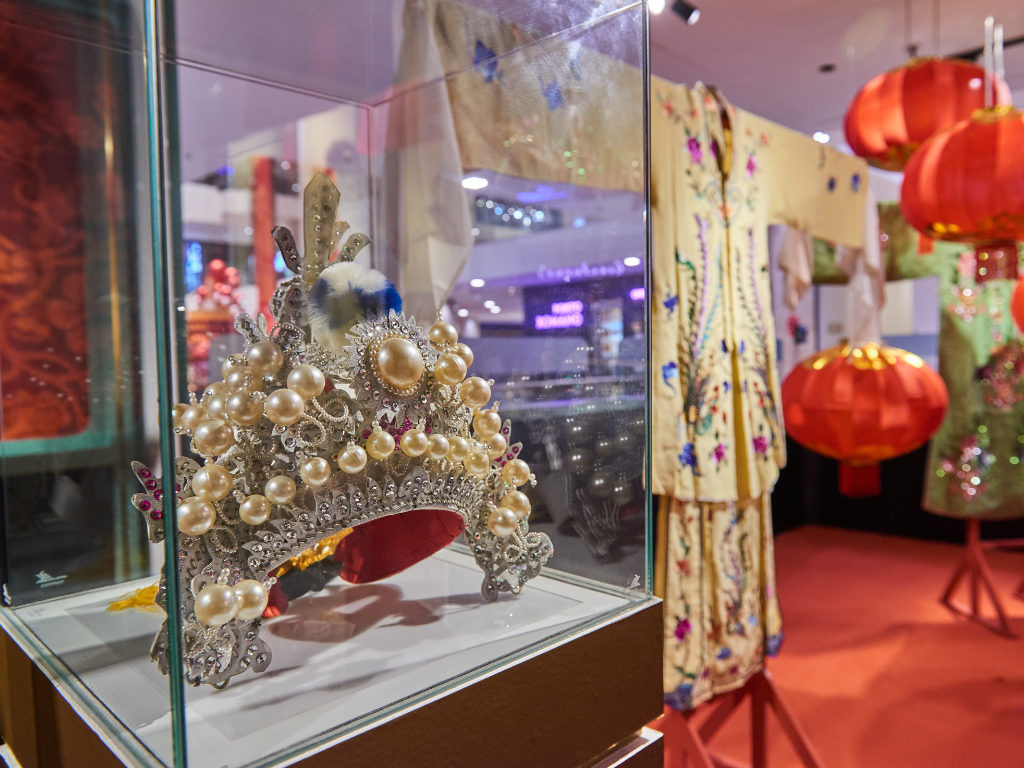 How does fashion impact the stories being told in a Chinese opera show?
"The costumes definitely help reflect the characters we are portraying; they help us get into the character we are playing and enhance our performance. The costumes themselves tell a story on the characters—royalty will have much more elaborate embroidery, for example. One of the military costumes on display at Intermark Mall's 'Opera Opulence Gallery' was custom-made for my mother from Hong Kong and showcases the strength of the warrior. Costumes such as these would take months to make and are all hand-sewn. This particular costume on display took roughly three months to make."
Costumes can be a non-verbal way of communicating a character's role to the audience. What are some examples of costume symbolism in Chinese Opera?
"In Cantonese opera, we have acrobatic and literary scenes. There are also many stories about love and war. Military costumes are usually for acrobatic scenes and will have cuffed sleeves to make it easier for the performer to perform the acrobatic stunts. Literary scenes, on the other hand, will have costumes with longer sleeves and long white pieces of silk to emphasize the hand gestures of the characters we play, portraying their thoughts and feelings. So, the different costumes will reflect the type of movement needed."
Why should young people be interested in Chinese Opera?
"Younger people should learn more about Chinese opera because it is an ancient art form that should be passed down from generation to generation."
How can ancient art forms like Chinese opera be revived and integrated into a modern world built on digital entertainment?
"The association my mother and I are part of—the Pat Woh Association Malaysia (Cantonese Opera Professionals Association of Malaysia)—promotes Cantonese opera through our Facebook page. We upload photos and videos of our performances, and also engage the younger generation by organising a 2D1N Cantonese opera camp for school kids. We also teach basic Cantonese opera classes and have people who approach us who are interested in singing, for example. On top of that, to appeal to a wider audience, we have put up subtitles in other languages to enable our audience to understand the stories better. We are proud to have received a lot of positive feedback on our initiatives so far!"
Check out: 8 Online and offline stores to shop cheongsams from