This week's entertainment headlines include Chrissy Teigen's pregnancy loss, an upcoming Billie Eilish documentary, and more
The world mourns with Chrissy Teigen as she experienced pregnancy loss
Following a recent hospitalisation due to "excessive bleeding", Chrissy Teigen has sadly suffered a pregnancy loss. She and John Legend announced that they were expecting their third child in the song 'Wild' and the father-to-be called the pregnancy news a "quarantine surprise" back in August.
The mother of two took to social media on October 1 to share the news. "We are shocked and in the kind of deep pain you only hear about, the kind of pain we've never felt before. We were never able to stop the bleeding and give our baby the fluids he needed, despite bags and bags of blood transfusions. It just wasn't enough." 
"We never decide on our babies' names until the last possible moment after they're born, just before we leave the hospital. But we, for some reason, had started to call this little guy in my belly, Jack. So he will always be Jack to us. Jack worked so hard to be a part of our little family, and he will be, forever."
She went on to say, "Thank you to everyone who has been sending us positive energy, thoughts and prayers. We feel all of your love and truly appreciate you."
The cookbook author was put on bed rest by her doctors for two weeks in early September, which eventually became three weeks. Then, on September 28, she noted that she is in high spirits, showing us the importance of having a positive mindset during turbulent times. 
Save the date for Billie Eilish's upcoming documentary
Get ready, Billie Eilish fans! After having been in the works for several years, Billie Eilish: The World's A Little Blurry is set to premiere in theatres and on Apple TV+ in February 2021. Directed by award-winning filmmaker R.J. Cutler, the documentary shares the life of the 18-year-old 'Bad Guy' singer where it follows her journey from 2016 onwards.
Blackpink releases highly anticipated album, which is aptly titled The Album
From the release of their recent hit single 'Ice Cream' featuring Selena Gomez to the announcement of their Netflix Original Documentary (set to premiere on October 14), Blackpink continues to take the world by storm. The Album debuts today and features Cardi B in the song 'Bet U Wanna', among other exciting new songs!
Chadwick Boseman's final film Ma Rainey's Black Bottom
Netflix has given us a first look at Ma Rainey's Black Bottom, the late Chadwick Boseman's final film. Set to release on December 18, the photos show the star performing music, dressed in a slick tuxedo next to co-star Viola Davis.
Set in 1927's Chicago, the movie tells the story of then-upcoming blues singer Ma Rainey and vividly portrays the issues of race, relationship and music. It is based on August Wilson's award-winning play of the same name.
The filming for Riverdale, Batwoman, Big Sky, Nancy Drew, and Charmed has shut down due to Covid-19 testing delays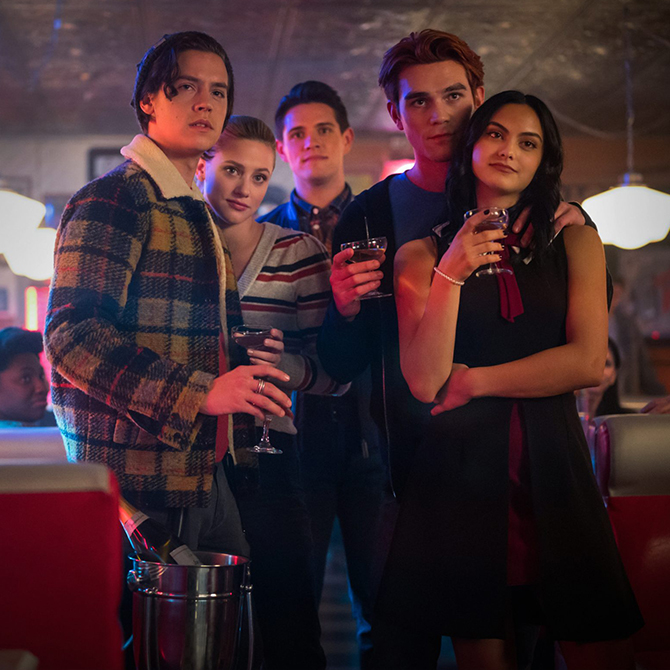 Due to the delays in British Columbia's Covid-19 testing process, multiple shows such as Riverdale, Batwoman, Nancy Drew, Charmed, and more have been temporarily shut down. Affecting a long list of production companies like Disney TV Studios, ABC, Hulu, Warner Bros. Television, The CW, and more, they have all come forth to say that production has stopped till further notice. Netflix representatives have chosen not to respond. 
According to a source, there is only one lab certified to conduct the testing of coronavirus and is currently prioritising recently reopened schools and businesses. 
Romy of The xx debuts her first solo single
Written and recorded during the lockdown in London, British singer-songwriter Romy has premiered her first-ever solo single 'Lifetime'. The song embodies euphoria as it speaks about the dream of being reunited with friends, family, and loved ones. In her own words, the song captures "being totally in the moment and celebrating it."
Known for having co-written the last three albums for her band, The xx, and having songwriting credits for the likes of Mark Ronson, Jehnny Beth, Benny Blanco and Dua Lipa, her new work would certainly not disappoint! 
Shawn Mendes just released the music video for 'Wonder'
The beautiful and cinematic music video was just revealed today, ahead of his fourth studio album—which is also named Wonder—that's scheduled to drop on October 4.
Shawn Mendes dropped teasers to this upcoming release late September, along with a letter explaining his process, on both Twitter and Instagram saying, "It really feels like a piece of me has been written down on paper and recorded into song." He added, "I tried to be as real and as honest as I've ever been. It's a world and a journey and a dream and an album I've been wanting to make for a really long time."
For more pop culture news, head over here.