As Barack Obama awards his Vice President with the highest civilian honour, we look back at the quotes that have made Joe Biden the man whom people can't help but love
"To know Joe Biden is to know love without pretense, service without self-regard,
and to live life fully."
These were words uttered by President of the United States, Barack Obama prior to awarding the Presidential Medal of Freedom to his vice president and friend, Joe Biden in a surprise ceremony. On top of it being the highest honour an American civilian could receive, the medal presented by Obama—for the first and only time in his presidency—boasted an additional level of veneration, as he proclaimed the award to be the "Presidential Medal of Freedom with distinction".
Amid tears and a dropped jaw, Biden exclaimed, "I had no inkling."
The 74-year-old was overcome with emotion as he expressed his gratitude. "This honor is not only well beyond what I deserve, but it's a reflection of the generosity of your spirit," Biden said to Obama. "I don't deserve this. But I know it came from the president's heart."
"Bidenisms"
Before we get choked up, let us take a glance back at some of the moments that remind us of how he charmed a nation and cemented "Bidenisms" (political gaffes or verbal flubs made by one Joe Biden whether knowingly or not) in a country's lexicon:
"A man I'm proud to call my friend. A man who will be the next President of the United States—Barack America!"—at his first campaign rally with Obama
"Isn't it a b*tch? This vice president thing?... That was a joke, that was a joke. Best decision I ever made. I'm joking. That was a joke."—to a student body's vice president at Harvard University
"...His mom lived in Long Island for ten years or so, God rest her soul and uh um, although wait, your mom's still alive, it was your dad [who] passed. God bless her soul!"—during the awkward mix-up between the Irish Prime Minister's parents
"It's like Yoda said, 'Live long and prosper'."—at San Diego Comic Con
"Failure at some point in your life is inevitable, but giving up is unforgivable."—at the Democratic National Convention in 2008
"Folks, I can tell you I've known eight presidents, three of them intimately."—at a campaign event in Detroit
"And I'll say this to American youth: Sniffing a little glue never hurt any one."—during his Democratic National Convention speech
"You think, I'm joking, they're almost all gymnasts, the stuff they do on hard wood, it blows my mind.''—on the topic of cheerleaders in a speech to a group of student athletes at Newport High School
"We're going to be OK because of the American people. They have more grit, determination and courage than you can imagine."—in an interview with CNN's Larry King
"The greatest gift is the ability to forget—to forget the bad things and focus on the good."—in a speech remembering his mother and deceased wife
"I promise you, the president has a big stick. I promise you."—citing Theodore Roosevelt's famous quote, "Speak softly and carry a big stick"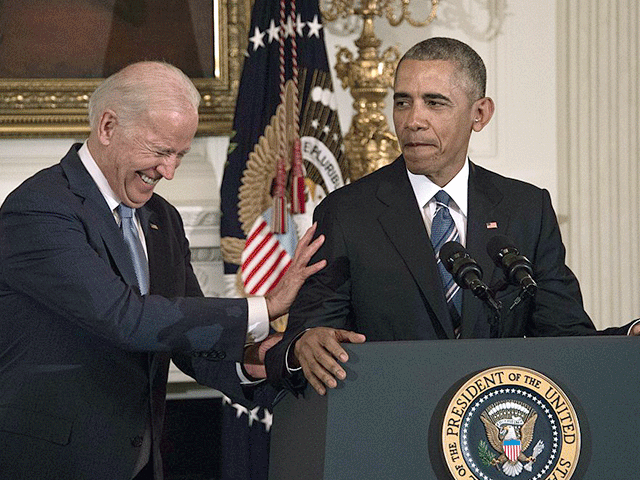 Related stories:
Watch: President Obama's farewell address
Trump's shock win: Celebs react on social media
Malala Yousafzai talks life after winning a Nobel Peace Prize