From a scene-stealing cameo by Michelle Obama to an all-star country tribute to Grammys' "person of the year" Dolly Parton, here is what you may have missed at the 61st Annual Grammy Awards:
BEST MOMENTS
After Camila Cabello's opening performance of 'Havana' along with Young Thug, Ricky Martin, Arturo Sandoval and J Balvin, host Alicia Keys kicked off the ceremony joined by a handful of very special guests for an ode to music and sisterhood. Keys, Lady Gaga, Jada Pinkett Smith, Jennifer Lopez and Michelle Obama each told personal stories of how music changed their life. Thunderous cheers and applause erupted in the room as the former first lady used her moment on stage to speak of music as a pillar of strength and unity:
"From the Motown records I wore out on the South Side (of Chicago) to the 'Who run the world' songs that fuelled me through this last decade, music has always helped me tell my story. I know that's true for everybody here. Whether we like country or rap or rock, music helps us share ourselves, our dignity and sorrows, our hopes and joys. It allows us to hear one another, to invite each other in. Music shows us that all of it matters, every story within every voice, every note within every song."
Another moment that surely left a smile on everyone's faces has to be the tribute to Dolly Parton, who was named Grammys' 2019 MusiCares Person of the Year in honour of her charity work. The all-star performance saw the likes of Miley Cyrus, Kacey Musgraves, Katy Perry, Maren Morris, Little Big Town, as well as Parton herself performing some of her biggest hits.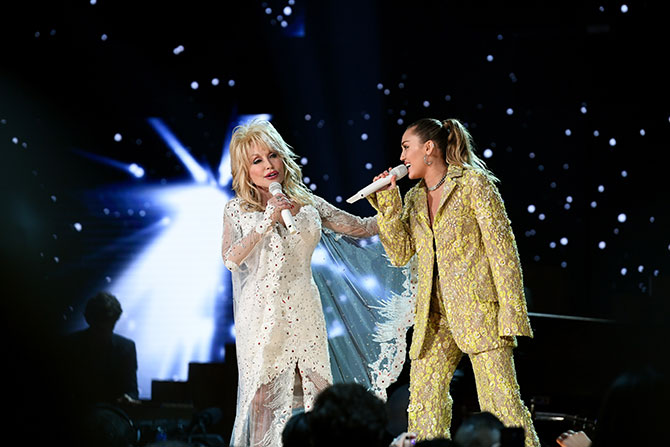 "I always wanted to play two pianos," said Alicia Keys as she opened the second half of the show. Needless to say, her wish was fulfilled. She expertly juggled two grand pianos with one hand on each, playing some of the songs that have inspired her through the years, including Nat King Cole's 'Unforgettable', Roberta Flack's Killing Me Softly, Lauryn Hill's 'Doo Wop (Than Thing)' and Kings of Leon's Use Somebody, before rounding it up with her very own 'Empire State Of Mind'.
Alicia Keys with that dual piano flex #GRAMMYs pic.twitter.com/TEP0joEyA3

— UPROXX (@UPROXX) February 11, 2019
Drake's appearance at the Grammys probably raised a few eyebrows at the beginning of the evening, seeing how the rapper is a vocal critique of the Grammys. We reckon he showed up just so he can give this speech after he won best rap song for 'God's 'Plan':
 "I want to take this opportunity while I'm up here to just talk to all the kids that are watching this that are aspiring to do music, all my peers that make music from their heart, that do things pure and tell the truth. I want to let you know we play in an opinion-based sport, not a factual-based sport. So it's not the NBA where at the end of the year you're holding a trophy because you made the right decisions and won the games."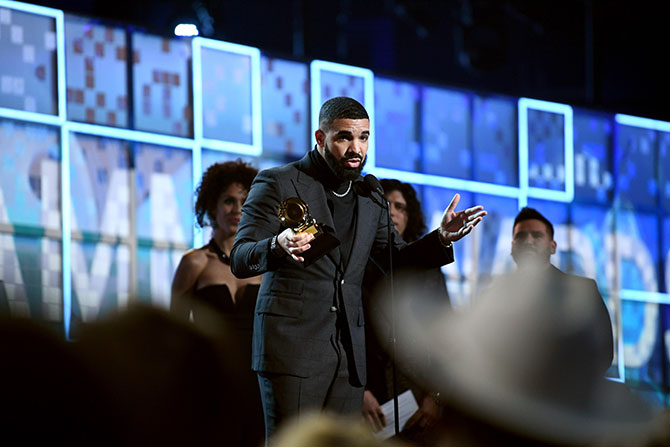 "This is a business where sometimes it's up to a bunch of people that might not understand, you know, what a mixed-race kid from Canada has to say or a fly Spanish girl from New York or anybody else. The point is, you've already won if you have people who are singing your songs word for word, if you're a hero in your hometown. Look, look if there is people who have regular jobs who are coming out in the rain, in the snow, spending..."
That is as far as he got before his mic was abruptly cut off. The show producers later explained that it wasn't deliberate, because he took a pause and they thought he was done. Hmmm.
Kacey Musgraves and Childish Gambino's 'This Is America' emerge the night's biggest winners with four awards each. Musgraves took home the covetable title of Album of the Year, while 'This Is America' makes history by being the first rap song to win both song and record of the year. Speaking of firsts, BTS became the first K-pop group to present at the Grammys, where they handed the Best R&B album award to H.E.R. The hugely popular group also had their album Love Yourself: Tear nominated in the category of best recording package.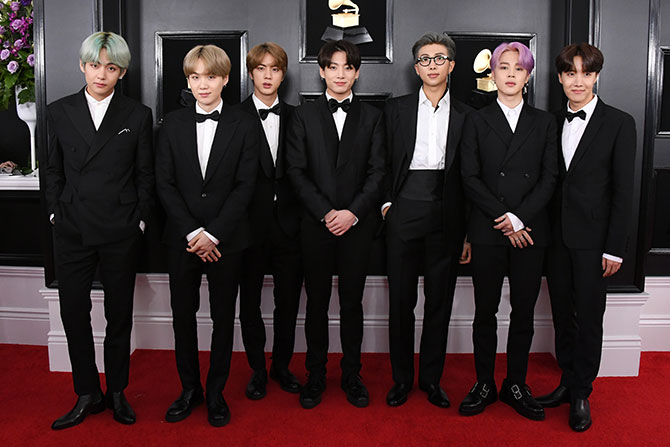 FULL LIST OF WINNERS
Album Of The Year
Golden Hour, Kacey Musgraves
Record Of The Year
"This Is America," Childish Gambino
Best New Artist
Dua Lipa
Best Rap Album
Invasion Of Privacy, Cardi B
Best R&B Album 
H.E.R., H.E.R.
Best Rap Song
"God's Plan," Drake
Best Country Album
Golden Hour, Kacey Musgraves
Song Of The Year
"This Is America," Childish Gambino
Best Pop Duo/Group Performance
"Shallow," Lady Gaga & Bradley Cooper
Producer Of The Year, Non-Classical
Pharrell Williams
Best Rap/Sung Performance
"This Is America," Childish Gambino
Best Rap Performance
King's Dead, Kendrick Lamar, Jay Rock, Future & James Blake / Bubblin, Anderson .Paak
Best Rock Album
From The Fires, Greta Van Fleet
Best Rock Song
"Masseduction," St. Vincent
Best Metal Performance
Electric Messiah, High On Fire
Best Rock Performance
When Bad Does Good, Chris Cornell
Best Urban Contemporary Album
Everything Is Love, The Carters
Best R&B Song
"Boo'd Up," Ella Mai
Best Traditional R&B Performance
Bet Ain't Worth The Hand, Leon Bridges / How Deep Is Your Love, Pj Morton Featuring Yebba
Best R&B Performance
"Best Part," H.E.R. Featuring Daniel Caesar
Best Latin Jazz Album
Back To The Sunset, Dafnis Prieto Big Band
Best Large Jazz Ensemble Album
American Dreamers: Voices Of Hope, Music Of Freedom, John Daversa Big Band Featuring Daca Artists
Best Jazz Instrumental Album
Emanon, The Wayne Shorter Quartet
Best Jazz Vocal Album
The Window, Cécile Mclorin Salvant
Best Improvised Jazz Solo
Don't Fence Me In, John Daversa
Best Reggae Album 
44/876, Sting & Shaggy
Best Dance/Electronic Album
Woman Worldwide, Justice
Best Dance Recording
"Electricity," Silk City & Dua Lipa Featuring Diplo & Mark Ronson
Best Contemporary Classical Composition
Kernis: Violin Concerto, James Ehnes, Ludovic Morlot & Seattle Symphony
Best Classical Compendium
Fuchs: Piano Concerto 'Spiritualist'; Poems Of Life; Glacier; Rush, Joann Falletta
Best Classical Solo Vocal Album
Songs Of Orpheus - Monteverdi, Caccini, D'india & Landi, Karim Sulayman
Best Classical Instrumental Solo
Kernis: Violin Concerto, James Ehnes
Best Chamber Music/Small Ensemble Performance
Anderson, Laurie: Landfall, Laurie Anderson & Kronos Quartet
Best Choral Performance
Mcloskey: Zealot Canticles, Donald Nally
Best Opera Recording
Bates: The (R)Evolution Of Steve Jobs, Michael Christie, Garrett Sorenson, Wei Wu, Sasha Cooke, Edward Parks & Jessica E. Jones
Best Orchestral Performance
Shostakovich: Symphonies Nos. 4 & 11, Andris Nelsons
Producer Of The Year, Classical
Blanton Alspaugh
Best Engineered Album, Classical
Shostakovich: Symphonies Nos. 4 & 11, Andris Nelsons & Boston Symphony Orchestra
Best Pop Vocal Album
Sweetener, Ariana Grande
Best Traditional Pop Vocal Album
My Way, Willie Nelson
Best Pop Solo Performance
Joanne (Where Do You Think You're Goin'?), Lady Gaga
Best Country Song
"Space Cowboy," Kacey Musgraves
Best Country Duo/Group Performance
Tequila, Dan + Shay
Best Country Solo Performance
"Butterflies," Kacey Musgraves
Best Music Film
Quincy, Quincy Jones
Best Music Video
"This Is America," Childish Gambino
Best Regional Roots Music Album
No 'Ane'I, Kalani Pe'a
Best Tropical Latin Album
Anniversary, Spanish Harlem Orchestra
Best Regional Mexican Music Album (Including Tejano)
¡México Por Siempre!, Luis Miguel
Best Latin Rock, Urban Or Alternative Album
Aztlán, Zoé
Best Latin Pop Album
Sincera, Claudia Brant
Best Spoken Word Album (Includes Poetry, Audio Books & Storytelling)
Faith - A Journey For All, Jimmy Carter
Best Children's Album
All The Sounds, Lucy Kalantari & The Jazz Cats
Best Folk Album
All Ashore, Punch Brothers
Best Contemporary Blues Album
Please Don't Be Dead, Fantastic Negrito
Best Traditional Blues Album
The Blues Is Alive And Well, Buddy Guy
Best Bluegrass Album
The Travelin' Mccourys, The Travelin' Mccourys
Best Americana Album
By The Way, I Forgive You, Brandi Carlile
Best American Roots Song
The Joke, Brandi Carlile
Best American Roots Performance
The Joke, Brandi Carlile
Best New Age Album
Opium Moon, Opium Moon
Best Song Written For Visual Media
"Shallow," Lady Gaga & Bradley Cooper
Best Score Soundtrack For Visual Media
Black Panther, Ludwig Göransson
Best Compilation Soundtrack For Visual Media
The Greatest Showman, Hugh Jackman (& Various Artists)
Best World Music Album
Freedom, Soweto Gospel Choir
Best Roots Gospel Album
Unexpected, Jason Crabb
Best Contemporary Christian Music Album
Look Up Child, Lauren Daigle
Best Gospel Album
Hiding Place, Tori Kelly
Best Contemporary Christian Music Performance/Song
"You Say," Lauren Daigle
Best Gospel Performance/Song
"Never Alone," Tori Kelly Featuring Kirk Franklin
Best Contemporary Instrumental Album
Steve Gadd Band, Steve Gadd Band
Best Immersive Audio Album
Eye In The Sky - 35th Anniversary Edition, The Alan Parsons Project
Best Remixed Recording
"Walking Away (Mura Masa Remix)," Haim
Best Engineered Album, Non-Classical
Colors, Beck
Best Historical Album
Voices Of Mississippi: Artists And Musicians Documented By William Ferris
Best Album Notes
Voices Of Mississippi: Artists And Musicians Documented By William Ferris
Best Boxed Or Special Limited Edition Package
Squeeze Box: The Complete Works Of "Weird Al" Yankovic, Weird Al Yankovic
Best Recording Package
"Masseduction," St. Vincent
Best Arrangement, Instruments And Vocals
"Spiderman Theme," Randy Waldman Featuring Take 6 & Chris Potter
Best Arrangement, Instrumental Or A Cappella
"Stars And Stripes Forever," John Daversa Big Band Featuring Daca Artists
Best Instrumental Composition
Blut Und Boden (Blood And Soil), Terence Blanchard
Best Alternative Music Album
"Colors," Beck
Best Musical Theater Album
The Band's Visit, Original Broadway Cast
Best Comedy Album
Equanimity & The Bird Revelation, Dave Chappelle