Culture
Chef Nelly Robinson on his 2020 Disney-inspired 'Once Upon A Time' menu, the importance of visual presentation, and more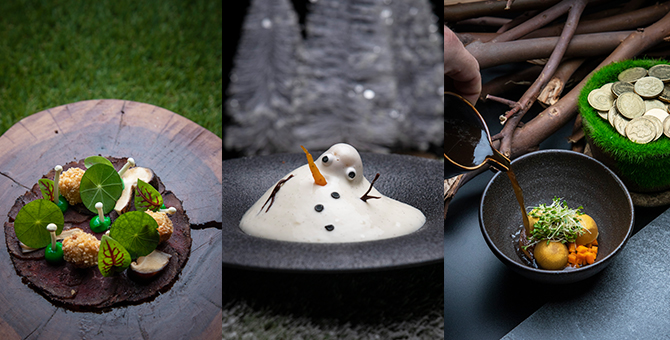 Prominent and notable chefs are everywhere around the world; respected and adored for their prowess and flair—each known for specific dishes, achievements, and history. One particular culinary icon is Chef Nelly Robinson, recognised globally as the creator of the Once Upon A Time Disney-inspired degustation menu.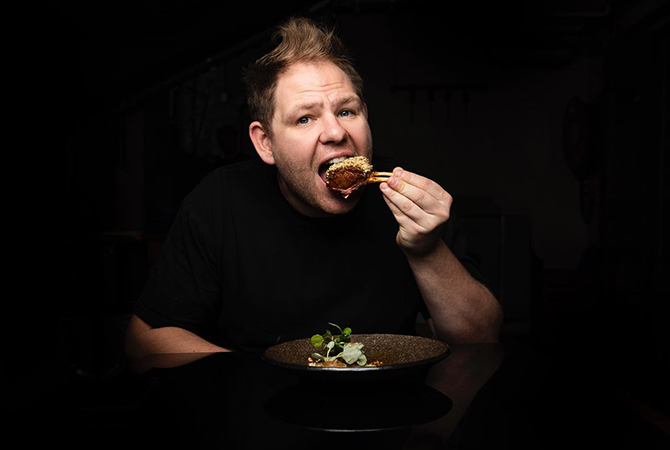 Already one of Australia's most beloved and revered chefs, his creative and whimsical concoctions made international headlines in 2019—further elevating his status in the industry. The inaugural Once Upon A Time menu was a success last year; selling out in a matter of weeks. This year, Chef Nelly Robinson has reimagined the theatrical Disney-inspired menu; bringing favourite childhood films to life (again) with his creative touch.
Beginning his culinary adventures in Northcote Manor, a Michelin-starred restaurant in England, at the age of 15, Chef Nelly Robinson is known to infuse his fun personality in his creations—as apparent with the menu at nel., his Sydney restaurant.
The 2020 Once Upon A Time menu consists of 11 dishes—including Eat Me Cookies; Imagination Custard Tarts with Fairy Dust; Bambi and Thumper (a venison carpaccio served with rabbit terrine, mushroom, sorrel, and forest leaves); Melted Snowman (black garlic bread complete with a carrot nose, black iced eyes, yoghurt, and "snow"); You Shall Go To The Ball (pumpkin bread served with dukka and oil); Just Keeping Swimming (pan fried dory served with fennel); Roses Are Red, Beasts Are Blue (Gateau opera cake with a side of smashed rose).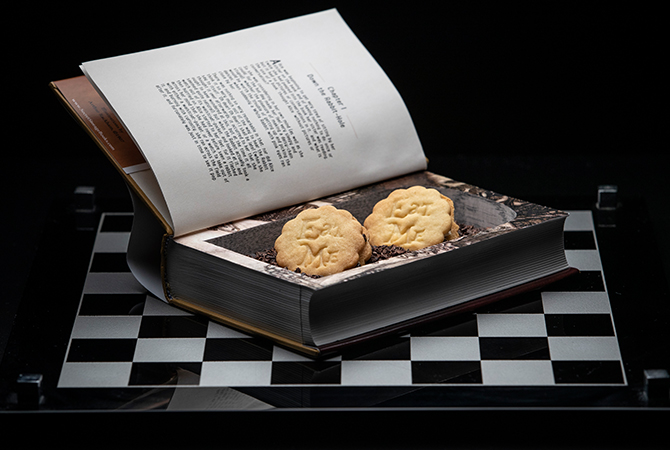 We had the opportunity to speak to Chef Nelly himself about his inspiration behind the 2020 menu, the importance of visual presentation in the culinary industry, how the New Normal affects the realm of food, and more. Below, Chef Nelly Robinson also shared a special recipe for you to try at home!
1. When did your love and passion for cooking begin, and who were your inspirations growing up?
Growing up in the north of the United Kingdom, I didn't have much exposure to fine dining cuisine and rather, fostered my love for food through home-cooked meals. As a teenager, I took on a part time job pot washing. It was through this job that I saw chefs in the kitchen creating and innovating unique dishes, and I knew at once that I wanted to be a part of that. As a young chef, I had two great mentors in Mark Birchall and Nigel Haworth who really guided me throughout the start of my culinary career.
2. How was your experience working in Northcote Manor and what would you consider the greatest lesson from your time there?
Working and training in a Michelin star restaurant was the best way to embark on my cooking career. The discipline, training, and techniques that period taught me is something I'll always be grateful for. I also realised what an amazing industry I was in and that being a chef wasn't just simply about cooking. It was also about ensuring impeccable organisation and attention to detail, learning how the rest of the restaurant is run operationally, how a restaurant makes money, and that working in a professional kitchen is a hard environment so you need to be dedicated to grow.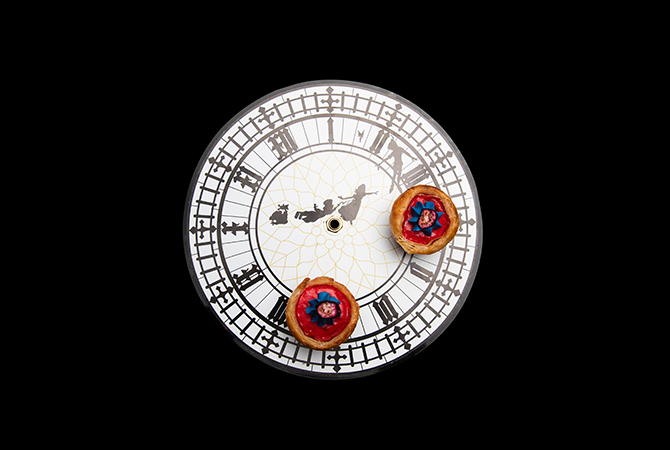 3. How do you want your guests to feel when they dine at nel. and what's your biggest goal with one of the best restaurants in Australia?
When guests dine at nel., we want them to feel how unique the restaurant is. We create a menu every eight weeks embodying a different theme each time. At the end of the day, we want to create magical moments for guests that will stick with them for a long time.
4. Congratulations on your success with the Once Upon A Time degustation in 2019. What is the story behind the menu?
The Once Upon A Time menu was a raving success in 2019 and we launch Chapter Two in August 2020. It's an all new menu with new dishes and stories coming alive at your table. To create the menu, I rewatched a lot of iconic childhood films and choose moments, scenes, or characters to turn into dishes. I'm a big kid at heart and I don't think I'm alone in that, which is why I think guests love this menu. There's that sense of nostalgia and recreation of childhood awe and wonder. We also like to carry the theme through to our plates so we have sourced and gotten new crockery made.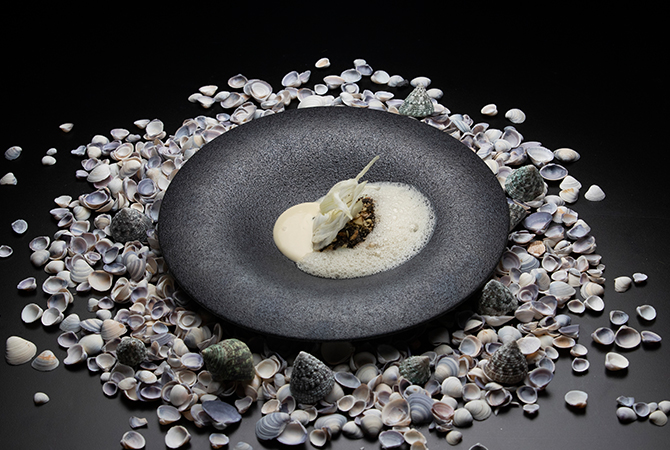 5. How many films did you have to watch to come up with the ideas for the individual dishes? Did you do the same for the 2020 menu?
I spent a long time watching the movies last year and I have rewatched them again for this menu, it's amazing what you pick up on when you watch them on the second or third viewing.
6. Can you tell us the differences between last year's menu and this year's concoctions?
We are so happy to announce that all the dishes for this year's menu are all completely new dishes and we have mostly been inspired from new movies. The only movie that we've taken inspiration from again is Bambi. After the success of last year's Bambi's mum dish, we thought we had to keep it on the menu but this year we have created a Bambi Carpaccio with thumper croquettes.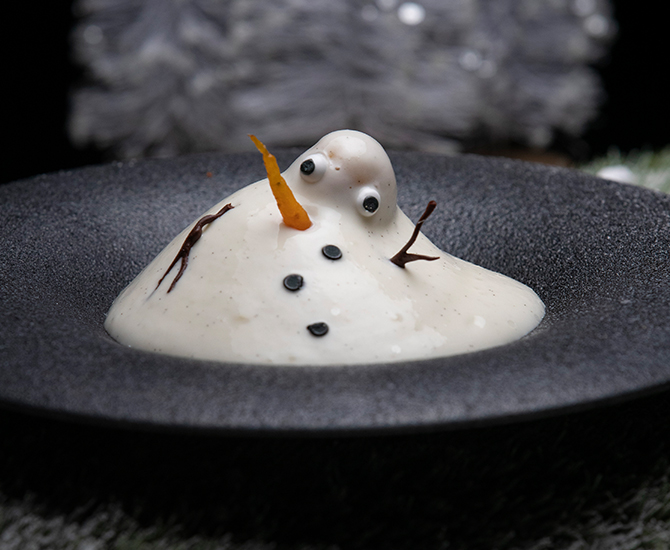 7. Which of the 11 dishes from the 2020 menu is the most difficult and challenging to create?
The dish that we had the most fun with but was probably the most challenging to create is the Melted Snow Man. Trying to get the snowman to look like he was melting while still maintaining its form was a challenge. We also created edible eyes and a nose that were made out of carrot to really help guests know what character it is.
8. Australia is filled with unique produce. What local products did you use in your dishes on the new Once Upon A Time menu?
At nel., we try to use produce that is sourced from New South Wales and we have amazing relationships with some of the farmers, fishers, growers, and providores. In this menu, we are using ducks which are from Tathra Place. We are dry aging them for seven days and lightly smoking them. They are some of the best produce I have used.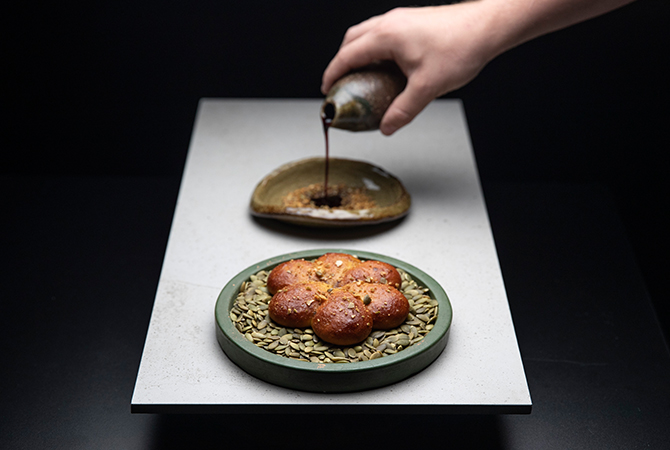 9. We live in a society that's drawn towards aesthetically-pleasing images, especially with food on Instagram and Facebook. Why do you think visual presentation is necessary and why do you want your dishes to be Instagrammable?
I'll be perfectly honest—the look of the food always comes second for me to the taste. I have been to many restaurants where the food looks amazing in photos but it doesn't taste nearly as good. We always get the flavours right first, then we look at how we can make the dish stand out through the plating.
We work with a brilliant photographer (Cole Bennetts) and have done almost from day one. We make sure that how the dish looks in any picture we capture is similar to how the guest will experience it.
The reality is we live in an Instagram world and we see people wanting to get the shot for the 'gram of our dishes. We'd prefer people sat back, talked to each other, and enjoyed the dining experience but hey if this adds to it for them, then why not.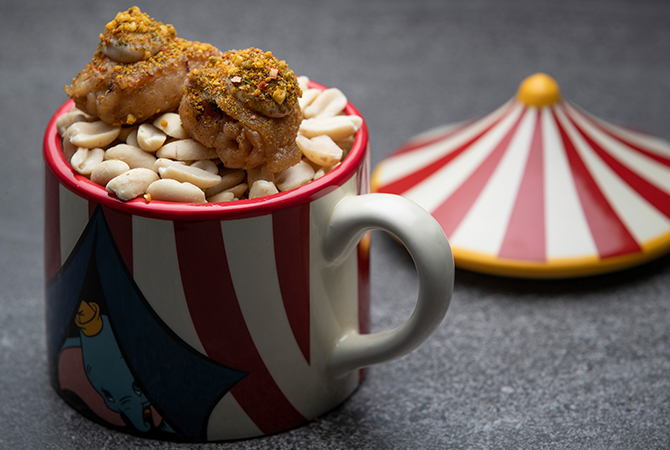 10. How do you think the COVID-19 pandemic has affected the culinary industry and how important is it for culinary experiences to now be more transportive and immersive?
The pandemic has made us think about how we run our businesses. It has taught us to be more resilient and also think outside of the box. Some restaurants will be stronger, others sadly won't survive. It is a super tough time, even post opening.
I feel that our guests appreciate us, our staff, and the experience now more than ever—which is great and may this continue! For us we always want to deliver transportive and immersive experiences. It's in our DNA. Hence doing nel. takeaway just wasn't and isn't an option. If anything, we want to do more in this space.
We want to really play with the senses and experience in a playful whimsical way. This is part of the reason people dine with us; why would you choose to dine out if you could just make it at home!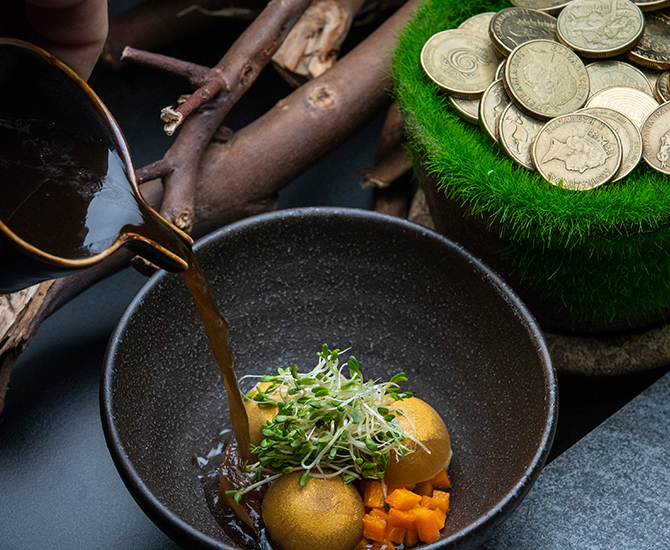 11. What do you want the world to remember about your culinary creations?
I want the world to remember me as that chef that put a smile on their face. That surprised and delighted them with the dishes I created. That left a permanent memory on them. That delivered and experience that was like no other.
12. With the New Normal, many are staying in. Can you share with us an easy recipe that one can attempt at home?
Crab, Pea, Macadamia, Tomato, Mint (10 portions)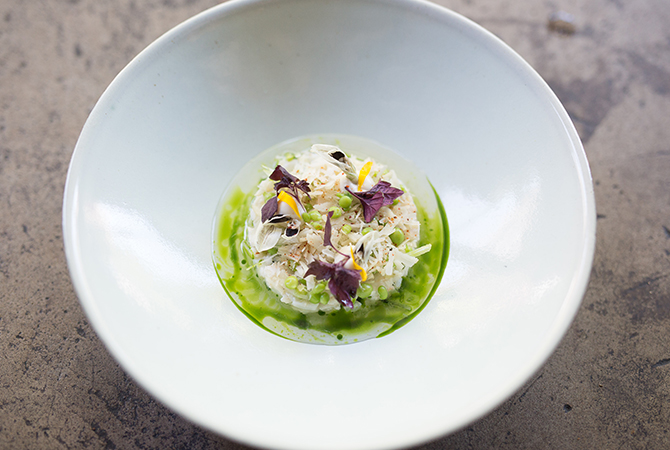 800 grammes of Spanner crab meat (Pickled Crab)
100 millilitres of olive oil
150 grammes of smoked crème fraiche
3 bunches chives (Chopped)
Chilli powder
3 lime zest
2 limes (Juiced)
Salt and pepper
2 carrots
200 grammes of fresh peas (Out of Shell)
Sushi vinegar
a. In a vac pac bag place the crab meat and the olive oil and vac pac tight, cook at 85º Celsius in a water bath for 10 minutes. Then, put into ice to chill.
b. Take out of the vac pac bag and squeeze excess juice before putting in to a mixing bowl. Add crème fraiche, chives, chili, lime zest, and juice. Season to taste.
c. Re-vac pac and store in fridge.
Pickled carrot
30 slices of carrot
a. Slice the carrot and cut with a metal cutter, place into sushi vinegar and keep overnight. Drain and keep until needed.
Macadamia puree
500 grammes of Macadamia
100 grammes of white vinegar
100 grammes of water
a. Place in a blender and blend until smooth. Then, add salt to taste.
40 macadamias
a. Slice on a mandolin to get a slice.
Peas
200 grammes of fresh peas (Blanched)
Tomato water
2 kilogrammes of Roma tomatoes
1 stick of celery
Tabasco
White wine vinegar
Salt
a. Blitz and filter over night though an oil filter. Once you have the water, add Tabasco, white wine vinegar, and salt to taste.
Mint oil
1 market bunch mint (Picked)
400 grammes of grapeseed oil
a. Take the leaves of the mint and blanch in boiling water for two seconds before draining excess water and blending straight away in a blender with the oil.
b. Though an oil filter, drain again for as long as you can and vac pac until needed.
Smoke Crème Fraiche
a. Place wood chips in a gastro tray, in a Chux, place the crème fraiche and cover with another chux. Place in a hole tray and place the tray onto the burning wood chips, tin foil, and smoke for 10 mins.
Edible flowers and herbs
60 viola flowers
40 sprigs bronze fennel
60 sprigs micro basil
Esplinate chili
20 grammes of Scampi Cavier
Malaysians (and many others around the world) won't be able to go to Sydney due to travel restrictions amid Covid-19 concerns. Good news is that we have immaculate and aesthetically-satisfying visuals to keep us satiated and hopeful for the future—further enforcing how necessary brilliant visual presentation is in the New Normal (and in the age of social media).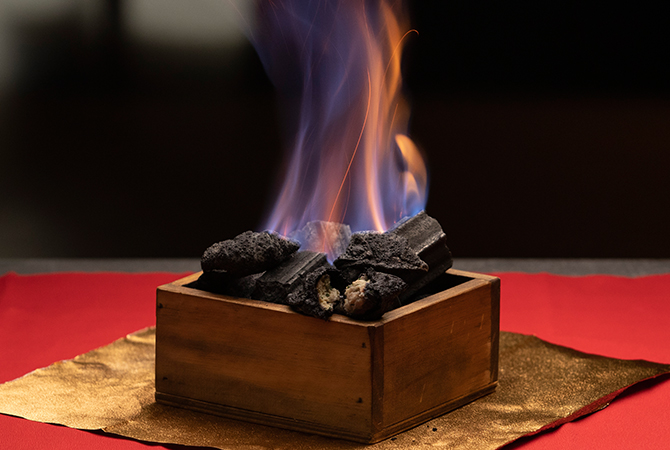 Chef Nelly Robinson's 2020 Once Upon A Time degustation menu will be available from 4 August 2020 to 7 November 2020—priced at AUD$135 per person (approximately RM408.50).
For more information, visit nel. Restaurant's website.
| | |
| --- | --- |
| SHARE THE STORY | |
| Explore More | |