Naomi Osaka has made many headlines in 2021 alone. From winning her fourth Grand Slam title at the Australian Open to making her fashion debut as Louis Vuitton's ambassador, the 23-year-old Japanese tennis player strikes many (pun unintended) as one who's on track to an extremely successful career, both on and off the court.
Two days ago, her name appeared all across global media channels again—but this time, it revealed the dark side of the industry that propelled her to fame.
On June 1, Osaka took to her Twitter and Instagram accounts to announce that she will be withdrawing from the French Open, citing mental health struggles. Her decision comes after she was slapped with a $15,000 fine as a result of not fulfilling her press obligations after winning her first match in the tournament.
"The best thing for the tournament, the other players and my well-being is that I withdraw so that everyone can get back to focusing on the tennis going on in Paris. I never wanted to be a distraction and I accept that my timing was not ideal and my message could have been clearer. More importantly, I would never trivialize mental health or use the term lightly," the post reads.
"The truth is I have suffered long bouts of depression since the US Open in 2018 and I have had a really hard time coping with that."
Protecting her own mental health
Grand slam rules dictate that press conferences are mandatory and players can be fined up to $20,000 for missing any of them. However, the four-time champion had made a bold statement ahead of the tournament to forego all media duties to protect her own mental health.
"I'm writing this to say I'm not going to do any press during Roland Garros," said Osaka in a now-deleted social media post days before the French Open. "I've often felt that people have no regard for athletes' mental health and this rings true whenever I see a press conference or partake in one."
She added: "We are often sat there and asked questions that we've been asked multiple times before or asked questions that bring doubt into our minds and I'm just not going to subject myself to people that doubt me."
Gilles Moretton, the president of the French Tennis Federation (FFT), had subsequently responded in a statement that Osaka will have to face the consequences for not meeting her commitments under the tournament's Code of Conduct, as "rules should equally apply to all players."
This sparked debate over the oppressive governance of the tennis establishment and the toll it takes on an athlete. As much as the sport is a test of court skills and physical aptitude, it demands a great deal of mental and emotional strength too. Regrettably, the latter often gets sidelined in traditional institutions where those who sign the checks get the final say.
If anything, Naomi Osaka has only brought urgency to the prevailing need to reexamine and reform outdated rules that don't stand to reason.
Stars who have voiced their support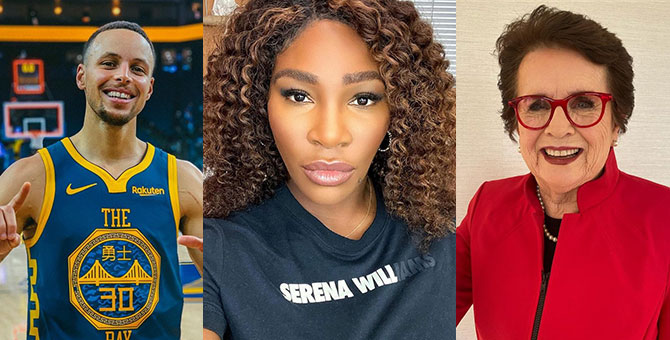 Following Osaka's decision, celebrities and sponsors alike have voiced their support for her mental health journey. Among the high-profile athletes who have spoken up include fellow tennis ace Serena Williams, who is currently competing at the French Open.
"I feel for Naomi," Williams said following her first-round victory on Monday. "Everyone is different and everyone handles things differently. You just have to let her handle it the way she wants to and the best way she thinks she can. That's the only thing I can say: I think she is doing the best she can."
Tennis icon Billie Jean King, who has won 39 Grand Slam titles, took to Twitter to praise Osaka for opening up about her mental health struggles.
"It's incredibly brave that Naomi Osaka has revealed her truth about her struggle with depression. Right now, the important thing is that we give her the space and time she needs. We wish her well," King tweeted.
Martina Navratilova, who is an 18-time Grand Slam singles champion, also expressed her support: "I truly hope she will be ok. As athletes we are taught to take care of our body, and perhaps the mental & emotional aspect gets short shrift. This is about more than doing or not doing a press conference. Good luck Naomi—we are all pulling for you!"
Meanwhile, NBA star Stephen Curry said: "You shouldn't ever have to make a decision like this—but so damn impressive taking the high road when the powers that be don't protect their own. Major respect."
Basketball star and four-time Olympic gold medallist Lisa Leslie commented: "It's so sad that we are in a time that when a young person tells you they need help or a break, people respond with anger and a lack of support! I stand with you @naomiosaka Your mental health is just as important as your physical health."
Fellow Olympian and gymnast Laurie Hernandez commended Osaka's courage to prioritise her own mental health, tweeting: "Even though it shouldn't have to be like this, I'm proud of you for putting your foot down. Your mental health matters and should always come first."
Mental health advocate and The Good Place actress Jameela Jamil even went as far as to suggest boycotting the French Open.
Politician and New York representative Alexandria Ocasio-Cortez retweeted Osaka's statement with a three-word affirmation: "Proud of you."
What we can learn from this
Mental health issues should not be taken lightly. They can affect anyone—even someone like Naomi Osaka who seems to have things going for her—especially at a time when the world is still fighting against a raging pandemic.
If you or someone you know is struggling with mental health, do not hesitate to reach out for professional help. Practise self-care diligently and equip yourself with resources to cope with your own mental health issues or to support others in theirs.
In the words of American filmmaker Ava DuVernay: "Take care of yourself like Naomi Osaka."
Take care of yourself like Naomi Osaka.

— Ava DuVernay (@ava) May 31, 2021
For more on mental health, head over here.
| | |
| --- | --- |
| SHARE THE STORY | |
| Explore More | |