Pre-pandemic, if you had wedding plans for either 2020 or 2021, many other engaged couples could probably relate. Reservations had to be put on hold. Selected dates ended up being postponed countless times, with no end in sight as to when the actual 'special day' could take place. Moving between MCO to CMCO to RMCO, and then back to CMCO—wedding planning is more challenging than your typical 'Bridezilla' problems. What's even more difficult is the simple desire to officially (and legally) solemnise your love, and to start your life together as Mr. and Mrs.
Thankfully, there is one safe option: Having a virtual wedding. That is exactly what Nana Al Haleq and her husband, Nik Mohd Fadhil did. She tells us, "After all, happiness in a marriage isn't measured based on the size of the ceremony—not to us, at least." Of course, recent events have since allowed marriage ceremonies and weddings to take place, be it at the National Registration Department (NRD), places of worship and non-Muslim religious association premises—with the exception for areas under EMCO.
However, the SOPs restrict a maximum attendance of 10 people (including the marriage registrar) for marriage registrations at the NRD; while the attendance for places of worship and religious association premises depends on the area (not more than 10 people in MCO areas, maximum 20 people for CMCO areas, and maximum 30 people in RMCO areas).
Social events such as weddings—including outdoor wedding receptions—are also now allowed for areas under CMCO and RMCO. "The social events include wedding receptions, engagement ceremonies, aqiqah, doa selamat and tahlil events, birthday celebrations, reunions, retreats and others. For wedding receptions, it is extended to non-Muslims couples as well," said Senior Minister Datuk Seri Ismail Sabri Yaakob on March 2.
The SOPs for this include restricting the attendance of the event to a maximum of 50 per cent of people, based on the capacity of the space. Social distancing should still be observed.
On the other hand, if you, your partner and your family are open to a virtual wedding ceremony instead, Nana Al Haleq shows us how it's done!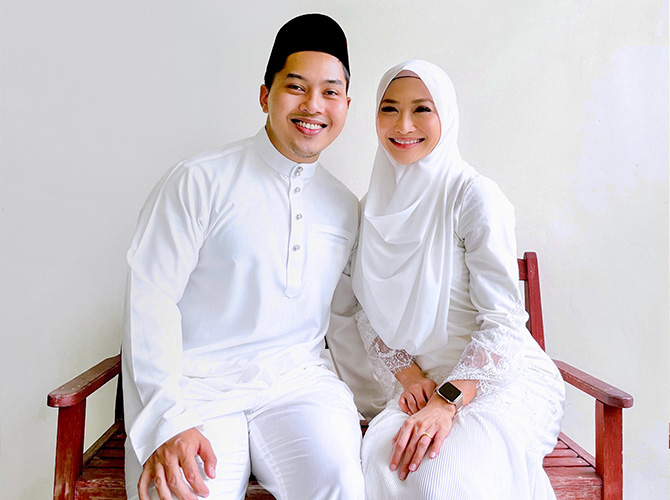 Hi Nana! Congratulations on your recent wedding! Tell us about that special day.
"Thank you for the wish, BURO Fam! It was a humble and tiny ceremony attended by five people—the groom, bride (me!), my mum and our two witnesses. Our special day started just like any other. We attended to our work commitments in the morning and with two hours till the ceremony, we rushed to my mum's place to set-up and get ready. All we could think about was our hope that the internet connection would be good, and that all our phones and laptop are fully charged to capture our special moment.
Getting ready was a bit challenging without the help of a makeup artist or assistant. Since I usually keep my hair free, putting on a hijab was a little tricky but thankfully, I had my husband's help. Somehow, he managed to style it and placed all the pins in the right places.
15 minutes before the ceremony began, our close friends and family joined us virtually. It was a very intimate virtual gathering as they were only informed about it at a last minute's notice—the morning of our big day. And yes, some of them were shocked about the news!
We were pronounced husband and wife at around 4.15pm by Ustaz Hilmi (Juru Nikah) from Pejabat Agama Selangor Daerah Gombak. And yes, it was conducted virtually too. It's a blessing in disguise, to be honest. We were both set on being solemnised at the Pejabat Agama Selangor Daerah Gombak due to CMCO in Selangor. Then, MCO 2.0 happened just a week before ur big day and we were informed three days prior that we might need to postpone our nikah. Thankfully, there was a free slot for a virtual solemnisation ceremony and we just took it!"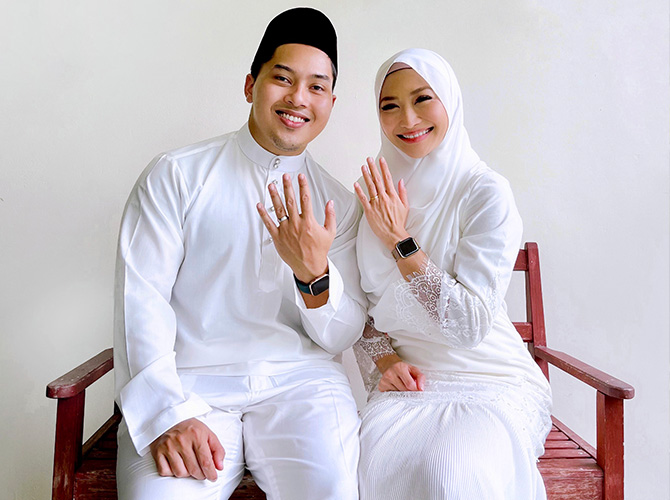 While some couples were still waiting for the MCO 2.0 to be over before resuming their wedding plans, you and Nik went ahead with an online solemnisation—what led to that decision?
"We couldn't afford the delays any longer, especially because we've delayed it since the first MCO in early 2020. We were tired with all the uncertainties and at that time, God knows how much longer MCO 2.0 would be, right? So, we decided to just do it in whatever way possible. After all, happiness in a marriage isn't measured based on the size of the ceremony—not to us, at least."
You guys even had friends and family attend the virtual ceremony—what did you have to do to set it all up? 
"The set-up was actually super easy and straightforward. We used a MacBook Pro to Skype with the Ustaz from Pejabat Agama to conduct our solemnisation. For our close friends to witness our humble ceremony, we set up my iPhone 12 Pro Max with Zoom and then used the iPhone 11 Pro Max to record the ceremony. Once that was done, we used the iPhone 12 Pro Max to take the wedding pictures, because the camera is amazing and it's easy to snap via the Apple Watch Series 6. Apart from using those great Apple products, tripods played a big role too."
View this post on Instagram
Yes, we saw that gorgeous photo on your Instagram! How exactly did you do it with the iPhone and Apple Watch?
"All we needed was good, natural lighting, a tripod to place the iPhone 12 Pro Max, and the Camera Remote app on the Apple Watch Series 6. You can check if you're in frame by viewing everything directly from the Watch. We adjusted the brightness a little, set the timer to three seconds, and then all that was left was to strike a pose! It was so easy to take beautiful photos that had professional quality despite MCO.
Some may still prefer to hold a traditional wedding/solemnisation ceremony—nothing wrong with that. But there are misconceptions about hosting it virtually instead. What are some pros and cons of doing it virtually?
"Pros: We saved a lot of money and we didn't have to deal with wedding planning, which surely saved our friends from dealing with a 'Bridezilla' (laughs). Cons: Not a lot of wedding presents and angpows. Also, some parents might not be happy with this decision."
View this post on Instagram
It's a hard time now, being apart from friends and family. How are you guys finding ways to still stay connected while social distancing?
"It really has been, but thankfully, most of our loved ones are Apple users so staying connected is just a FaceTime away!"
What's life like as newlyweds in a pandemic? Is it difficult being 'stuck' together all the time with no 'space' (since you can't really go out as compared to pre-MCO)?
"Not at all! We love being stuck together at home. It is the best time to get to know each other and do fun and/or productive activities together—cooking, cleaning, watching movies, working out and so much more. We look at it as 'quality time' that's otherwise hard to come by. Once everything is back to normal (and we're back to hustlin'), we'll miss this precious time, for sure."
View this post on Instagram
Last, but not least, you're both into a healthy lifestyle. Can you share three pieces of advice for those looking to stay healthy and fit while being stuck at home?
"Here's what we've been doing:
Do not stock up junk food, cookies or desserts at home. Only buy whole foods that your body needs
Be creative and use whatever tools you have at home as an equipment to exercise. Just make sure they are safe to use
De-stress! Keep your mind healthy and active by playing fun games, read light educational materials, meditate, and be sure to have a good night's sleep. The Apple Watch Series 6 is a great help for this, whether it's by using the Breathe app to meditate or via Sleep Tracking to ensure I get enough sleep."
Follow Nana Al Haleq on Instagram for more updates and health advice.
| | |
| --- | --- |
| SHARE THE STORY | |
| Explore More | |