Music
Get to know Julia Duclos, the animal-loving, free-spirited songstress with an entrancing voice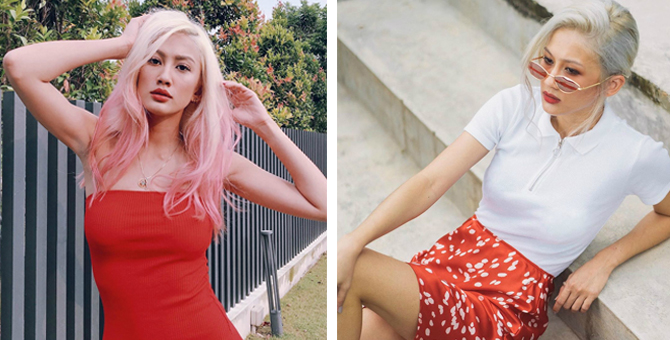 You might have seen her before thanks to social media or heard her debut single Further grace our local airways last year, but this time, the 24-year-old singer-songwriter is back and she's coming in hot with more than just a new sensual genre-bending song.
Born and raised in Malaysia, Julia is of French-Chinese and Persian descent. Today, not only is she signed to Sony Music Malaysia, her upcoming EP (which was recorded and produced in Stockholm, Sweden, by Pontus Petersson and Maia Wright of The Kennel AB—the studio responsible for producing songs for K-pop girl group Girls Generation, pop-duo The Veronicas and Norwegian DJ, Kygo) is also due to be released early next year!
What was it like putting your upcoming EP together?
"First of all, it was a surprise because I got to go to Sweden, so that was an experience on its own. It was my first time visiting and although I was alone, it was interesting to be able to work with different songwriters and producers, people who have been in the industry for a really long time. The entire trip was really refreshing. It took me only a week to write my whole EP, basically one song a day. So while I was in the studio from nine to six every day, I had fun."
Are the other songs on the EP going to be different than what you've previously released?
"I would say that the other five songs on the EP will be along the lines of Running, think pop and a hint of indie. Running is totally different compared to Further in terms of genre. It's more pop, which is something I've always wanted to venture into. "
Speaking of music genres, what style do you hope to be able to dive into in the future?
"R&B Soul and Electronic. It also depends on who I work with as well because different producers bring different ideas to the table, that's the fun part about working with new people."
How do you think 2019 has been for you so far and are there still things on your New Year's bucket list you haven't achieved?
"This year in general has been really great. I've been busy planning out the whole EP, the single releases (look out for one more before the EP drops!) and working on the music video. So it's been a challenging year, mentally and physically because I had to take up dance classes. In terms of what else is on my bucket list, I guess the chance to perform more often. I'd like to get more solid gigs with a full band (not just a two-piece set) so that I can change up the dynamics of my live performances."
How much creative control did you have over the music video for Running and how different was it compared to the one you did for Further?
"Very different. The first one was more focused on me as an artist and just getting people to remember my face. If you watch the video, you'll see that most of it were just beauty shots (as they call it). With Running, I definitely did have some creative control but as always, you'll need to come to an agreement with whoever you're working with, and so we came up with that idea together. I was excited to incorporate dancing into it because I'm a very artsy person and anything I can do to express, I'll do. Fun fact, I only had six classes to master everything."
Are you able to elaborate more on what Running is about? Was it inspired by a personal experience?
"Of course there's going to be a hint of personal experience to everything that I write. That said, nowadays I try to write not just for me, but for everyone else I'm trying to reach out to. With Running, I wanted to convey something powerful for women. The whole song was based on women empowerment and how we should be able to express ourselves in any way without feeling like we're being judged for it. Especially for women living in Asian countries. We always get discriminated for a lot of things and I think it's kind of sad. We're almost going into 2020, these things shouldn't be happening anymore! So one of the ways I can voice out, as an artist, is to put it in my music. What if I get hate for it? I'm at that point where I really don't care."
How do you feel about the music industry in Malaysia?
"I think that we're just now coming up and there are a lot of local artists that deserve recognition. There is talent, it's whether or not people want to spend their time supporting them. I think a great way for tourists and other countries to notice us is through our local talents and music. For example, Singapore has done a great job in supporting their local acts. Overall, I'm just happy that everyone I've worked with so far has been really humble and supportive of one another. That's the most important thing."
View this post on Instagram
What music did you grow up listening to? Was there a specific one that led you to this career?
"That's a hard question because I grew up listening to a lot of different genres like blues and jazz, from pop to heavy rock. My parents were a big influence since they would always have music playing around the house. My mum plays the piano and my dad plays the guitar. They both sing and my brother was also part of a local band. I guess growing up and always associating myself with various people with different music backgrounds and passions helped."
What's next on your calendar for the rest of the year?
"A lot of PR work right now. I'm also pushing out some content for my YouTube channel for my fans to get to know me more. Other than that…planning the release of my next single and the EP. Oh! and figuring out my live performances for Running."
A quick rapid fire round with Julia Duclos:
How many instruments do you play?
"Can I count my vocals as an instrument? Because it is. I'm learning the piano now but besides that, I play the guitar. So three."
If you could collab with one local artist who would it be?
"Only one?! Here's my top three: Sona One, Midnight Fusic and Afaro."
Do you have any pets?
"Yes! I have 10 cats and they're all rescues."
What's your biggest pet peeve?
"People who talk smack about others."
If you could have one superpower, what would it be?
"Teleportation."
What TV family would you like to be a part of?
"Stranger Things."
Are you a morning or night person?
"Both. Honestly, I'm more of a night person but I'm fine if I have to wake up early too."
If you could trade lives with anyone for a day, who would it be and why?
"Mariah Carey. I really want to experience that diva life. Also, she's amazing."
One food you would never give up?
"Sambal."
The first thing you notice about the opposite sex?
"Their smile."
The last thing you liked on social media?
"Probably a cat video."
Stream '
Running'
here
.        
| | |
| --- | --- |
| SHARE THE STORY | |
| Explore More | |