If you've been following Malaysian singer NJWA's music journey, you'd know that she released her new single Take Love Back earlier this April (which by the way, has since surpassed 100,000 streams on Spotify). And today, the alternative R&B artist has officially released a powerful and compelling music video for the track, which sheds light on a common yet often unspoken issue especially in Malaysia: interracial love.
If you've ever been in one, you'd know that there are certain challenges that come along with such a love story. Count yourself lucky if you've never had any issues with it but for the rest of us, this five-minute clip will hit you right in the feels. It opens with a moving monologue about love and devotion by Sharifah Amani while Ng Choo Seong, her co-star in the late Yasmin Ahmad's film Sepet (2005) – also a tale about interracial love – looks on (PS: what a perfect cameo appearance).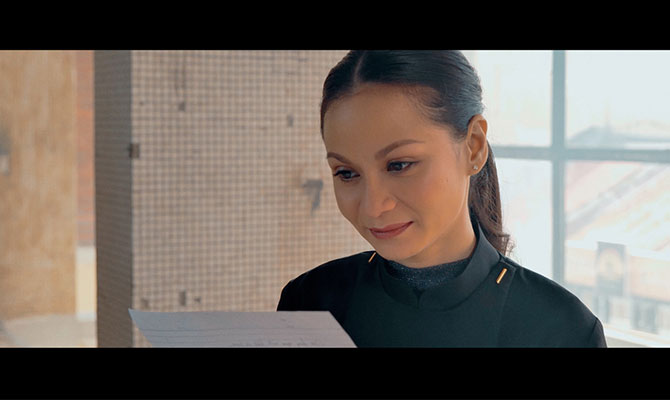 The song's narrative about the struggles of those in interracial and interfaith relationships is further demonstrated through an emotive contemporary dance performance by Grace Ng and Nabil Zakaria. With this music video, NJWA hopes to spark a conversation about the highs and lows of interracial love and says, "It was important that the music video strongly represented the essence of the song and conveys how I truly feel about this matter. Despite being a melting pot of cultures, diversities and ethnicities, Malaysia still has a long way to go in terms of tolerance and understanding."
Below, NJWA speaks to us about love, the inspiration behind Take Love Back and her thoughts about the unspoken matter in Malaysia.
Describe your music in three words.
"Dark, ethereal, emotional."
Your latest single Take Love Back shines the spotlight on interracial relationships and intermarriages. Was it inspired by a personal experience?
"Yes, it was. Years ago, I was in a relationship that didn't quite work out as his side of the family didn't approve of it due to our differences. I was deeply frustrated about the situation as I didn't understand why people needed to part just because other people say it's not okay to be together."
What are your thoughts about interracial love in Malaysia?
"Living in a multiracial country like Malaysia and in pursuit of racial harmony, we are bound to fall in love with people of other races. Interracial love in Malaysia is actually more common than we think. However, there are still struggles that are being faced by the people who are in the relationships due to the pressures of society."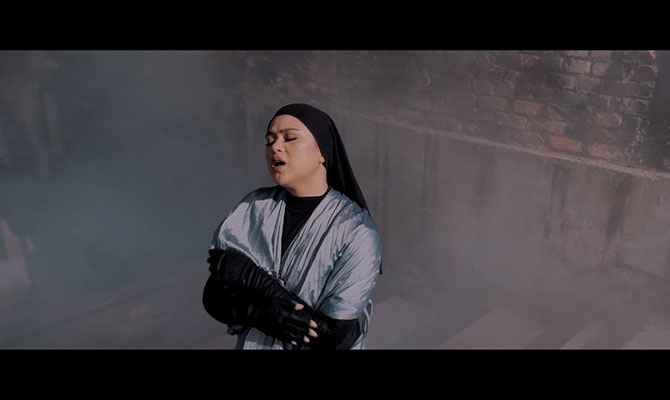 In your opinion, what is the biggest challenge for couples who are in an interracial or interfaith relationship/marriage?
"Different couples face different challenges, so I can't speak for all of them. Through my own experiences, the most common one would be societal pressures and pressure from the family. In interfaith relationships, the main challenge is usually conversion of faith. In Malaysia, to marry a Muslim you would need to convert to Islam. Not everyone is willing to do that. In some cases, for people who are willing to do that, they may face challenges from their family who might be against it."
Do you think Malaysians still find it hard to accept two people of different races or faith falling in love? Why?
"Unfortunately, this is true. I think there has always been this focus on 'tolerance', but it's time to go beyond tolerating each other and move towards embracing one another."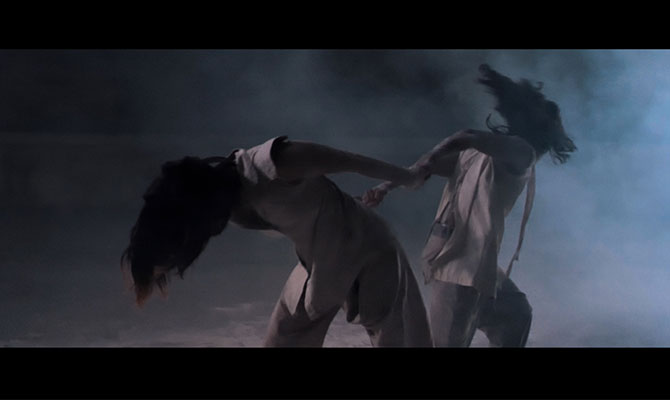 In the music video for Take Love Back, Sepet co-stars Sharifah Amani and Ng Choo Seong made a cameo appearance. Sharifah's monologue reads, "Falling in love is easy, but fighting for love is not"—do you think Malaysians are fighting hard enough for the love they want?
"I believe that Malaysians are fighting hard, but I also understand the circumstances we are in. Living in a household with Asian values, receiving blessings from your family is also important. Some people face the challenge of not wanting to disappoint their parents, or worry they might be disowned if they choose to fight for the love they want."
If you could give your younger self some relationship advice, what would you tell her?
"Don't waste your time on someone who doesn't appreciate you. When things are meant to be, the right person will come and everything will fall into place."
Rapid-fire round:
Who is your role model when it comes to local artists?
"Yuna. She's doing amazing and making Malaysia proud."
What about international singers?
"ROSALÍA. I love how her music and artistry is deeply rooted in culture and heritage."
If you could collaborate with any artist (dead or alive), who would it be and why?
"I would love to work with Moses Sumney. He has this beautiful, ethereal sound that really speaks to me. Writing music with him would be a dream."
Who are you listening to right now?
"Lana Del Rey's latest album."
What's next for NJWA?
"I'm working on my album right now and I'm performing in Singapore for the Singapore Formula 1 Grand Prix 2019 this month!"

Watch NJWA's Take Love Back music video below:
| | |
| --- | --- |
| SHARE THE STORY | |
| Explore More | |