Music
K-pop at a glance: The best K-pop comebacks of every month so far and upcoming ones you shouldn't miss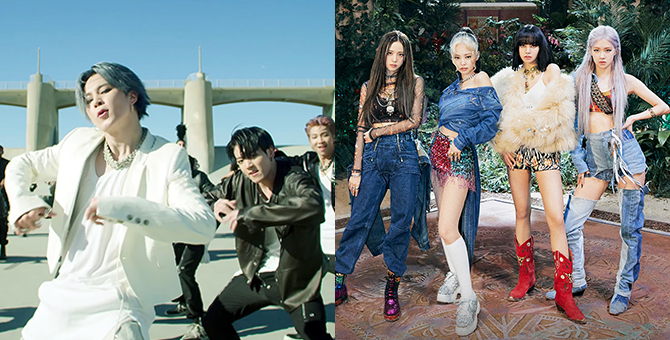 The K-pop industry is a well-oiled machine, constantly rolling out captivating comebacks one after the other every month—if you're an avid K-popper (or just a casual listener), chances are, you're constantly spoiled for choice when it comes to your favourites dropping new tunes left and right.
Understandably, it can be hard to keep track of every comeback the Hallyu Wave is churning out so why not check out (or remind yourself) the ones that really made 2020 a banger so far?
Here is a list of the best comebacks so far by the gals and pals of the K-pop circuit:
JANUARY
Ateez – 'Answer'
Well, this pirate-themed group (yes, that's a thing!) certainly knows how to start the year off with a bang and an anthem.
pH-1 – 'Nerdy Love' ft Baek Ye-Rin
pH-1's knack for quirky lyrics and Baek Ye-Rin's soothing vocals come together in a sweet song about embracing all your quirky parts.
Zico – 'Any song'
Everyone was probably jamming to this one with their grandmothers—while doing that viral dance.
BTS – 'Black Swan'
BTS lets the beautifully haunting single shine through immaculate contemporary dancing done by the graceful MN Dance Company.
FEBRUARY
iKon – 'Dive'
The catchy track starts out with a harmonica riff—it doesn't get more country than this, people.
Kard – 'Red Moon'
The co-ed group is known to mix Spanish-inspired beats into their tracks, making it their signature sound. This one is no different.
Zion. T ft SUMIN – 'Dirty Love'
Check out this groovy R&B sadder-than-it-sounds single about a couple who is just over each other.
BTS – 'ON'
It was one of the most highly anticipated comebacks of the year and it has everything. From a marching ensemble to the combination of BTS's distinctive pipes with gospel choir vocals in the background that would make anyone see stars, it's a larger-than-life track.
MARCH
NCT 127 – 'Kick It'
The nine members of NCT 127 channel their inner Bruce Lee in this hip hop comeback.
Itzy – 'Wannabe'
'Wannabe' is ridiculously catchy and four months on, the song is still charting on Korean music charts bringing the 'Itzy Fever' to an all-time high. We knew it was a goodie when Ryujin busted out those iconic shoulder moves (you might risk a potential sprain if you're attempting it).
Oneus – 'A Song Written Easily'
The brother group to vocal powerhouse group, MAMAMOO proves they also have some vocal chops of their own in this summery tropical-house dance number.
Winner – 'Hold'
It's a track befitting of the members' wild and quirky personalities as they hover over AKMU's Suhyun like a ragtag group of overprotective brothers (oh, the struggle).
APRIL
(G)I-DLE – 'Oh my god'
(G)i-dle somehow finds a way to inject new life into the everyday exclamatory expression.
Apink – 'Dumhdurum'
As a nine-year group that debuted in the 'third-generation line of K-pop', there aren't many groups that managed to stay as relevant as Apink. With 'Dumhdurum', the girls showed why they are still one of the most well-loved groups in the industry.
Got7 – 'Not By The Moon'
Got7 shows off their honey vocals and smooth rap skills in this bass-heavy single promising everlasting love.
Oh My Girl – 'Nonstop'
'Nonstop' perfectly captures the girl group's adorable charm whilst delivering fresh beats that will get you ready for the summer season.
MAY
Taeyeon – 'Happy'
K-pop's resident solo queen is back with a happy-go-lucky song that will cheer you up when the gloom decides to strike.
Day6 -'Zombie'
The band tackles mental health in an increasingly work-obsessed society with this melancholic pop-rock number.
TXT – 'Can't You See Me?'
BTS's brother group returns with a gothic single exploring the dark side of friendship.
BOL4 – 'Hug'
Ahn Jiyoung turns up her charm in this sweet, cheery song—don't miss out on the singer's "hoo!" that is even more refreshing than the spring breeze.
JUNE
Twice – 'More and More'
Twice officially kicks off the summer season with a vibrant bohemian-inspired comeback that offers wild manes, a disco-esque beat drop and an EDM dance break.
Stray Kids – 'God's Menu'
Stray Kids returns with a bold hard-hitting track that promises anyone who comes to their 'restaurant' (aka come across their group) will be very impressed by the 'food' (their music). Talk about a hard sell!
Blackpink – 'How You Like That'
Girl group royalty, Blackpink stepped back in the K-pop arena with a smouldering trap single that exudes peak femme fatale energy.
Sunmi – 'pporappippam'
Another resident solo queen with a penchant for catchy tunes is none other than Sunmi who graced us with a dreamy retro-pop single that will make you feel like you're floating in a purple galaxy.
JULY (so far)
Chung Ha – 'Play'
Ironically, the only person that was not playing was Chung Ha in this intense Spanish-inspired track complete with a bu
| | |
| --- | --- |
| SHARE THE STORY | |
| Explore More | |