Threading on the realms of psychedelic funk and spacey '80s synth-pop, lost spaces' groovy tracks quickly became a mainstay on my playlist after my first brush with their music earlier this year. There's a distinctively fun-loving disposition about this unapologetically millennial band, and it reflects in everything they do—from their upbeat compositions (even if sometimes the lyrics sing otherwise) to the consistent usage of lowercase letters in their name and song titles ("for aesthetic purposes") as well as Instagram captions (cheekily modelled after file names).
While lost spaces isn't exactly new to the scene—the band formed in late 2016—it's safe to say that 2019 is the biggest year yet for the lads. After steadily releasing stellar singles over the past year, they've now got an album ready to drop and they're all set to perform at Good Vibes Festival this weekend too! Here, we caught up with frontman Sam Lopez for all the essential deets:
READ MORE: What's new at Good Vibes this year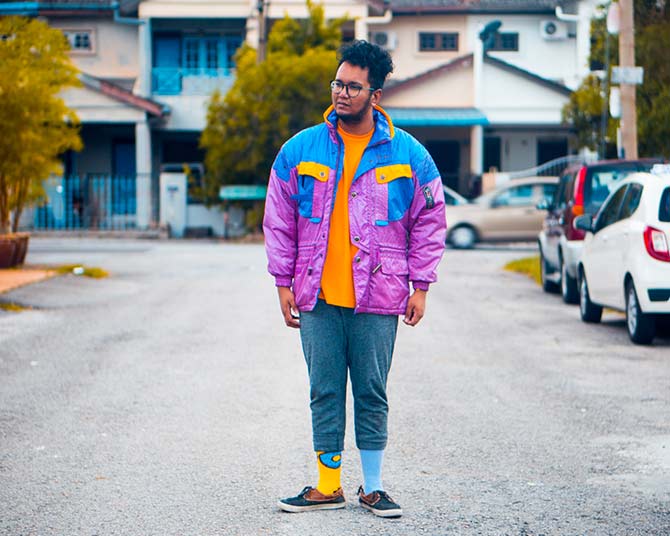 How did lost spaces come about?
"Lost spaces actually started as a solo project. I was a singer-songwriter on the guitar for a long time, but the music that I wrote was very much band material. Since I play other instruments like the drums, piano and bass, in my head I always imagined the composition of the songs to be that of a band. And then one day my brother, who's a drummer, and my cousin went like, "hey, why don't we play together?". That's how the first iteration of the band came about—it was me, my brother Lukas, our cousin Imran, and a friend of ours named Keane. Back then we were very much influenced by Two Door Cinema Club, The 1975, and we started off covering their songs. Then I started trying out the songs I wrote in the band setting, and it just grew from there."
Both you and your brother play music—was it something that was always part of the household growing up?
"Both of us picked up music at a very young age. My mum put in piano when I was six or seven—I'm sure people will find this quite relatable (laughs)—then I picked up the guitar when I was 10. Being in church, we had the opportunity to play music almost every other week, and that's where I got to play in a band setting as well, tinkering with different instruments as we went along."
Tell us a little bit more about each member and what he brings to the table.
"So there's me on vocals and guitar, and I write most of our stuff along with our main producer Chief and keyboardist Koon, who helps produce our stuff as well. Koon also plays the synths. My cousin Imran plays the bass and has been with us since the beginning—he actually has a team of video guys and they'll be shooting our music videos. Then we have our guitarist Yi Shien, who designs all our artwork. On drums is Kyle, who joined us full time this year. All of us have a different part to play and everyone sort of chips in their resources and expertise where they can."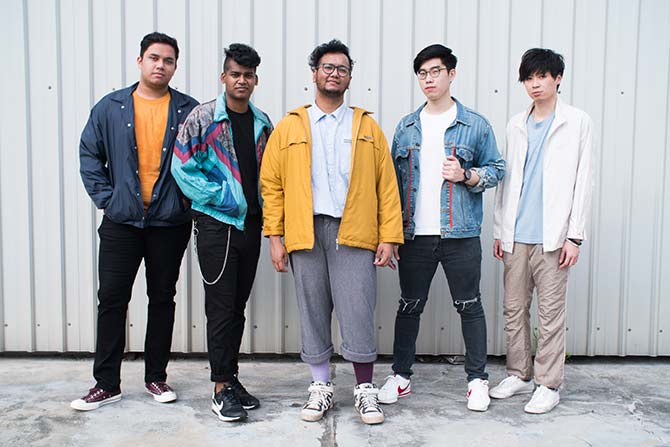 What are your personal music influences and how do they go into creating your music as a band?
"I think the way people consume music is very different now. Basically the Internet has given us this immense platform where we can just discover music at our fingertips at any moment in time—so the way I make music is also the way I consume. I realise that I like so many types of genres, from R&B and soul to very '80s synth-pop and psychedelic indie stuff like Tame Impala. I kind of draw from all of that and fit it into what lost spaces is."
And what would you call your sound?
"I don't know what to call it (laughs). Off the top of my head, I guess I'll blanket it as indie pop. We have elements of Rex Orange County; we have elements of The 1975, Tame Impala; we have a song that has a Tom Misch sound to it—it's super R&B. Essentially, we are very groove driven. The way I wrote our upcoming album is like… I want it to feel like a Spotify playlist of my favourite songs. There might be different genres, but the story is consistent. I feel like genres are not as relevant as they used to be. It's so hard to specifically classify a lot of the music coming out these days. My ethos is that I want to tell a story, and the music is just a dressing, so it can be anything that aids the storytelling process.
"I can be a bit of a scatterbrain (laughs). When it comes to making the music I have so many ideas running through my head, and that's why I feel like my producers play such a big role, because they understand me so well, they really help to sort of pick out what I need and get the music out the way you hear it."
What are some of the music you have in that favourites playlist of yours at the moment?
"I've been listening to a lot of Toro y Moi. I love his personality; he's like so quirky but at the same time so confident in who he is. I also like Parcels, they're like this guitary Daft Punk band."
You mentioned your upcoming album—when will that be out?
"Yeah, we'll be releasing our full-length album on 9th August! Titled no-vacancy, it'll be a compilation of all the stuff we've released so far, along with an additional of six to seven new tracks. "
Is there a theme that ties the album together?
"It is mainly centred around millennial love. It's like my commentary on what millennial dating and love has come to, and sort of my reluctance to participate; how I find it hard to give love or let people in based on past hurts and experiences—you know, the struggle to find love in an era where there're so many distractions and things that pull you in different directions.
"There's a song called 'not.callingyou' where I basically illustrate the time I went to this party and there was a girl I was interested in, but she was like super flaky and couldn't make her mind up, so I just decided "You know what? Forget this, I'm not calling you" and then I write the song after that. But the irony is that I actually did call her and I wrote another song about it called 'drunk-dial.confessions' (laughs). As a whole, the album takes listeners on a journey of being conflicted about love and finding love, even though we might go "screw it", being human beings we just subconsciously seek it."
What are you most looking forward to at Good Vibes?
"We're definitely looking forward to play there for the first time. Me and Koon have been attending the festival for the last three years, so getting to play this year is like checking an item off our bucket list. I'm also really hoping to meet Mura Masa. I've been following him since his SoundCloud days, and seeing him go from just making music on his laptop to being one of the biggest producers in the UK is super inspiring. For the other guys in the band it'll actually be their first festival. So yeah, I think it'll be a nice band outing for us—to travel up together, perform, hang out and chill. It's gonna be a lot of fun!"
Catch lost spaces at 4pm this Saturday @ Good Vibes Festival.
Like what you hear? Follow lost spaces on Instagram, Twitter and Facebook. You can now pre-save their upcoming album 'no-vacancy' on Apple Music.
| | |
| --- | --- |
| SHARE THE STORY | |
| Explore More | |