Culture
Malaysian light artist Jun Ong on landing the adidas Originals gig (and what it could have been)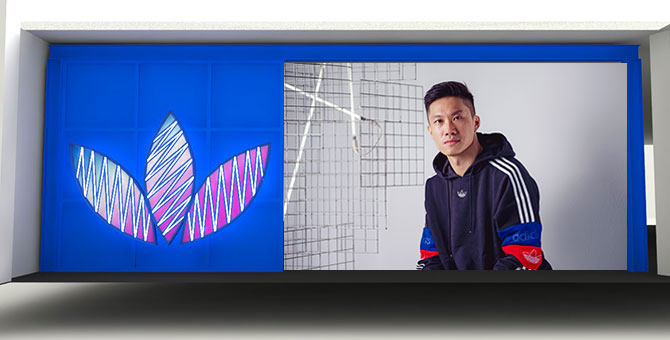 Picture this: An adidas Originals flagship store that spans over 4,413 square feet teeming with the brand's trendy signature. Within it, you'll find the brand's statement collections and collaboration pieces such as the Yeezy and Pharrell Williams series. But while the exterior and interior fixtures are unmistakably adidas, a quick glance is all it'll take to tell that you're specifically at the Pavilion KL's outpost. Why? Because two Malaysian artists have been given the task of injecting a Malaysian twist in the space. Light artist Jun Ong is one of these two artists (we last spoke to him as BURO's Faces to Watch 2019) and you'll be able to spot his work of art even before stepping foot into the store.
The adidas Trefoil logo, in his glowing interpretation, now embodies the wau bulan and as an installation, will be erected at the storefront itself as well as the backdrop (or rather acting as the centrepiece) of the store's window display. Ong says, "When you gaze at the adidas Trefoil logo from far, it is as though the traditional wau bulan is flying high in the sky."
Before the official launch of the store (and the artworks that go with it), we had a quick chat with Jun Ong to dive deeper into the collaboration, the message behind it and how he has grown as an artist since his 'arrival' onto the local arts scene. And yes, we were enlightened.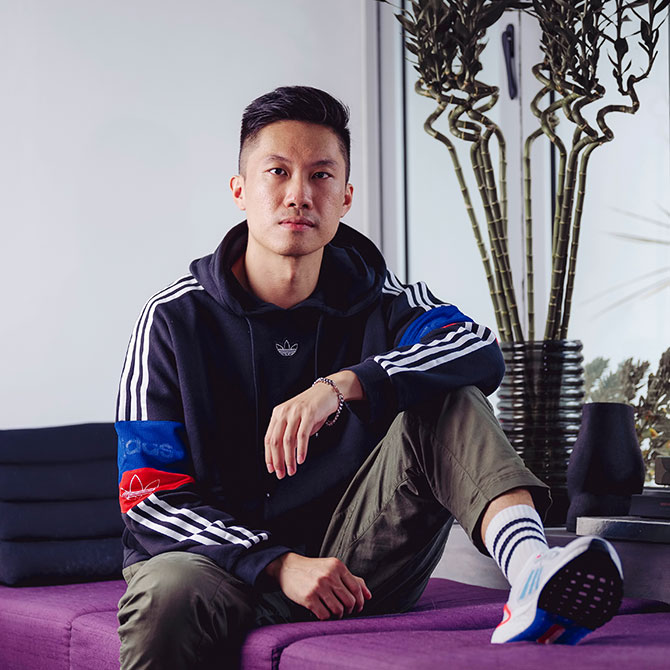 Hi Jun! Tell us how did this collaboration with adidas come about?
"I was approached by a brand rep for a possible light installation project and soon found out it was an opportunity to create the iconic adidas Trefoil logo in my own way, and what's more, it's for the largest adidas Originals store in Malaysia."
So we know that the installation this time features the wau bulan—out of all the national symbols that represent Malaysia, why that?
"I was being tasked to install the Trefoil logo in two different places in the store—one as a suspended piece in front of the main entrance and another one on the Blue Gate (window display). The form and shape of the Trefoil logo immediately remind me of the wau bulan, a traditional Malay kite known for its intricacy and also vibrant motifs. I was also drawn by adidas as a streetwear brand, and thought I could mash the concept of sneaker lacing and LED lighting as motifs onto the Trefoil—that's my take on a modern-day wau."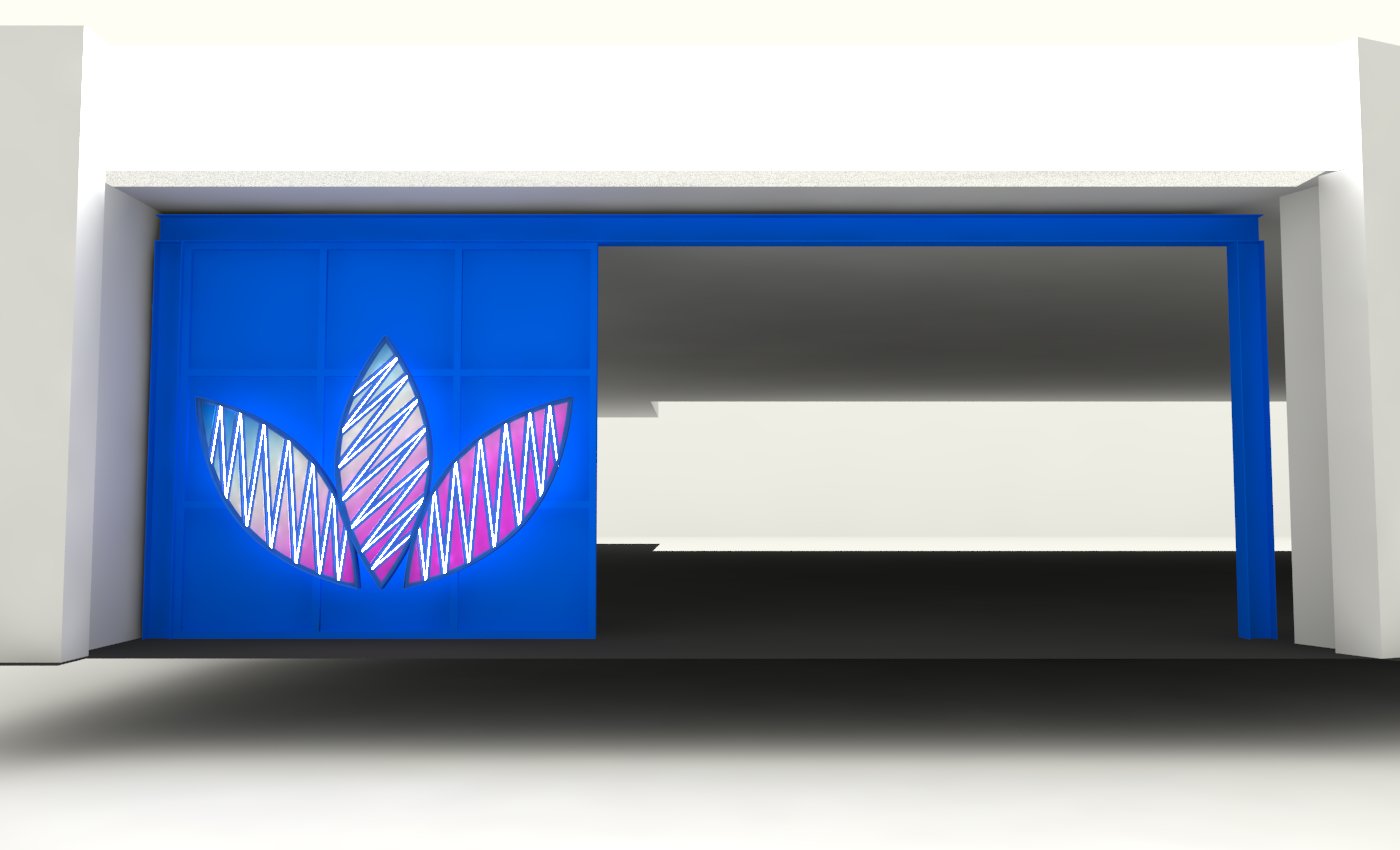 What were the other symbols that you thought of but didn't make the cut?
"I was exploring other starting points such as an interactive installation that responds to Malaysian weather and even a rainforest-inspired piece. With it being in a mall, I thought it would be a balance to create something that catches the public's immediate attention but yet reveals the layers of depth as one comes closer to the piece."
Walk us through the creative and physical process of designing this installation.
"I usually start my process with sketches and create a narrative of my own. In order to understand the brand better,  I did some research on the adidas archive collection to seek inspiration—extracting some key elements of its iconic footwear pieces and creating a new form within it. After a back and forth process to develop the concept with adidas (and understanding the site conditions due to MCO), I managed to create the design digitally and proceed to material prototyping before installation on site."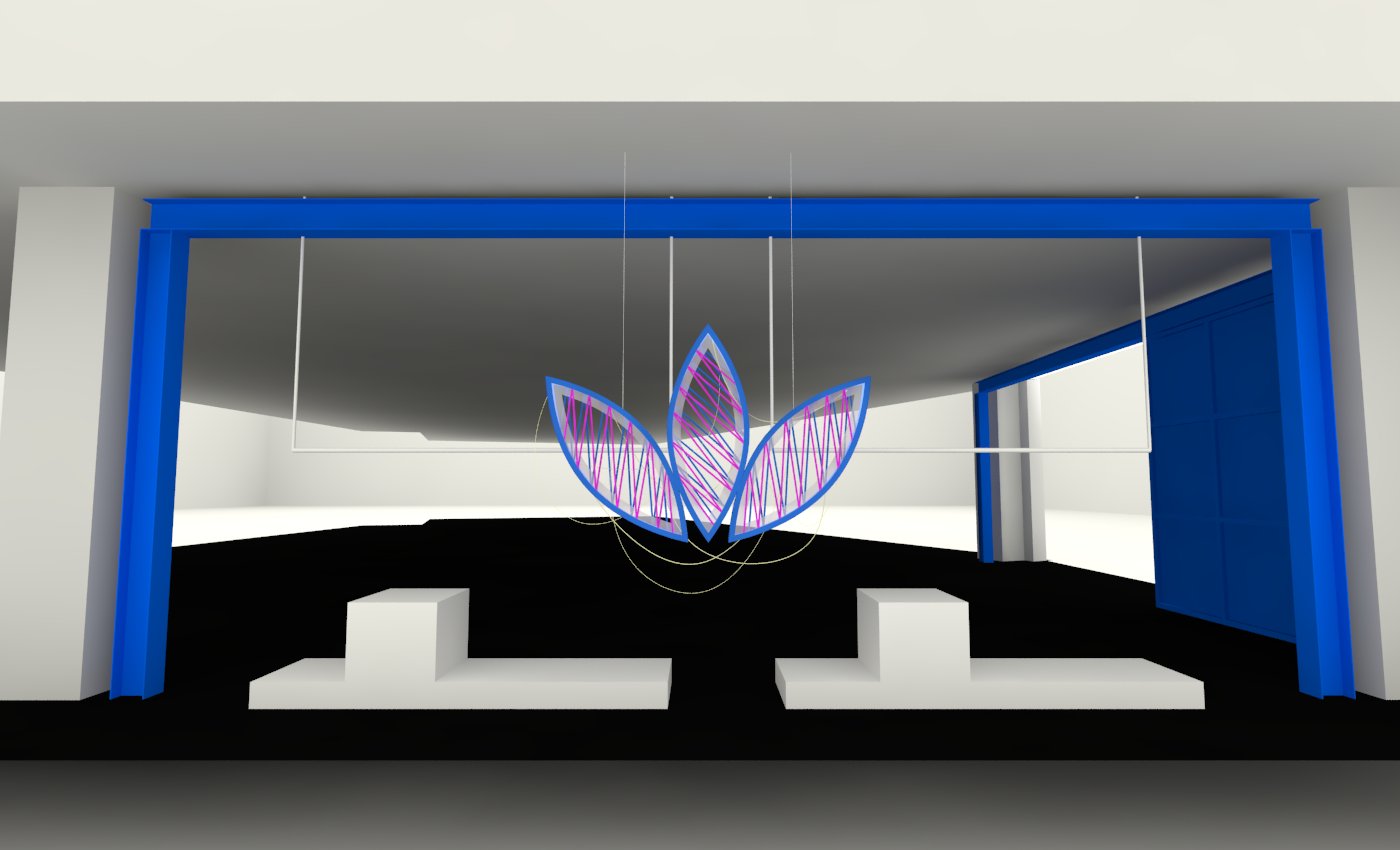 Most of your installations have a name—what's the name of this one?
Electric Wau.
It's been five years since The Star—what are some of the lessons you've learnt as an artist since then?
"I have been able to explore with different materials and application of lighting. For me, it's about constantly pushing the boundaries of lighting across various realms and narratives."
You're both a light artist with a background in architecture—how do the two fields of knowledge help you in your work?
"My background in architecture allows me to respect the spatial quality of my installations and to have a broader understanding of how I can integrate various ideas and elements together to form a cohesive piece."
Where do you usually find inspiration?
"For me, it's always about reading in between the lines. I love being inspired by fashion, technology and culture. It could sometimes be what I had for lunch or even the colours of today's sunset hues."
What is the most challenging part about making art with light fixtures/bulbs?
"Lighting is such a delicate component and requires a complex kit of parts to make it work. It is important to seamlessly tie everything together with materials and detailing to create a cohesive piece."
What was the MCO period like for you?
"It was bizarre yet life-changing! It was a good time as a designer and artist to reset and rediscover old forgotten ideas; and embrace new ways of making and perceiving art."
What are your plans for the rest of 2020?
"I would love to focus more on creating smaller pieces and venture back to painting which was how I started making art. I am also interested to see how I can create new ways for people to perceive my light installations."
Light can represent many things; among them, it could mean hope. What is your hope for Malaysians during these challenging times?
"To see things on the brighter side, be creative and find space for yourself to pause and grow."
adidas Originals flagship store is located at Level 4, Lot 4.10.02, Pavilion Kuala Lumpur. For more information, visit the official website or Facebook.
| | |
| --- | --- |
| SHARE THE STORY | |
| Explore More | |