Only few can claim to be as influential as Yves Saint Laurent. The designer was an enigma, a genius who revolutionised the world of fashion. At the Musée Yves Saint Laurent, I discovered the story of the man behind that unmistakable intertwined initials. His life was as illustrious as the colours of Morocco and his legacy speaks for itself.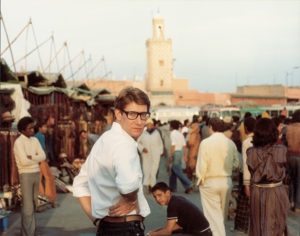 Yves Saint Laurent
The man and his work
Born on 1 August 1936 in Algeria and later trained in Paris, Yves Saint Laurent's career is a charmed one fraught with many twists and turns. The fashion designer first came onto the scene and gained critical acclaim for his style and vision in the 60s. As a young student, the star pupil often captivated those around him with his beautiful sketches and designs. His talent didn't go unnoticed, winning a young designer competition in 1953. Through a mutual connection, Saint Laurent was sent to see Christian Dior and so impressed was Dior by him that he was immediately hired to work for the French Maison on the spot. Under Dior's tutelage, the young designer thrived and was well received for his dress designs that were described as elegant, comfortable and modern.
But in 1957 and at the age of 21, Saint Laurent found himself thrown into the spotlight as the successor of Dior, who had suddenly died from a massive heart attack. It was a role that would prove to be both a blessing and a curse. While his Spring 1958 collection would save the house from financial ruin, he didn't get much love after for his subsequent designs that were criticised heavily by the press. By 1960, Saint Laurent was called back to Algeria to serve in the army. This was a difficult period in the designer's life as he learned of his shocking dismissal from Dior. Eventually after three weeks of service, he had to be admitted to a mental hospital, where it was reported that he underwent electroshock therapy and given large doses of sedatives and psychoactive drugs.
Upon release from the hospital, Saint Laurent sued Dior for breach of contract and successfully won. This silver lining would change the course of history as it gave Saint Laurent an opportunity to start his own label with his long-term partner, Pierre Bergé. The Yves Saint Laurent fashion house grew and brought in new changes to the couture world. The Maison was widely credited for bringing several notable trends to the fore such as the beatnik look, thigh-high boots, the Mondrian dresses and the striking classic tuxedo for ladies dubbed 'Le Smoking'. All of which we were privileged to witness at the Musée Yves Saint Laurent in Marrakech, Morocco—it was not hard to understand how the three intertwined initials revolutionised the fashion world. And why the late designer finds inspiration in this city.
The Moroccan connection
Walking through the doors of Musée Yves Saint Laurent, one can't help but be drawn to bits and pieces of the designer's life and work strewn out all across the room. The museum takes us on a walk through his adventurous career. From the pages of the designer's sketches, you see his brilliant vision; cast your eyes on the wall and you get to admire snapshots of him with his muses; while in another room, the iconic pieces of his collections spread out as if suspended in time. There are some 5,000 items of clothing, 15,000 haute couture accessories and tens of thousands of drawings, photographs and objects housed within this 4,000 square metres museum.
Out of this, you can see why Morocco plays a huge role in the designer's work and life. Here was a man who was enamoured by the bright Moroccan sun, the perfume of jasmine rose, the vibrant spirit of the souks, and the sensitivity of colours. Yves Saint Laurent together with Pierre Bergé would spend many happy years here after falling in love with the city during their first visit in 1966, which he concluded by purchasing a house in the heart of the medina.
"When I discovered Morocco, I understood that my own chromaticism was that of zelliges, zouacs, djellabas and kaftans. The audacities that have since been mine, I owe them to this country, to the violence of agreements, to the insolence of the mixtures, to the ardour of the inventions. This culture became mine, but I did not just import it, I annexed it, transformed it, adapted it," —Yves Saint Laurent.
To put it simply, it was an aesthetic revelation. Morocco became Saint Laurent's creative retreat and we have to thank them for inspiring his innovative ideas and bold use of colours. Some 50 of vibrant Marrakech-inspired pieces are shown in the permanent exhibition including his safari jackets, the 1976 Russian collection and the Romanian blouse that pays homage to a Henri Matisse painting.
Years later in 1980, the designer cemented his love for the red city by purchasing a villa and its gardens created by Jacques Majorelle. It was known as Villa Oasis and Jardin Majorelle respectively. More than 700,000 visitors visit the garden each year that is located steps away from the Musée Yves Saint Laurent. Both a must-see if you're ever in this part of the world. It's certainly a beautiful retrospective into the life of the legendary designer as seen through his lens.
Musée Yves Saint Laurent is located at Rue Yves Saint Laurent, 40090 Marrakech, Morocco. Opening hours are from 10am to 6pm, closed on Wednesday.
Discover the latest from YSL Beauty here.
| | |
| --- | --- |
| SHARE THE STORY | |
| Explore More | |