Culture
"It's kind of like validation for my insanity," artist Trevor Andrews tells Buro 24/7
The GucciGhost comes to life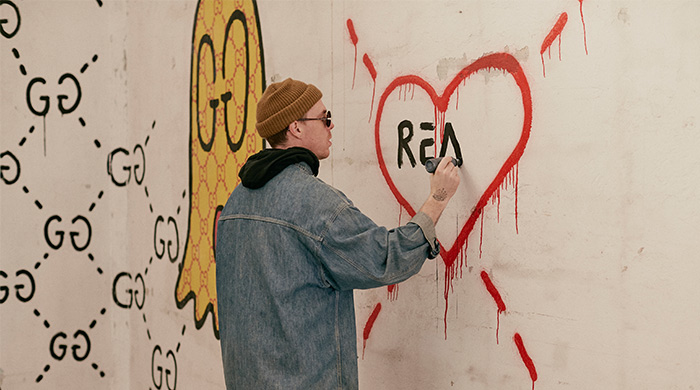 Trevor Andrew's story is could very well be your modern-day equivalent of a cliché fairy-tale come to life. A skater, street artist, musician and former Olympic snowboarder, Andrew's artwork came from the streets and met its Princess Charming: Gucci.
It was the GucciGhost that started it all; Andrew had created it on Halloween three years ago, by cutting out two eye holes from a Gucci sheet and walking around New York City. People seemed to be instantly taken by the GucciGhost, so Andrew began painting his own interpretation of the house's iconic monogram (the mirrored Gs) on just about everything on the streets.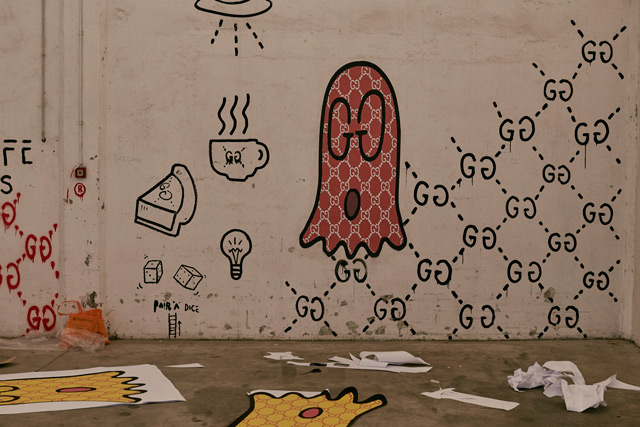 Andrew's artwork now heavily influences Gucci's fall/winter 2016 collection, marking the Italian house's first artist collaboration under the helm of creative director Alessandro Michele. Following Gucci's fall/winter 2015 presentation in Milan, Buro 24/7 Singapore has a chat with the artist himself:
You've straddled quite a few components of artistry in your life: You grew up skateboarding, were an Olympic snowboarder and you're also a musician. How do these aspects influence your work as an artist now?
Skateboarding is the root of the way I live my life, and the kind of mentality that that lifestyle can bring: Making your own rules, not working within a structure, having the freedom to just create and fall down and get back up. My musical influences stem from roots like counter culture, indie, as well as music I discovered in skateboarding videos. When you're dealing with artists – whether they're skateboarders, musicians or designers – whatever the medium, you get people who bring interesting perspectives in style and aesthetic.
What is it about the Gucci logo that draws you in?
It just means greatness, great quality, leadership and just…it's like…godly, you know?
When you first started painting the town Gucci, was it done out of mockery or praise?
Praise, entirely. I wouldn't paint my whole surroundings and everything that I could find with something that I thought was a joke. I wanted to make everything around me feel "Gucci". I felt like I could make something that was ugly pretty just by painting Gucci on it. It was entirely out of love and wanting to always feel as great as when I bought my first Gucci piece – always reliving that kind of high.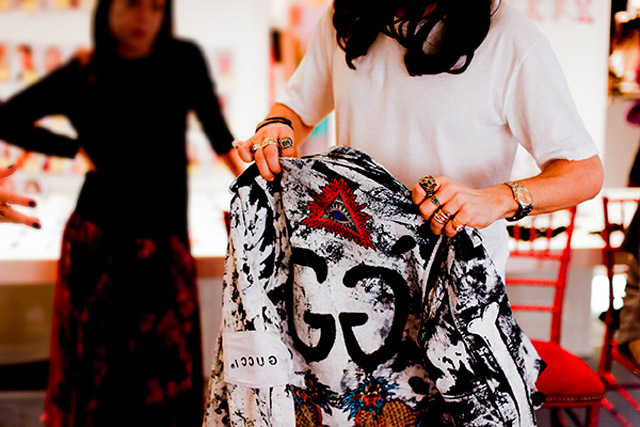 Were you afraid and nervous at all about how the people at Gucci would react to the GucciGhost?
No. I wanted them to notice me, even if it was a good or bad thing. I was just creating – I wasn't out there trying to make money off of Gucci. I was hoping that they would notice what I was doing – that was my whole point. I knew that if the right person with a vision saw it, they would appreciate it.
Which brings us to how Alessandro first noticed you. When and how did he reach out to you?
He approached me through a mutual friend, Ari Marcopoulos, a photographer who did their Pre-Fall look book. I got a text from Ari to send over photos and videos. He told me that they [the team at Gucci] thought I was cool. Just that alone…I felt like I had made it. Three weeks later, Ari said, "Yo, get at me right away, my friend wants to connect you with Alessandro". Later on a call, they asked if I could come to Rome the following week. I was like, "Of course!"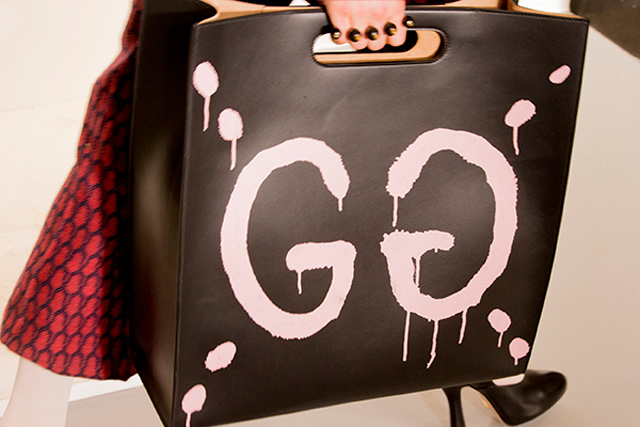 Did you have any reservations working with him?
No. I had heard about what he had done for Gucci. He takes risks, has fun with what he does and follows his heart, and that's how I work. I completely work off emotion, love and [a sense of having] no fear. You can't get good results when you work off fear.
What was the creative and working process like in building the collection?
I was given complete freedom to bring my vision. I painted the bodies, and once I was done, Alessandro would come in and bring it to a whole other level. It was so amazing to work with the materials – the accessibility to the greatest stuff in the world. Obviously, he has a wide range of influences and knowledge, so he elevated my pieces to luxury and street chic. It was very easy and fun. I was painting and listening to music, and I felt like I was back home in my creative space, you know? Alessandro would look at it, and we would talk or he would just immediately start – boom, boom, boom – adding things. That creative energy pushes and makes each other better, you know? I got that from skateboarding too – it taught me about camaraderie and trust between your friends. That's how Alessandro works – he makes everybody feel great about what they bring to the table.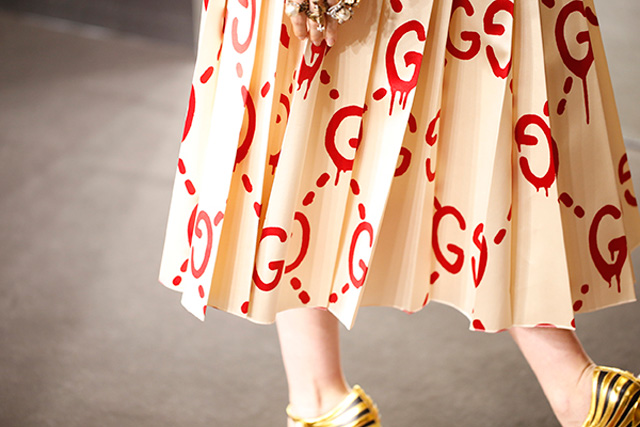 What's your favourite piece from the collection?
I like the gold bomber jacket. I did that at around seven or eight in the evening the day before the show. It was just some leftover silhouettes that we had that hadn't been painted. I was already done, but I just wanted to keep painting, so I put on music and painted. I whipped that one up and hung in the room. When I came back up, Alessandro had already got to it and started reworking and adding things.
What does it mean to you now, from creating your own personal Gucci items to being officially part of the storied house?
Oh man, it's like an honour. It's kind of like validation for my insanity. So many people didn't understand what I was doing. It just lets everybody know that you can start with nothing and end up with something, if you're really persistent and have a vision.
Lastly, we want to know: When was the last time you really got into trouble?
Um… I really can't remember.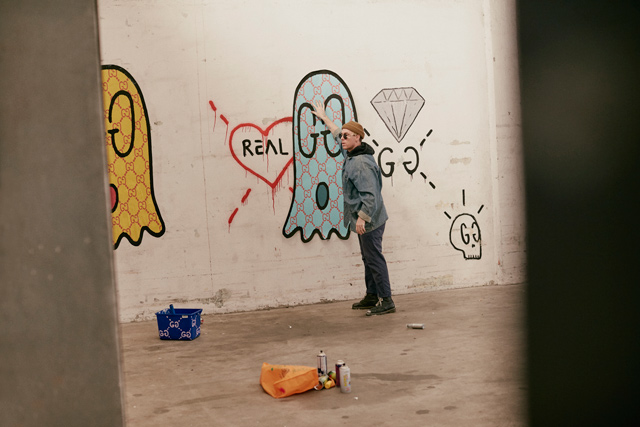 Original text by Dora Aljoofri and Adibah Isa of Buro 24/7 Singapore. Check out the Gucci fall/winter 2016 collection here.
Related stories:
Milan Fashion Week: Gucci AW16
Milan Fashion Week AW16 culture guide
Miu Miu launches the all-new Miu Miusic app
| | |
| --- | --- |
| SHARE THE STORY | |
| Explore More | |