Examining the macro through the micro was my biggest takeaway from LOOP. As Barcelona's annual video art festival and fair, LOOP was held from November 12 - 22 in 39 locations across the city. Using specific examples relating to new media and video art, LOOP asked questions with a wider resonance, particularly in relation to ideas of production, patronage and exhibition. As a contemporary art event it exemplified the way in which cities might appear culturally relevant and dynamic within the competitive contemporary art landscape.
Initiated in 2003, LOOP provides a space to support and foster increasingly experimental new media and video artworks. Simultaneously critical engagement for such art is developed through links with emerging art centres, or other disciplines, such as theatre or performance. This year saw the sixteenth edition of LOOP support Spanish institutions, spaces and practitioners, while collaborating with an increasingly international audience of participants, reflecting Barcelona's vibrant diversity.
A look at some of the works presented at LOOP Barcelona.
2018's theme of PRODUCE, PRODUCE, PRODUCE(D) posed two main questions: How do we produce? How are we produced? A selection committee, chaired by Jean-Claude Lamaître and comprised of Haro Cumbusyan, Renee Drake, Josée and Marc Gensollen, Isabelle Lamaître, invited galleries from 26 countries to present works by 42 artists in hotel rooms over the first three floors of the Almanac Hotel. This seemingly unusual staging proved highly effective, as audiences were invited to enter pitch black rooms (courtesy of the blackout curtains found in hotel rooms), with ample space to perch, sit or even lie down while experiencing the art.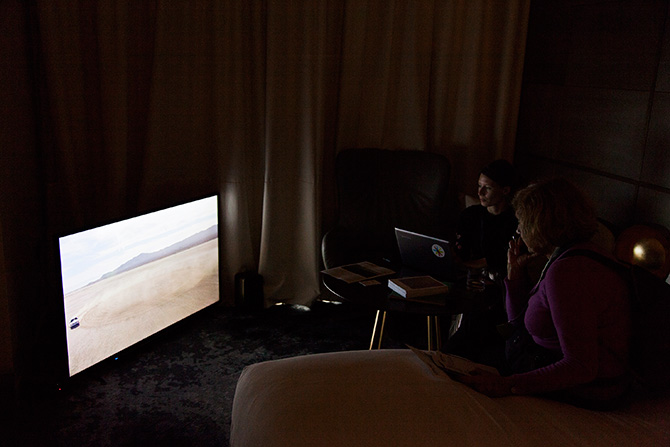 Supporting the fair was LOOP Talks, a series of discussions by leading international cultural agents sharing ideas and knowledge on the production and display of video art. As a participant this year, I was invited to moderate a round table debate: "In Residence: Between Research, Experimentation and Production". The aim of this debate was to investigate the role of the artist residency in the contemporary art world; as a platform to incubate ideas and exchange them with peers, general public and other cultural practitioners.
My own personal position on artist residencies as a potential incubation space has recently expanded through an investigation into the role residencies might play in building museum collections. Given the competitive contemporary art collecting landscape, fuelled in great part by the rise of the international private art collector, museums and institutions need to seek new strategies through which they might foster artist patronage and grow their permanent collections. Might artist residencies provide such an opportunity? I was excited with the chance to pose my theories amongst international cultural collaborators who have an immeasurable wealth of experience within the topic, as a means through which to solidify my thoughts.
The panel for "In Residence: Between Research, Experimentation and Production" featured Christine van Assche, Chief Curator of Centre Pompidou from 1982-2013, who was instrumental in building the institution's new media collection; Myriam Rubio, Academic Coordinator of the Program MACBA Independent Studies (PEI); Lluis Nacenta, Director of Hanger Centre for Art research and Production; Maggie Ellis and Rose Cupit from FLAMIN London; Yunnia Yang, Adjunct Associate Professor of the Department of Sculpture at the National Taiwan University of Arts and visual artists Paula Nijishima and Irit Bashtry. In having participants from across the cultural spectrum, the debate was able to analyse the value residencies have brought to individual practices, institutional spaces and study specific, creative examples of residencies today. Concluding that artist residencies are a key route in providing support for ephemeral art practice, the panel examined the role of production and communication during the residency period, particularly if the aim of the residency is to act as a testbed for artistic research.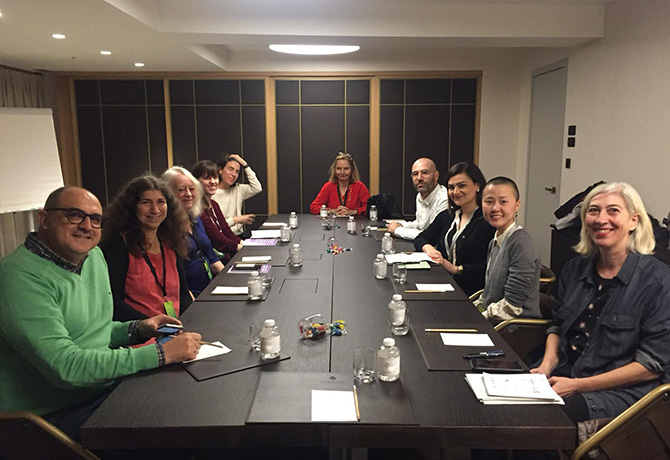 A highlight from LOOP Talks was the inaugural conversation titled "Commissioning Time: Art Institutions and the Production of Moving Image", between Hans Ulrich Obrist, Artistic Director of Serpentine Galleries, London, and Patrizia Sandretto Re Rebaudengo, Founder and Director of Fondazione Sandretto Re Rebaudengo, Turin. Llucià Homs, Director of Talking Galleries, with Nimfa Bisbe of Fundación "la Caixa", Cristina Lopez of Fundación MACBA and Andreu Rodriguez of Colección BEEP shone a light on the support collecting provides artistic production, through "Forms of Collecting: on the evolving practice of collecting in private and corporative institutions".
LOOP has now taken the next step forward and announced the Hans Nefkens Foundation-LOOP Video Art Production Award, in a collaboration with the Hans Nefkens Foundation and Fundació Joan Miró. Dedicated to supporting artists in the production of new work, this award rounds LOOP off as a space where video art is fully discussed, displayed and supported- making LOOP 2018 a highlight on my personal art calendar.