If you've yet to watch BBC America's beloved spy thriller, let Jodie Comer tell you why Villanelle is worthy of your attention (don't worry, no major spoilers await)
Killing Eve's Villanelle may be one of the most lovable TV villains of all time. Despite her childish immaturity and non-existent moral code, the fashionable serial killer has captivated and had us rooting for her since we first locked eyes on her in season one, following her opening scene which involved knocking a bowl of ice cream onto a little girl's lap just because she felt like it: 
While on-screen villains are no stranger to possessing enticing strengths of charisma and flair—which they often exploit to indulge in their fullest evil potential—Villanelle is refreshingly different and, bizarrely relatable in comparison. 
For one, she's pretty simple about what she wants for herself. Working a high-stakes job to live an above-average life, she's financially independent, rewards her hard work with the relish of designer dress-up and is never superficial about it. On top of that, she has a great sense of humour to keep herself enviable optimistic even in the worst of situations.
Though ruthless, reckless and holds zero bearings of any sort of conscience as she takes out her targets, she's also radically honest and unapologetically herself, demonstrating in-between glimpses of vulnerability that point towards the reality of her feelings—perhaps the reason as to why she doesn't show remorse, guilt or love the way that other people do is because she simply doesn't know how to.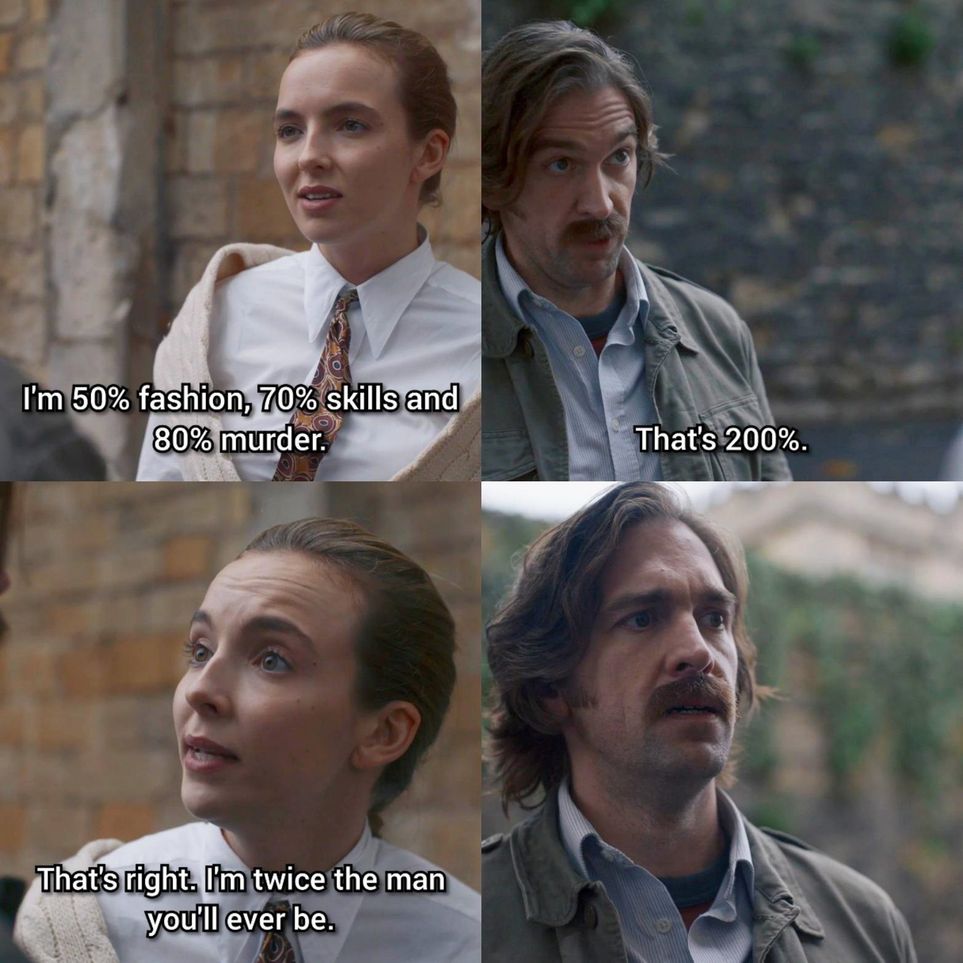 Villanelle is a robust character, with as many flaws as she does strengths, now unimaginable without the warmth, wide-eye innocence and skillfully precise comic timing that Jodie Comer brings with her to manifest the character to life. The British actress' nuanced portrayal of a psychopathic serial killer won her multiple best actress awards including a BAFTA and an Emmy.
Add on the crackling chemistry between our killer-for-hire and Sandra Oh's MI5 agent Eve, alongside plenty of dark humour, plot twists and endearingly badass moments, and the enthralling cat-and-mouse thriller has us just as obsessed with it as the two frontrunners are with each other.
With a third season in full steam since April, the show picked up with our globe-trotting murderess trying to move on in her new life in Barcelona. With plenty of (expectedly) unexpected twists, the ongoing plot takes a deep dive to unveil Villanelle's past as she returns to her roots and is tested in new ways. Meanwhile, Eve is still alive (totally didn't expect that!) and in recovery, meaning she will eventually cross paths with her assailant/lover, in addition to the long-awaited face-to-face between Villanelle and Fiona Shaw's spy boss Carolyn. 
Ahead, Jodie Comer opens up across the web to talk about the attraction of Villanelle, how she prepared for Season three and her favourite assassin looks to date. 
Where and how are you riding out quarantine?
"I'm spending time with family in Liverpool, which I don't have the luxury of doing all the time."
How would you describe Villanelle to someone who doesn't know her?
"Villanelle is very high-paced, and energetic, and she's always in some extravagant place, wearing ridiculously fancy, eccentric clothes. And she's pretty much always on her own, she's a bit of a lone wolf.
"Her playfulness and childlike quality take away the terror at moments where we should really hate her. Often we sympathise or even agree with her, which makes her seem a bit like us."
Season three begins with Villanelle trying to move on with her life under the assumption that Eve is dead. What does 'normal' look like to Villanelle and what's really going on in her mind post-'breakup'?
"Season three picks up six months later and it seems that Villanelle is trying to lead a somewhat normal life and move forward. She's trying to convince herself that she is feeling things that everyday people feel. In the opening of the first episode, she's at an event and gets an unexpected visit from someone in her past who shakes things up within her world. Dasha trained Villanelle when she was younger but the relationship was left on rocky terms. Villanelle ends up descending on this crazy journey with Dasha. She doesn't really have a choice, she's confused."
What's different or/and new about Villanelle in season three?
"We see her in a much more vulnerable light. Villanelle has to face a lot of personal demons this season. We see the life she could have led."
Season three also delves deeper into Villanelle's character and her backstory. How did you prepare yourself as an actor to show these different sides of her?
"With Villanelle going into her past it's like seeing her in a whole different world, with a new insight, which is really exciting. Everyone's being tested in different ways and it feels like a couple of the characters come to a point of realisation at the end. They're all on their own trajectories but somehow their worlds collide in this series.
"To really reel people in—I have a scene with Fiona Shaw! At last! You should stick around for that alone. I've been fighting to get a scene with Fiona since day one so it was a glorious day to shoot."
What do you admire most about Villanelle? What's the best and worst thing about playing her?
"Everything attracted me to playing Villanelle. I expected her to be one thing and she was the total opposite. I read 'assassin' and immediately thought of a sexy woman in a catsuit scaling walls in six-inch heels, but Villanelle felt more real than that. She has a sense of humour and makes mistakes, which are so relatable.
"Assassins can sometimes feel like creatures from another planet, like they've got super powers, whereas there's something very earthy about Villanelle. That has continued throughout the seasons. She's so much fun to play. She gets away with murder, quite literally, but I love her."
Fashion has a huge personality in Killing Eve. How does Villanelle's style evolve throughout the series and what does it say about her character?
"It's just part of her—it's how she expresses herself.
"My favourite costume in season one was the suit that I wore in Berlin when Villanelle killed Bill. It looked badass and I felt really comfortable in it. I had Doc Martins on and I was just weaving around everywhere in that club trying to catch him."
"My favourite costume from season two is the pyjamas. I hated them at the time because they were very unforgiving and they'd made them super small but in the end that was my favourite episode. When I saw them on camera I realised how brilliant they were. I originally liked a different pair but actually they were perfect.
"My favourite costume for season three is hard to choose because I've got quite a lot. But there is an epic outfit on a golf course that is very green and looks like something from Sesame Street. I'm going to leave that there."
Obsession is a huge theme throughout the series and we're all obsessed with Killing Eve. What are you currently obsessed with?
"Love is Blind and Succession."
Three seasons in, what do you want audiences to take away from Killing Eve?
"I want the audience to come away having had fun and having enjoyed it. Our show doesn't have a huge message to the world, and that's probably why people enjoy it so much. They can escape through it and live through the characters, having fun with it. The characters are definitely on another journey and the story has to push forward. Things have to change and hopefully the audience will come along with us."