Kick back and stream these adrenaline-fueled TV shows coming this June
This month, join the crew of Money Heist: Korea on a bank heist, follow the stars of Fearless 48 Hours on an adventure through the wilderness, stop doomsday with The Umbrella Academy, ally with the Peaky Blinders, and more.
Money Heist: Korea – Joint Economic Area
When and where: 24 June 2022 on Netflix
Watch if: You are a fan of the Spanish series, Money Heist, otherwise known as La Casa De Papel
Starring: Yoo Ji-Tae, Kim Ji-Hoon, Jang Yoon-Ju, Jun Jong-Seo, Park Hae-Soo
Catch the Korean remake of the beloved Netflix series by many across the world, Money Heist, which features Yoo Ji-Tae as the Professor, Jun Jong-Seo as Tokyo, Lee Won-Jong as Moscow, and Jang Yoon-Ju as Nairobi. In this retelling of the original La Casa De Papel, the story follows a crew of audacious thieves scouted and led by the Professor, who trains and prepares them for a perilous bank heist. It displays an alternate universe where North and South Korea have integrated their currencies which was highlighted in the series by writer, Ryu Yong-Jae, to bring light to the division and disharmony between both countries.
Peaky Blinders Season 6
When and where: 10 June 2022 on Netflix
Watch if: You love an action-packed gangster drama with interesting, diverse characters
Starring: Cillian Murphy, Helen McCrory, Paul Anderson, Sam Neil, Annabelle Wallis
After four years of waiting, the season finale of Peaky Blinders is finally here! Led by the ferocious Tommy Shelby, the notorious gangster family in Birmingham by the name of Peaky Blinders is one of the city's most feared criminal organisations with ambitions that go beyond running the city. Their story begins to spiral after their leader, Tommy Shelby, acquired the wrong crate containing guns and rounds of ammunition which leads him to seize the opportunity to move up in the world. However, this opportunity does not come without its complications and sacrifices.
The Umbrella Academy Season 3
When and where: 22 June 2022 on Netflix
Watch if: You're a fan of Gerard Way and superhero-based series
Starring: Elliot Page, Tom Hopper, David Castaneda, Emmy Raver-Lampman, Robert Sheehan
Based on the comic book series written by Gerard Way, the massive hit Netflix series, The Umbrella Academy, is making a return for a third season this June. Revolving around a dysfunctional yet unique family, The Umbrella Academy consists of seven siblings who were born unexpectedly with extraordinary powers. The children were eventually adopted by Sir Reginald Hargreeves who raised them as superheroes that will one day save the world from a doomsday apocalypse. This series follows the chaotic family through the challenges of the position they were raised to fill and the turbulent relationships within the family.
Amazing Hotels: Life Beyond the Lobby Series 4
When and where: 20 June 2022 at 9.50am on UnifiTV Channel 512 and BBC Player | Astro Channel 717
Watch if: You've been planning for a trip or if you enjoy discovering new unique hotels across the world
Starring: Giles Coren and Monica Galetti
In this series, follow hosts Giles Coren and Monica Galetti on their journey of visiting locations across the globe that represent the ultimate luxury in hospitality. From a breathtaking resort secluded in the deserts of Abu Dhabi to the most exquisite and expensive hotel in London, venture beyond the lobby of these wondrous hotels and discover the magical experiences they offer.
Doctor Lawyer
When and where: 3 June 2022 on Disney+ Hotstar
Watch if: You enjoy thrilling K-dramas
Starring: So Jisub, Lim Soohyang, Shin Sungrok
Doctor Lawyer follows the story of Korea's top star surgeon turned medical malpractice lawyer, Han Yi-Han, who was imprisoned and stripped of his medical license after an unexpected death of a patient and a puzzling disappearance of another. Following both incidents, he was forced to step out of the medical field and into the courtroom to uncover the truth behind the mysteries and defend others facing a similar fate of wrongful convictions.
Fearless 48 Hours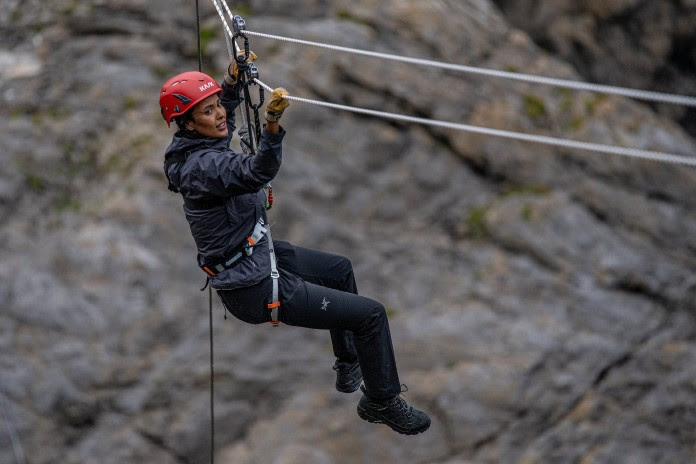 When and where: 13 June 2022 on UnifiTV Channel 501 and BBC Player | Astro Channel 554
Watch if: You would like to see celebrities face Britain's wildest landscapes in rural Wales
Starring: Jason Fox, Rob Delany, Maya Jama
Hosted by former Royal Marine commando and special forces sergeant, Jason Fox, celebrities Rob Delany and Maya Jama are pushed out of their comfort zones to face the wilderness in preparation for an extreme challenge in Fearless 48 Hours. Follow them through 48 hours of nail-biting challenges and confessional conversations all while enjoying the breathtaking sceneries. Do you think they have what it takes to face the challenges? Tune in to find out!
Ghost Doctor
When and where: 23 June 2022 on Netflix
Watch if: You enjoy fantasy-based K-dramas starring K-idols
Starring: Rain, Kim Bum, Uee, Son Na-Eun, Sung Dong-Il
Ghost Doctor revolves around two doctors whose personalities and medical skills are polar opposites from each other. Cha Young-Min (Rain), an aloof but highly skilled cardiothoracic surgeon, one day gets involved in an unexpected case. This leads him to possess the body of Go Seung-Tak (Kim-Bum), who is gifted with outstanding medical knowledge, but his ability to perform is restricted by his fear of blood.