Here's a quick review on the newest season of 'Cobra Kai', the comedy-drama that's giving us 'The Karate Kid' franchise nostalgia
---
Spoilers ahead
---
Cobra Kai is back, once again taking the world by storm. A rather successful sequel to the original film that was released in 1984, it's also packed with corny nostalgia and action scenes that will have you on the edge of your seat. Created by Josh Heald, Jon Hurwitz and Hayden Schlossberg, the series was acquired by Netflix in June last year after it quickly gained popularity on YouTube where it first debuted in 2018.
The new season continues where season two left off, bringing back the twisted rivalry between Cobra Kai and Miyagi-Do. But after such a traumatic event, will Sam, Robby and Miguel be able to recover and continue with karate?
Plot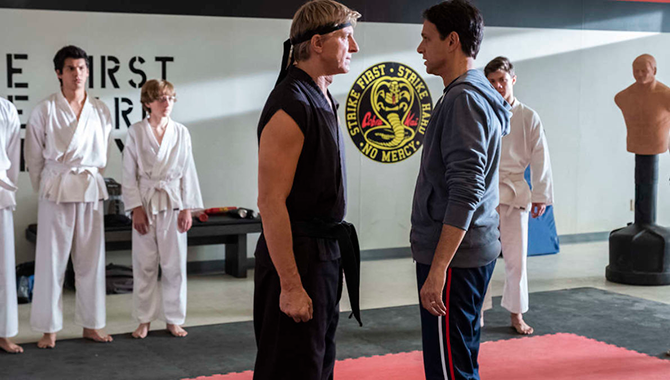 Image: Netflix
Filled with love triangles, high school drama and surprising cameos—after taking us for a ride in season two, what can we expect from the new season? Pediatric surgeon Ali Mills Schwarber (Elisabeth Shue), the ex-girlfriend of both Johnny Lawrence (William Zabka) and Daniel LaRusso (Ralph Macchio), has finally returned to the series. After years of endless battles, the two lifelong rivals have agreed to a truce in order to stop John Kreese (Martin Kove). While both their senseis have chosen to work together, the students from Eagle Fang (Johnny's new dojo) and Miyagi-Do have also united to stop Kreese's dojo.
With all these happening, Miguel, who's the heart and focus of the show, or was—is sidelined in this season. This has caused a mixed reaction amongst fans, who are questioning the drama's future if the directors were to continue in the direction of having multiple protagonists. Other than that, the show has received highly positive reviews with an impressive rating of 97% on Rotten Tomatoes, where it was praised for its humour, scriptwriting and action scenes.
Visuals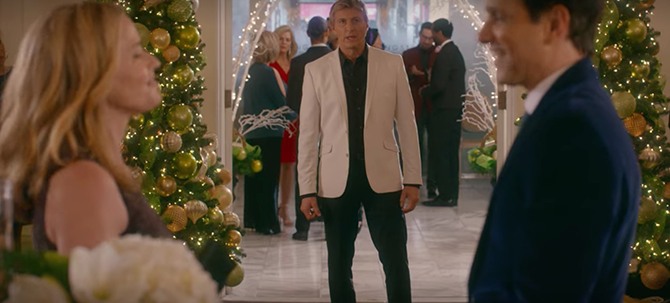 Image: Netflix
As if filmed 40 years ago, the series has done a great job in incorporating the visuals of a typical 80's film—from the editing to the colour palette used. The kitschy style is utterly nostalgic and another thing to note is the outstanding soundtrack that was featured in the show. We all know without a quality background sound to accompany the film, the visuals will go to waste. Thus, the SFX played a huge role in making it a hit.
Acting
Image: Netflix
With the original actors from the '80s movie, no one dared to question their skills. With a new generation of 'fighters', none of them screamed amateur theatricals—maybe because they weren't amateurs to begin with. From Peyton List to Jacob Bertrand, they did a fairly good job of portraying each of their characters' emotional baggage. The chemistry between the senseis and the students were effortless with no signs of awkwardness.
Overall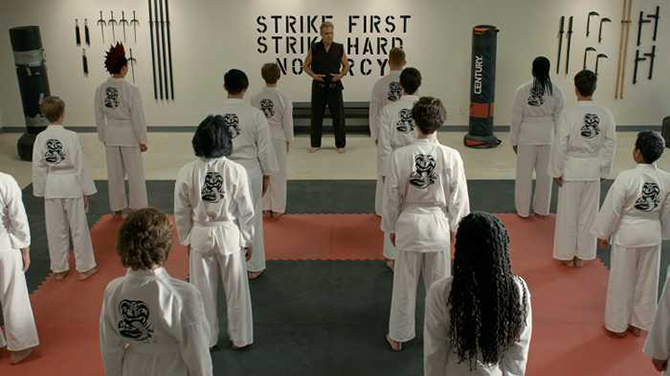 Image: Netflix
The show lives up to its expectations, Cobra Kai continues to make it known that there are ways to recycle 40-year-old characters and stories yet still make them feel fresh. If you're a new fan of Cobra Kai, you can look forward to a fourth season as Netflix has got some exciting plans lined up for this series.
For more information on Cobra Kai Season Three, click here.
Check out this month's must-watch films and TV shows here.