Film, TV + Theatre
Review: James Charles' competition show 'Instant Influencer' has some hits and misses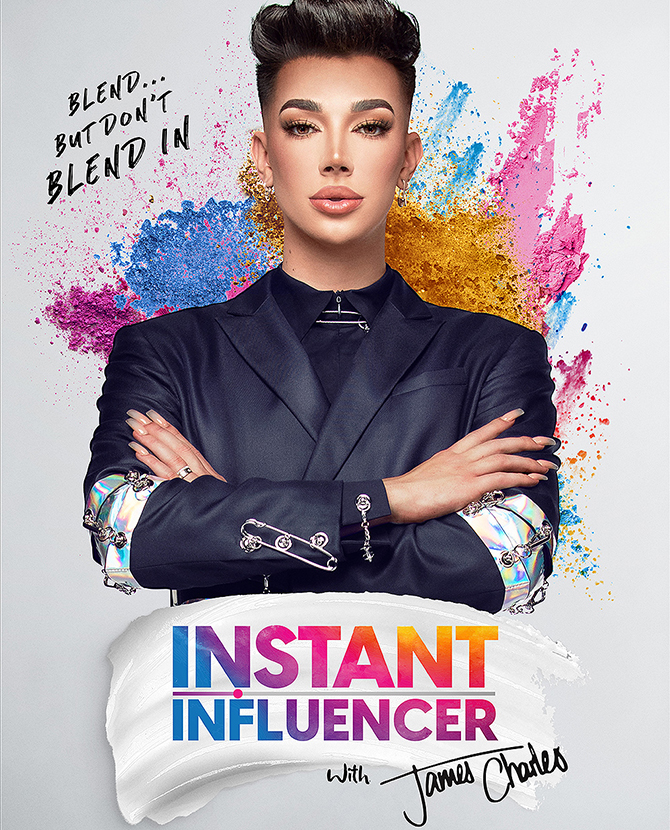 *Minor spoilers ahead!*
Hi sisters!
Ah, yes another series to watch during our extended MCO.
When I first saw the trailer come out earlier this month, I had a few thoughts from the get-go. Firstly, out of all the popular makeup gurus in the industry, I never thought James Charles would be the first to land a makeup-centred competition reality show. Let's face it—there are others in the community with more experience and knowledge under their belt (and with all the controversies James Charles has been through the past year—2019 was not it for him, it was definitely surprising to see YouTube give him a huge platform and budget).
My second thought was: can he fill such big shoes as the host of a show—especially sitting right next to the likes of the president of Anastasia Beverly Hill Cosmetics herself, Norvina, and heiress/entrepreneur Paris Hilton? Would we see other personalities overshadow him on the show and will he be able to stand his ground on certain decisions if they don't agree?
But at the same time, why not James Charles? If there was anyone who could coach young aspiring makeup artists to make it on the big web, Charles would be the person to do it. After all, the American personality started out on the same footing and found a way not only to stay relevant since his breakthrough in 2016 as the first ever male model on the cover of Covergirl—but go on to amass nearly 20 million subscribers three years later.
The trailer also gave me major America's Next Top Model vibes with Charles channeling his inner Tyra Banks which is a win for me because I've personally binged all ANTM cycles. So while I was not completely head-over-heels sold on the show just yet, I was definitely intrigued.
The winner of the competition reality show will win a full light and camera set up worth USD$10,000 (RM43,595) that will be stuff of any small YouTuber's dream, a collaboration with James Charles on his YouTube channel that has featured the likes of Kylie Jenner and David Dobrik as well as USD$50,000 prize money.
The six-inch highs
One thing that stood out to me immediately upon watching the first episode was that James Charles is actually a good host—he completely obliterated my previous concerns about him possibly being overshadowed. With his bright bold lipstick and red harness cape, it was hard to miss him. His larger-than-life personality and natural flair for the camera also took centre stage, making it obvious why he is a top social media influencer for a reason.
The contestants were asked to come in makeup that represented them as an MUA and as a person and did they deliver! Each of the microinfluencers had their own unique style and really showcased the talents they had. Seriously, I was in awe of every single look and so amazed how they transformed their faces into beautiful pieces of art (I can't even draw a decent stickman so any form of artistic creativity wows me).
Then came the elimination challenge which was also fun enough. Contestants were given three hours to film and edit a product reveal video, showcasing the how-tos and know-hows of one product—a key component to any big makeup influencer's YouTube channel. I really did like this challenge because as someone who has seen a ton of product reveal videos myself, I could also give my opinions about who did well and who could've done better. You never realise how many beauty YouTubers you watch until you're saying things like "she should've swatched the products to see the colour pay-off better" or "he needs to tilt his head up to catch the light more" at the screen.
Norvina, who is a permanent judge alongside James Charles, gave some really good constructive advice to contestants which would no doubt serve as invaluable tips for YouTubers at home. I also enjoyed Paris Hilton as the first celebrity guest, she was all-round positive and complimented the contestants whenever she could (but I must say, her dog stole the show).
One more thing I really liked about the show was the elimination process—no drama, no embarrassing the contestants in front of others, no harsh comments that you would expect from a typical reality competition show. All the contestants were put in separate rooms with Charles personally visiting the first eliminated microinfluencer to deliver the news. I appreciated Charles giving the eliminated contestant motivation to never give up, complete with a big bear hug.
The regrettable lows
While the six microinfluencers chosen were likeable enough, I wished we could've had a better backstory on the whole selective process instead of the "here are the best of the best because we said so" moment. Some 14,000 aspiring influencers applied to be on the show across 50 states and out of the six chosen, two are from Los Angeles—which does beg the question on how they were actually picked.
Another gripe I had was Charles reiterating the importance of being genuine and real to your audience while at the same time, giving some contestants criticism about not being happy enough on camera. It seems to me that the idea of appearing genuine was more important than actually being genuine.
Now, the elimination process.
While I have mentioned before that I loved how personal and positive it was, I was not liking the final part where Charles would make the eliminated contestant sign off as per every YouTube video outro. There was a nice idea there but unfortunately the execution could've been better. It was really uncomfortable to see the eliminated contestant in tears and dry heaving while having to list their social media handles at the same time. It would've been a lot better for James Charles to do it himself but with the whole season already filmed in January, I don't think we will be seeing more of those in the future.
The final verdict
So, is Instant Influencer worth seeing?
I would say yes, it is especially for make-up lovers, aspiring YouTubers and growing influencers. It's a great way to peek into the usually tight-lipped industry on how things actually work.
Do I think some aspects have been sensationalised? Yes, naturally—as most US competition/reality TV shows are.
Do I think this whole show is one giant Ulta #sponsored video? Of course. That said, I do still think it's an interesting reality show to watch if you have spare time and have already exhausted your Netflix watch list.
With it being streamed free despite being a YouTube Original show, why not give it a try? New episodes air every Saturday on James Charles' channel. Watch the first episode below!
Bye sisters!
| | |
| --- | --- |
| SHARE THE STORY | |
| Explore More | |