From medieval fantasy to fluttering romances, here are some films and TV shows coming out this July that you do not want to miss out on
If you're in need of some gritty action or sentimental coming-of-age stories, be sure to check out some of these recommendations for July 2020:
When: Now on ONE (CH 393)
Welcome Ji Chang Wook back in his first drama since his military service in this rambunctious comedy with child-actress favourite Kim Yoo Jung. Based on a popular webtoon in South Korea, catch how this unpredictable love story between four-dimensional firecracker Jung Saet Byeol and the adorkable male store manager Choi Dae Hyun will unfold in the unassuming setting of a convenient store.
Pennyworth
When: Now on Warner TV (Astro Ch 712 HD / UnifiTV Ch 451)
Behind the elusive hero of Gotham is his butler, Alfred Pennyworth. Ever wondered where he gets his sage wisdom from? Well, it will all make sense when you catch Pennyworth in action (Batman is not the only one who fights bad guys) as a British SAS soldier in his youth working alongside Thomas Wayne, Bruce's father—exclusively on Warner TV.
When: 3 July on Netflix
Horror fans, this will be a treat for you! The iconic Japanese-turned-global horror icon will be showing on Netflix with a new terrifying twist. This will be the first-ever drama series of the horror franchise—and they are pulling out all the stops. Ju-On: Origins will explore how the cursed house and its terrifying mother-son inhabitants came to be, revealing the despicable acts that occurred within the four walls that will inevitably form the curse that will ensnare anyone who comes in contact with it. Check out the trailer, but only if you dare.
The World of the Married
When: July 6 on Hello HD (CH 702)
By now, we're sure everyone has heard of this South Korean drama that had us all (s)hooked. If you haven't had the chance to watch it, no worries because you'll be able to watch it on TV real soon. Ji Sun-Woo is a successful doctor and is married to Lee Tae Oh; it's the perfect marriage one could ask for... until her husband falls into a dangerous relationship. Betrayal, revenge, suspense—this drama has it all.
The Old Guard
When: 10 July on Netflix
Sometimes, immortality is harder than it seems. Just take it from Charlize Theron in this brand-new high-impact series from Netflix. Starring as the spunky fighter Andy, she leads a group of mercenaries on risky missions around the world but here's the catch: they have abilities that prevent them from dying. When a mission goes wrong, it's up to her and her comrades to track down the threats that are seeking to replicate and monetise their powers for, to put it lightly, evil means.
Little Voice
When: 10 July on Apple+
Bess Kings spends most of her time writing songs in her notebook that never see the light of day while navigating the harsh realities of adulthood, complicated family issues and rejection. In this romantic tale that celebrates the diverse musicality of the Big Apple, this story will teach us how to have the courage to use the voice that is in all of us. Oh, and did we mention this also features original music from Sara Bareilles? Sold.
Cursed
When: 17 July on Netflix
Fans of The Witcher and Outlander, Netflix has yet another captivating medieval action drama for you. Katherine Langford (13 Reasons Why) stars as the lead role of Nimuë in this modern re-telling of an age-old Arthurian legend about the powerful and tragic tale of the Lady of the Lake. She finds help in Arthur (not the King but a mercenary) in order to seek out Merlin to deliver an ancient sword. Expect some gritty warlock fights, enchanting magic tricks and good ol' medieval romance in this coming-of-age tale.
Also, can we just appreciate how cool this teaser looks? The transitions are smoother than melted butter.
The Kissing Booth 2
When: 24 July on Netflix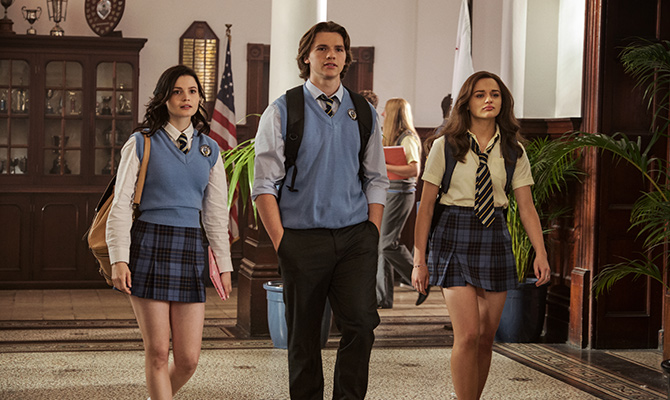 Our favourite high school couple, Elle and Noah are back in this anticipated sequel but not without any problems. Now in her senior year of high school, Elle must find ways to make LDR work, juggle the stress of college applications and a new blossoming friendship that could change everything.
When: 31 July on Netflix
We know the hunger to see our group of unlikely superheroes only grow stronger by the day. Well, fret not because you will be able to catch them in action soon. Taking off from season one's huge cliffhanger, Five will have to reunite with his siblings to stop the apocalypse from happening... but will he be too late? In the meantime, enjoy this hilarious teaser from the cast who re-enacted the iconic dance scene from season one's first episode.