Film, TV + Theatre
Emma Stone, Jenny Beavan and Nadia Stacey: Stories from behind the scenes of 'Cruella'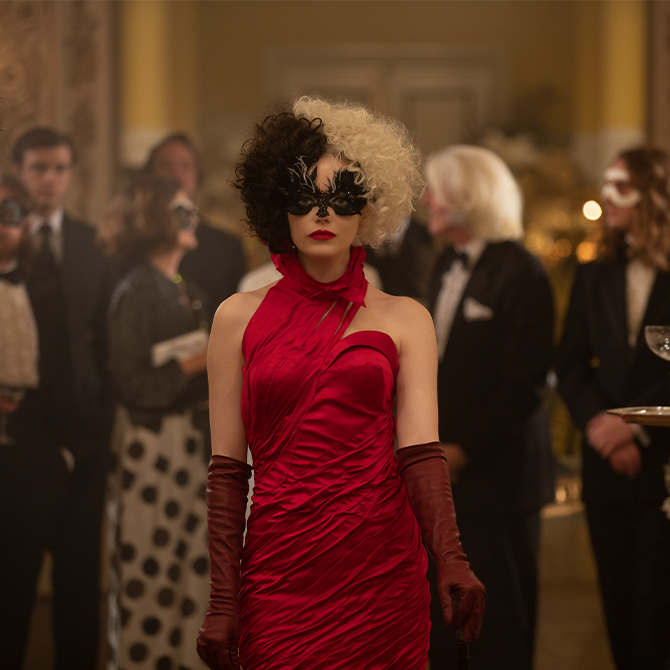 The wait is finally over! After Cruella's planned theatrical release in Malaysia was pushed back in May due to the MCO, local folks can now stream it on Disney+ Hotstar beginning 3 September.
An origin story, Cruella puts forth a fascinating tale of how the gifted but nonconforming Estella evolves into the stylishly villainous Cruella de Vil:
"Cruella, which is set in 1970s London amid the punk rock revolution, follows a young grifter named Estella (Emma Stone), a clever and creative girl determined to make a name for herself with her designs. She befriends a pair of young thieves who appreciate her appetite for mischief, and together they are able to build a life for themselves on the London streets.
"One day, Estella's flair for fashion catches the eye of the Baroness von Hellman (Emma Thompson) a fashion legend who is devastatingly chic and terrifyingly haute. But their relationship sets in motion a course of events and revelations that will cause Estella to embrace her wicked side and become the raucous, fashionable and revenge-bent Cruella."

Earlier in the year, we had the opportunity to speak to Emma Stone, Oscar-winning costume designer Jenny Beavan, and hair and makeup designer Nadia Stacey. They shared with us fun facts and trivia from behind the scenes of Cruella, as well as their experience working on the movie.
Whether you've watched it or you're planning to do so, their insights will add to your appreciation of the movie:
The dogs on set were, to Emma Stone, the highlight of filming Cruella
Unlike the older (and more unhinged) Cruella portrayed in the animated movie, this younger version likes dogs—and we don't mean for their fur. It's a trait she shares with Stone, who says her favourite part of filming Cruella was getting to work with all the dogs on set: "They were very professional and wonderful." She adds, "You're not supposed to talk to them in the voice you want to with dogs. So you have to be professional too, which was hard for me. My favourite is Buddy (Estella's pet), played by a rescue dog named Bobby who's an angel."
Fun fact: No animals—dogs or otherwise—were harmed in the making of Cruella. Disney's policy against animal cruelty also extended to not using any animal fur. In fact, most of the canine cast were rescue dogs (including Bobby, who was found on the streets), who were later adopted into permanent homes. To ensure their safety and wellbeing, some scenes featuring dogs were done using visual effects.
Oh, and the Baroness's dalmatians in the movie had bespoke collars created by a jeweller!
What she thinks of Estella's transformation into Cruella
At its core, Cruella is about the driving force behind Estella's decision to embrace the dark and twisted side of herself. Was she predisposed to violence or was it triggered by an unfortunate sequence of events? It's this exploration of nature versus nurture that attracted Stone to the role.
She elaborates, "Just because someone ends up truly evil doesn't necessarily mean they started out that way. That said, Cruella does claim in the movie that she was born bad. Needless to say, she's complicated. The idea that this character was born bad, rather than growing into it through events that had happened to her, it's pretty interesting and bold for Disney to want to tell that kind of story."
View this post on Instagram
When we asked Stone what she found the most challenging about portraying Estella's transformation into a villain, she pauses before answering, "Probably the tone of the movie and what was too big or too small, the way Estella should move into (being) Cruella, and how it was all calibrated." It didn't help that the movie wasn't shot in chronological order, so "one day you're Cruella and the next, you're Estella".
Despite this, Stone is mesmerizing in the movie as both Estella and Cruella—making each of the two characters distinct and memorable, in their own way.
The message she wants you to take away from Cruella
Cruella—and even Estella—are not typically considered aspirational characters. Anyone who has watched or read 101 Dalmatians knows what fate awaits our titular villain. Yet, there are certain aspects of Estella embracing her true self that we can take note of—just in moderation.
View this post on Instagram
Stone says: "There's a lot about identity (in this movie). As Cruella, she's pretty fully embodied and leaning into her genius, not caring anymore about what people think of her. Estella forsakes empathy in some capacity as Cruella, which I don't think is necessarily aspirational. There are two very different aspects of her personality and she's sacrificing one to lean into another. But a sprinkle of not caring so much about what other people think of you, and leaning into what you love and who you are, that's beautiful."
A whopping 277 costumes were created for the principal cast
As you'd expect from a story about designers, "Fashion was omnipresent in this film," says director Craig Gillespie in the press notes for Cruella. For those who've not seen the film, the numbers paint a jaw-dropping picture. Estella and Cruella alone have a combined total of 47 costume changes, while the other fashion maven in the film, The Baroness, has 33. Even Jasper and Horace, Estella's partners in crime since childhood, had 30 costumes each.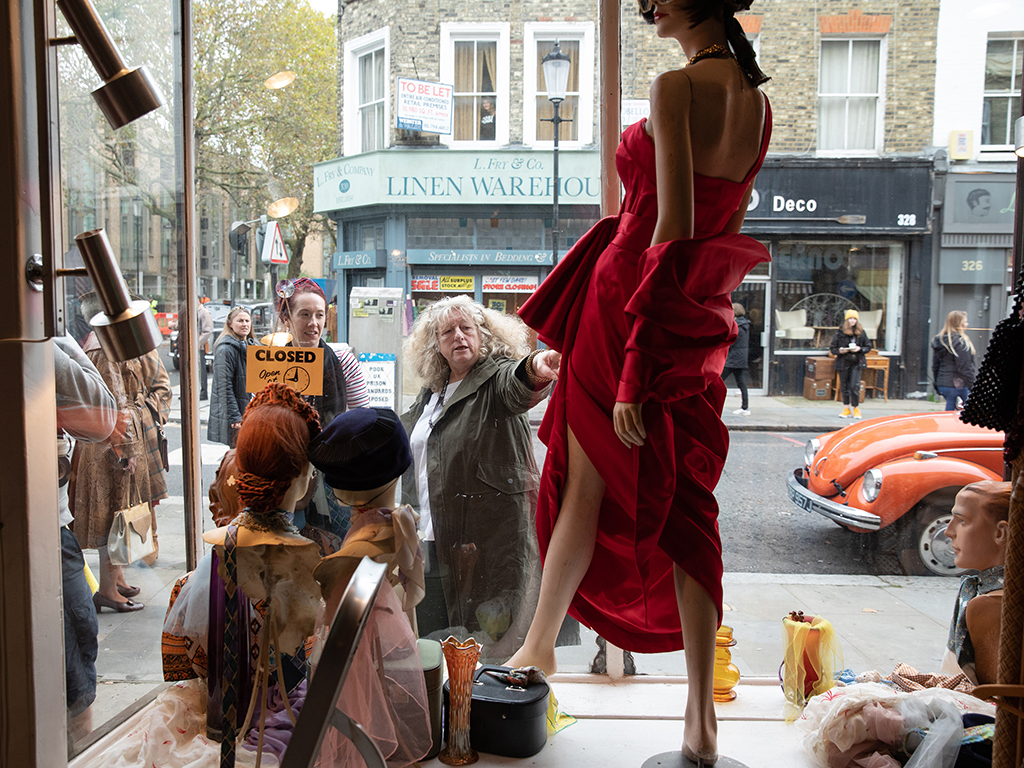 A lesser costume designer would baulk at the task, but not Jenny Beavan. The respected veteran—who has won two Oscars, for Mad Max and A Room with a View—relished the challenge and said yes after just three days of considering the job. She promptly assembled a team of designers, buyers and pattern cutters as they initially had a daunting timeline of just 10 weeks to complete the looks. "​​We gained an extra six weeks 'cause Emma Stone had a minor shoulder injury that needed a lot of rest and recuperation… (it) saved our lives," quips Beavan.
This showstopping "car dress" was one of the most challenging costumes to create
View this post on Instagram
| | |
| --- | --- |
| SHARE THE STORY | |
| Explore More | |