Film, TV + Theatre
BURO TV Guide June 2021: "Lupin", "Fatherhood", "Jagame Thandhiram", "Lisey's Story" and more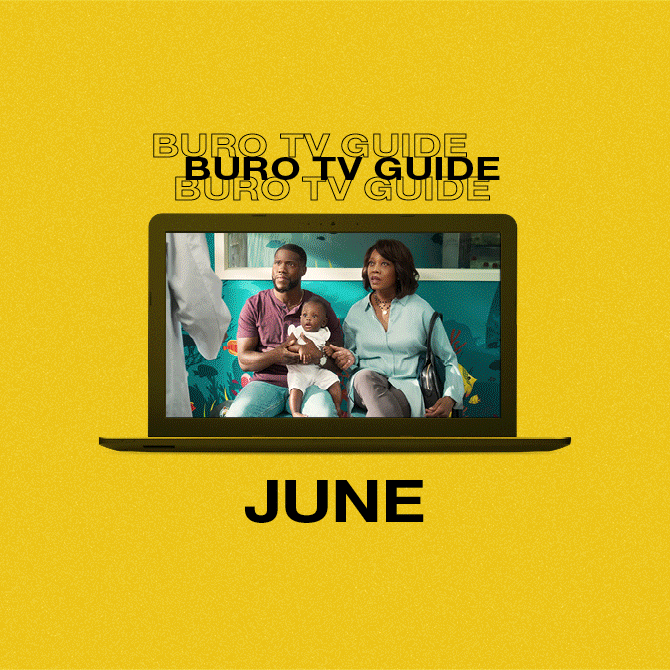 As SOPs tighten, there's not much all of us can do but stay home and binge-watch our favourite movies and TV shows. Not to worry, we have got you covered with new releases that will keep you entertained during this difficult time.
So sit back and tune in for our recommendations this month:
Lupin
When: 11 June on Netflix
Watch if: You enjoy the sweet taste of revenge
The French mystery thriller is back! Shocking revelations were revealed as Assane Diop, the professional thief set out on his quest to avenge his father's death. However, exposing the crimes of an antagonist as powerful as Hubert Pellegrini is no simple task. In season two, the odds are stacked against Assane as he tries to get revenge for the kidnapping of his son. He'll need to think of a new plan to outwit Pellegrini and get his son back. Be prepared for an action-packed spectacle.
Skater Girl
When: 11 June on Netflix
Watch if: Watching someone fight for what they want will inspire you to do the same
Prerna, a teenage girl living in rural India, finds a new purpose when she is introduced to skateboarding. A British-Indian woman named Jessica, who is played by Amrit Maghera, plans to build a skatepark in the community to "give girls the courage to follow their dreams." This heartwarming coming-of-age film looks to prove that no matter where you come from, or what gender you identify with, your dreams are never out of reach.
Fatherhood
When: 18 June on Netflix
Watch if: You're willing to go through a rollercoaster of emotions
Based on a true story, this film talks about the struggles of fatherhood through the lens of a widower. Get ready to laugh and cry, while watching the protagonist Matthew Logelin (played by Kevin Hart) navigate his way to being the father that his daughter needs. It'll be interesting to see the comedic genius Kevin Hart take on the role in a genre of film he's not accustomed to. A great watch with the family on Father's Day.
Jagame Thandhiram
When: 18 June on Netflix
Watch if: You're looking for a comedic action film
British crime lord Peter Sprott, played by James Cosmo, is looking for someone to take down a rival. Who does he find to take the job? "The most dangerous notorious gangster" from Madurai, Suruli. When Suruli arrives in London, he finds himself caught between good and evil and confronted with dilemmas about home, country and belonging. This humorous action film is one that's worth the time.
Lisey's Story
When: 4 June on Apple TV+
Watch if: You're a big fan of Stephen King novels, and like watching shows at the edge of your seat
Need a change of pace? Try watching this hair-raising miniseries based on Stephen King's best-selling novel. It's billed as a deeply personal thriller following Linsey Landon, who will be played by Academy Award winner Julianne Moore. After the death of her husband, bizarre events start to unfold, forcing her to confront memories of her marriage. This show will definitely get your adrenaline rushing.
Central Park
When: 25 June on Apple TV+
Watch if: You're in search of a nonsensical animated series
If you're a fan of the animated series Bob's Burgers, this one is for you. Made by the same co-creators, Central Park is about the Tillerman family consisting of Owen the park manager, Paige his journalist wife, and their two kids Molly and Cole. They do everything in their power to make sure the park doesn't fall into the hands of Bitsy Brandenham, who wants to fill the park with condos.
Greta Thunberg: A Year to Change The World
When: 5 June on UnifiTV (channel 501) and BBC Player
Watch if: You want to make the world a better place
Everyone knows Greta Thunberg as someone with a powerful voice. This series follows Greta on her year off school as she voyaged across the Atlantic, came face to face with world leaders, and became an inspiration to millions. We get to see life through her perspective and learn about the drastic changes that are happening to our planet, according to leading climate scientists that Greta meets along the way. Hopefully, this documentary will inspire many more to join her in saving our environment.
For May's movie and TV recommendations, click here.
| | |
| --- | --- |
| SHARE THE STORY | |
| Explore More | |