Film, TV + Theatre
BURO TV Guide July 2022: 'In the Soop: Friendcation', 'Black Bird', 'Resident Evil', and more
Your monthly streaming guide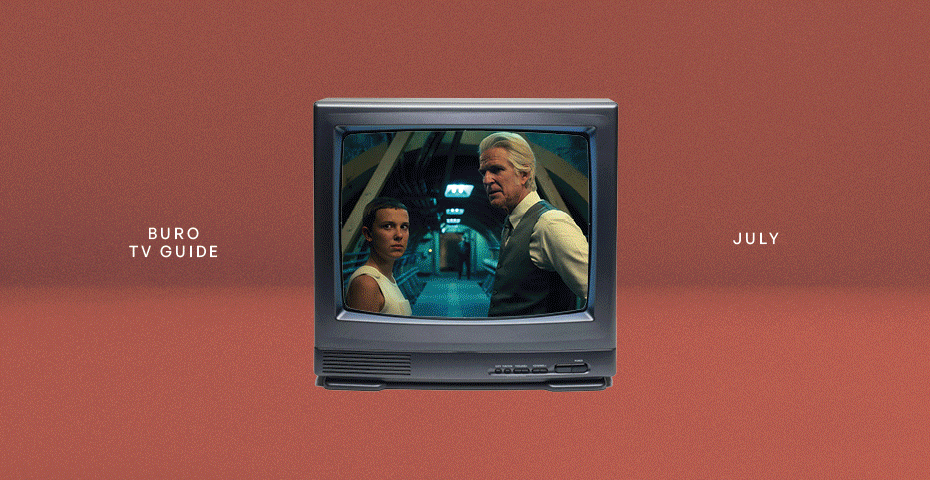 This month, follow five of the biggest Korean celebrities as they embark on a relaxing trip together, discover the thrilling story of American serial killer Larry DeWayne Hall on Black Bird, find out what happens in Stranger Things Season 4 Part 2, and more.
In the Soop: Friendcation
When and where: 22 July 2022 on Disney+ Hotstar
Watch if: You love K-pop idols and K-drama actors
Starring: Park Seo-Joon, Peakboy, Choi Woo-Shik, Park Hyung-Sik, Kim Tae-Hyung
We all love watching our favourite celebrities in their element, but have you ever wondered what they are up to when they're not? This July, follow beloved K-drama actor Park Seo-Joon, Korean rapper Peakboy, Parasite and Train to Busan actor Choi Woo-Sik, ZE: A member Park Hyung-Sik, and BTS member Kim Tae-Hyung as they step away from their busy lives together and hit the road for a relaxing, nature-filled trip. In four episodes, viewers can catch a closer look at the lives of these five famed friends away from their stardom, and simply just kicking back with their favourite pastime activity.
Black Bird
When and where: 8 July 2022 on Apple TV+
Watch if: You enjoy psychological prison thrillers inspired by real events
Starring: Taron Egerton, Paul Walter Hauser, Greg Kinnear, Sepideh Moafi, and Ray Liotta
Black Bird is an intense film adaptation of the autobiographical novel, In with the Devil: a Fallen Hero, a Serial Killer, and a Dangerous Bargain for Redemption by James Keene and Hillel Levin. It follows the dark story of golden boy turned drug dealer, Keene himself, and how he made a deal with the devil to reduce his own sentence. The deal? Discover the gruesome truth of American serial killer, Larry DeWayne Hall who is speculated to be responsible for the murders of 45 women in the 1980s and 1990s.
Watch here.
Persuasion
When and where: 15 July 2022 on Netflix
Watch if: You enjoy Regency-era romance dramas
Starring: Dakota Johnson, Henry Golding, Cosmo Jarvis, Mia McKenna
Who doesn't love a good renaissance era romance? If you've watched the fan-favourites Bridgerton and Emma, it's hard to resist wanting more saucy period dramas. Well, you're in for a treat because yet another Jane Austen novel adaptation is coming to Netflix this month! Starring Dakota Johnson as Anne Elliot, Persuasion is a story about the-one-who-got-away and the pressures of society as a woman. As Elliot's snobbish family faces bankruptcy, a charming and wealthy Captain Wentworth crashes back into her life—a former fiancé who she rejected seven years ago. Will she be able to put the past behind her and rekindle a romance? There's only one way to find out!
Watch here.
Boo B*tch
When and where: 8 July 2022 on Netflix
Watch if: You enjoy supernatural teen comedies
Starring: Lana Condor, Zoe Margaret Coletti, Mason Versaw, Aparna Brielle
Boo, B*tch is a comedy teen series that follows two loner high school senior best friends as they make a last attempt to change the narrative and live an epic life so they don't graduate with regrets. However, their Queen Bee dreams are quickly put to rest when the two gets into a car crash that kills Erika, or rather, turns her into a ghost with unfinished business. Now, she *really* has to try and live her best life (or death?) while she can.
Watch here.
Stranger Things Season 4 Part 2
When and where: 1 July 2022 on Netflix
Watch if: You've been waiting to find out if they survived the horrors of Vecna
Starring: Millie Bobby Brown, Finn Wolfhard, Noah Schnapp, Sadie Sink, Winona Ryder, David Harbour
If you've watched Season 4 Part 1, you'll be relieved to know that isn't the end. In fact, Part 2 was just released earlier this July! In two episodes, Part 2 picks up where The Massacre at Hawkins Lab left off with Vecna showing Nancy Wheeler a vision of the future where Hawkins is torn apart before releasing her to send the message. Determined to enact his plan, Vecna seeks one more victim in order to open the four gates. Will the Hawkins heroes manage to save the world once again? Or will we lose another character? And will Max be OK?!
Watch here.
Resident Evil
When and where: 14 July 2022 on Netflix
Watch if: You're a fan of the Resident Evil franchise
Starring: Ella Balinska, Lance Reddick, Siena Agudong, Turlough Convery, Connor Gosatti
Nearly three decades after discovering the T-virus, a viral outbreak that caused a global apocalypse, Jade Wesker vows to bring down those who were responsible while fighting to survive the Infected in New Racoon City. Haunted by her past lost loved ones, her efforts for justice in a world overrun by violent creatures won't be so easy.
Watch here.
Surface
When and where: 29 July 2022 on Apple TV+
Watch if: You enjoy mystery psychological thrillers
Starring: Gugu Mbatha-Raw, Ari Graynor, Oliver Jackson-Cohen, Stephan James, Millie Brady
After suffering a traumatic head injury, Sophie was left with extreme memory loss that is believed to be the result of a suicide attempt. As she embarks on a quest to put the pieces of her life back together with the help of her loved ones, she realises there's more to her suicide than what she has been told. Surface is a story of self-discovery that questions our true identity through a thrilling psychological drama with twists and turns and a shocking love triangle.
Find more shows to add to your watchlist here.
| | |
| --- | --- |
| SHARE THE STORY | |
| Explore More | |