Ladies and gentlemen—another day, another excellent set of rankings courtesy of my mum. If you haven't checked it out yet, we recommend you start this journey by reading up on my mother's definitive list of Korea's leading lads.
READ: All the best K-drama actors from this year—as ranked by my mother
Why? Well, today we're tackling the leading ladies on her screen. If you read part one of this little series, you'll probably have all the context you need, but just in case you missed it, here's the TL;DR version.
Meet my mother, an enthusiastic and passionate (but novice) K-drama stan.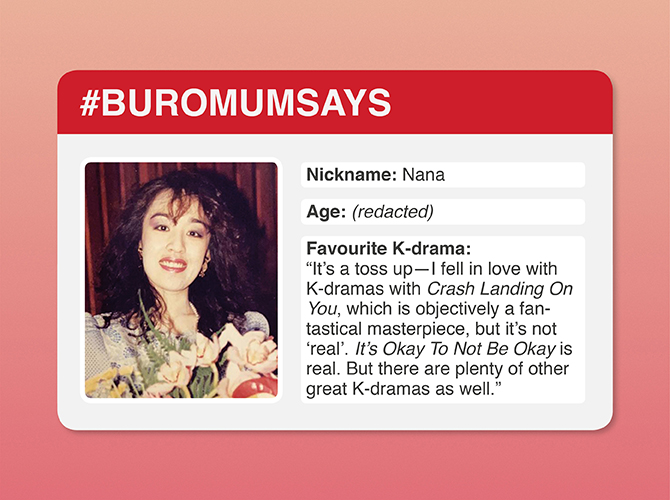 She has quickly become the Korean entertainment industry's biggest expert (don't look that up)—over the course of this COVID-19 pandemic, she has consumed an immense quantity of K-dramas, and devoted endless time and energy to her extra-curricular research (AKA looking up interviews with her faves on YouTube).
Don't get your wires crossed, though—the woman may be a fan, but that doesn't mean that she's not an objective critic. Give her 10 minutes to break down the best and brightest in Korean entertainment right now and she'll deliver.
Ahead, find her list of the best actresses in K-dramas right now, based on acting skill (mostly).
#1 Son Ye-jin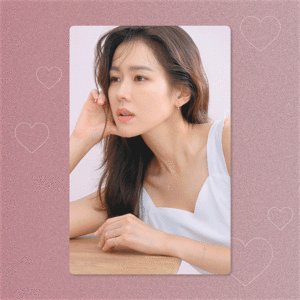 "She is my number one favourite. She's a darling. Her acting is superb. Superb. In The Last Princess, she was the only one carrying the show."
To the supporting cast of The Last Princess: I'd like to apologise on behalf of my mother. I'm sure you all contributed greatly to the success of the show. It's nothing personal—my mother just loves Son Ye-jin.
#2 Seo Yea-ji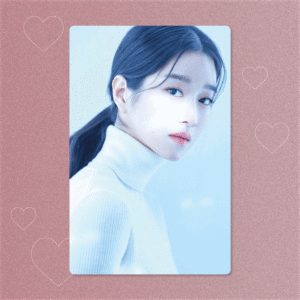 "She was in It's Okay To Not Be Okay. It was amazing, and I loved her. I fell in love with her because she's beautiful, but she's also real—you know how some people are beautiful but they don't have that much in terms of acting chops? This girl isn't like that. She is just amazing."
Is it really my mother if she doesn't bring up It's Okay To Not Be Okay at least once in an interview? No—consistent as ever, my mum knows what she likes and she seldom strays.
#3 (tied) Jun Ji-hyun, Kim Tae-hee, and Song Hye-kyo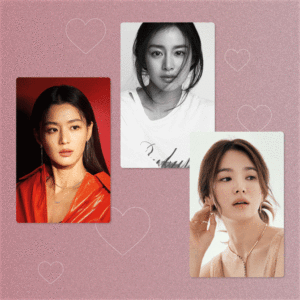 "They're all beautiful. I just love watching them because they're beautiful. There's actually a famous term used to describe them: The Troika (Tae-Hye-Ji).
"Jun Ji-hyun is hilarious. She was in a show with Lee Min-ho called Legend of the Blue Sea; all these top stars have been with Lee Min-ho. That's how you know they've made it. Oh! She was also in My Love from the Star with Kim Soo-hyun, and he's another top gun.
"I've seen Kim Tae-hee with Byung-hun in Iris—she was very much younger then so Byung-hun was the one who dominated the screen. He always has the most beautiful costars."
As for poor Hye-kyo, mum had no further comment. You'll have to forgive her—she was quite distracted. At this point, she was trying to swipe up on my non-touchscreen laptop, and couldn't work out why the page wasn't scrolling.
Boomer.
#4 Gong Hyo-jin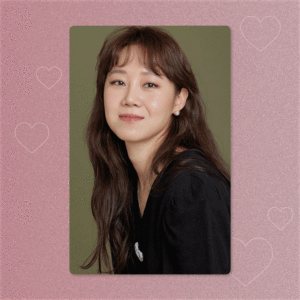 "She is Son Ye-jin's friend and she is good. I've seen her in The Producers with Kim Soo-hyun and I've also seen her in When the Camellia Blooms. She's just an excellent actress. She really grows on you. Though I thought she was cute when I first saw her, after watching The Producers, I really thought: 'Oh my gosh, she really is beautiful.'"
Here we see a truly seasoned fan—mother loves Miss Gong for her incredible work, not because she's friends with her #1.
#5 (tied) Park Min-young and Kim Ji-won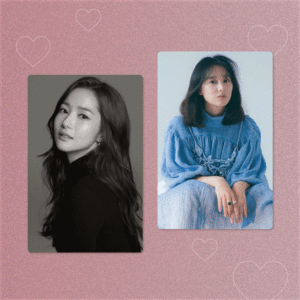 "Both Ji-won and Min-young were with Park Seo-joon in Fight For My Way and What's Wrong With Secretary Kim. They're hilarious and they're beautiful girls. You know Kim Ji-won plays a lot of secondary leads, so she was also with Song Hye-kyo in Descendants of the Sun and I just thought she was so beautiful. Not much acting chops in Descendants of the Sun because Song Hye-kyo just took all the limelight, but this girl with Park Seo-joon in Fight For My Way was superb. I loved her."
Mama tells it like it is—if you lack the gams, she'll tell you to your face.
#6 Kim Go-eun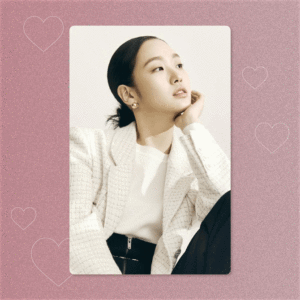 "She's a good actress, she was in 'Galaxy', wasn't she? The Guardians of the Galaxy?"
NOTE: She was not in 'Galaxy'—that's not a real show. She also wasn't in Guardians of the Galaxy, which is a real film that stars Chris Pratt and not Kim Go-eun. What she really means is that she was in Guardian: The Lonely and Great God.
"She was also with Min-ho in The King: Eternal Monarch, but she's fairly one-dimensional acting wise. She always plays one character."
Brain fart aside, mother delivers yet another hot take. Sorry, Kim Go-eun—you're good, but you've only just scraped into the ranks. Better luck next year, eh?
So, what do you think of Mother Nana's picks—agree or disagree?
Find more TV and film stories here.
| | |
| --- | --- |
| SHARE THE STORY | |
| Explore More | |