Barely a few days since gracing silver screens around the globe and Oscar buzz is already mounting. Jackie is a poignant biographical retelling of the days surrounding the assassination of President John F. Kennedy with the lens acutely focused on his widow and the eminent First Lady, Jackie Kennedy.
Between the outstanding performance by Natalie Portman as the titular character and the impeccable wardrobe by Madeline Fontaine—best known for her work in Yves Saint Laurent (2014) and Amélie (2001)—Jackie is the most intimate glimpse behind the veil of the icon and style legend whose legacy lives on till this day. Here are 7 moments where art imitated life:
1. From the tousled bouffant that became intrinsic to the Jackie O style file to the way the muted red lips match the shade of crimson in the wide-necked sleeveless bodices; the first match-up represents the iconic class embodied by Jacqueline Kennedy.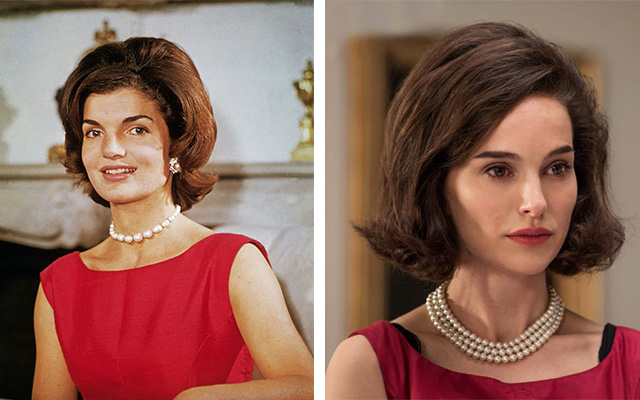 2. Second on our list, the pink suit with the pillbox hat that witnessed a national tragedy—the JFK assassination. A critical feat to get details just right, the costume department even got Chanel's help to procure the perfect buttons.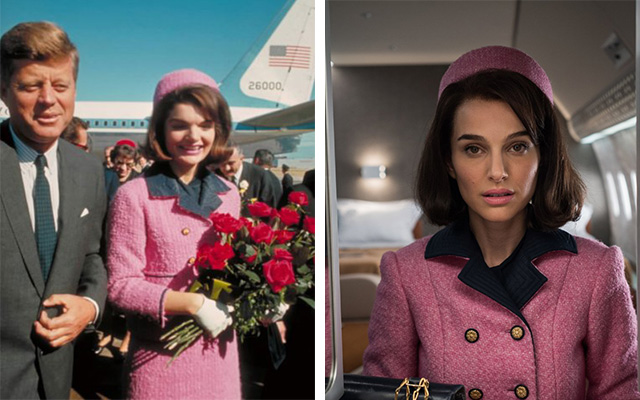 3. Portman's mourning veil made of aureate black lace was undoubtedly inspired by that worn by the late Jackie Kennedy Onassis as she mourns the loss of her brother-in-law, Robert F. Kennedy.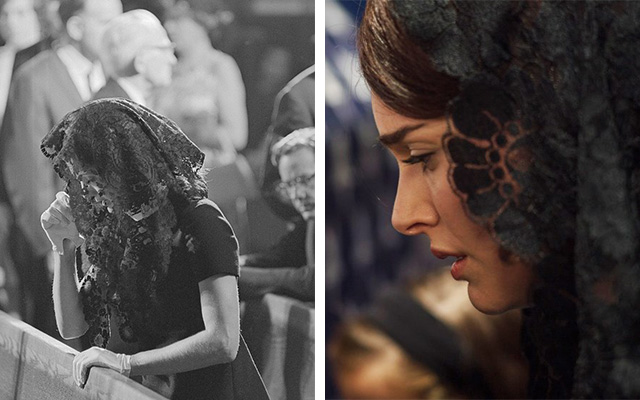 4. Never one to shy away from colour, ensembles in single statement tones were often favoured. Pictured here, a demure seafoam gown worn by Mrs. Kennedy to the opera is reinterpreted for the silver screen with cap sleeves but the same elegant cutaway roll collar.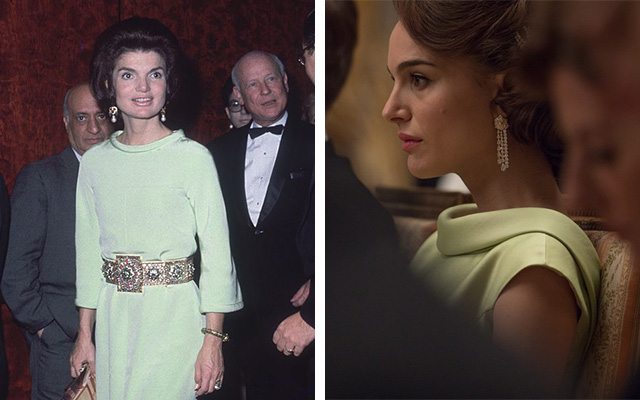 5. The next match-up of a white 'neckerchief' adorning the lapels of pale brown coats offers another trend to cop from the Jackie Kennedy style arsenal that has stood the test of time—an effortless silk scarf around the neck.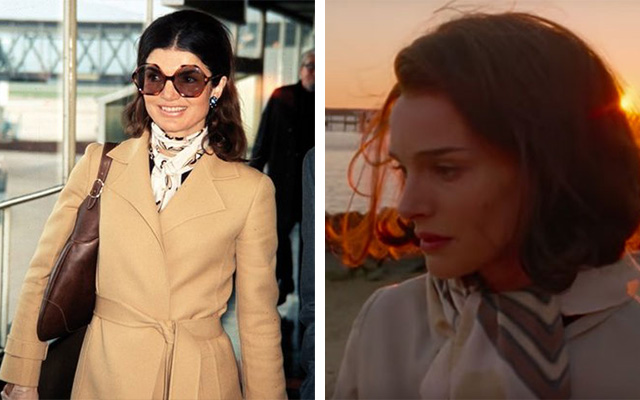 6. During the funeral procession after the tragic asassination, a billowing chiffon veil was all that stood between a grieving Jackie and the eyes of the world. Notice how every detail down to curve of the hat and the tasseled buttons are replicated perfectly.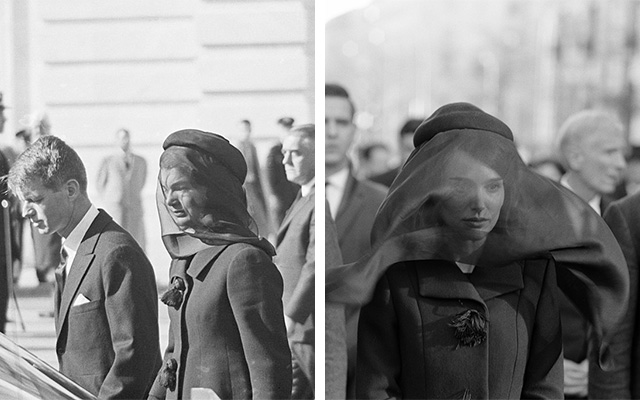 7. The final comparison: Clad in an immaculate red suit—a replica of the original by Dior—and Jackie's signature three-tiered pearls as seen in the picture taken during the 1961 recording of the documentary film, A Tour of the White House, Portman stands in character; capturing the same distant gaze with the faintest hint of a tentative smile.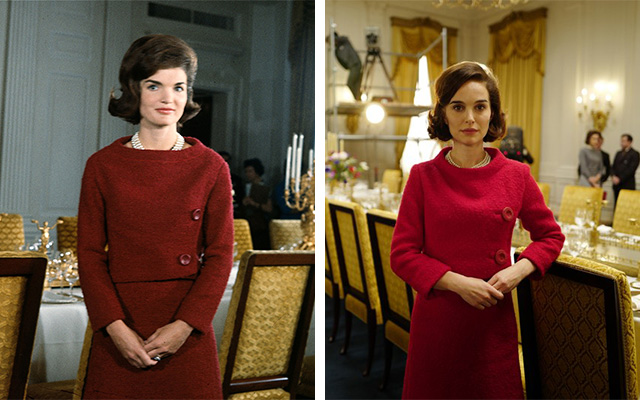 Jackie aired in theatres internationally on 2 December 2016 to rave reviews. The screening dates for Malaysia have yet to be confirmed.
Related stories:
Four good reasons why Emma Watson is the perfect Belle
5 most talked about movies coming out this Dec 2016
5 New movie trailers to get you excited about date nights in 2017
| | |
| --- | --- |
| SHARE THE STORY | |
| Explore More | |