Art + Design
Malaysian contemporary artists you need to know (Part 2)
Rising up the ranks of the art world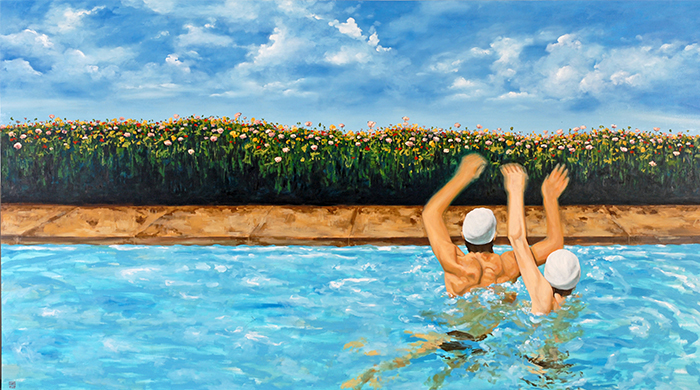 Ahmad Fuad Osman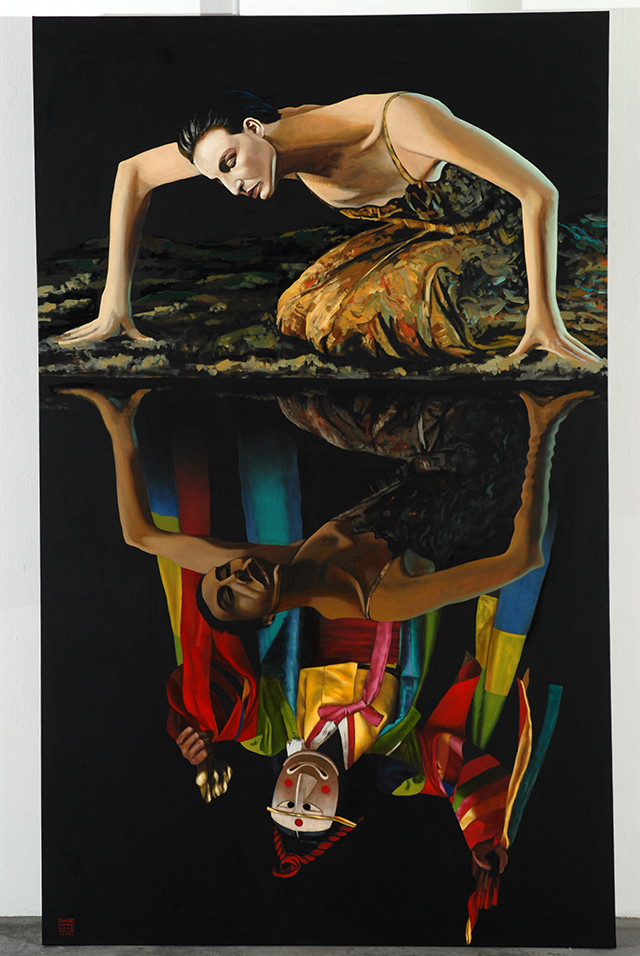 Ahmad Fuad Osman exploded onto the contemporary Malaysia art scene in the early 1990's with a multi-disciplinary approach that highlights his message "Concept is King." This reverence for the philosophies behind his creative process are evident in seminal works such as Mr D's Last Meal and Recollections of Long Lost Memories. Effortlessly working across several genres, including painting, sculpture, installation, video and performance, he is seen as a true Renaissance man, whose commentaries on identity and history are underscored by a Sufi atmosphere. Due to his non-prolific nature, Fuad's works are a rare treat, but can currently be viewed in the group exhibit, The Space Between, at the Wei-Ling Gallery in Kuala Lumpur.
Azad Daniel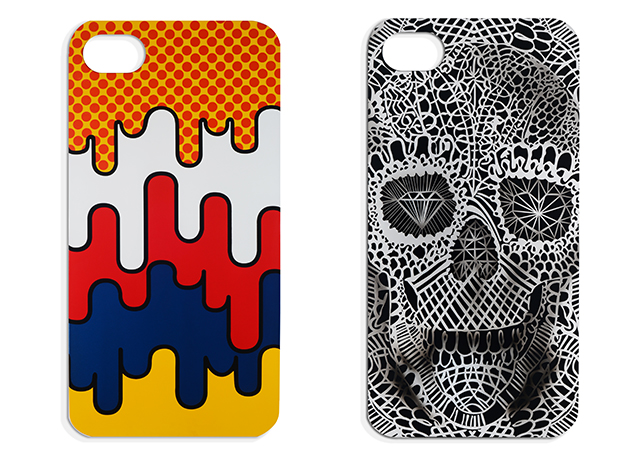 A pressing concern in the increasingly digital and globalised world today is that of the culture of consumerism. Young artist Azad Daniel looks to open up discourse into the role of commercial consumerism and its impact on a developing Asian culture with his high gloss pop art paintings. Azad's intellectual analysis of the rapidly changing landscape around him is matched perfectly by his inventions in the genre of paintings, as he transforms the medium by using car paint to work on cement primed surfaces. His inventiveness is perfectly complimented by a dry wit, as seen in his recent series of iPhone cover works. Fans of his highly current practice are now eagerly anticipating Azad's inaugural solo to be held in the last quarter of 2015 at Artcube Gallery.
Azrin Mohd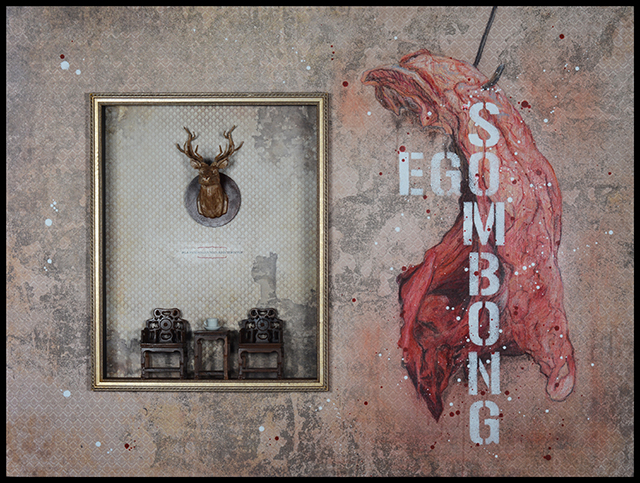 A fast rising star in the art industry, Azrin Mohd is known for his series of wall installations featuring dioramas filled with a plethora of miniature objects. Where most assemblage artists work with found objects, Azrin differs in his preference for hand making all the elements included in his pieces. Thus, he is able to tailor his visual to specifically match his concept, as seen in works such as Rezeki and Bacon, A Terrible Beauty. In adding a new dimension to the art of assemblage Azrin manages to create highly personal narrative responses to local issues of culture, economics and politics that resonate strongly with a new generation. At present Azrin's Art Of War series can be viewed at G13 Gallery, where they form part of the Medium Weight group exhibition.
Multhalib Musa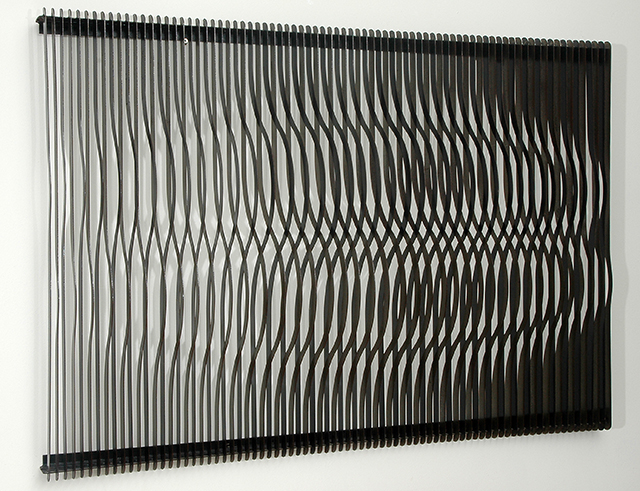 Multhalib Musa's architectural training provided the perfect springboard into a career as a sculptor. Blessed with an innate understanding of three-dimensional spatiality, he has gone to create a series of clean, kinetically influenced sculptures that have won him several awards. Drawing inspiration from the geometry that exists in nature and two-dimensional planes, works such as Involute I and Involute II mirror the architectural developments of Kuala Lumpur. As such Multhalib's laser cut sculptures are regularly commissioned for several public spaces within Malaysia. Sculpture enthusiasts can catch a glimpse of his clean cut aesthetic in various areas around the capital, most notably in the lobbies of the Hilton Hotel Sentral, Grand Hyatt Kuala Lumpur and Prince Court Hospital, as well as in the open green spaces of Lake Gardens.
Suhaimi Fadzir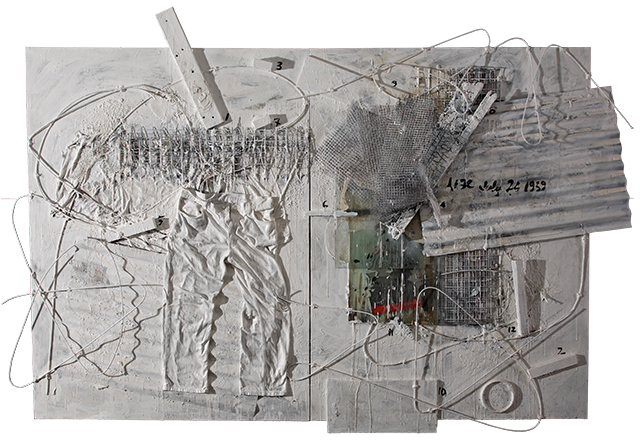 Contemporary art looks favourably on artists who discover new ways of working, such as Suhaimi Fadzir. Inventing an independent style dubbed archipainting, he merges architecture and paintings to create large scale three-dimensional works that leap energetically off the walls. In 2010 Suhaimi's Recycled Toys and Found Objects was exhibited alongside famed photographer Ansel Adams in America. Since then he has shown at several international spaces including the Saatchi Gallery and Dublin Biennale with a series of works that push the technical boundaries of his formal art practice to offer viewers a fresh art experience. His latest wall installation, I Will Ride With You, on display at Grande II exhibition at Core Design Gallery, is a wonderful example of the addictive quality that resides within his truly contemporary pieces.
| | |
| --- | --- |
| SHARE THE STORY | |
| Explore More | |