Italian artist, Daniela Forti dazzles us with her inventive and mesmerising work
What do you get when you mix the old with the new? Well, if you're Daniela Forti, it's a series of dripped glass sculptures. The Italian artist uses a unique glass-fusion technique to delicately craft her artwork that is referred to as 'sculpture installation'. Her glasswork method blends glass with crystal, which she then manipulates to create one-of-a-kind glass formations characteristics of her ongoing series of luminous glass jellyfish sculptures.
Each of the table-like piece features Daniela's innovative play with light and fluidity, expertly capturing the graceful flowing and floating nature of the aquatic creature. With a network of tangled tentacles, the dripping glass acts as a structural support whether to be viewed as a functional table or experimental art piece.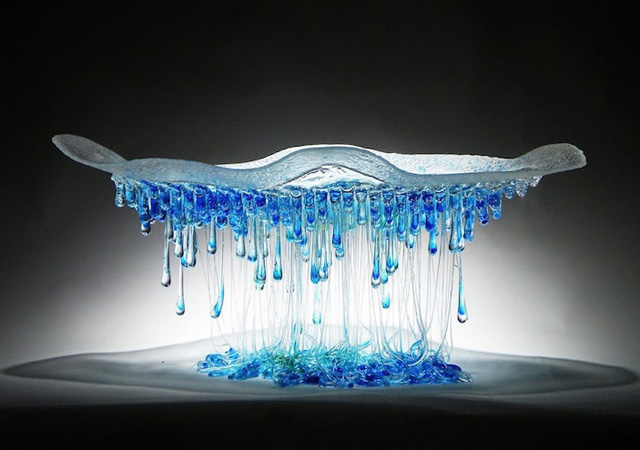 "Glass-fusion fundamentally means to construct new glass from a solid state, assembling various piece which, upon contact with heat varying from 800 to 850°C, become so fluid as to profoundly meld themselves in an irreversible manner," explains the artist on her website. "The cooling process is quite slow in order to permit total reorganisation and the recuperation of the molecular stability that the materials possessed before being heated."
Related stories: 
Yayoi Kusama Museum set to open in Shinjuku, Tokyo this October 2017
Buro Tries: Patch Your Clutch workshop at FabSpace KL