Frieze L.A.'s inaugural edition marks a sunny start for the prestigious art fair on the West Coast
Despite a thriving gallery circuit, L.A. hasn't had the best of track records when it comes to art fairs. Paris Photo held only three editions in the City of Angels before pulling the plug, while French art fair FIAC announced an L.A. edition but scrapped its plans before the first edition took off. Art Los Angeles Contemporary (ALAC) marks its 10th edition this year, but one can't quite say it's the gathering point for the very top tier of the world's art galleries.
"Over the last five years, the art world has really continued to grow here, and the only thing it lacked, really, was this kind of moment to celebrate that extraordinary cultural scene," Frieze Fairs director Victoria Siddall tells Artsy in an interview. "It's a city that had all the right ingredients; it just didn't have that moment to tie it all together".
Naturally, all eyes were on Frieze's debut in Los Angeles, with anticipations running high for the prestigious art fair to inject that oomph into the city's art calendar.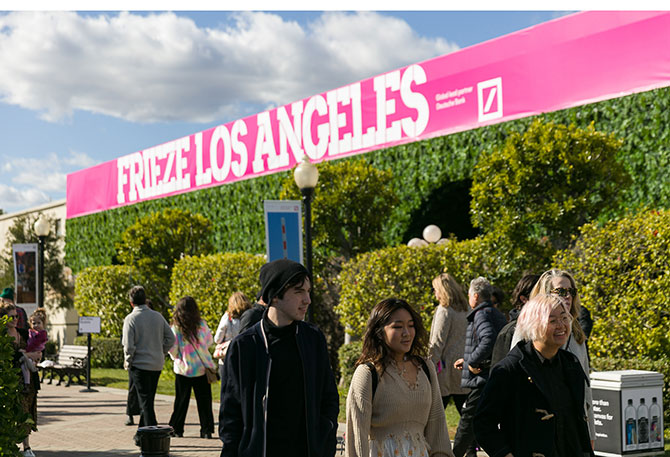 It's safe to say Frieze Los Angeles delivered. The inaugural edition kicked off to great fanfare last Thursday at Paramount Pictures Studios, where the VIP opening was graced by Hollywood elites including Brad Pitt, Jodie Foster, Michael Keaton and Leonardo DiCaprio, on top of some of the world's biggest collectors. Under the fair's signature white tent—designed by L.A.-based architect Kulapat Yantrasast—was a lean selection of 70 galleries; a modest size in contrast to the usual 160 and 190 exhibitors in London and New York respectively. 
The concentrated, perhaps careful, approach bode well for the fair. If it's a numbers game, Frieze L.A. passed with flying colours. By the end of the fair on Sunday, many galleries reported sold-out booths, with a number of notable big-ticket sales to boot. This includes Yayoi Kusama's Infinity Nets (B-A-Y) (2001), which was sold by Lêvy Gorvy with an asking price of $1.6 million. 
Beyond the gallery tent, Frieze Projects took over the Paramount's New York Street backlot, allowing artists to transform the artificial city setting with site-specific artworks that ranged from sculptures and installations to performances. Among the most photographed projects were Hannah Greely's High And Dry (2019), featuring hand-painted, cartoon-like clothing, rainbows and clouds pegged onto clotheslines between buildings, and Paul McCarthy's larger-than-life Daddies Tomato Ketchup Inflatable (2007). 
It's official: this won't be the last we see of Frieze L.A. "We're here for the long term", said Siddall, adding that the art world should mark their calendars for the sophomore edition in February 2020. Planning a trip to Tinseltown? Perhaps this is something you'd want to take note of too.