You've visited and taken photos of the gorgeous cafe they've designed—now meet the talented minds behind your favourite aesthetic coffee spots in the Klang Valley
Cafe culture in the Klang Valley has never been greater than it is today, with many of the best cafes in the Klang Valley having not only great food and drinks but aesthetically pleasing interiors too—because who doesn't love a pretty background for the much-needed update across socials. While many feature stunning and cosy designs, some so much to the point where half their allure comes from the Instagramable layout, we wonder about the process that went into creating these aesthetic spaces and more specifically, who is behind them.
Curious to know which creative genius is behind the decor of your go-to coffee spots and foodie destinations—and which of these share the same designer? Keep scrolling to know more about six local design studios and the spaces they've created:
1) CocoKacang
Behind the likes of the Instagram-famous layouts of Three Years Old in Bukit Bintang, V88 Bar and Cafe in Desa Park City, and most recently, Fung Wong Biscuits in Petaling Street is CocoKacang, headed by interior designer and architect Amy Liang. The studio's debut cafe project, Breakfast Thieves in Bangsar, has been a mainstay within the brunch-going community of KL for delicious bites and coffee served in a comfy, sunlit space.
Over the last few years, CocoKacang has cut an impressive portfolio, with many of the studio's most notable previous projects featuring pale wood details, light neutral and occasionally pastel colour palettes, and serene foliage inclusions—all the necessary elements for an aesthetically pleasing cafe that offers tasty food and beverage selections, as well as the perfect backdrop for your next post on the gram.
2) Pow Ideas
Saw some beautiful landscaping or lighting details at your favourite cafe? There's a chance that the design collective Pow Ideas are the masterminds behind it. Founded by Melbourne-and-London-trained designers Kyle E and Jun Ong, Pow Ideas displays meticulous use and choice of materials, often mixing more natural elements such as rattan, greenery, and various varieties of wood with more modern and industrial components like unique light fixtures and steel detailing—just take a look at Merchant's Lane, Table and Apron, and Wolf and Turtle!
Additionally, Pow Ideas has contributed to the vibe of multiple other restaurants, bars, and event spaces around the city, with Kaiju, The Swimming Club, and Proof Pizza + Wine being some of the most well-known names. It seems that no matter the type of space the studio works on, they definitely do their name justice and come in with a 'pow'.
3) Mentahmatter Design 
If you're familiar with Le Pont Boulangerie and/or Chocha Foodstore, you'll be interested to know of design firm Mentahmatter, founded in 2012 and led by design and architecture duo Shin Chang and Penny Ng. The studio's multidisciplinary design principle is easily observed in the contrasting styles of Chocha and Le Pont—the former features a lesser seen, somewhat yesteryear presentation with open-air spaces, vintage floor tiles, in addition to organic and raw details; the latter boasts a slightly more modern and commercial atmosphere in its clean concrete edges, bright indoor lighting, and warm wood tones.
Mentahmatter is also behind Insta-popular ice cream store Licky Chan. While not a cafe per se, this fun and bold-coloured space is one that any city explorer will recognise. If you're a fan of home interiors, you'll also be pleased to know that much of the studio's best work comes from their resort and residential projects.
4) Seshan Design
Based in Petaling Jaya, Selangor, Seshan Design's portfolio includes a few familiar names—do Birch, Huckleberry or The Farm and Foodcraft ring a bell? The design studio prides itself on producing unique and top-notch results through thorough discussions with clients. If you've ever been to any of the eating spots listed, you'll know this is tried and true.
Seshan Design's spaces often sport a sleek, modern look incorporating marble and wooden surfaces, minimalist light installations, and tasteful hanging plants. Large glass windows are another common feature, lighting up spaces and bringing in the outdoors for a less claustrophobic environment while you chit-chat with loved ones over dainty delicacies.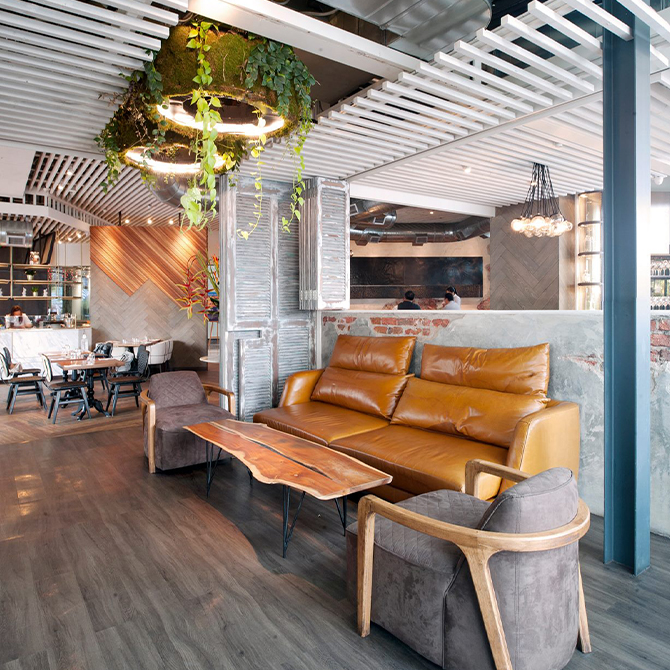 5) Ideation by Forefront
You've probably been to one of Ideation by Forefront's projects if you keep close tabs on Klang Valley's cafe scene. The interior design branch of Forefront International started out in 3D visualisation for renowned property developers before getting to flex their eye for beautiful interiors with Forefront's first F&B venture, Foremula—a clean, bright space utilising brass finishing to evoke a classy dining environment reminiscent of Australia's brunch scene.
Gilded details are one of their signature elements that you'll also spot at Therefore, where the warm yet delightfully contradictory colour palette creates a whimsical ambience reminiscent of Wes Anderson's Grand Budapest Hotel. Also noteworthy is Forebidden, a gastropub in which the oriental look is given a modern spin befitting its cheeky wordplay on Beijing's Forbidden City.
6) Newcleus
Founded and led by Melbourne-trained architects Nee Wong and Yee Cheng, Newcleus pushes the boundaries of interior design by exploring different materials, colours and geometry to create a distinctive contemporary look. The team places emphasis too on spatial value and craftsmanship, visible in their work in collaboration with Studio Wen for Oh Cha Matcha's flagship store in TTDI. There, strategically placed pampas grass and Oh Cha Matcha's brand colours—pastel pink and matcha green—soften the corrugated sheet and tile grout lines used to define the space's architecture.
Newcleus is also behind the soothing, homey interior of Oh Apong in Kota Damansara. The ice cream cafe's decor features a ceiling installation where warm-toned fabrics are suspended to create a second ceiling that improves the acoustics of the space. The design studio has crafted installation art too for Gamuda Gardens and Urbanscapes Festival, among other projects.
Website | Facebook | Instagram
Check out: 10 Aesthetic new coffee bars and cafes in KL to grab your daily caffeine fix