A host of exciting events will be available at Starhill Gallery as it celebrates its annual international watch and jewellery exhibition. Besides the showcase of rare private collections, first-in-market editions, and exquisite pieces by the world's leading watch and jewellery brands, a luxurious culinary experience awaits at Feast Village's most ethnically diverse restaurant, Shook!. A special tasting menu that features beautiful and intricate plates designed by newly appointed Executive Chef Richard Sawyer and showcases his extensive culinary background will be available throughout the week.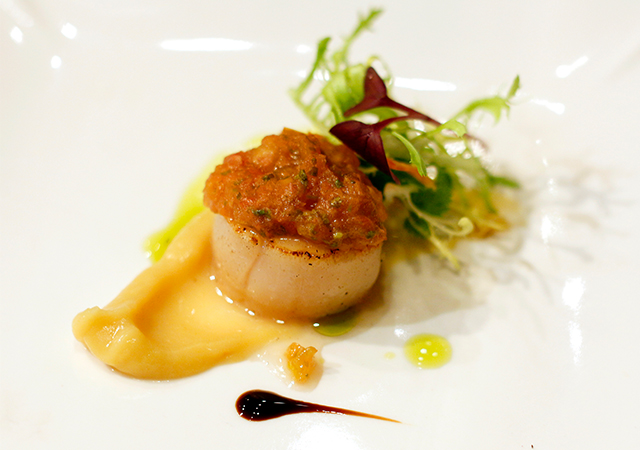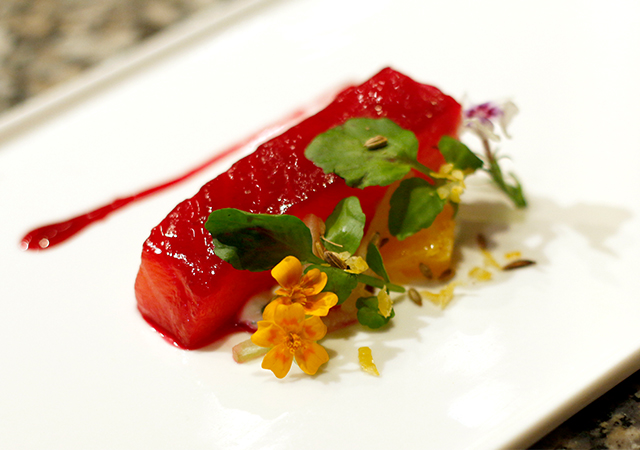 Among the newly created dishes are the appetisers of Seared Maine Sea Scallop that is topped with a saffron infused cauliflower mousseline, watercress and hazelnut vinaigrette, and the Beetroot Cured Salmon that is served with dill creme fraiche, toasted fennel seeds, watercress and lemon zest. Scallop lovers will delight in the bursting flavours of the Seared Maine Sea Scallop as the scallop is perfectly seared and the toppings do not overpower its flavours. However, during our tasting session, we particularly enjoyed the Beetroot Cured Salmon as it is a novel way of preparing salmon, which takes away its fishy flavour and gives it an almost jelly-like texture and when combined with the different toppings, it was a textural delight.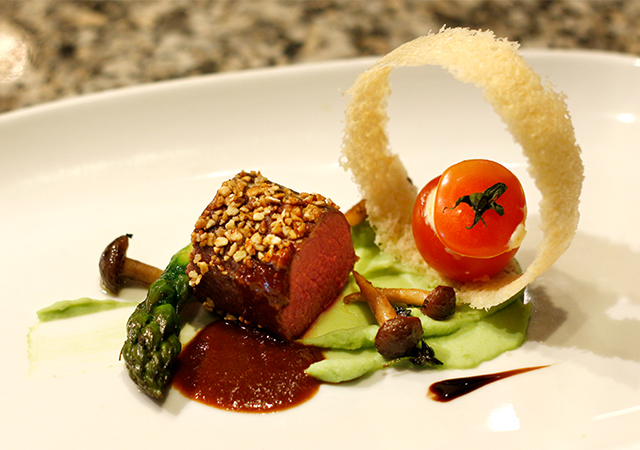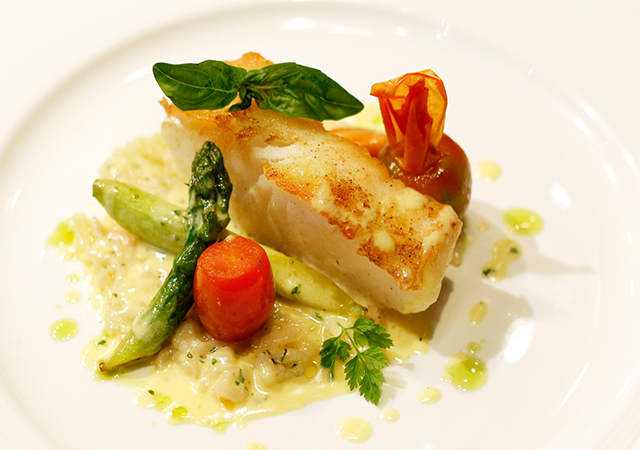 The main course offerings do not disappoint with a Roasted Australian Lamb Loin served with a fresh rosemary edamame puree, a delicious baked stuffed cherry tomato and topped with a balsamic fig glaze which balances the dish with some moisture. A Baked Fillet of Cod with Herb Risotto accompanied with green asparagus, Australian Mussels, and topped with saffron cream is also available. The fragrant herb risotto on this dish perfectly balances out the oily flavour of the cod.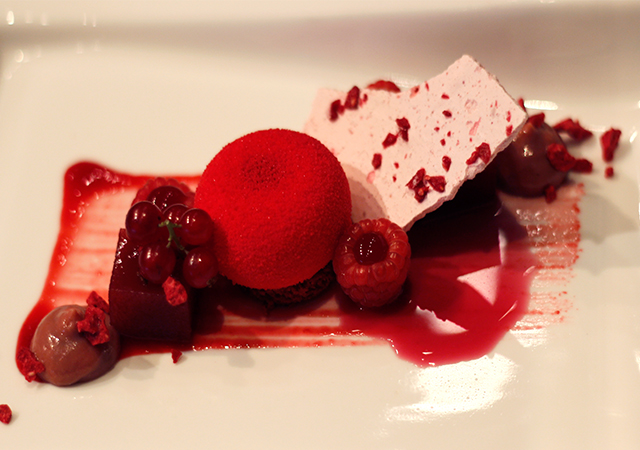 For dessert, we would recommend the Red Velvet Morello Cherry as it a red velvet dessert like you've never seen before; beautifully arranged on a plate with mousse, beetroot whipped foam, freeze dry strawberry tiles, rose jelly, and fresh raspberries. Every bite of this dish offers a different texture and flavour, from crispy to smooth and from sweet to sour, which will convince you take your time with it and enjoy its complicated layers.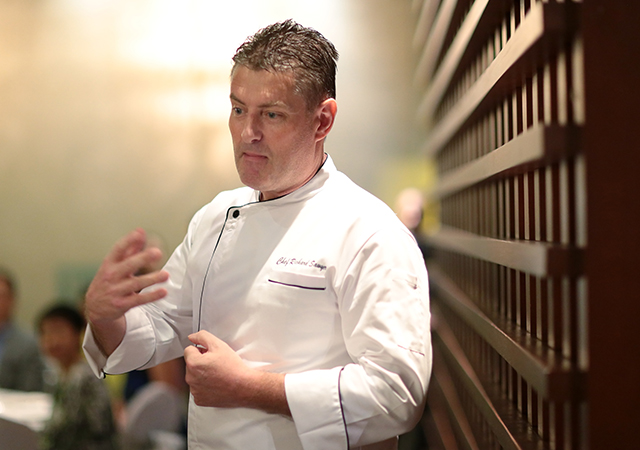 We sat down with Chef Richard to discuss his 26 years of culinary experience, his favourite flavours, his cooking style and the newly created menu.
Tell us more about culinary experience.
I started in my hometown in 1989 and moved to London in 1991 and joined the Four Seasons in Park Lane. So, the Four Seasons was my first proper job. And then, different restaurants in London for about 12—13 years. After that, I decided to do my own thing and moved out of London to open my own restaurant. A couple of years after that, I decided to open my own restaurant in America so I did that in Florida. After that, I was back in London and worked at The Wolseley, a quite well-known restaurant that was very busy. And I moved to Asia in 2008 and joined Hyatt Regency in Hong Kong, then moved to the Grand Hyatt in Macau in 2012, and now here I am in Malaysia, for the first time ever.
How do you like Malaysia so far?
So far, so good. But I'm missing my bacon.
How has working in Asia influenced your cooking style?
Well, I think living here you get to travel. Living in Hong Kong was my first time in Asia ever and since then I've been to Thailand, China, Singapore, the Philippines. And doing that, you eat in local places and its helped me to understand Asia as a whole and all diversity that you have here, all the different flavours that you have here, different ingredients, and all the techniques in cooking. That opened my eyes up, coming from Europe, there is good cooking with the French and Italians, but Asia is very different with all the different spices. So, it really opened my eyes up as a chef, but also as a person who likes to eat, you learn a lot, and that has been a good thing.
What is an ingredient that you cannot live without.
Eggs.
Is there a food that you hate?
Chicken feet and duck tongues.
Where do you draw your inspiration from when you cook?
Just from travelling, from home things like my mom's love for food, family dinners when I was a child. But mostly travelling from not only Asia but also Europe and America. I once worked in Germany as well and learned different cooking techniques from there. So, it's a whole mixture of what you pick up along the way over the years.
If you had to choose a favourite cuisine, it would be…
I like Thai and I like Indian as well.
What is the most memorable experience you've had as a chef?
There's quite a few. I think they are mostly things that I don't get to do on a day to day basis. Last year, I had to do a private function where we had Jennifer Lopez come to do some singing for 24 people. Few years ago, I did a private chef's thing for Hollywood actress, Eva Longoria in the South of France. So that sort of things make it a little bit more exciting.
If not cooking, what would you be doing?
I would have joined the army. I was 16 or 17 when I decided to take up cooking.
What is the most complicated dish on the new tasting menu?
It's the Red Velvet. I wouldn't call it complicated, it is just a lot more things to assemble and just having everything ready like the pastry and all that.
The newly curated menu by Executive Chef Richard Sawyer will be available in Shook! from 20–27 November 2015 only.
| | |
| --- | --- |
| SHARE THE STORY | |
| Explore More | |