Missing the thrill of a statement lip with all this mask-wearing? Introducing: The statement ear.
In this week's instalment of trend comebacks, we have ear makeup. Yes, you heard that right—ear makeup has once again resurfaced, and it is better than ever.
You may recognise this polarising trend from its debut on the Louis Vuitton SS16 runway. Created by industry legend Pat McGrath, the ear makeup phenomenon did away with statement jewellery, instead honing in on the body's anatomy.
In the look, a glittering silver paint decorates the most prominent features of the ear from the helix to the lobe. Paired with nothing but statement lashes, it is the perfect candidate for a mask-friendly beauty routine (topical, eh?).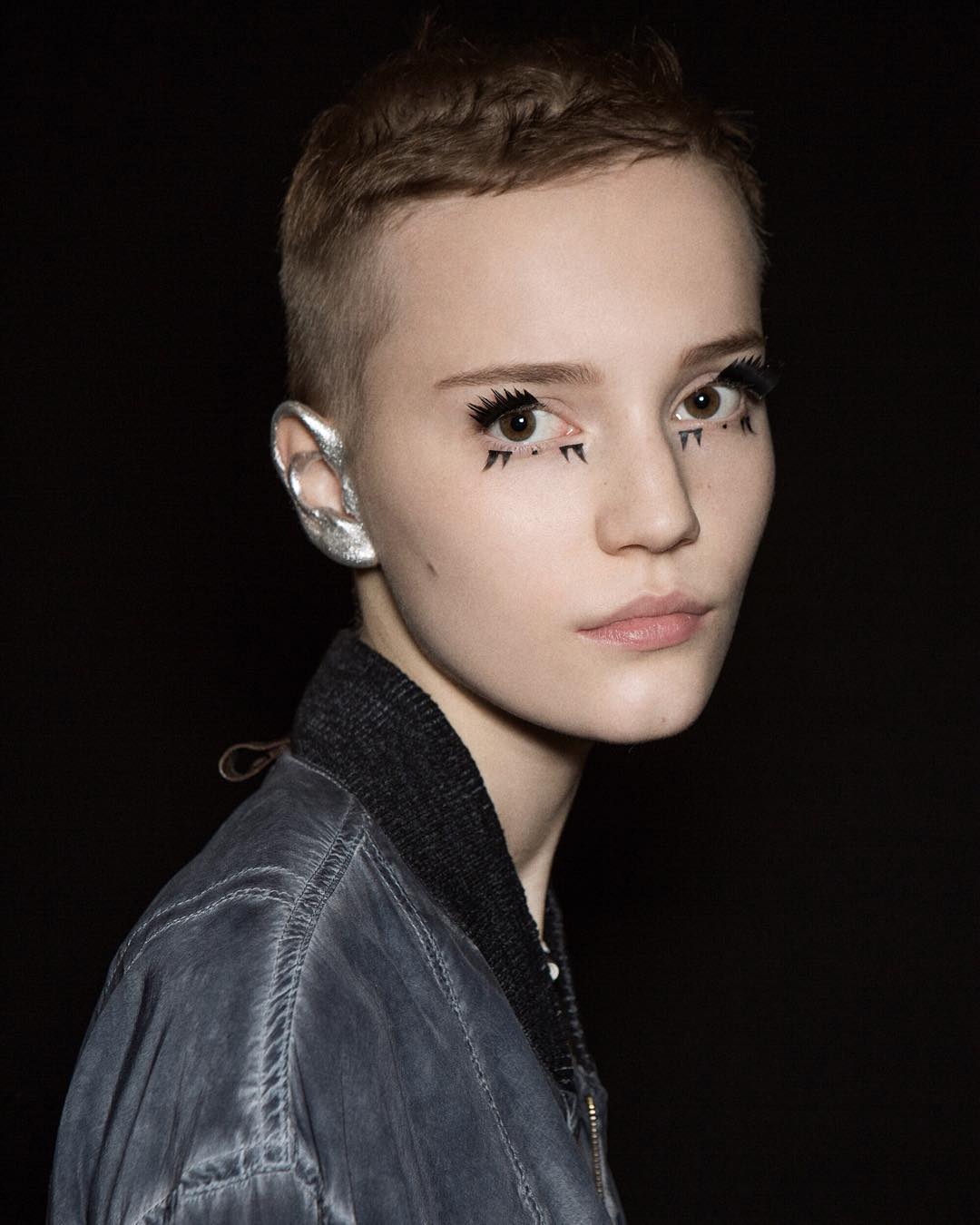 In fact, it's so perfect for our pandemic-ridden age that one wonders why the trend hasn't caught on yet. Sure, it's not exactly the most convenient of makeup trends, but it's certainly versatile. Depending on the design you sport and the colour palette you go with, ear makeup can be as subtle and as wearable as you want it to be.
Sport it on your next grocery run and dazzle passers-by, or save it for the next masquerade bash you happen to stumble upon (if that's something you're into). The possibilities are endless!
Ahead, find our favourite takes on the trend, from everyday inspo to special occasions only:
This blink-and-you'll-miss-it look is equal parts fabulous and understated—better yet, all you need is a luminescent highlight and an eyeliner to recreate the look.
Keep it simple (and easy to cleanse) like it-girl Violette does with this gold lobe accent—so chic!
Who said ear makeup is best worn alone? Pictured above: Evidence that proves that your favourite accessories are best paired with a pop of aqua.
Looking to inject a little colour into your 'fit? Take a leaf out of Diane Kendal's book and use sunny yellows and bright hues to liven up any greyscale palette.
You don't have to pick a colour and run with it—why not pick three (or more) to play with? This look by Kimura Junichiro demonstrates the power of the tri-tone palette.
While you're working with multiple colours, don't be afraid to incorporate patterns and textures into your work!
Top tip: Coordinate your ear and eye makeup for a cohesive, high-impact look.
After something extra but easily achievable? All you need to recreate this messy, festival-ready look is a handful of glitter...and the patience to deal with the fallout, of course.
Makeup artist Martha Butterworth's take on Schiaparelli's surrealist body bijoux is one of our favourite takes on the trend, though it is admittedly a little too avant-garde for everyday (well, that, and the fact that it's a little more difficult to achieve than some of the other inspo-worthy looks on this list).
If you don't possess the necessary artistic skill to pull off this intricate look, try looking for ear-sized stickers and temporary tattoos. Believe us—it'll save you tonnes of time. 
Find more beauty inspo like this here.