Beauty
The Business of Beauty: Why Yana Alyahya believes accessible skincare is a social responsibility
Back to basics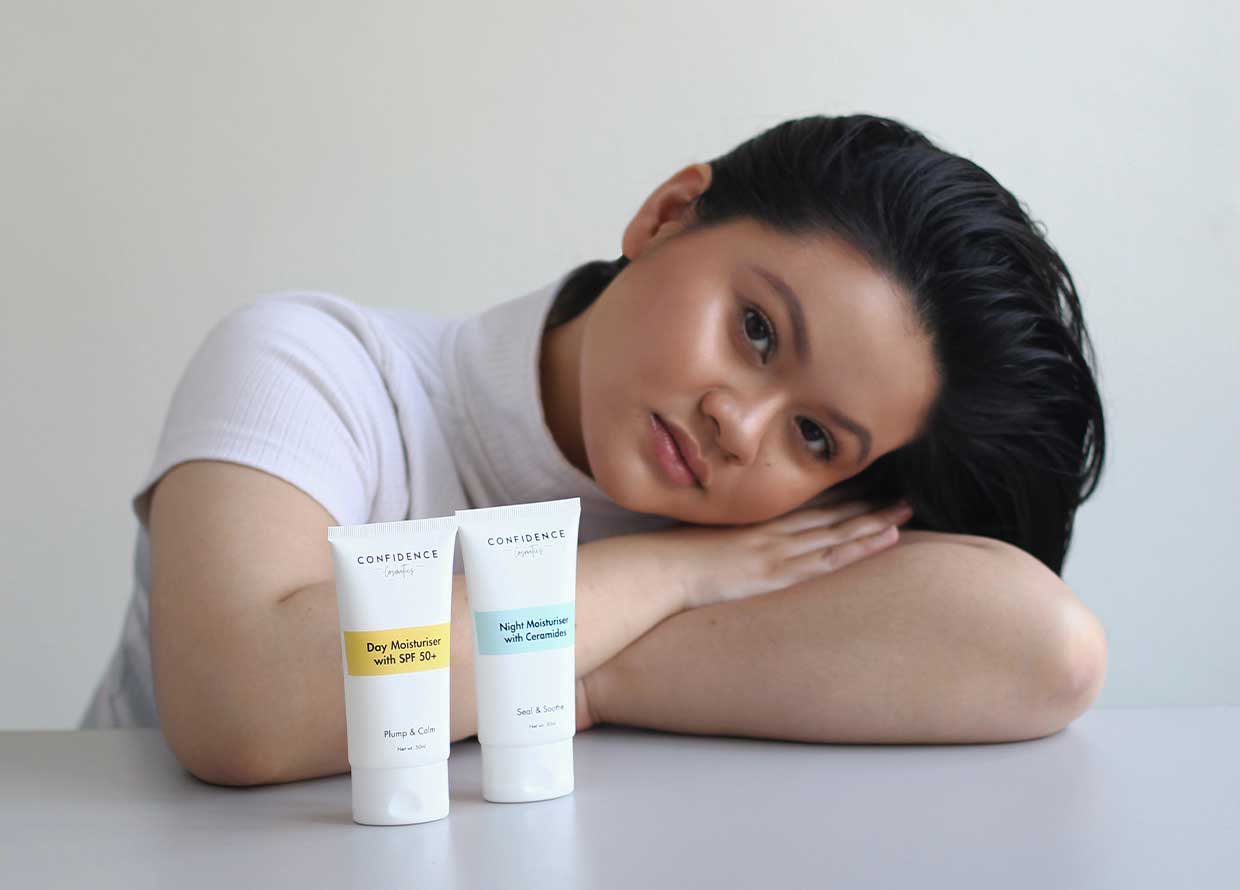 Roll up, roll up: The latest local brand to hit the shelves on our shores is none other than Confidence Cosmetics. Championing convenient, affordable skincare that caters to all skin types, it's a brand that places the user's needs at the heart of its formulations.
You'll likely recognise the face and mind behind Confidence Cosmetics—best known for her work as an actor and a beauty content creator, Sharifah Aryana Alyahya launched the brand at the start of 2023. It's an odd time to launch a brand, especially when the industry reaches a point of oversaturation, so we spoke to Alyahya to glean her insights into the brand launch and her plans to grow the business in the current climate. Find our full exclusive ahead:
View this post on Instagram
Congratulations on starting your own brand! As a content creator, what drew you towards the skincare industry?
"I started my skincare journey really early at nine years old. I started getting really bad acne and because I was an active kid and was out in the sun a lot, and without any knowledge of skincare, it just got worse and worse. So, at first, it was mostly the vanity of it all. I was so bothered by my skin and how painful everything was so I was on a mission to get the right skincare for my skin. I tried everything out and had many more failures than successes, which made my obsession with skincare grow even more. I was suddenly so intrigued as to why certain things were made the way they were—or what ingredients did what, where they came from. The more and more I learned about skincare, the more and more I became obsessed with the science behind the creation of skincare. I would read articles, watch YouTube videos by dermatologists and aestheticians, and even visit dermatologists and aestheticians myself with a bunch of questions. It helped that I had made a career out of skincare and got to work with many dermatologists, aestheticians and skin professionals as well."
What pushed you to launch your own skincare brand?
"Back when I was struggling with my skin, we didn't have beauty gurus or YouTube to help us out, so I had to do a lot of trial and error myself—learn things the hard way. I have been doing educational videos on Instagram for about two years now and I've gotten a lot of DMs for suggestions for products because there are just too many now. This sparked the idea of making a quick, easy, but affordable range of skincare that is suitable for most skin types. I always felt like other brands or other products were either missing something or had an ingredient that I didn't want in them. So, my husband Jad just said, 'why don't we make our own products? You get to choose exactly what goes into it and what you want to take out.' Thus, Confidence Cosmetics was born!"
View this post on Instagram
When did you start planting the seeds for your brand?
"It has always been a dream! I think the idea popped into my head at the age of 20, but it felt so far away at that time. Then, in 2020 during the pandemic, [when] we were all stuck at home, I was doing skincare and make-up videos full time and was churning out videos every week. The more and more I did it, got into it and focused on it, [the dream] suddenly didn't seem so far away. So, that's when my husband began contacting suppliers and started our research and development stage. I started formulating my samples and we tried a few places. Just the formulation of everything took two years. I am so particular that I didn't want to approve anything until it was exactly how I wanted it to be."
What is the philosophy and ethos behind your new brand?
"Easy, accessible, inclusive and diverse. I want to be able to recommend our skincare to almost everybody and to have them be able to use [the line]. For instance, I have friends from all races and religions, and the ones who are tan always complain that they don't use SPF because of the white cast it gives them. So, I promised myself to make an SPF product without a white cast—our Plump and Calm Day Moisturiser with SPF 50++. I have family members and friends who can't use any sort of fragrance on their skin because they have sensitive skin, so we made all our products fragrance free. We also made my products two-in-one because I know many people don't have the luxury of having many steps in their skincare routine. Things like that. I wanted to solve problems within our community when it comes to skincare. I believe skincare is a necessity, and therefore I wanted to formulate our products with high-quality ingredients without hurting any wallets. Our skin is the biggest organ in our skin and we have to do our due diligence to take care of it."
View this post on Instagram
What sets Confidence Cosmetics apart from the rest of Malaysia's beauty landscape?
"To be honest I think it would be the innovation of our products—being able to purchase one product with the uses and benefits of two. Our day moisturiser is a moisturiser and SPF in one, meaning you cut down on two steps and two products. Our night moisturiser, on the other hand, is a moisturiser and overnight mask in one. It's intermediate enough for teenagers to use but, at the same time, the ingredients are rich and nourishing enough for more mature skin as well. That, and it just makes applying SPF easier—something I think that everybody would love. It just makes things easier and fuss-free. You don't have to think about which product to get and how many products to get."
As an influencer with a considerable platform, what do you hope to achieve through your brand?
"Since I started with educational videos, I want to continue and extend it through my brand. I want to continue making educational videos talking about cosmetics and how to take care of your skin from the inside and out. I hope to make Confidence Cosmetics a platform as well to educate the public on skincare, self-love and mental health—not just a cosmetics brand. There's so much more that I want to achieve and so many plans in the works. I am so excited. Skincare shouldn't be a stressful journey. We should have all the information to make a well-informed decision for our bodies, but at the same time enjoy the process as we go!
View this post on Instagram
Sunscreen is notoriously hard to formulate—how did you settle on the lovely formulation in your day cream?
"It is! It took us two years and five samples for me to finally [settle] on the formulation. I was so [particular] about how I wanted the product to look, feel, smell and finish. I knew exactly what ingredients I wanted in my SPF and I knew exactly what type of filters I wanted to use, but not everything went to plan. So, there was a lot of back and forth between us and our lab. They were super helpful and made sure they explained everything to me properly. They understood who they were working with and wanted to perfect the formulation as much as I did. I think towards the end, our lab was as obsessed with getting this right as much as we were. Now after all that, we are all happy we took our time with it. It was worth it."
There are currently two products in the brand's lineup—why did you choose to launch with a day and night moisturiser?
"Good question! Well, I believe that the foundation of a good skincare routine is a good moisturiser. We need a good day cream that isn't sticky but is still nourishing. Plus, it must, must, must have SPF in it. And, for a night moisturiser, we need a nourishing, thicker cream that aids in regeneration as that's the time we get the most of our healing time. I always tell skincare newbie who asks me [for recommendations] to get a good SPF product and a good, thicker gel-cream moisturiser for the night. It doesn't matter how many toners or serums you are using—if you aren't locking it all in with a good moisturiser, you are wasting your time and money. Moisturisers are not the end-all-be-all of all skincare products and they don't solve all problems but they are definitely a crucial aspect of a good skincare routine. We should be moisturising every single day and night—that's why moisturisers shouldn't be expensive, but they should be formulated with nourishing and soothing ingredients."
View this post on Instagram
How did you choose the ingredients for your products?
"I have a list of my favourite ingredients and it's all linked to my ethos of skincare. I am definitely a believer in the less is best philosophy—that we shouldn't overdo anything. Focus on hydration, nourishment and healing properties. So, for each step of the skincare routine, I had a list of ingredients I knew I had to include. Having tried out so many skincare products throughout my career, I can gauge which ingredients better suit our environment and climate better than other products. For our moisturisers, I knew I wanted SPF in our morning one, and lightweight yet hydrating ingredients to accompany said SPF. I had benchmark products that I mostly liked and I tweaked whatever I didn't like. The same thought process went into our night moisturiser as well. I knew I had one main ingredient I wanted to include and I just chose similar ingredients to accompany it."
What does the process of launching a brand look like?
"I just want to shout out Jad for this. He was the driving force behind 50 per cent of the entire process. He was the one who contacted suppliers, labs, and sales representatives. He communicated what we wanted in terms of design to our designer. He basically told me to focus on formulations and just asked me what I wanted in terms of the brand's concept, vision, mission and marketing. Everything else was all him. I don't know how he does it and how he made it look so effortless, but Confidence Cosmetics is equally his baby as it is mine. We definitely did things together but I feel like he did more sometimes."
View this post on Instagram
What does your vision for Confidence Cosmetics look like?
"More products with awesome ingredients that are affordable! I have so many things on my mind. We want to do toners, cleansers, serums, body products, baby products—we want to do it all! There's so much more to achieve but we are taking it one step at a time. I also wanna work with NGOs and focus on the education aspect of skin care. I want Confidence Cosmetics to be more than a cosmetics brand. We have a social responsibility and if we can help as many people as we can through our brand, that will be a dream come true. I started this all because I want to help people with their skin concerns, their body image and their confidence. It takes more than skincare to do all of that and that's why launching products is just the first step. I hope it will be a stepping stone to better and bigger things."
What is the biggest lesson you've learned from launching your business?
"I learned that you have to take your time. Don't procrastinate but at the same time, don't rush things. All good things come to those who are patient. I feel like the timing of Confidence Cosmetics was perfect in the grand scheme of things, and I am so glad it all worked out the way it did. Don't get frustrated with how things are moving. Everything happens for a reason and will happen when it needs to. I also learned that a lot of things look scarier before you try doing them. I was absolutely terrified of starting my own brand and creating my own products but now that I am here, I don't really see how I could be anywhere else. I am truly blessed."
Shop Confidence Cosmetics here. Find more beauty insiders like this here.
| | |
| --- | --- |
| SHARE THE STORY | |
| Explore More | |